View & Open EDB File Outside Exchange Server
This write-up will guide users to read, view & open EDB file outside Exchange Server by using the advanced solution and manual methods mentioned here. Also, users will get to know about Exchange .edb file and reasons to open the file outside the Microsoft Exchange Server.
What is EDB file?
EDB file, also known as Exchange Database File which is used to store Emails, Notes, Journals, Task, messages, Calendars details, and contacts. If you have an email account configured with Exchange Server then you are storing all your data in this EDB file.
It store all data in rich text format(RTF). This process of storing data known as a Proprietary store. The methods show how to open EDB file Outside Exchange server
But sometimes user unable to read EDB file contents due to various Exchange Server errors. Since all data in EDB files is stored in the B-tree structure format.
For Outlook EDB file store all its data on Exchange Server when Outlook gets connected with the internet. Data that is stored on Exchange Server in B- tree form so that it can be quickly accessed.
Exchange server consists of two default Mailboxes:
Public folder (pub.edb)
Private folder (priv.edb)
Both EDB files stored Messages in MAPI (Messaging Application Programming Interface) based database. The file for rich text format storage is called priv.edb file and all default messages and attachments are stored in a pub.edb file. EDB file also stores space used and check sum data of streamlining files.
Reasons to Open EDB file Outside Exchange Server
View EDB File when maintenance work going on Exchange
Removing complexity of Exchange Servers
Privacy issues
EDB File is Corrupted and Exchange Server not able to open EDB File
Access Exchange Server EDB file when the internet is not connected
Reason for Corruption in Exchange Database File
Before understanding "how to read and open EDB File outside Exchange Server", you have to understand the reason behind the corruption that occurs in EDB Files.  Some of the reason are mention below:
1. Power failure: This error is caused by the sudden shutdown or power failure. These are most common errors among Outlook users. They may lead to data corruption and data loss.
2. Extensible storage engine or jet engine errors: Jet engine or ESE errors are also one kind which causes problems for users. They lead to data lost in a server. If you are using a private account or your data is stored in a priv.edb. This file sometimes causes duplicate key errors.
3. Exchange server errors: Two main exchange errors that cause corruption in EDB file:
The log file is missing. In this case, Exchange Server will open your all stored database.
When one file depends on other files for data. Then Exchange Server shows a failure of the group to start.
These are some of the error related to corruption in EDB file, and user not able to open EDB file consisting information of emails. So to deal with this problem, you can go for the manual method to view EDB File contents.
Use Export Solution to View & Open EDB File Outside Exchange Server
SysTools Exchange EDB Viewer Software is the professional tool used by various IT Experts, Novice and Exchange users to view, read and open offline/dismounted Exchange database file outside the MS Exchange Server, even the file is damaged/unhealthy/corrupted. This utility provides dual scanning option which easily recovers minor or major corruption from EDB file.
To remove minimal corrupted Exchange database file select the quick scan mode and to recover severely damaged .edb file go for advance scan. User is able to view all the Exchange mailboxes data items: notes, tasks, calendars, notes, emails, tasks along with all the attributes of Exchange Server version: 2016, 2013, 2010, 2007, 2003 & 2000.
Working Steps to View & Open EDB File Outside Exchange Server Environment
Step 1: Download, Install the automated utility & Launch it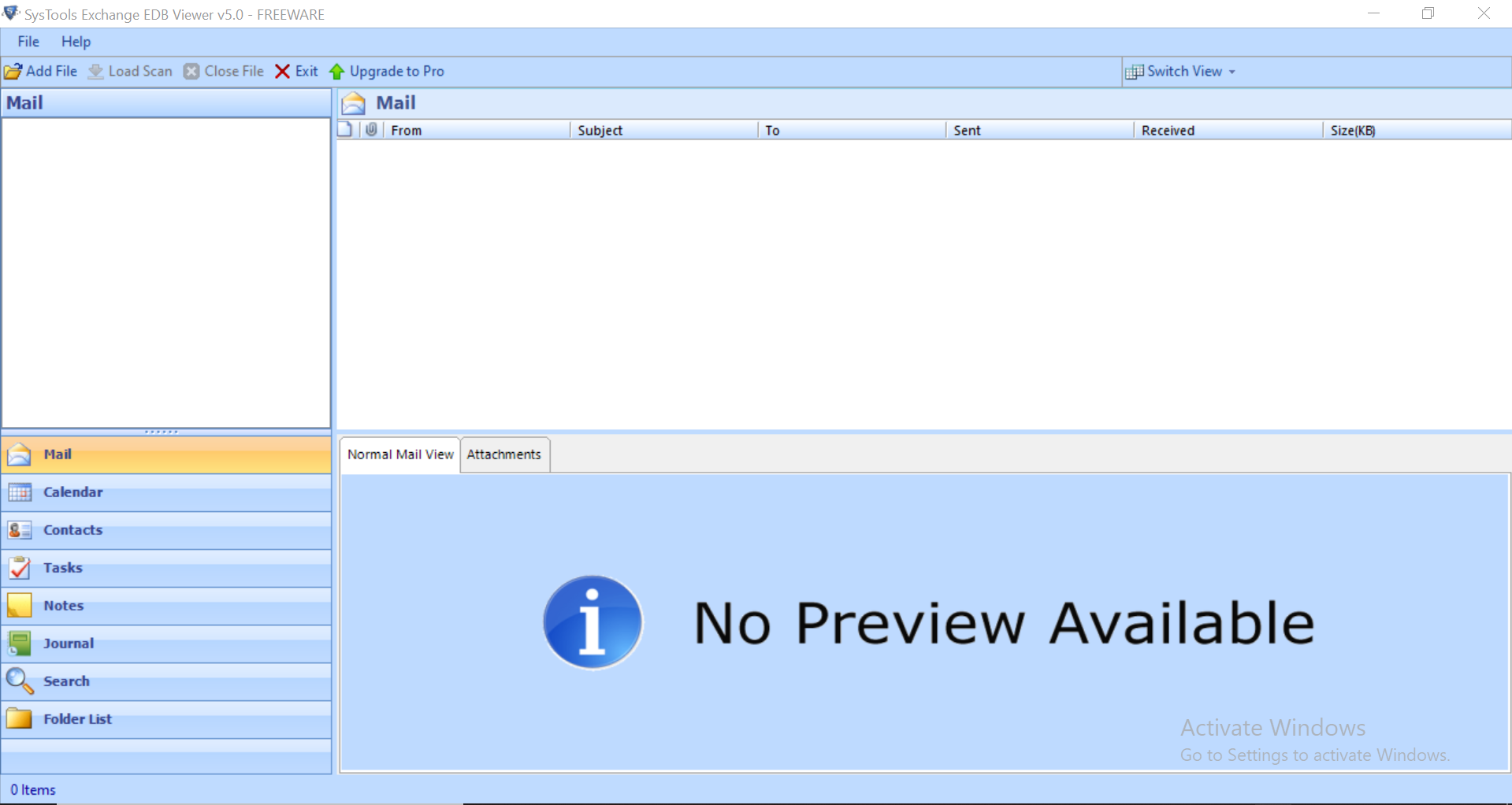 Step 2: Click on the add file button > Load offline Exchange EDB file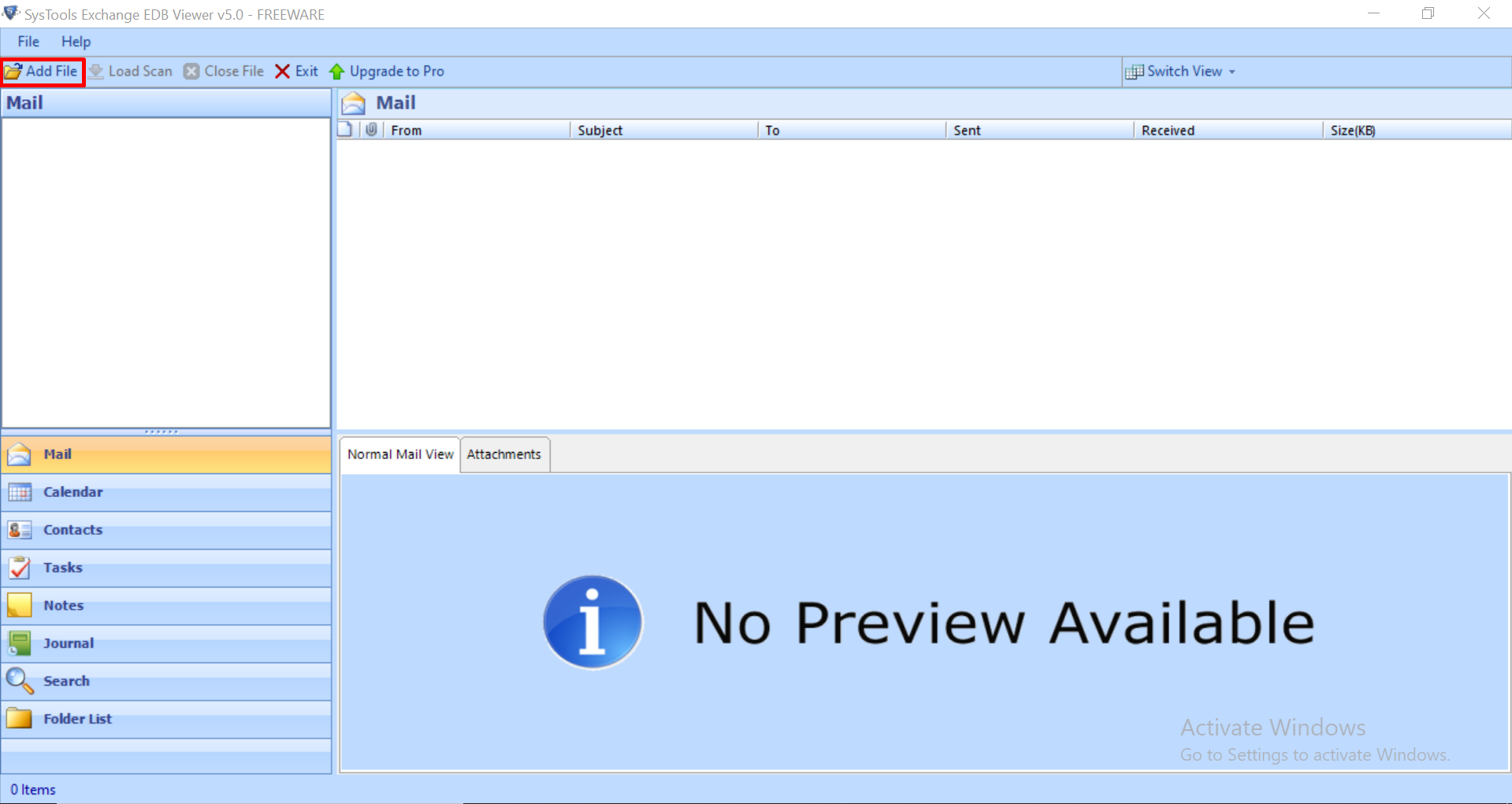 Step 3: Select the scan mode option to recover unhealthy Exchange database file > Click on the add button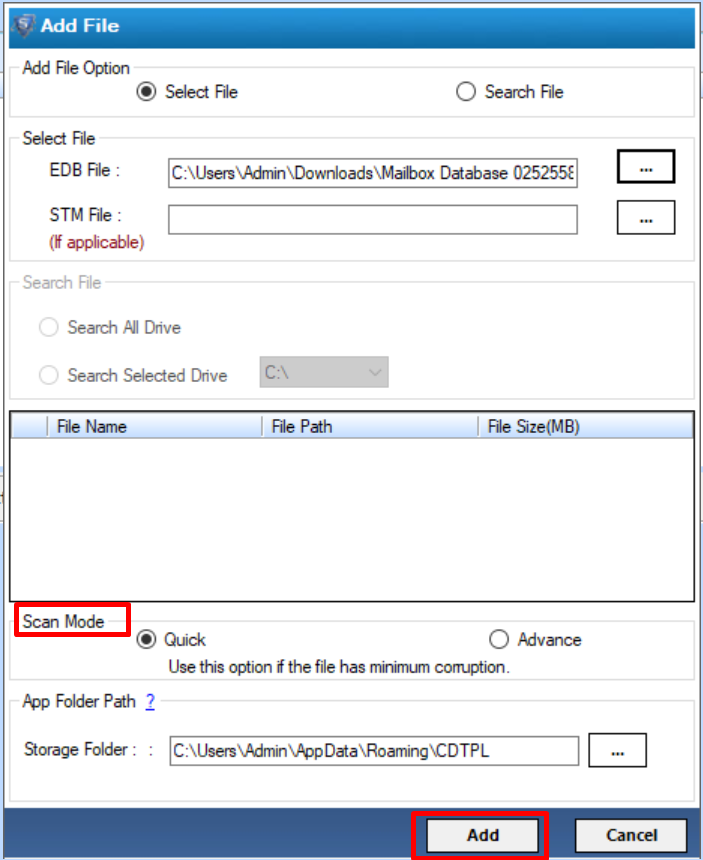 Step 4: View healthy & recovered EDB file mailboxes items along with their attributes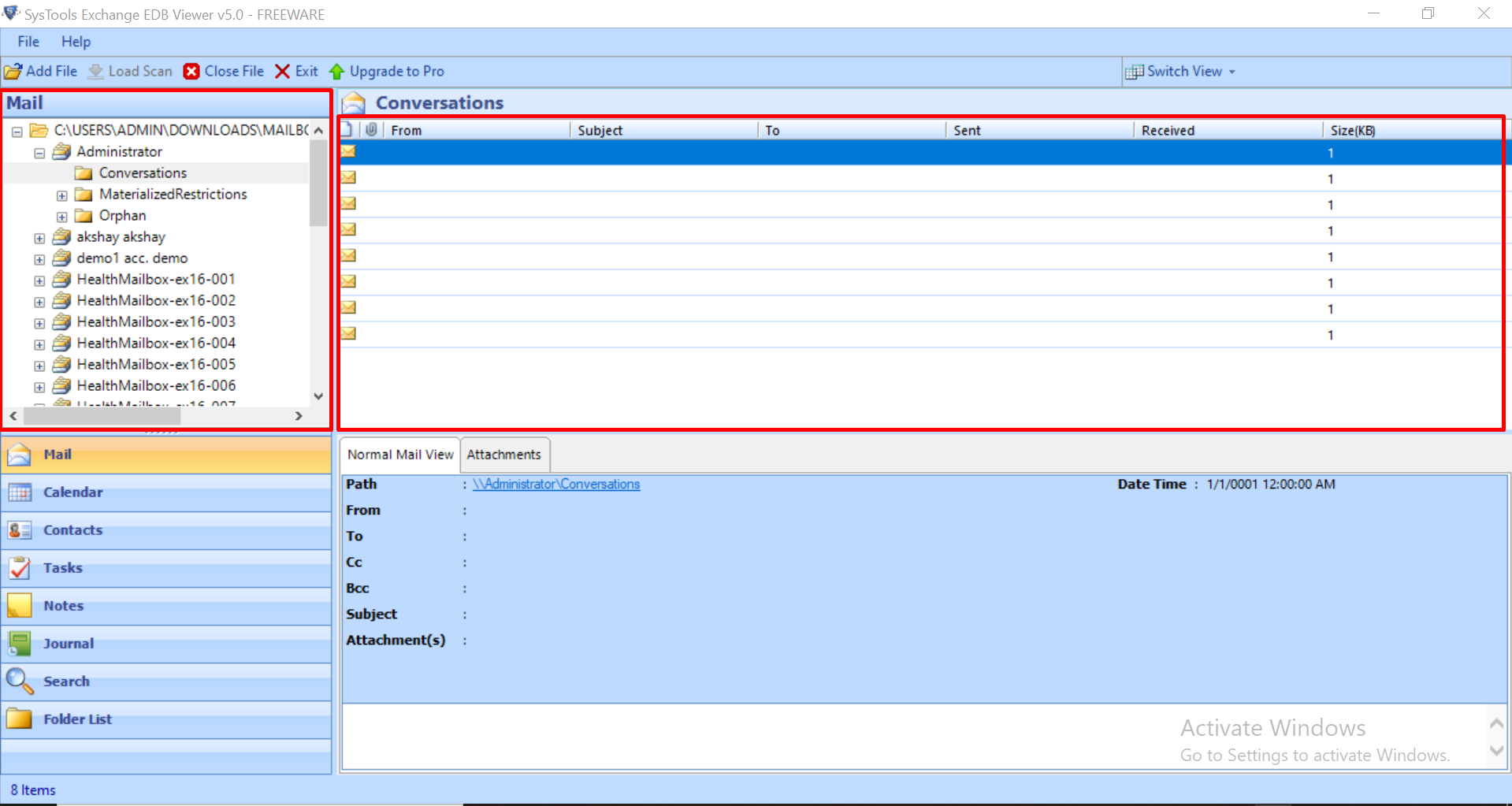 Note: You can also use the Exchange Recovery Software to recover the highly corrupted Exchange database file and purged mailboxes & items from offline/dismounted EDB file. Also export the Exchange mailboxes to Live Exchange Server, Office 365, and PST, EML, HTML, MSG, PDF, MBOX file format.
Manual Methods to Open EDB file Outside Exchange Server
Whenever an EDB file corrupt due to software and hardware problems. The user can go for the different manual method to repair EDB file and view EDB file content using Exchange Server utility. Since Microsoft provides to restore EDB file, User can use Command line to repair EDB files such as Eseutil and Insider command line. These command lines will repair your EDB files easily.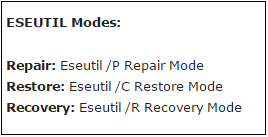 But if you want to Open EDB file Outside Exchange Server Application without using a Third party tool. You need to follow a long process of steps. Since another Email client follows different file structure hence you have to convert EDB file into another file format. There various methods by which you can Open EDB file in another email client.
1) Use Microsoft Utility to Open EDB file Outside Exchange Server
2) Using Exchange Admin Center (EAC)
Approach 1: haveUse Microsoft utility to convert EDB file in PST & Open EDB file Outside Exchange Server
In this approach, you have to convert your EDB File into PST file with the help of Microsoft Utility. When EDB file converted into PST File format, Now open EDB file in Microsoft Outlook to view EDB file outside Exchange server. Steps to convert files are given below:
1 Search exmerge.exe in Google Search bar and go to the first link "https://www.microsoft.com/en-us/download/details.aspx?id=2743".

2. Now go to Microsoft official website and download Microsoft Exchange Server Mailbox Merge Wizard.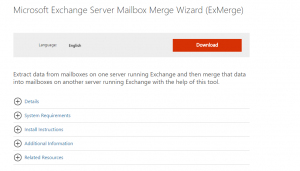 3. Once you have downloaded the Merge Wizard. Then install it in your system and run it. A window interface will appear. Click on NEXT.
4. Now, Select Extract and Import option and Click on Next.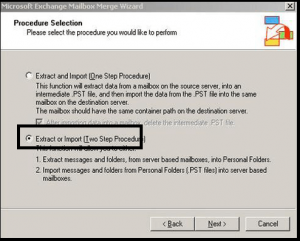 5. Check Radio box "Extract data from an Exchange Server Mailbox". Click Next.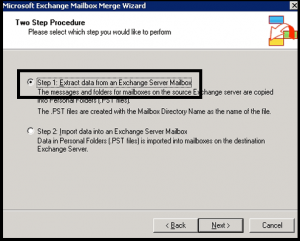 7. Select Import Procedure TAB and check "Archive data to target store" option. Click OK.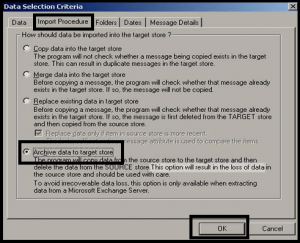 8. After Clicking OK, Go to Message Details option and enter details and click OK.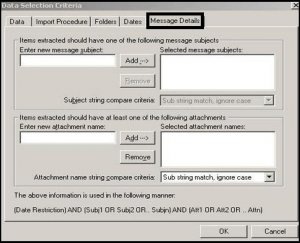 9. Now Select Mailbox, you want to Export and click Next.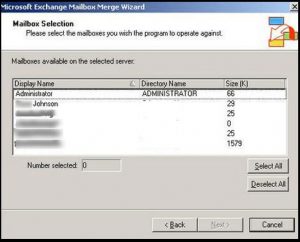 10. Now select the location where you want your PST file. Once the Export Process is Complete. Click on Finish.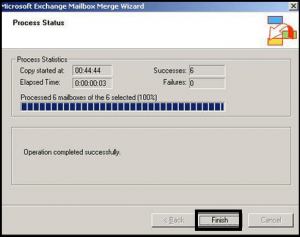 Now import this resulted PST file in your configured Outlook Account to EDB File data. After importing file in your configured Outlook account, you can view EDB File contents such as Email details, Calendar, Task Details etc.
Approach 2: Convert EDB File into PST Using Exchange Admin Center (EAC)
In this approach with the help of Admin Center in Microsoft Exchange Server, the user can view EDB File outside Exchange server by exporting the Mailbox of the desired user and convert them into PST File. To export the files and store them in a shared folder. Follow the Below method to view and read EDB File information:
1. Create a New Shared Folder other than your drive where the operating system is installed. Kindly create this folder on a separate drive.
2. Set the Folder Shared and Security level from Permission tab.
3. Allow Export Permission to your Mailbox.
First, open Exchange Admin Center using Organization management and click on permission.
Now, Double click on Recipient Management and click on Add on the Role.
Select Role > Click on Mailbox Import items > Add > OK.
4. Now Export Exchange Mailbox to PST file. Follow the below steps to perform this procedure.
Open EAC > Select Mailbox > Select the mailbox you want to export into PST file.
Click Right on Mailbox > Select option "Export to PST File".
Navigate the location of the Mailbox and click finish.
Now to read EDB file contents, browse the location where you stored the files through Exchange Admin center and import into Microsoft Outlook to view EDB file content.
Conclusion
A Microsoft Exchange Server uses EDB file to store database file of Email Messaging Client Microsoft Outlook. An EDB file consolidated file stores all data related to email, tasks, and other segment information of Outlook. Blogs give you a brief of how to open EDB file Outside Exchange Server using other Email clients above manual methods are effective but the user must have extensive knowledge of Exchange Server. So, it is suggested for you to use the advanced solution to view and open Exchange database file outside the Exchange Server in a simplifies and hassle freeway.