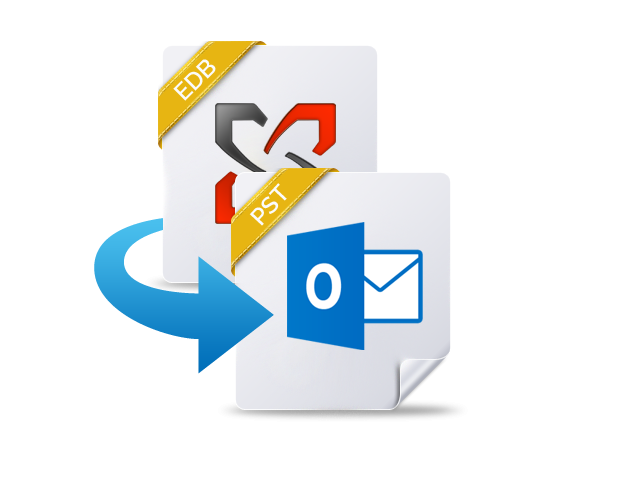 When a user needs to Export Exchange mailbox to PST file from Exchange Environment, then they face some issue that is discussed here thoroughly. As Microsoft Exchange solution to move mailboxes via Powerful Power-shell command and Exchange Admin Center but sometimes using these commands and graphical interface, the user still not able to export Exchange database mailboxes to Outlook PST file.
Today MS Exchange is used in Big as well as Small IT Organization and other industry verticals to manage their messaging, communication between Internal and External domains designed by Microsoft. Since Exchange Server offers various features along with messaging, Telephone connectivity with storage and security on different platforms such as: desktop, web-based, smart-phones, tabs, which installed on Windows Servers.

Note: To prevent all this data from corruption, Exchange Server crash, hacking, accidental deletion, hardware and software failure, errors that Microsoft Exchange encounter, and many more threats. User export their Exchange mailboxes to Outlook data file to keep their mailbox data safe and secure.
If any disaster happens in the future then they have a backup file from which they can retrieve all their data back to Exchange and access their mailbox. To perform this task they use the manual solution provided by Microsoft Exchange but they face certain error which is described in the below section while using the given method.
Error While Exporting Exchange Mailboxes to PST File Format
In below section, we discussed, some common error deal by Exchange User's
1) Export Mailbox Command Not Recognized:

The root cause of this Powershell Command error is:
a) The wrong path of the destination folder
b) Incorrect Path of Source Mailbox, from where a user needs to save the resulted file.
c) No Export-Import Permission granted to Administrator to Export Exchange mailbox to PST file format via PowerShell.
2) Export Mailbox MAPI Error Or Unspecified Service Provider in Exchange: 
In this error user deal with, a prompt message
"Export Mailbox MAPI Error Or Unspecified Service Provider" or Error Code: 1056749164″ "or ID no: 00000000-0000-00000000″ or error Code="0xc1054005″, Event ID: 1008".
The root cause of this Command error is:

3) Mailbox Export Request Stuck Queued:

Sometimes after running the Power-shell export command, Exchange user needs to wait for a long time due to "mailbox export request stuck in queued" error and mailbox items do not move from Source mailbox Folder to Destination folder of PST file.
4) Exchange Export Access to the Path is Denied:
While using Command "[PS] C :\> New-MailboxExportRequest "userabc" -FilePath "\\MYSERVER\PST\userabc.pst <file://MYSERVER/PST/userabc.pst>" to export Exchange mailboxes to PST, a prompt appear with the message "+ CategoryInfo : NotSpecified: (:) [New-MailboxExportRequest], RemotePermanentException". This error can arise either due to file path issue or parameter used with the export Command such as [-BadItemLimit], [-IncludeFolders <String[]>], [-Exclude Folders <String[]>], [-ContentFilter ] etc.
As we observe from the above section that different errors either related to PowerShell command or during exporting mailboxes to Outlook PST form Exchange environment faced by IT Administrator as well as Exchange and Naive users.
Note: To avoid above all mentioned error regarding exporting the EDB mailbox to Outlook data file. Either naive user can go for the manual approaches that can lead to sometimes corruption or data-loss or go for the Automated solution offered by SysTools discussed in below section.
Automated Wizard to Export Exchange Mailbox to PST Format Without Error
Exchange Export Tool is a graphical user interface and user-friendly software that can export Exchange mailboxes and data items such as: email files, user contacts details, Calendar items, and other task, journal details of Exchange 2016, 2013, 2010, 2007 and below version perfectly without any data-loss.
This utility doesn't require in-depth knowledge and skill to use it. Any user can use this tool easily without any interruption. If user want to export contacts to PST file or any other mailbox items along with mailboxes then they can export it easily with the help of this software.
The software auto detect, scan & load the AD (Active Directory) and preserve actual folder structue after exporting Exchange mailbox to PST file. It auto-generate the export report which store the success and fail count of exported Exchange data.
Key Features Of Alternative Method
1. Option to Manage Folder Structure or Hierarchy of User Mailboxes
2. Export mailbox items such as: tasks, journals, contacts, calendar, notes, mails
3. Search Sub-Domain User Created in Exchange Environment
4. Use Date Filter to Export only selected Desired Date-Range Items
5. Split Resulted in PST File to avoid file size issues.
6. Preview Mailbox Name List stored in Exchange Environment and Permission Before Migration Process
Steps to Export Exchange Mailbox To PST Format Without Error
1. Now Download and Launch Software to start the process of Exchange Migration.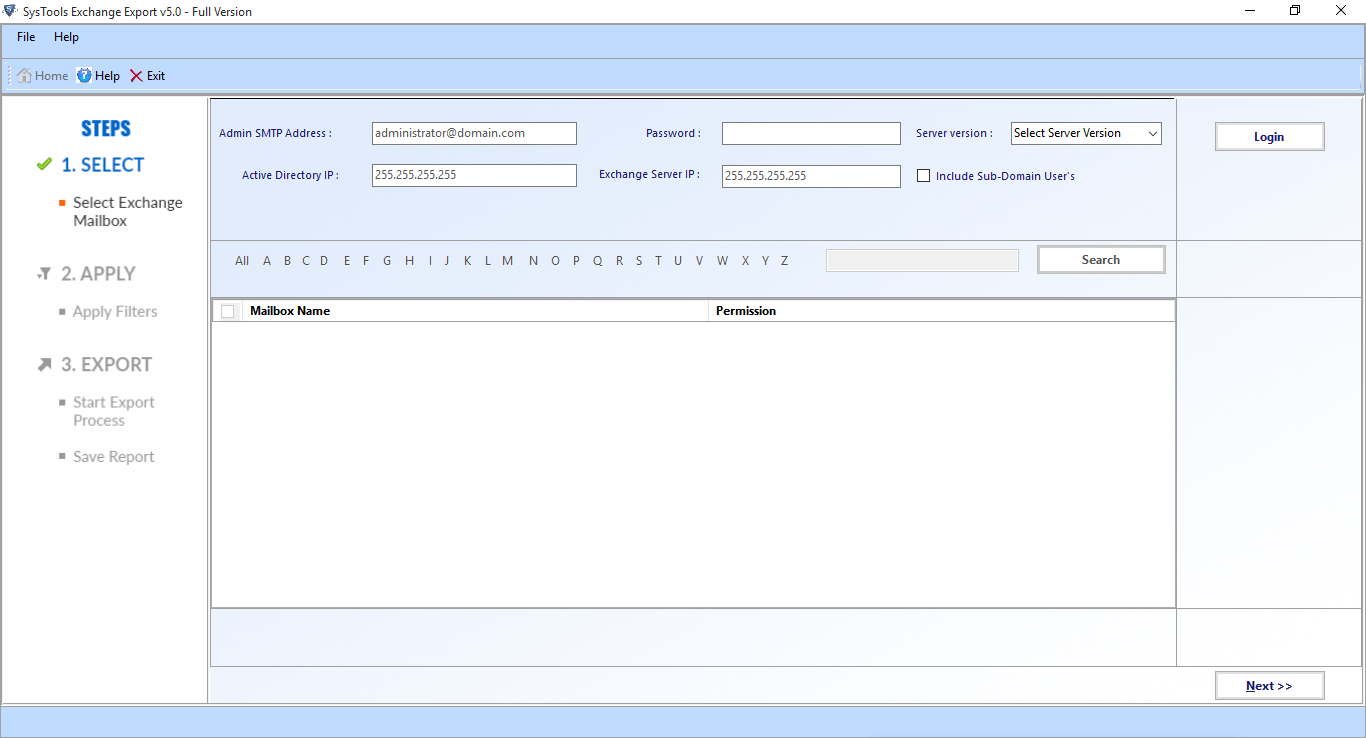 2. Now to Access the Desired Exchange Environment, you need to provide the credentials details such as:
a. Admin SMTP Address & Password
b. Active Directory IP & Exchange Server IP,
c. Include Sub-Domain User, Exchange Server Version (2016, 2013, 2010, 2007, 2003) > Click on the Login button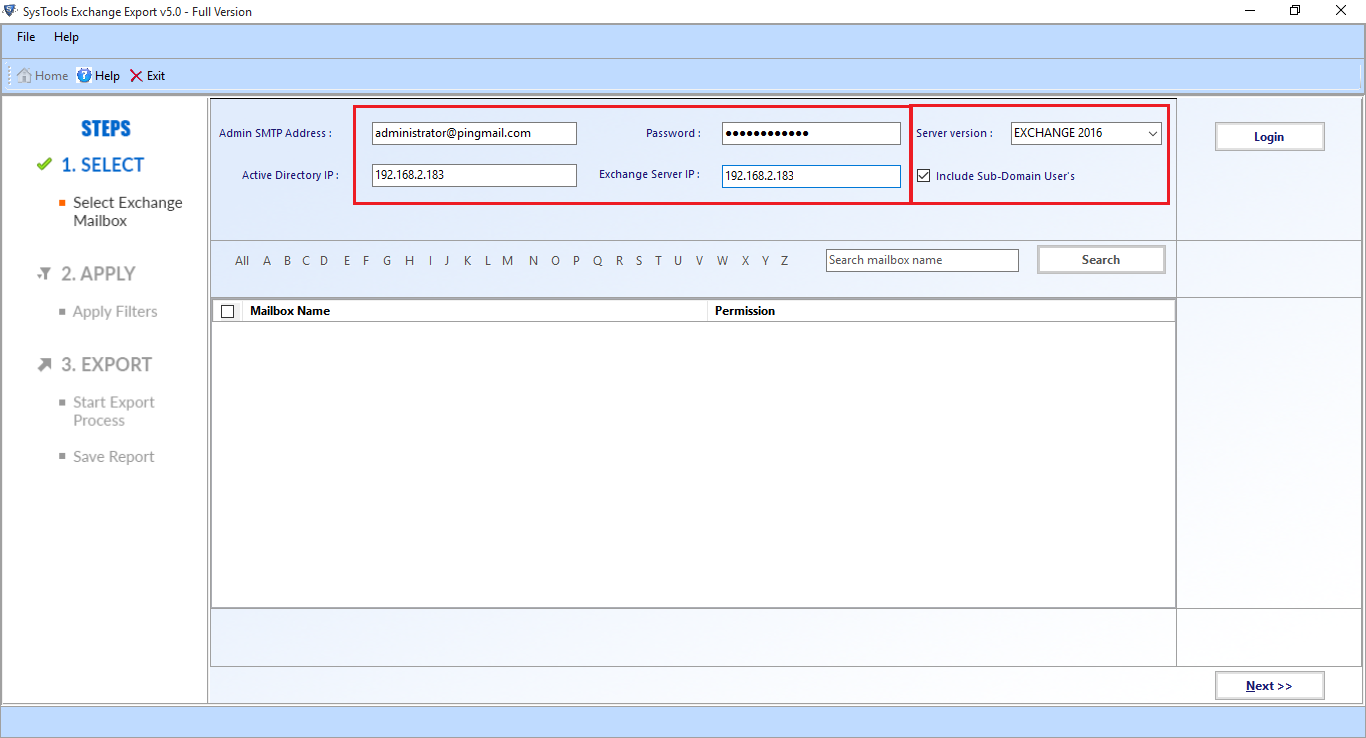 3. Now Software verifies the Credentials first, after that, you can preview the details of Exchange such as Mailboxes Name and Permission details. 
Select the User Mailboxes in utility to start the process of Exporting mailboxes to PST Format from Exchange 2016, 2013, 2010, 2007 and below vers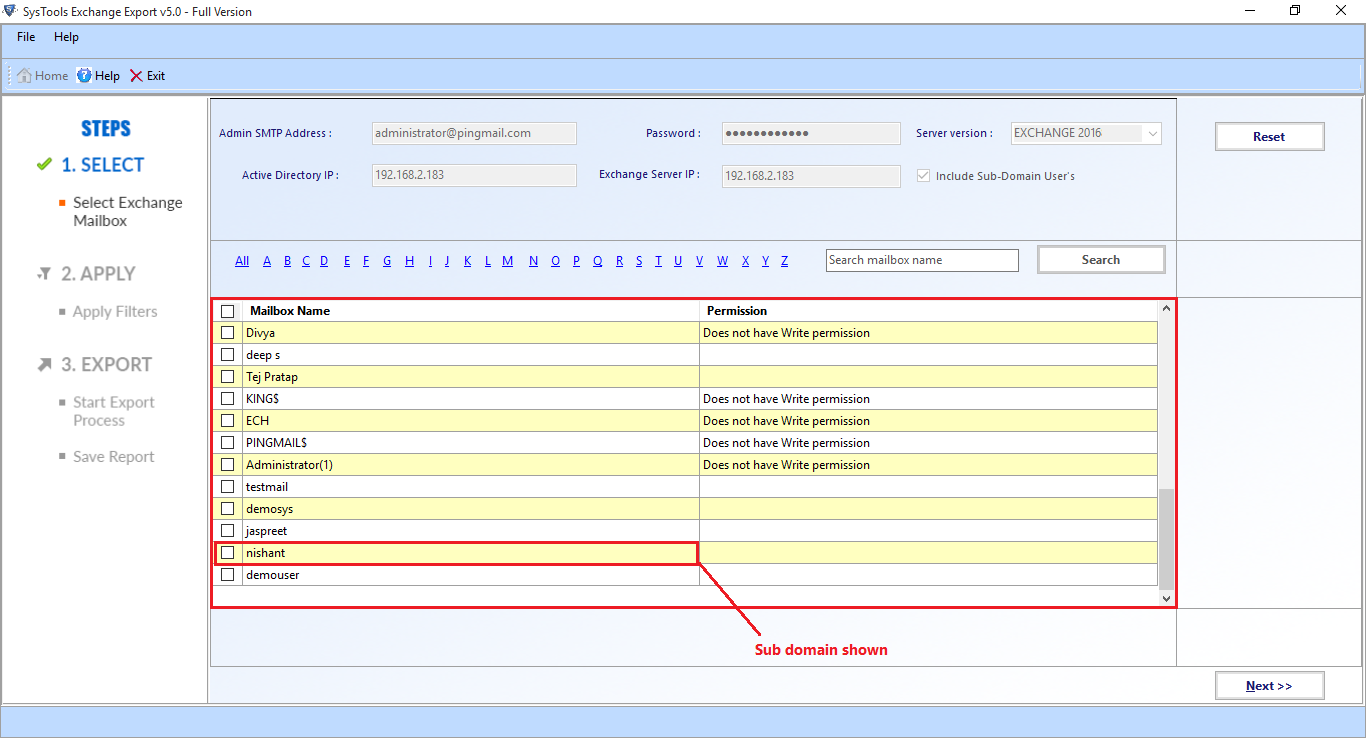 4. Now Software displays Preview panel, from where naive as well as Administrator user can select the Mailbox Items such as Mails, Contacts, Calendar, Tasks and Journal Section to save in a .pst file.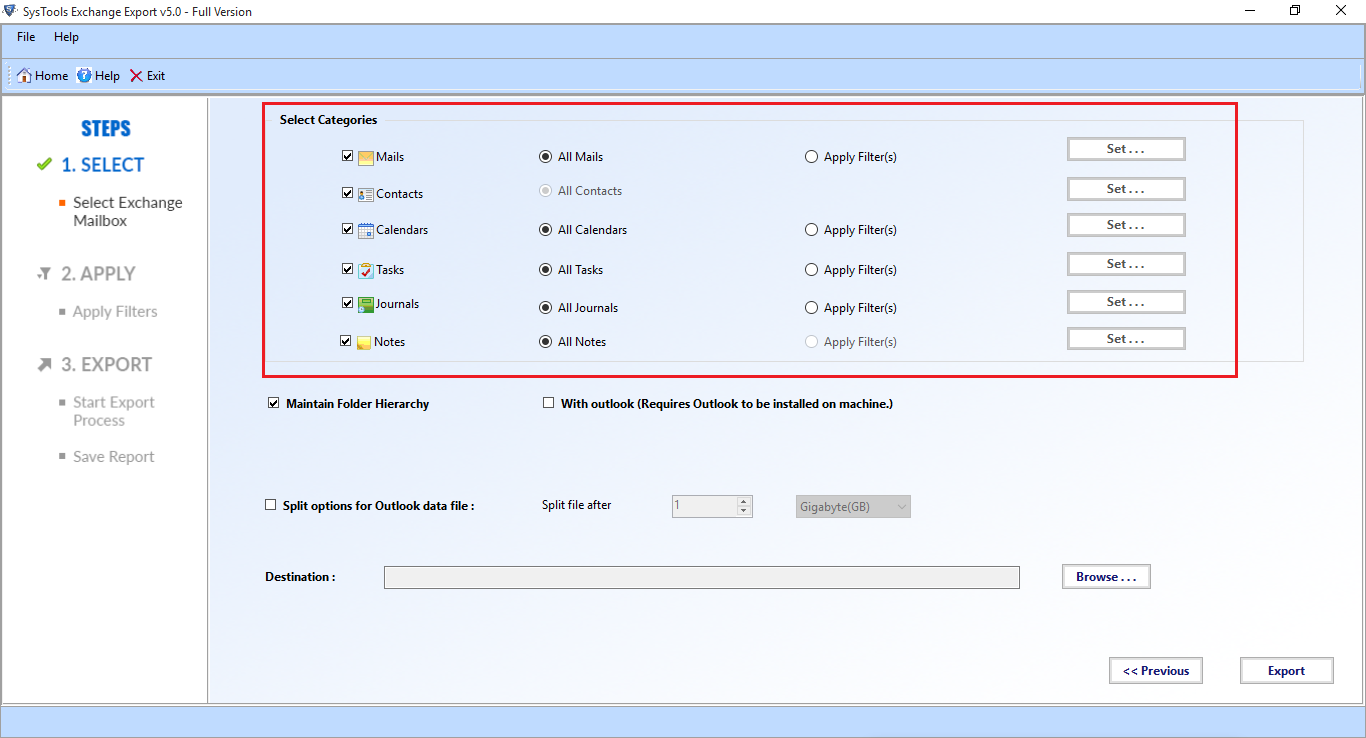 5. Select either Complete Mailbox via Radio Button or use Date Filter to select, where you need to provide a range of Date to export only the items of selected dates into a .pst file format.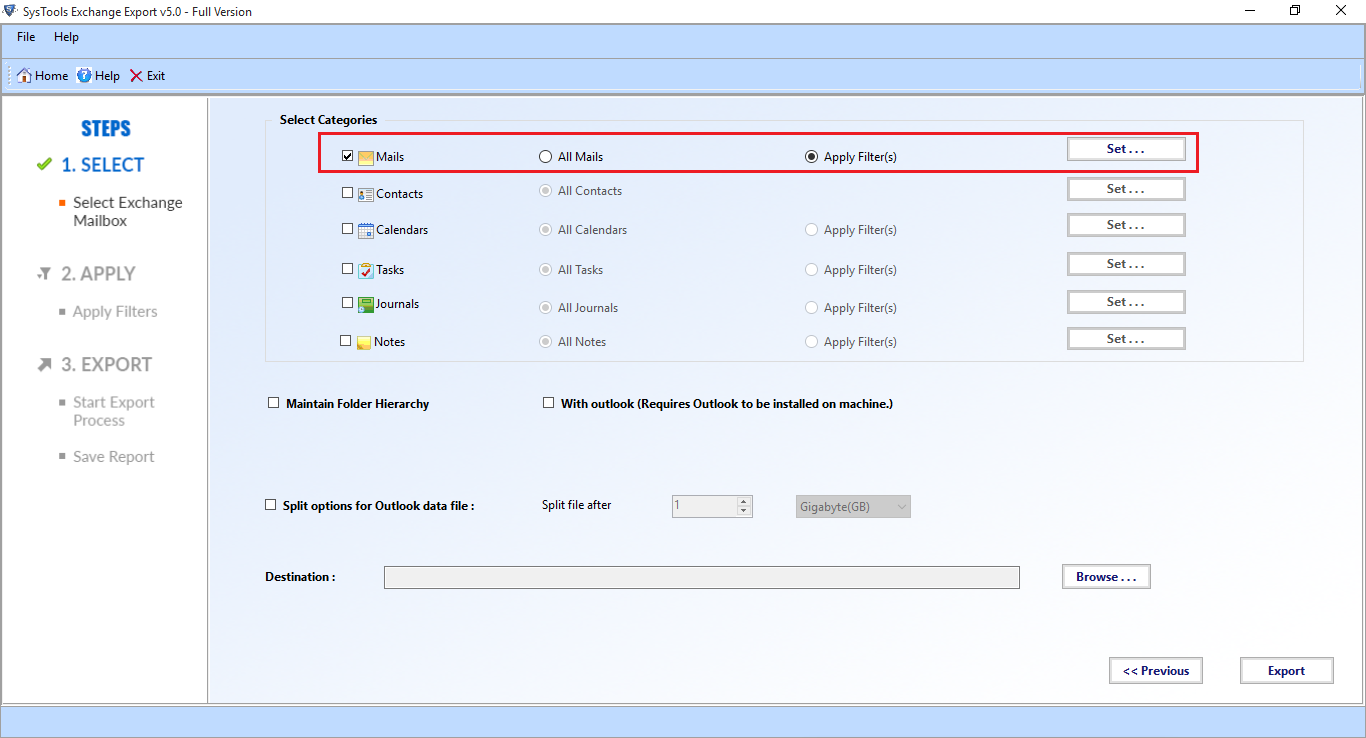 7. Similarly, use  Date Filter for another section to continue the Export process.

6. Now if you want to maintain the "Folder Hierarchy" between the Exchange mailboxes and resulted in PST File, Check the option "Maintain Folder Hierarchy" and if the user wants to save the resulted PST File in multiple PST File, then check option "Split options, for Outlook Data File".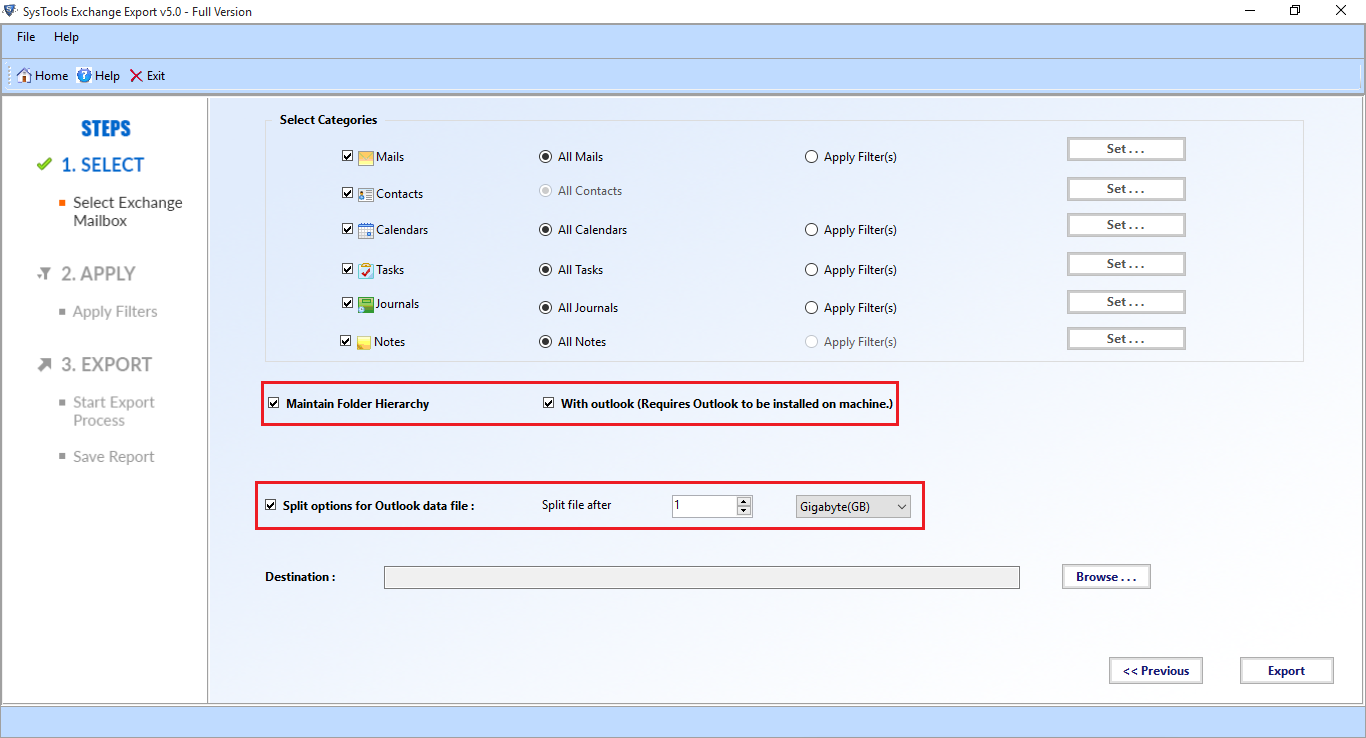 7. Browse the location to save the resulted PST File within the system and view the Live progress report of exporting Exchange mailboxes to PST File format.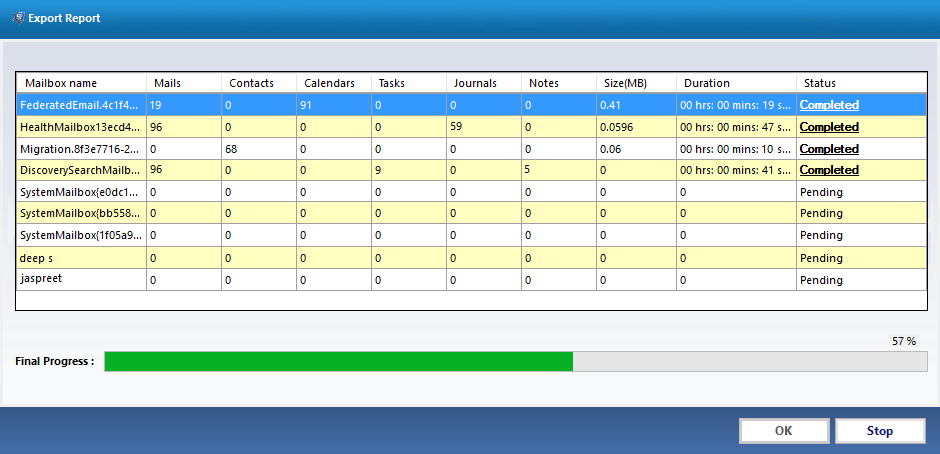 The Exchange mailboxes are successfully exported to the PST file format
Note: There are times when users have an offline and dismounted Exchange database file then in that case the solution provided here won't be useful. For this, users can use the EDB Converter software provided by SysTools which support dismounted/offline EDB file (Private & Public) and used by numerous IT professionals, Exchange and novice users to backup Exchange mailbox to PST file in a simplified way without any hassle. This advanced utility offers provided Quick and Advance scanning mode which removes minimal & major corruption from Exchange database file. After recovery, users can easily extract Exchange EDB to PST file format in a hassle-freeway without any hindrance.
Conclusion
In Exchange Environment, the user's can export Exchange mailbox to PST file format via Power-shell Command and Exchange Admin Center, but sometimes user deals with the different kind of export issues like export-mailbox command not recognized, access Path is Denied, request stuck queued, MAPI errors. Either Exchange user tries the manual approaches to fix the issues or uses an automated solution offered by SysTools Exchange Exporter to directly export mailboxes and items from Exchange Server 2016, 2013, 2010 and below versions of Outlook PST file format in a simplified way without losing any data.