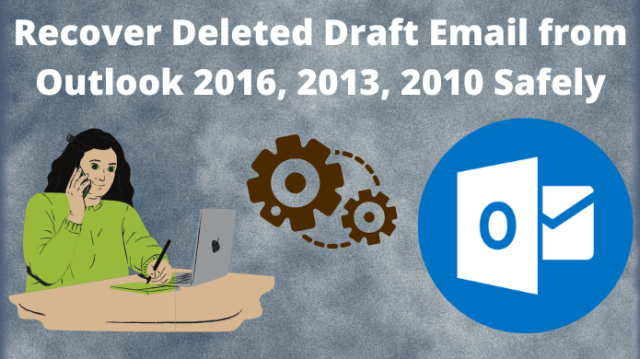 Users often ask about the ways of recovery methods for deleted items present in MS Outlook. Evidently, we explained to them the solution for that. However, there's one query that is similar as well as different from this. It is to recover deleted draft email from Outlook application. Some say that draft emails won't be there in deleted items folder & others are the opposite.
In this article, we are going to find out the truth based on Microsoft's claim & our own research. Evidently, we are going to provide users with several methods to recover these emails. Moreover, the advantages & the shortcomings of these methods to recover the recently lost drafts are here too. Emails in subfolders in Outlook are not showing error also occur in some users' cases. Users most asked questions are also there regarding Outlook 2016 version methods & more.
Let's with the manual method first followed by the automated one & then we will move towards the other crucial topics. Learning from this latest guide can definitely solve your query if read carefully.
Recover Recently Deleted Draft Email Outlook Manually
The myth that states draft emails in Outlook do not go to deleted items folder is wrong. We practically tried this & then got our results. Until & unless you delete the data files of deleted items folder or it's been more than 30 days, the draft email will be there in the deleted item folder.
A lot of users also ask that did Outlook delete my old emails or not. So Outlook does not do anything automatically until you violate the policies. Let's move ahead to know more.
Follow the below steps to recover deleted draft email Outlook 2016 and all the other versions. 
Step-1. Go to the Deleted Items folder in Outlook & search for your deleted draft emails there.
Step-2. After finding your email, Select your required Emails present in the folder.
Step-3. At last, Click on the Recover button to get your files back.
Manual Method Shortcomings to Recover Deleted Draft Email from Outlook
The manual method has several disadvantages that make it a dicey option for users among users. This is the most basic yet risky method. All of the drawbcaks of the manual method mentioned below to make you understand things better.
Password-protected & encrypted files can not be recovered with the manual method.

Once your draft email gets deleted permanently, this manual method won't be able to recover them in any condition.

The manual method is very raw & there are no advanced features for sorting required emails. Users have to find desired emails manually.

Bulk restoring of data files is not really possible if the files are heavy a sit can make the software stuck in between.

Outlook must be installed on your system to execute this manual method or users won't be able to do so.
Automated Method to Recover Deleted Draft Email from Outlook
Now we are going to learn the automated method which is specially designed for such events. The automated method involves the modern tool that eliminates users' efforts & performs maximum steps by itself using the AI algorithms.
Step-1. Click Add File button to Add the .pst Files with deleted data.
Step-2. Now Select the Quick or Advance Scan option accordingly. 
Step-3. Select Deleted Draft Emails Highlighted in the Red color.
Step-4. Set PST as File format & Browse Destination Folder path.
Step-5. Click the Export button to start retrieving deleted emails.
Automated Tool for Mac OS
The automated tool is also available for Mac OS with almost the same steps as we just discussed. If you are using an Apple device rather than the Windows system, download the below-mentioned tool to recover recently deleted draft email Outlook safely.
Core of the Automated Method That Users Doesn't Know
Worldwise users are opting for the automated because of its features. The secret behind these features & advanced technology is just the hard work of IT engineers. Having strong core algorithms lets users perform these below-mentioned functions.
Ability to safely recover permanently deleted data items.

Advanced feature to recover password-protected emails.

Recovers deleted draft email from Outlook with various features.

It's easy to recover the OpenPGP & SMIME encrypted files this way.

Bulk repair of data files is possible in one go without any errors & lags.

There is no need for users to download Outlook to recover deleted drafts.

Multiple file formats available are here to provide users with the resultants file.
Frequently Asked Questions to Recover Recently Deleted Draft Email Outlook
Q- Is the automated Method secure?
A- The automated method is more secure than the manual methods. Several IT experts & Microsoft's MVPs rested it & then gave it a green flag.
Q- Does the deleted draft email goes to deleted items folder?
A- To recover deleted draft email Outlook 2016 using the deleted items folder is possible as your email will stay in this folder. The only circumstances where you can't find your emails there are if you delete them permanently or if it's been over a month since their deletion.
Q- What's the difference between draft emails & normal sent or received emails?
A- The emails that are not sent to anyone by the users yet created stay in the draft folder. However, the sent folder holds only the sent emails & received folder holds only the received.
In Conclusion
Now we can easily execute both manual & modern approaches to recover deleted draft email from Outlook 2016, 2013, 2010 & other versions. Users need to understand the selection of methods & tools is a very crucial decision & must not be taken lightly. Users are advised to opt for the automated solution as it is the safest & most practical solution now.