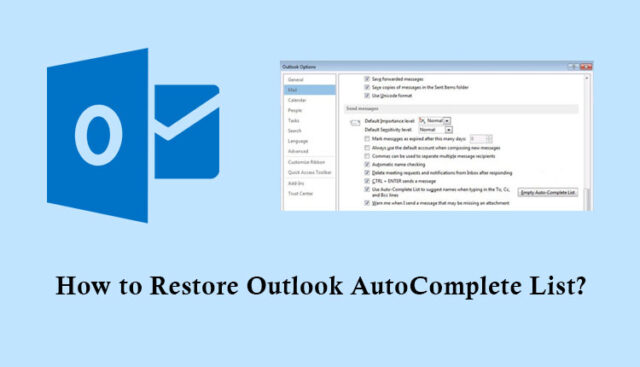 Overview:- Do you want to Restore Outlook AutoComplete list? If your answer is yes, then make sure read this blog till the end. So let's get started.
The AutoComplete list known as the nickname cache, is basically generated automatically when users send email messages from Outlook. This list consists of SMTP addresses, LegacyExchangeDN entries, and display names for users to whom you have sent the mail previously.
Furthermore, through this blog we will describe two different solutions by which you can restore Outlook AutoComplete list:
Import Outlook AutoComplete cache from old system to another
Using a Professional tool by which users can also convert Outlook AutoComplete cache to PST, MSG, vCard, PDF, DAT, CSV, Google CSV, HTML.
First, we will discussing how users can import their Outlook AutoComplete cache manually from their old PC to a new one. And if the method does not work for you, then we can move on to the Professional repair tool to recover outlook cached list.
Also Read:- How to Export Outlook to Windows Live Mail?
Manual Solution to Import Outlook AutoComplete Cache!
Users can restore Outlook AutoComplete list manually. As we already know, MS Outlook saves these AutoComplete email addresses in a file. All you have to do is to copy the particular file to your new computer. Simply follow these below listed steps:-
To start, click on the start button and then press on the computer icon >> hit on Organize option.
Next, select folder & search option and hit on the View option while making sure that the Show hidden files & folder are selected. Then, press on the Next button
Afterwards, browse to the C drive and then User's folder and then add your Profile name.
Then, navigate to the Appdata folder>>Choose Local Folder >> select Microsoft folder>> Click on the Outlook Folder>> at the end, choose RoamCache folder.
Now, you will see a file named as stream_AutoComplete followed by a bunch of random names and characters.
All you have to do now is just copy this file to your new system and then you have to repeat all these steps again on your new PC.
If you have installed Outlook on your new PC and you have already sent out some emails. It will automatically start building a new stream for AutoComplete file.
Simply copy the name of your new stream file and paste it to the old stream file of AutoComplete. Now, you can replace your new file with the old one.
Oh, Snap! There are some Limitations!
The above-mentioned technique has some drawbacks that can do more harm than good. Here are some of the drawbacks:-
Time consuming.
Human error.
No backup recorder in the case of data loss or damage.
It May required technical knowledge to maintain.
Solution: Restore Outlook AutoComplete List Using NK2 Repair Tool
There are times when you do not find a Roam-Cache and are unable to import Outlook AutoComplete folder. Along with that, deleted cached contacts and corrupted NK2 files can also be one of the reasons. For this, users must use an Automated tool which can easily repair the NK2 files and restore Outlook AutoComplete list and contacts.
The Outlook Cached Contacts Recovery Software will be the ideal solution in such a situation. This tool helps users to recover Outlook AutoComplete list from the damaged or corrupted Nk2 file and convert this file to PST format without any hesitation.
Download for Windows

Download for Mac

Working Procedure to Utilize this NK2 Repair Tool
Execute these below-mentioned steps:-
1. To begin, Install and Launch this application on your system.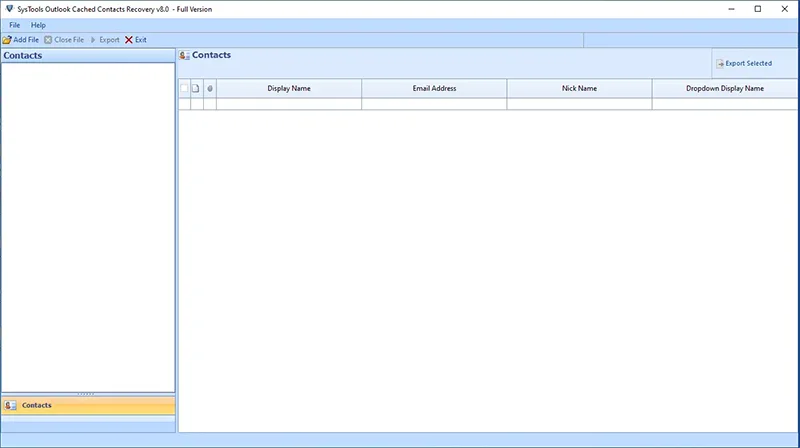 2. After that, browse your NK2 files in the software panel.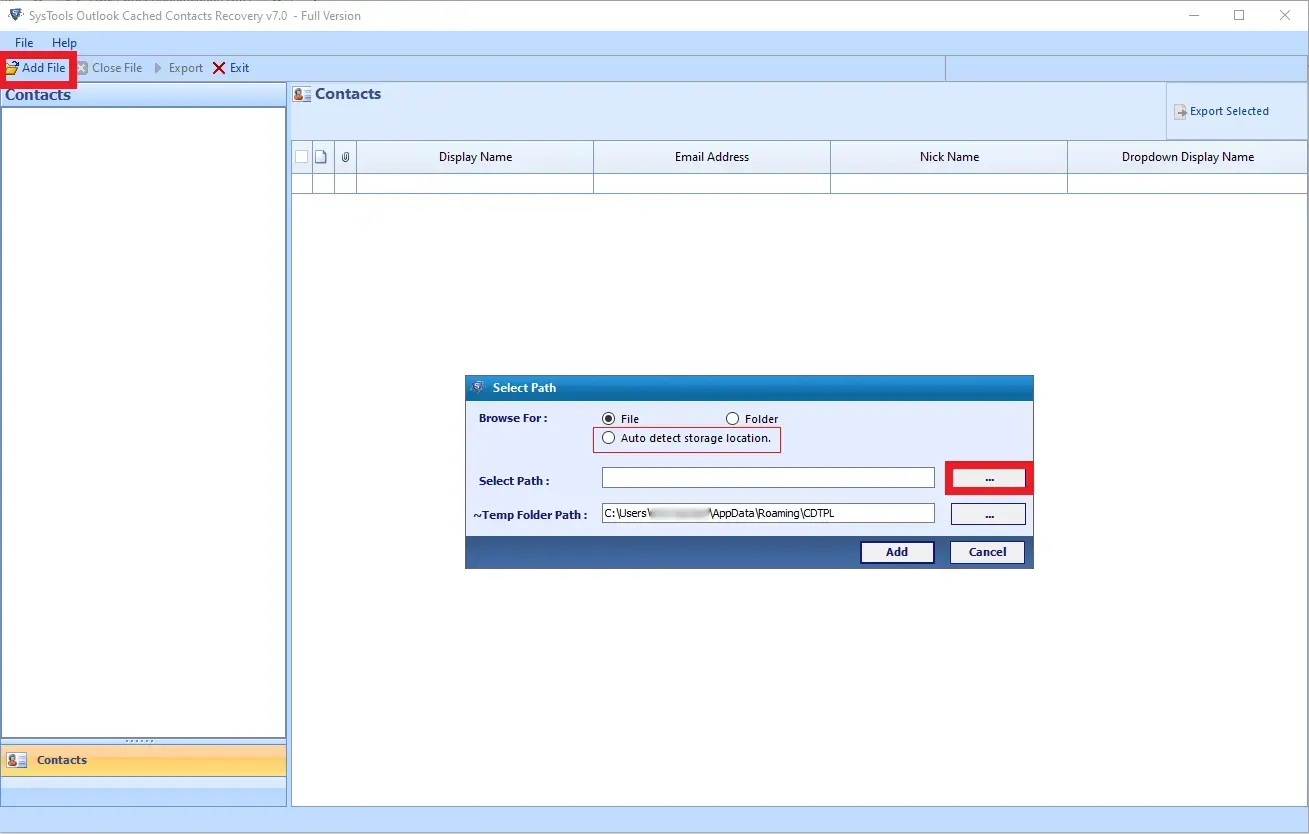 3. With the help of this application, users can easily preview their recovered Outlook Cached Contacts.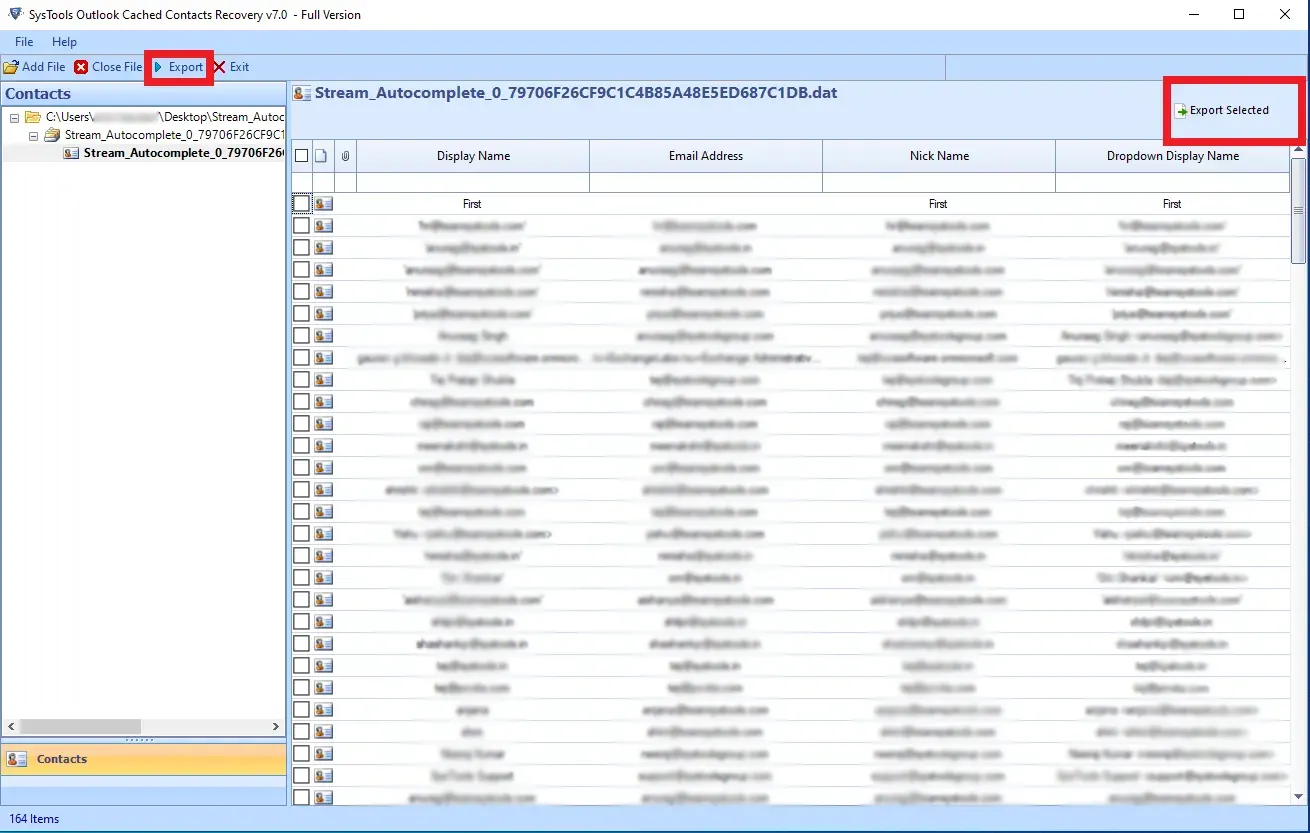 4. Now, select Export option and choose PST as your saving format from the list.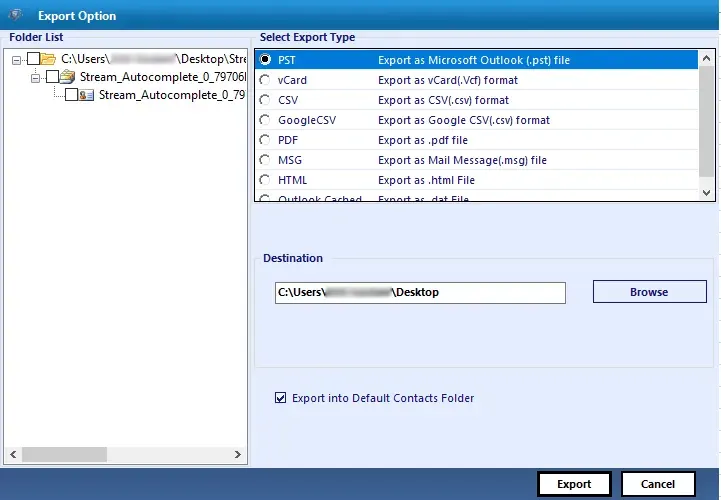 Get to Know the Outlook AutoComplete Recovery Tool
This tool is capable of handling huge NK2/ DAT files.
Also, this application can easily repair cached contacts file of 2000, 2002, 2007 Outlook and can import them into all versions of MS Outlook 2010, 2013, 2016, 2019.
It also arranges AutoComplete email addresses of NK2/ DAT file in an alphabetical order.
Nonetheless, it works efficiently and effectively with all the recent and prior versions of both Windows and Mac OS.
Users can easily save their Outlook cached contacts from corrupt NK2 and DAT files as PST, MSG, CSV, Google CSV, Vcard, PDF and so on.
Time to Say Goodbye
In this following blog, we have discussed about a simple technique to restore Outlook AutoComplete list. For this, we have mentioned both manual and professional solution in brief along side its pros and cons. However, in the case of corrupted NK2 file, it is highly advised to opt for the Professional solution. The above mentioned tool will be the best option as it helps users to also convert their Outlook AutoComplete to multiple file formats.