Thunderbird Mailbox Repair Tool to Access Corrupted MBOX File
Thunderbird is the most common and open source email client which is preferred as a first choice because of its multiple default features. It is developed by the Mozilla foundation which saves your different data such as emails, contacts, calendars, etc. Thunderbird uses the MBOX file format by default.
Many times, Thunderbird fails to view and open emails or any other data. It can happen due to a system crash or any other reason. When an error occurs it demands a sustainable solution to fix the error. By default, there is a thunderbird mailbox repair tool available to repair the corrupted file.
So, we are explaining all the solutions that can help you to repair your thunderbird mailbox.
What is Thunderbird Mailbox Repair Tool?
By default, there is an in-built tool in Thunderbird to repair the mailbox. Mozilla Thunderbird provides this feature to repair corrupted mailbox data files. You can easily repair any minor corruption of MBOX files. This amazing feature is available on every version of Thunderbird. By using the tool, you will be able to recover the headers part of each mail in Thunderbird.
Benefits of Thunderbird Mailbox Repair Tool For Corrupted MBOX File
1. If the local folder data get corrupted for any reason and you want to recover the same then, the default feature of Thunderbird to repair mailbox is helpful to repair local folders as well.
2. If you face any minor corruption in Thunderbird related to emails, contacts, and other tasks. This will repair all the minor corruption in Thunderbird.
3. MSF file which retains the index of a particular email in Thunderbird, and by any mishappening your MSF gets damaged then thunderbird in-built feature allows you to repair the damage MSF file.
4. In-built tool in Thunderbird can repair your MBOX data file without any data loss.
Step by Step Guide to Use the Thunderbird Mailbox Repair Tool
1. In the Thunderbird window, go to the Left Panel and select the folder which is having an error and you want to repair the same. For instance, select Inbox Folder.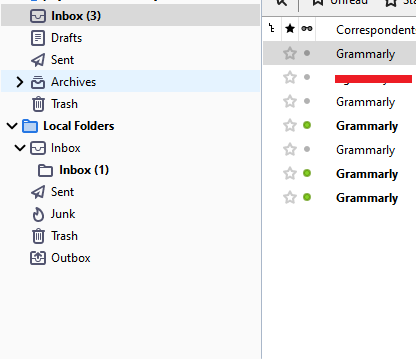 2. Now, right-click on the folder and select Properties from the new pop-up box that appears.

3. A new Folder Properties box will appear on the screen, click on the Repair Folder and tap OK.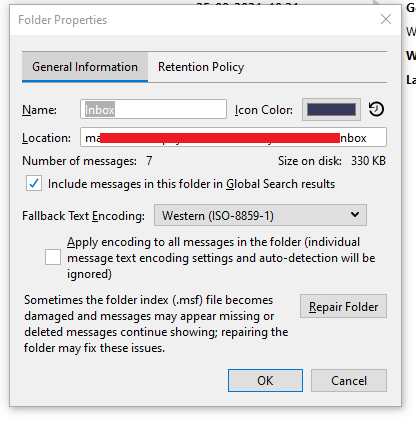 4. Close the Mozilla Thunderbird application, and restart it, your corrupted files from the Inbox folder have been repaired.
Sustainable Solution to Repair MBOX File in Thunderbird
Mozilla Thunderbird's in-built feature can repair corrupted files but there is a drawback to it. It can only repair minor corruptions or errors that you are having in the mailbox but when it comes to repairing major corrupted files this feature fails to solve the error. Hence, this problem demands a reliable and systematic solution to repair major corrupted files. One such reliable solution is SysTools MBOX Converter. This software not only repairs the minor errors but solves all the major errors you face in the thunderbird mailbox.
Benefits of Using SysTools Software to Fix the Major Errors in Thunderbird Mailbox
1. This software helps you to convert multiple MBOX files (s) in bulk.
2. By using this tool, you will be able to convert MBOX files into different file formats. Such as PST, PDF, NSF, HTML, EML file formats.
3. In this utility, you can preview your particular mail in multiple modes, such as Hex view, MIME view, HTML, RTF, Message header view, and Email hop view along with attachments.
4. In this application, you can repair and convert orphaned MBOX in just a few steps.
5. If for any reason your file has been deleted permanently then this software is capable to recover those files as well.
6. We usually need a report on what and how the process has been processed, here, you will get a report of the process that contains every detail of the conversion process. So, you can save this report for your future reference.
7. This application has a great feature to split the file. You can break the file into different sizes at the end of the MBOX file conversion process.
Steps to Use SysTools Application to Repair Thunderbird Mailbox
Download and Install the utility on your local system and follow the given steps –
1. Open the application, in the left panel side of the window select Add File.

2. A new pop-up box will appear on your screen, select the MBOX File option out of the available options and then, click on the Next button.

3. Now, from the new window select the path of the MBOX files and tap on the Process button.

4. You can click on any email/file and view it in the given preview modes. Now select files and tap the Export button from the menu bar.

5. Lastly, you can convert the repaired file into given file formats and in addition, you can split the files into MB and GB according to your needs. Now, tap Export.
Conclusion
In this write-up, we have discussed the default and smart utility to repair the MBOX file in thunderbird. By default, Thunderbird has a mailbox repair tool to repair the corrupted file but it has some limitations along with it. It cannot repair any major corrupted files. Hence, you required a systematic application to repair highly corrupted MBOX files, we recommend you the SysTools Software. It just not only helps you to view and open your corrupted file but provides you a report of the entire process of the file conversion.