SysTools MBOX to Outlook Converter – Software Review
In this blog today, we are going to aware readers of one of the best utility to help them migrate to MS Outlook from 20+ MBOX supported email clients. The perfect example of a comprehensive and smart solution to convert multiple MBOX data files to Outlook PST in bulk. We are talking about none other than the SysTools MBOX to Outlook Converter.
Overview: This excellent software tool is developed by a group of professional experts at SysTools. An IT firm with over 180 products in the range of Data Recovery, Digital Forensics, and Cloud Backup. SysTools has already simplified the lives of millions of personal and professional users with its innovative solutions. And, even among these remarkable solutions, SysTools Mbox Converter is right at the top.
It is a gem of a solution to effectively convert any MBOX file to MS Outlook supported format i.e., PST. Incorporated with a wide range of excellent features, this tool makes the process of moving to Outlook very easy. The tool possesses a simple and self- explanatory interface with a powerful and quick performance. Overall, it has turned out to be a perfectly reliable, consistent, and effective software package for everyone's Outlook migration needs.
SysTools MBOX to Outlook Converter Review
The mentioned software is available for both Windows and Mac platforms. Users can choose among them as per their requirements. However, both are equally capable of converting any 20+ email clients supported MBOX files data including emails, calendars, contacts, tasks etc to Outlook PST format. Moreover, MBOX files from Google services such as Google vault and Google Takeout are also supported for conversion by the tool. Also, the tool guarantees a safe conversion and hence, no issues of data loss occurs in the converted files.
Read further to know about the various features of the software for both Windows and Mac platforms in detail. Also, find the download link of the freeware version for both the platforms along with their requirements.
SysTools MBOX to Outlook Converter for Windows Platform


System Requirements

Intel Pentium® 1 GHz processor(x86, x64) or equal
2 GB of RAM
100 MB of free hard disk space

Microsoft Windows – 2000, 2003, 2008, XP, Vista, 2008/2012 or Windows 7/8/10, (32-bit & 64-bit)
Microsoft Outlook – Outlook 2003, 2007, 2010, 2013/ 2016 (32 & 64 bit)
Export Formats – Outlook PST, PDF, EML, MSG, HTML, NSF.
Some striking features of the tool:
1. Exports multiple MBOX files to Outlook (including deleted emails)
The mentioned software application can import and convert every MBOX file to PST format supported by all Outlook versions. The Add File button is used for this purpose. The process is safe throughout and the chances of data loss are nil. Also, the utility is fully capable of recovering permanently deleted emails from Mbox file(s) and restoring them in Outlook in healthy format.
2. Supports various email client applications
The software provides the option of auto-detection of mailbox file from multiple email clients directly from the local machine. These email applications are namely Mozilla Thunderbird, MS Entourage, Eudora, Netscape Mail, PocoMail, SeaMonkey and SpiceBird. Users can also import any orphan MBOX file of their choice for data conversion.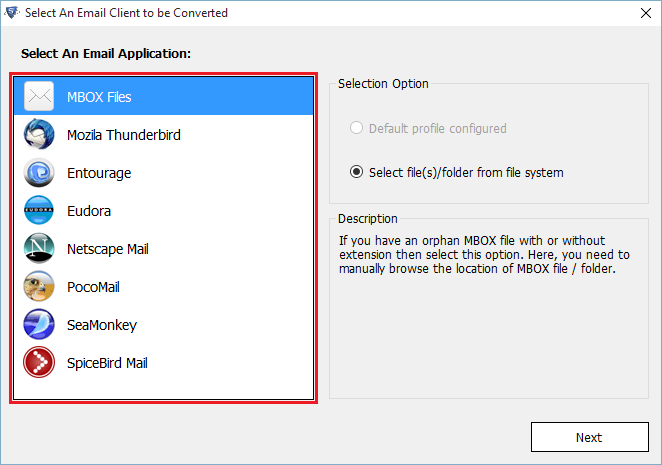 3. Provides Dual Scanning Options
The mailbox data can either be extracted manually from MBOX files or the tool can directly fetch it from the supported email clients. These selection options are as follows:
Default Profile Configured: This radio button will automatically fetch all your data from any email identity you have configured in your selected email client. There is no need to look for the data file location of that email application.
Select File(s)/Folder from File System: This radio button enables you to fetch the data from mailbox file manually from any location.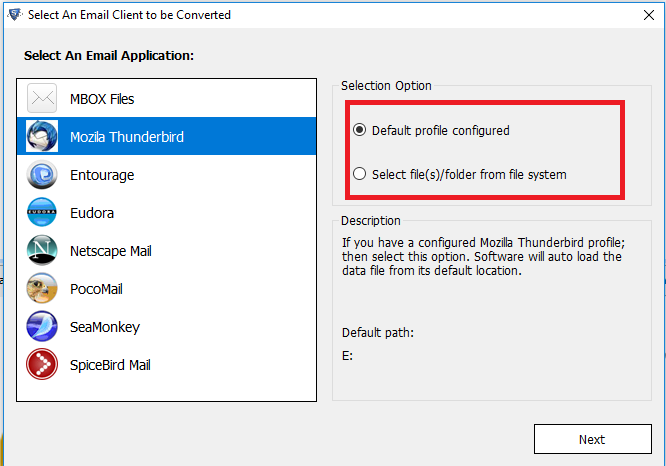 4. Folder mode and folder hierarchy
While importing MBOX files manually from the desired location, the tool provides two different folder related options for user convenience. These are:
Use Folder Mode: This option lets you add multiple mailbox files at the same time. You can just browse and select an entire folder containing those files to import them in bulk.
Maintain Folder Hierarchy: This option lets you preserve the original folder structure after the conversion as it was before. This helps users in case of importing multiple files by maintaining their organization structure.

5. Preview panel with attachments view
The reviewed MBOX to Outlook Converter has an in-built preview panel which supports a total of nine total previews including attachments. These views are available for each and every email extracted from the mailbox file or email client. The eight views other than attachments are Normal Mail View, Properties View, Hex View, Message Header View, Email Hop View, MIME View, HTML View, and RTF View. Hence, you can conveniently view and select only the data important to you for conversion.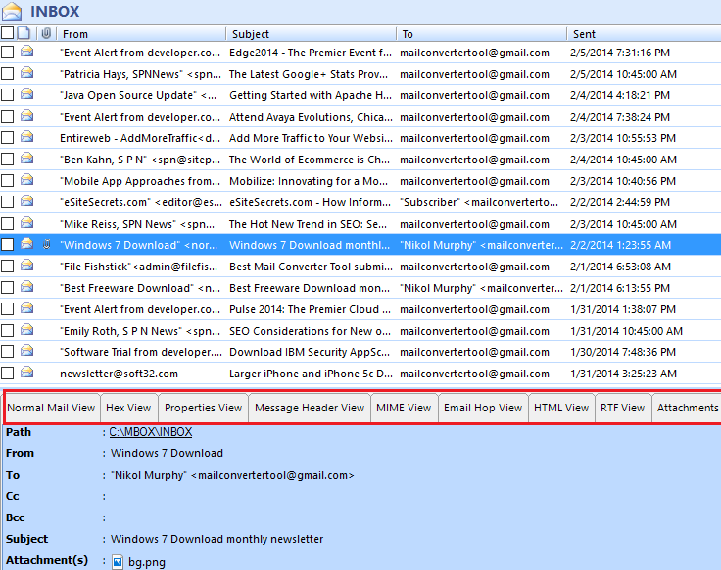 6. Supports Selective and Batch Migration
The utility has multiple export options with which you can easily perform either selective or bulk conversion.
Export All Folders: This option allows users to export all MBOX file(s) data in bulk.
Export Selected Folders: This option is provided for a selective approach. Only those file(s) and folder(s) data that are specifically selected by the user will be converted to Outlook PST.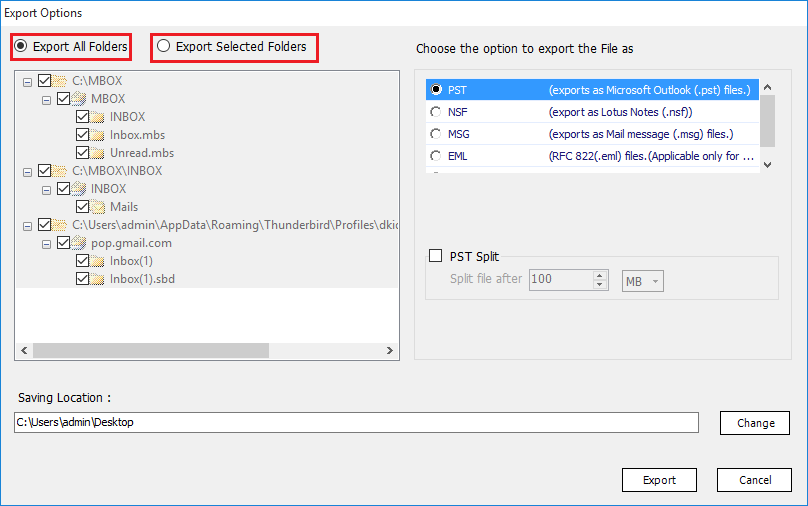 7. Supports multiple MBOX formats
MBOX is a common format for many email clients to store mailbox data including emails, tasks, calendars, etc. However, it has some variants such as .mbox, .mbx, and MBOX file without extension. The software supports each of these variants and is perfectly capable of converting every piece of data from them. In addition, some export options other than Outlook PST are also provided in the tool for user convenience. These include PDF, EML, MSG, NSF, and HTML.
SysTools MBOX to Outlook Converter for Mac Platform


     System Requirements

Mac Computer with Intel Processor
2 GB of RAM
80 MB of free hard disk space

Mac Support:- OS X 10.10, OS X 10.11, macOS 10.12, macOS 10.13, macOS 10.14
Export Formats:- Outlook PST, MSG, EML, PDF, EMLX, HTML
Some prominent features of the tool
1. Two Scanning options to fetch data
The tool can convert multiple data files to Outlook at the same time. To import the file(s) or folder(s) into the software interface, separate options are provided to the users:
Add File(s): This option lets users locate and import the particular MBOX file into the interface.
Add Folder(s): This option lets users add entire folder contents by selecting the folder to import into the interface. This helps in adding multiple mailbox files stored in a folder at the same time.
2. Preserves data integrity
Every bit of information and properties related to the mailbox file data is retained after the completion of conversion process. The software does not alter or harm them in any way. It preserves the entire folder structure, inline attachments and HTML formatting without exceptions. Moreover, basic properties like header information, to, from, cc, bcc, subject etc. are also perfectly retained and not tampered with.
3. Date filter and Advance Settings
The software aims to provide users with utmost convenience while delivering desired results. Thus, various options such as Naming Conventions and Date Filter are incorporated in the tool.
Date Filter: This mechanism filters the emails to be exported according to the specified date range. It is particularly helpful when users need to save emails of only a particular time period.
Create Single PST: Option to merge all the MBOX files into a single PST file.
Split PST option: Provides the ability to split pst file after a particular size.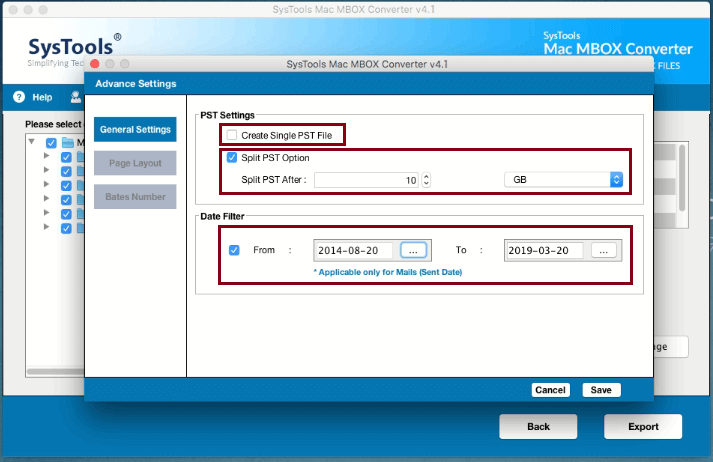 4. Supports all Mac OS versions including latest versions such as OS X Yosemite, OS X El Capitan, macOS Sierra, macOS High Sierra, and macOS Mojave.
Version variants:
MBOX to Outlook Converter is available for both Windows and Mac platforms. They come in two variants: A free demo version and a licensed full version.
The freeware demo tool is not inferior to the licensed product as it also supports all its features. However, you can only export 25 items/folders with the demo tool. Users can easily purchase the licensed full version once they are satisfied with the working of the trial version. Looking at the capabilities of the software, its safe to say that purchasing it is worth every penny.
Conclusion:
Migration from one email client to another is always a hefty task. If not done properly, it may result in severe data loss issues and even complete data file corruption. Hence, a professional approach is always suggested by experts. Being the pioneer, SysTools has already developed one such powerful solution to help users migrate MBOX data from over 20 email clients into Outlook. The reviewed MBOX to Outlook Converter is helping thousands of Windows and Mac users worldwide to solve their conversion problems. And, with an array of remarkable features along with excellent performance, this software is clearly among the best out there. So, it won't be a surprise when we rate it 9.8/10 after its thorough inspection.