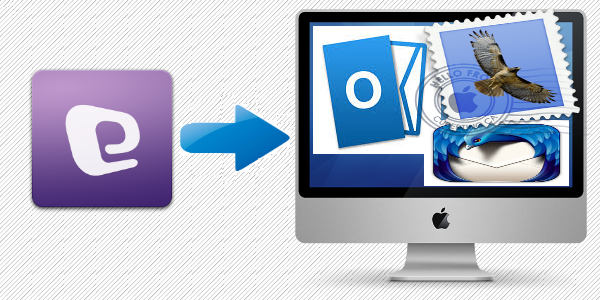 Entourage, once a popular email client exclusively for Mac users is now an outdated application. It is a Microsoft product but it was discontinued in favor of MS Outlook(one of the most popular email client today). Now, it cannot even compete with the features of the ever increasing number of email platforms and is sure to be extinct in the future. So, what about those users who still use Entourage because they have a lot of important data stored in it. Well, they all are seeking email clients which match their requirements so they could switch. Among these clients, the most reputed and sought after email platforms are MS Outlook, Mozilla Thunderbird and Apple Mail. And so arrives the question as to how to transfer Entourage Mail to New Mac OS X email clients? Well, worry not, we have it all covered in this article.
Various Options of moving Entourage to New Mac OS Email Clients
There are a lot of email client applications available to choose from for Mac Users. However, requirements vary from user to user. And whatever client fulfills that requirement will be the obvious choice for the user to migrate to. Among these choices, the most used email clients in recent times are MS Outlook, Thunderbird and Mail App. Now to transfer Entourage Mail to New Mac OS email client, we will first need to convert Entourage mailbox file to that email client's supported file format.
I. Locating the Entourage MBOX file
Default location of Entourage 2008:
Name/Users/username/Documents/Microsoft User Data/Office 2008 Identities/Main Identity
Manual way to export Entourage mailbox file:
Launch MS Entourage on your Mac system
Click File >> Export >> Items to an Entourage Archive radio button
Select each content you want to extract by ticking the checkboxes
Click Right arrow and select Yes, Delete Items From Entourage After They Are Archived
Click Right arrow again and select Save to finally export the Entourage data archive to your desktop.
Note: Remember, you will need this file to perform the migration of data and hence create a backup of this file to avoid any data loss risks in future
II. Transfer Entourage Mail to New Mac OS X Individual Email clients
Once we have the Entourage data file, we can use the following methods to migrate the data to individual email client as per your choice.
Case 1: Import Entourage data file into Apple Mail App
If you wish to move from Entourage to default Mac Mail App, follow the given simple steps:
Launch Apple Mail app on the mac system
Now, go to File >> Import Mailboxes
Choose Files in mbox format radio button and click Continue
Select the Entourage data archive you created earlier and click on Choose
A confirmation with the name of the imported mailbox folder will be displayed. Click Done.
This concludes successful completion of moving Entourage to new Mac Apple Mail process.
Case 2: Transfer Entourage Mail to New Mac OS X Thunderbird Application
If your email client migration choice is Mozilla Thunderbird for Mac, then follow the procedure given below:
First of all, complete all the steps under Case 1 to import the Entourage data into Apple Mail
Once its done, launch Mozilla Thunderbird on your Mac system
Now, go to Menu >> Tools >> Import option
Choose what you want to import from multiple options provided and click Next
Finally, select Apple Mail and click Next
Once the process is complete, Entourage data will be saved under mailbox folder named Apple Mail(Import) in Thunderbird.
Case 3: Move data from Entourage to Outlook on a Mac
There is no direct method to import Entourage mailbox into MS Outlook as it does not support the MBOX format. You need to convert MBOX into PST file format first so Outlook can import it. The best way to do so is to use a third-party software such as SysTools Mac MBOX Converter. However, there are some manual workarounds which can perform the data migration. But they have high failure rates and are not feasible for a large amount of data.
First manual workaround is to move data to Outlook 2011
Perform all Case 1 steps and then launch Outlook 2011 for Mac
Go to File menu >> Import… >> Information from Another Application
Click on the Right arrow. Next, Choose Apple Mail and click right arrow again
Select from the multiple options and click the Right arrow. Click Finish
The Entourage mailbox data is successfully migrated to Outlook 2011.
Second Manual workaround involves moving Entourage to new Mac Outlook 2016 application
First and foremost, perform all procedures given above to move data to Outlook 2011
Now, launch MS Outlook 2016 on your Mac system
Go to Tools >> Import >> Outlook 2011 data on this computer radio button
Next, Click on Continue. Next, select the location to import from and click Continue
The Entourage mailbox data is successfully migrated to Outlook 2016.
Why the need for an expert third-party solution?
The manual process is very complex and confusing.
It is too time-consuming and requires expert guidance.
It also requires the use of other email clients such as Apple mail.
Outlook 2016 has the most superior features and hence attracts more bulk of users compared to any other email client. But it also has the most lengthy and time-consuming manual procedure to do so. Thus, it is advised to use a third-party solution to transfer Entourage mail to new Mac OS X Outlook application.
SysTools Mac MBOX Converter
The most effective way to convert Entourage MBOX to Outlook PST is using Mac MBOX Converter. It is quick, easy-to-use, generates accurate results and has no data loss risks whatsoever. Furthermore, it offers a wide range of beneficial features which can overshadow any manual or other automated solution. Let's have a look at some of them:
Converts Multiple Entourage MBOX to PST format
Supports both selective and bulk migration
Folder structure is preserved throughout the process
Provides Date filters and Naming Conventions for user convenience
The exported PST output file is supported by all Outlook versions
Final Words
Entourage is an outdated email client. Hence, its users often seek some other email client to migrate to. However, this migration task is not so simple when moving to particular email applications. In this article, we discussed the various option to transfer Entourage mail to new Mac OS X email clients. The manual methods seem to be OK for moving data to Thunderbird and Apple Mail. But the same cannot be said for MS Outlook. Thus, we also provided an expert solution for moving Entourage to new Mac Outlook application in a quick and efficient manner.