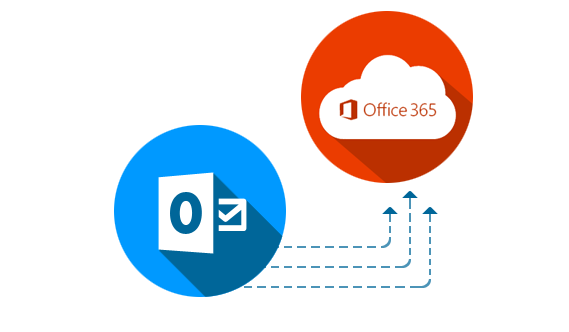 This guide, comprises of the most efficient methods for uploading PST to Office 365 account. Discover, several methods and tools that can help you to upload pst files into multiple Office 365 user accounts concurrently.
What is PST File?
PST file is also known as Personal-Storage-Table is a file format to store Outlook mailbox data (for both MS Outlook & Office 365). The PST files get stored in different work-systems and not on any secured & centralized servers. Outlook PST file contains emails, contacts, calendars, task, notes etc. These files can be used for sharing and backup purpose.
Why Upload PST to Office 365 is Important?

There are many organizations either big or small, were using Microsoft Outlook email client as their preferred way of email-communication. But, as the technology is increasing, most of the Outlook users start thinking about switching the cloud based email client.
The most preferable cloud email client for desktop Outlook user is Office 365, which is the web version of Outlook. Office 365 is mostly preferred because the interface of Office 365 Outlook is quite similar to that of MS Outlook. This is why, many Outlook users looks for solution to upload pst to Office 365 account. 
Being web-based suite, Office 365 user can access their email, contacts, calendar as well as document from anywhere and any time.
Office 365 provides many benefits to its users like great security, MS Office-suite applications and many such more, owing of which upload PST to Office 365 always seems a profit proposition to many users.
In those enterprises, where MS Outlook is used for storing all important customer-info, crucial employees' data, confidential marketing plans, corporate financial details, etc., and all this data and info is stored in PST files. For avoiding data loss risks due to PST corruption, and also to avert the loss caused due to inevitable data-stealing, many such firms decide to transferring PST file to O365 for keeping their critical data safe and secure.
A great benefit rendered to Office 365 users is its suitability with various storage-plans for meeting the varied needs of different organizations of different sizes.
Best Methods For Uploading PST File to Office 365
When is comes to transfer of data from Outlook PST file to Office 365 then there are two options, either use manual methods or take help of automated tools in market for quick and easy data transfer.
Generally, there are two methods for uploading PST files into Office 365 Outlook, which are; Network Upload and Drive Shipping. We have also listed all the methods with automated tool which is the best alternative for manual solution.
#1: Upload PST Files to Office 365 Using Network Upload
To upload PST to Office 365, user needs to first upload the PST file in MS Azure storage and then use Office 365 Import Service for the importing the PST file into Office 365 user mailboxes.
This methods requires the good knowledge on the working of Office 365 Admin center as well as PowerShell commands. You can read the below article to understand the working of Network upload.
Limitation: The aforementioned method is currently available in limited parts of world. If import service is not available in your region then you need to opt for different procedure. 
#2: Drive Shipping Method to Upload PST to Office 365
In case, if user doesn't wanna go though the complex process of Network upload, Microsoft provided another method; which is Drive sipping. In this method users need to copy pst file into hard disk drive; this has been encrypted for the purpose of protection from any unintended and unauthorized access. The drive has to be shipped physically to Microsoft Corporation, and from there, Data center branch routes the copy, which is the same as that has been stated in the 1st process above. For this task, Microsoft will charge 2$ per GB of a PST file.
#3: Automated Solution to Upload PST File into Office 365
For avoiding limitations and complexities of the manual solutions, users can take help of third party software like SysTools Office 365 Import tool for Outlook to Office 365 Migration. Endowed with effective feature-set, these tools are professional in nature so provides an easy way of importing multiple PST files into Office 365 in bulk with much less effort and much less time-consumption.
There are many vendors offering such tools, and out of all these, SysTools software is the ones whom the market loves and admires for their foolproof and impeccable solutions. As during the uploading process, this automated tool provides various exceptional features such as:
Upload PST files to Office 365 with or without Admin account
Multiple options for uploading and mapping of PST file to user accounts
Incremental import option to skip already transfer data from PST files
Category and Date filters for transferring selective data.
Include/Exclude option for Deleted and Sent mailbox data
Option to create a Office 365 mailbox with same name as PST file.
Upload PST to Office 365 shared mailboxes using Admin account.
Much more…

Steps to upload PST to Office 365 user accounts are:
First, Install the Office 365 Import Software on your system. 
Choose the Login option: 'Is Admin' for login as Administrator or skip.
Upload PST files using Add File/Folder option
Enter the User id for each PST file and authenticate (enter password if login without Admin)
Select the Category of Items to import from PST file & Set Date-filter.
Use Advance filtering options and click on Import button to begin.
Conclusion
In this blog, we have talked about two approaches to upload PST to Office 365. One is the manual approach, which is free, but has certain limitations. Second one is more of an expert solution i.e. to use expertly created tools by professionals to carryout seamless process for importing multiple PST files into Office 365.