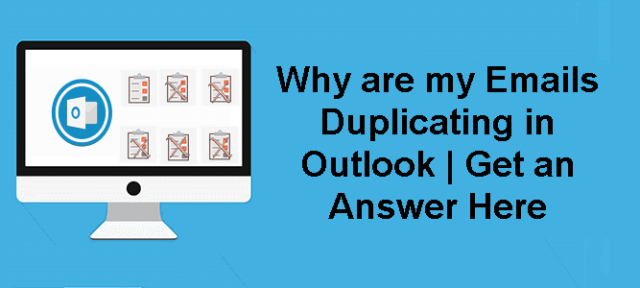 Why are my emails duplicating in Outlook is one understands that locating original emails might be challenging if you are seeing duplicate emails in Outlook. So, after reading this post, you will understand why many duplicate emails occur in the inbox and how to stop duplicate emails in Outlook safely and promptly while keeping essential data intact.
A duplicate email is a product that is stored in your Outlook mailbox twice. Duplicates can be anything, such as an email message, note, calendar, contact, task, or attachment that takes up the same amount of storage space as the original mailbox items. The majority of duplicates are caused by advertisements, newsletters, press releases, or offers for new goods, among other things. Some of the additional reasons for Duplicate Outlook items are discussed below.
Why Are My Emails Duplicating In Outlook – Reasons Explained

Receiving Duplicate Emails: Duplicate things such as emails are created in your inbox as a result of a large number of emails sent by your coworkers, friends, or clients. Advertising firms or groups may send you the same email, newsletter, or press release several times in order to get your attention for their plan.
Incorrect Synchronization: Another cause of duplicate emails in Outlook is improper or interrupted synchronization with a laptop or mobile device. For example, if you read some emails on your smartphone and others on your PC, the placement of the emails may move to a different folder on each device.
Server Issues: Duplicate Outlook items are occasionally produced as a result of Mail server problems, particularly if you select the "Leave Messages on the Server" settings option. Incorrectly set MS Outlook rules to result in duplicate emails in Outlook when two or more "move a copy to" rules are applied to a certain receiving email.
PST Merge and Incorrect Mailbox Settings: Attempting to merge several Outlook PST files into a single file may result in duplicate items. If your Outlook mailbox settings are incorrect, you may get identical emails and other things several times.
Antivirus-generated duplicates: Some antivirus software is also responsible for creating duplicate emails in Outlook. Obviously, it will not do this on purpose; it may just be an unexpected reaction, particularly if you often touch the "Send/Receive" button, interfering with the intended send/receive/save operation.
Whatever the cause, there are a lot of duplicate items in Outlook. However, you should keep in mind that identical emails make your working experience unpleasant and less lucrative.
Why Is It Important to Stop Outlook Duplicate Emails?
As we all know, Outlook is an excellent email client that is widely used by both small and large businesses to boost company efficiency. However, due to duplicate emails in Outlook, the majority of users experienced the following consequences:
Less Memory Space: One of the most common causes of memory problems in Outlook is duplicate objects. And duplicate things take up the same amount of space as original emails and contacts. As a result of limited storage capacity, you may experience delays in future emails.
Degraded System Performance: As the number of duplicate items on the Outlook program grows, the pace of the Outlook process begins to slow, and your system may begin to hang or freeze.
Increased Data Corruption: When you encounter duplicate items in Outlook, your stored emails may become damaged, and in rare circumstances, your mailbox data may be corrupted.
Slow Send/Receive/Program Open Process: If there isn't enough space available owing to duplicate Outlook items, the open/send/receive process of emails suffers and takes too long to process.
Manual Way to Stop Outlook Duplicate Emails
Solution 1: Set the Inbox Update Timing.
Duplicate emails in Outlook are also caused by the timing of inbox updates. To avoid receiving duplicate emails in Outlook, increase the inbox update timing. Now, in order to finish the procedure correctly, it is recommended that the following stages be taken in the order shown below.
1. First, launch Outlook on your computer.
2. Choose the Send/Receive option.
3. Select Define Send or Receive Groups.
4. Set the value of "Schedule an automated send/receive query" to somewhere between 15 and 30 minutes.
Solution 2: Properly Establish the Rules
You may also stop duplicate emails in Outlook by appropriately establishing the Outlook rules. If the rules are configured correctly, an Outlook user will not get duplicate emails, resolving the issue.
Solution 3: Modify Anti-Virus Preferences
One of the most common causes of duplicate emails in Outlook is anti-virus software. Because antivirus is in charge of terminating the server connection. And if the server connection is not correctly closed, the emails are not Jas received, and the download cycle continues.
You will undoubtedly be able to stop duplicate emails in Outlook with the assistance of the preceding technique. However, if your mailbox is already full of duplicate emails, Microsoft does not give a suitable option for removing duplicate items from Outlook. As a result, the specialist advised using an automatic approach to delete duplicate emails from Outlook.

Most Outlook users like SysTools Outlook Duplicate Remover Tool. Because this Outlook duplicate removal application is capable of removing any type of data item from Outlook without causing any data loss. As well as this duplicate removal program draw-out duplicates from Outlook PST/OST/BAK files.
Conclusion
The technique described above will unquestionably halt duplicate emails in Outlook and resolve your query of why are my emails duplicating in Outlook. So, follow the steps above to resolve the duplicate email in Outlook. Alternatively, if you wish to draw out duplicate emails from Outlook, you may use the automatic approach mentioned above in the article.