Best SQL Database Repair Tool in 2022 – Recover and Restore MDF File Without Backup
Looking for the best SQL database repair tool to recover damaged SQL databases? If yes! Then you have landed on the right blog. Here you will find the best SQL recovery software that allows the user to repair and restore MDF File without backup.
In today's advanced technology world, Microsoft SQL Server is known as the best relational database management system. It is the most preferred platform for managing and storing large amounts of data in organizations. However, SQL Server administrators also face many errors with it. Any minor error can badly affect the SQL database. To keep the data safe, Microsoft always recommends backing up the latest database from time to time. But sometimes users have no backup and cannot restore corrupted database files.
If users do not have a backup to recover and restore MDF file or the backup is corrupted, then there is no inbuilt feature to recover SQL database without backup. In such a situation, the SQL Database Recovery Tool is the only solution to recover damaged data. In the following section, we discuss the best tool and how it is useful for you. So let's start.
Read More: Disaster Recovery Options for Microsoft SQL Server – Know Here
Best SQL Database Repair Tool in 2022 to Restore MDF File Without Backup
SQL Recovery tool from is listed as the best and effective tool to repair and restore SQL database files. The software makes it possible for users to easily repair corrupt SQL database without backup and external applications. With this tool, users can repair minor or major corruption from MDF and NDF files. It allows users to perform recovery with all database objects including tables, views, triggers, functions, and other database objects.
The software supports both ASCII and UNICODE XML datatype. It can repair SQL Server database 2019, 2017, 2016, 2014, 2012, 2008, and all previous versions database files. This MDF recovery tool show preview of all database items and also display a preview of deleted table recovered and other database objects in red color.
It comes with a user-friendly interface with smooth functions. Users do not require much technical knowledge to recover SQL databases and to resolve page corruption quickly.
Also Read: How to Convert SQL Data to CSV File
How Does Best SQL Database Repair Tool Works?
Working of the Best MDF file Recovery tool is very easy and it gives the complete solution in just a few steps. Here are the steps to recover MDF and NDF files without backup:
Step-1. Download SQL Database Recovery Software and install in on your system to recover and restore MDF file.
Step-2. Click Open and select database files.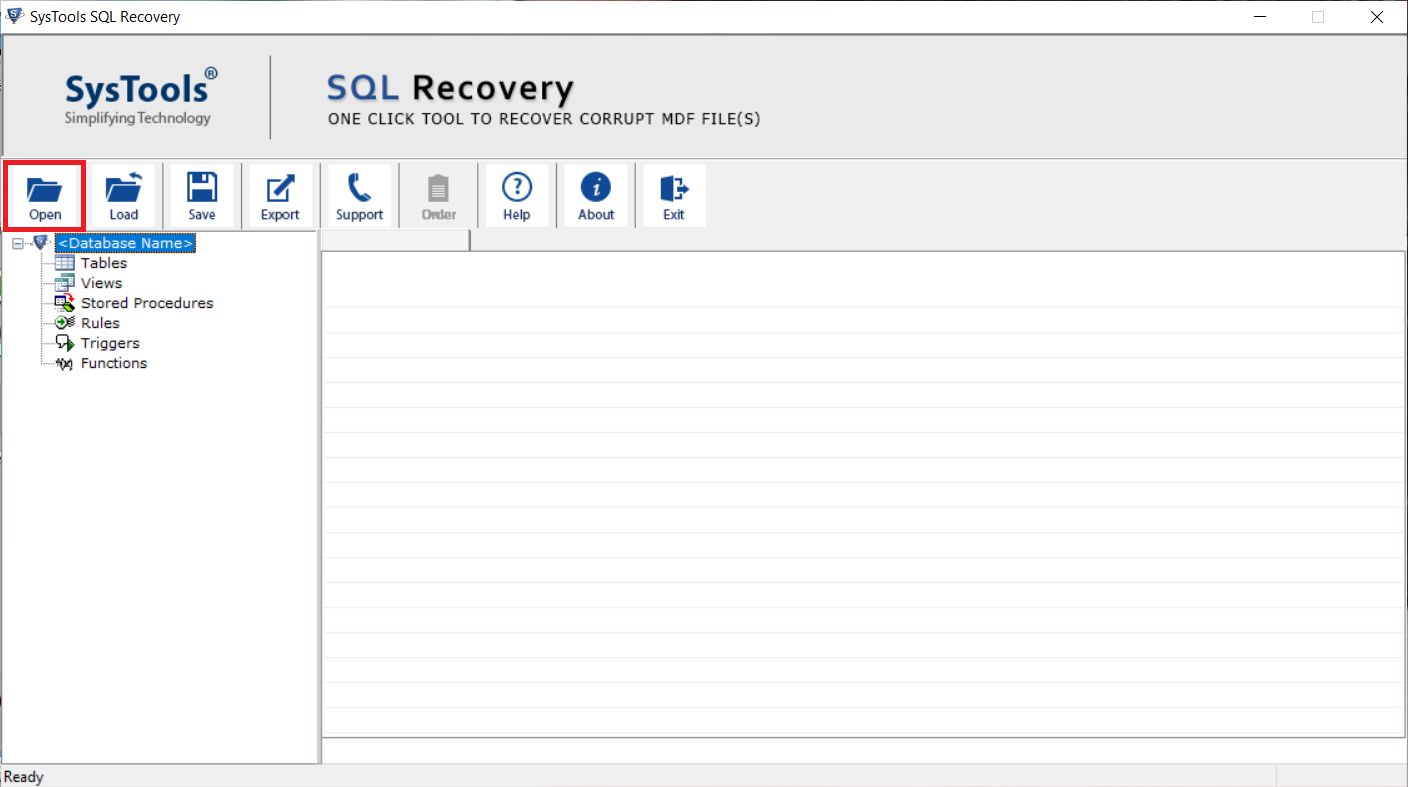 Step-3. Choose Quick / Advance Scan mode and SQL Server version. Also, mark recover deleted objects option to recover deleted data.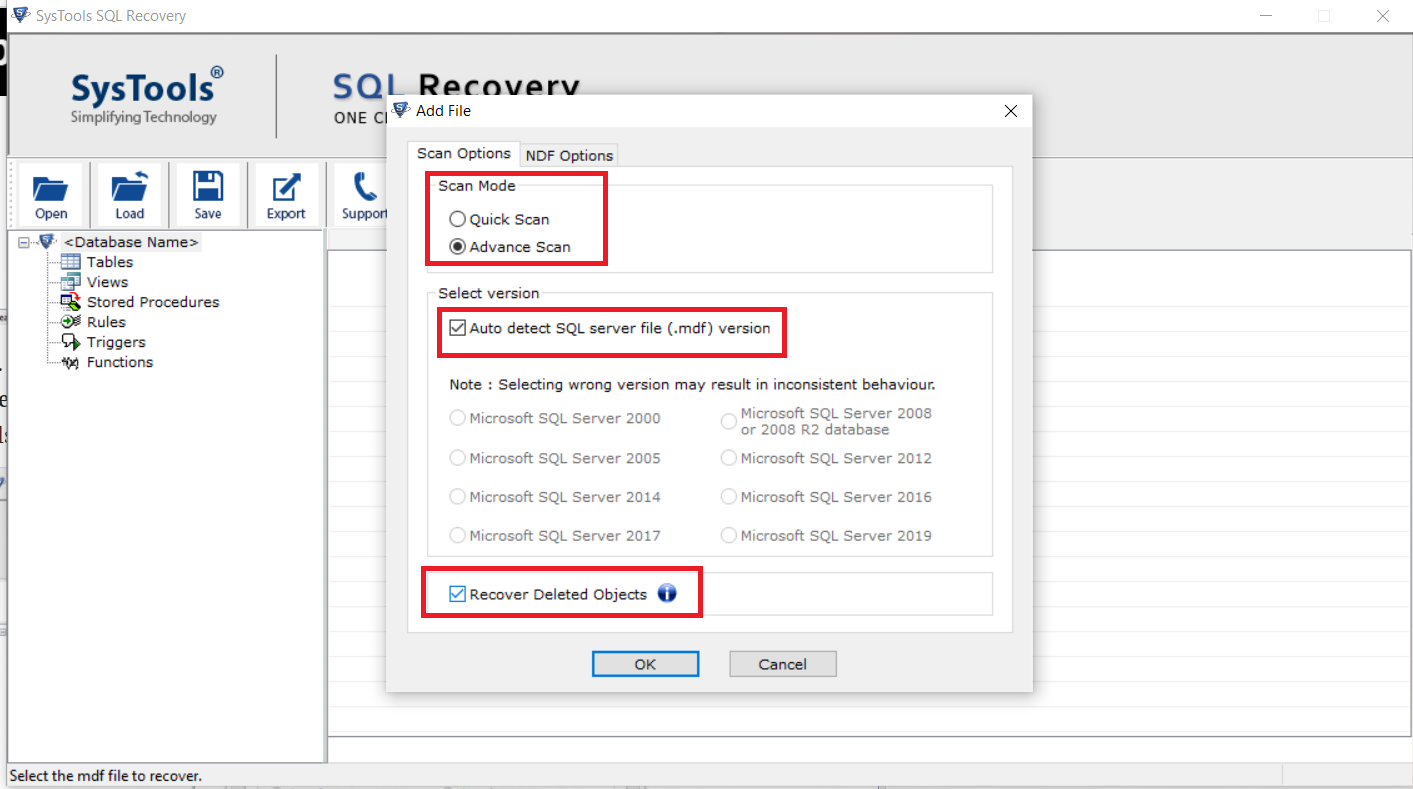 Step-4. After scanning, you can see the preview of recovered database items. the tool shows the deleted items in red color.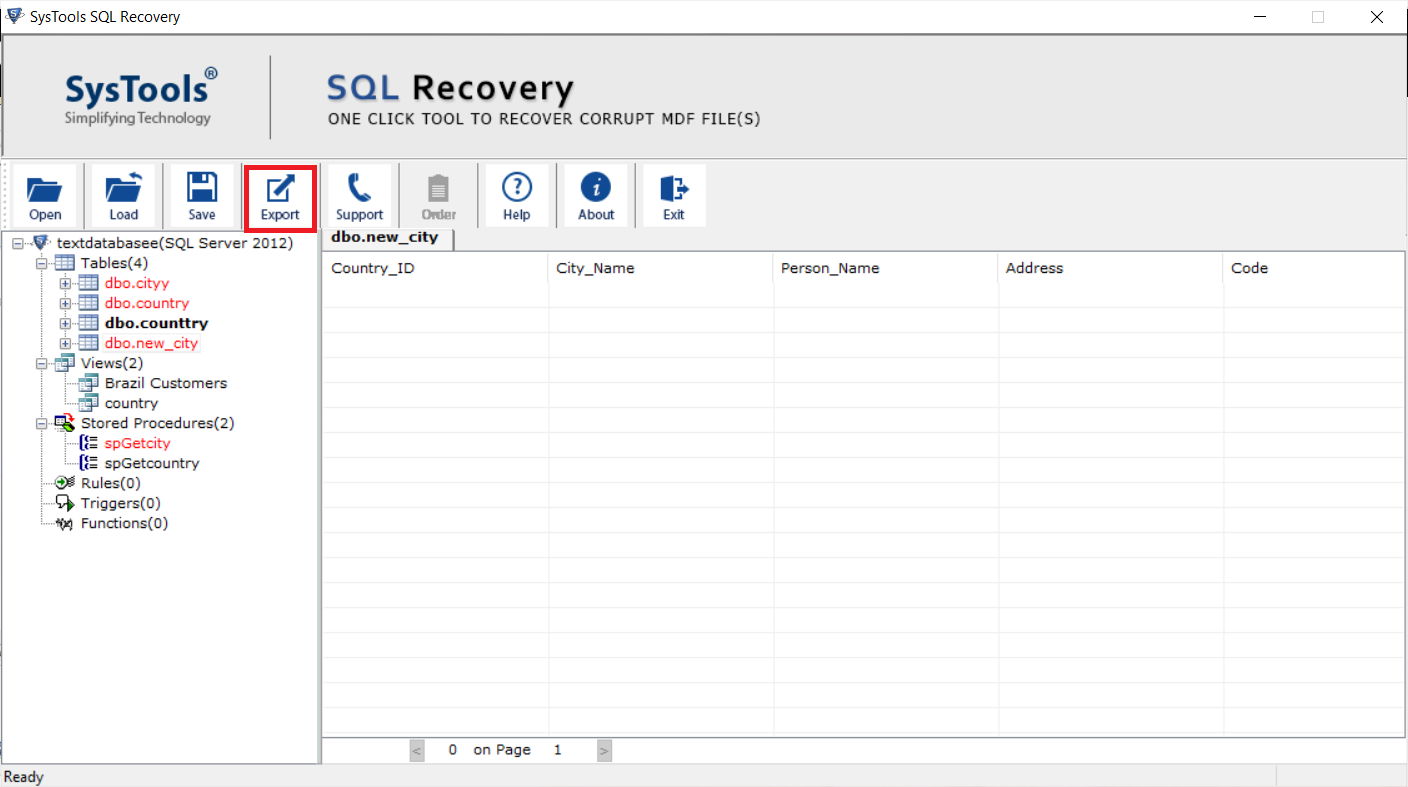 Step-5. Now, restore SQL database files to the SQL Server Database , SQL Compatible Scripts, or CSV File format.
Step-6. If you want to restore in live SQL Server Database, the enter the right login credentials, Server name, User name and password.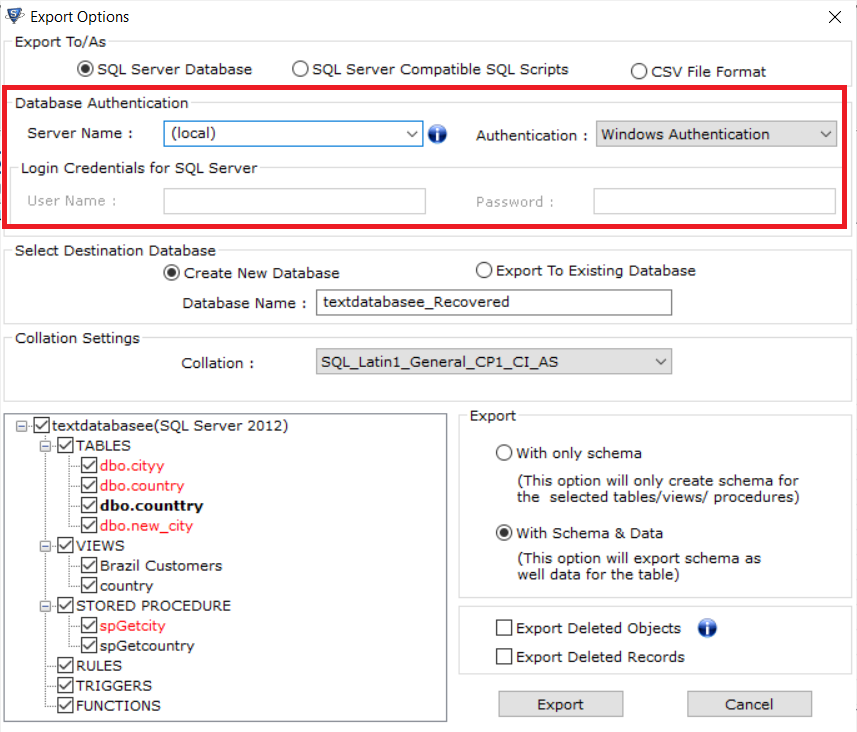 Step-7. Choose destination location to restore database to new database or an existing database.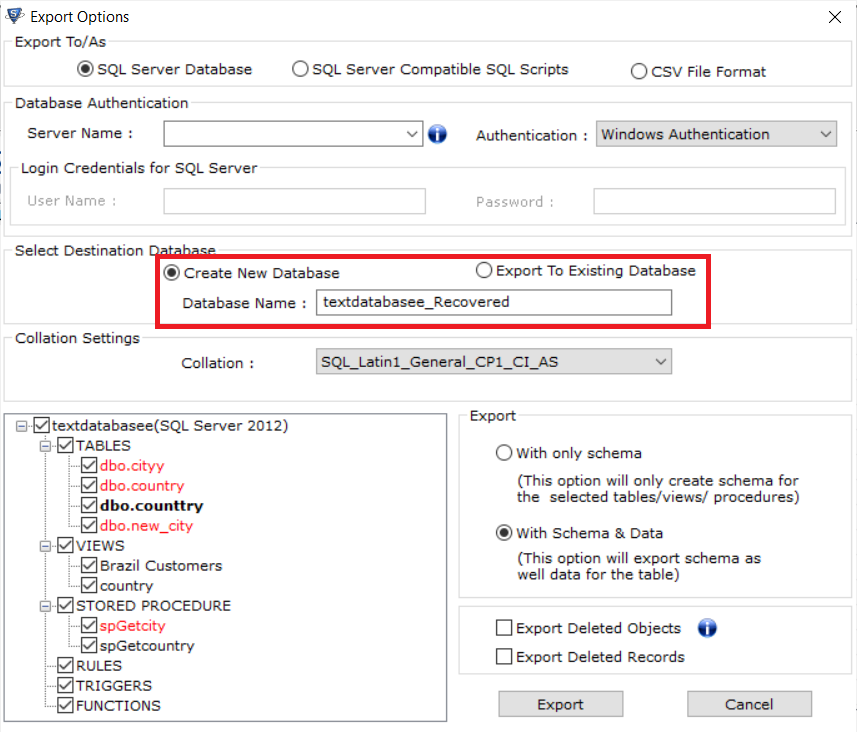 Step-8. Select Export with schema or schema & data both and then click Export button.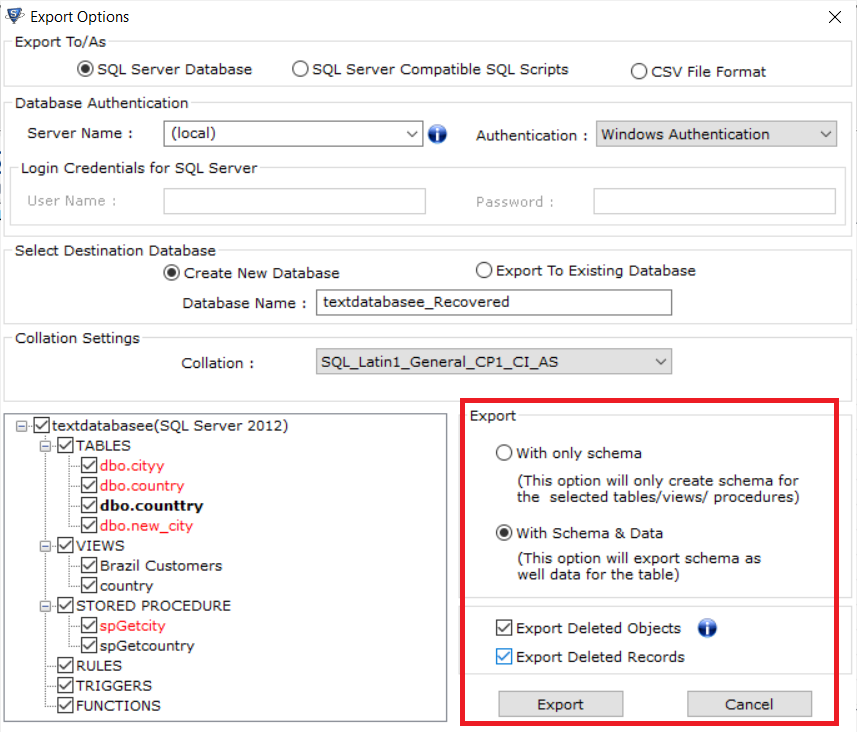 Finished! It's so easy to restore an SQL database without backup and data loss with the best SQL recovery tool.
Also Read: If users want to migrate their SQL server database after repairing the damaged database objects, then simply opt for the Database Migration Tool.
Key Features of the Best SQL Database Repair Tool
The software offers multiple features that make it the best tool to repair and restore SQL database files i.e. MDF and NDF. Some of the highlighted features are listed here-
Recover Deleted Data: With this tool, you can easily recover deleted records from the table and other database objects. The software offers the possibility of previewing deleted data in red color.
Preview of SQL Database Objects: When the scan is complete, the software fix Index Corruption and other database items and shows the preview of recovered SQL database components such as tables, functions, triggers, stored procedures, views, etc.
Repair Both Database Files: This SQL database repair tool can scan and repair MDF (primary database) and NDF (secondary database) files without restricting the file size.
Restore SQL Database: After MDF file recovery, the software offers two options for exporting data to the SQL Server database, exporting as SQL scripts or CSV File. to export data into SQL Server you only need to enter the SQL Server credentials.
Compatible with MS SQL Server: The software supports to repair damaged MDF files from SQL Server 2019, 2017, 2016, 2014, and other versions listed below. The software also has an automatic detection option to automatically detect the version of the SQL database file.
Read More: How to Restore Master Database in SQL Server?
Final Words
If you also have SQL database corruption issues and are looking for the best SQL database repair tool, we discussed this in the blog above. Here we will introduce the best SQL database repair tool to recover and restore MDF file in SQL Server without backup.
We have also listed the working and the features of this tool. You can download the free trial version of this software to check its efficiency.