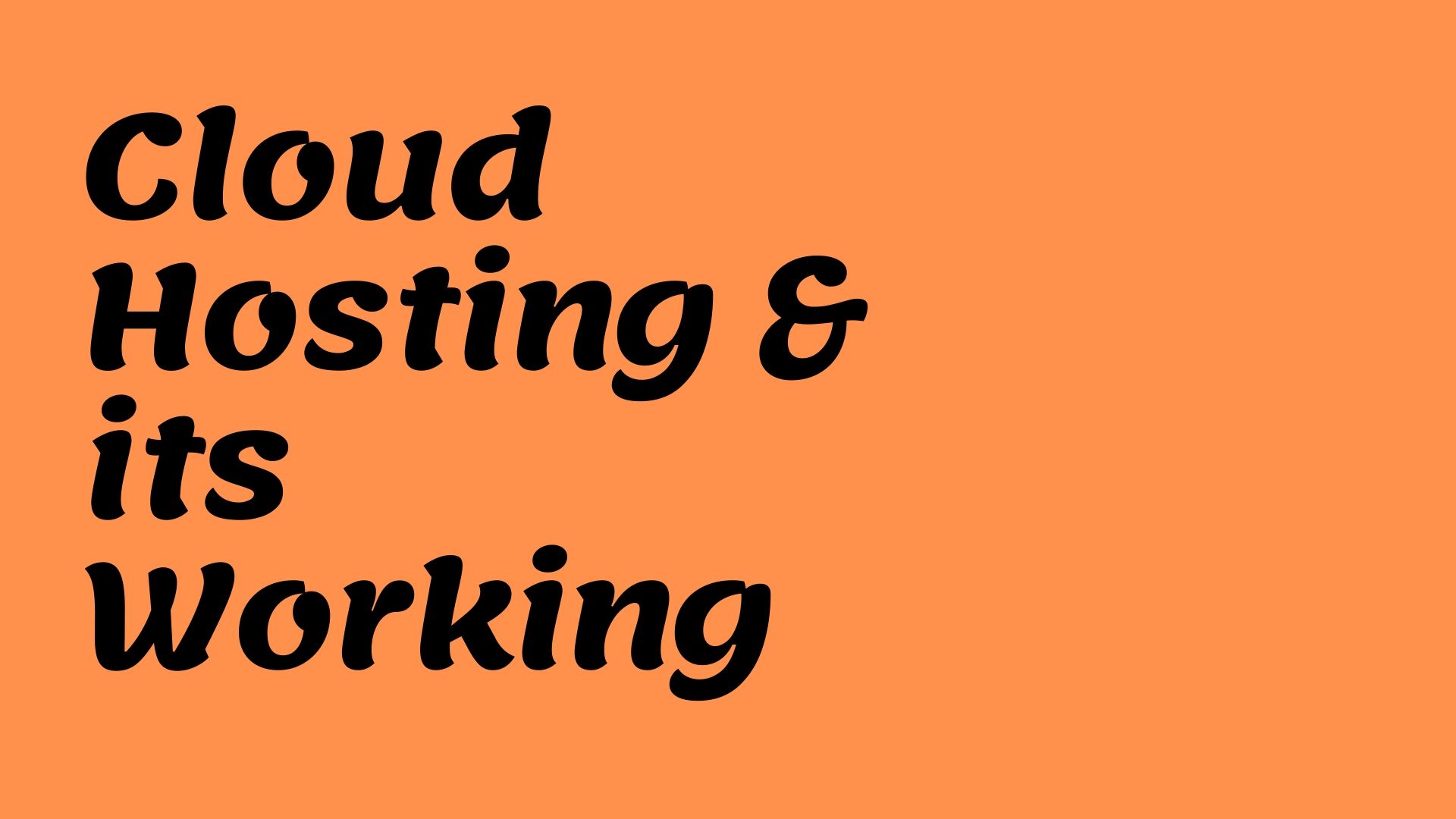 Cloud Web Hosting…
Do you know who was the first who introduced this concept?
Well! It was developed by 'Joseph Carl Robnett Licklider' and here you will get to know about this technology along with various Cloud Hosting advantages and disadvantages, and few other things as well.
So, let's begin to learn about the term Cloud Hosting and how does it really work to clear all your confusions.
Cloud Hosting: What This Term Convey
Cloud Hosting is a form of hosting which got so popular in the last few years because of its features, which differentiate it from others.
Cloud Hosting uses technology to transfer files, data, resources, bandwidth and all other things on multiple servers that are networked to host as one system. Unlike Shared Web Hosting & Dedicated Hosting in which everything to run your website is stored on a single server.
As we all say, every coin has two faces. Likewise, Cloud Web Hosting also has a positive and negative face. So, let's talk about them as well.
Also Read: Best VPS Cloud Hosting Solution with Free Trial
Benefits of Cloud Hosting – Top Advantages
Here, all the major best practices from Cloud Hosting listed below.
Unlimited Resources: You can use a lot of resources and services on the cloud that is accessible through the web.
Pay for What You Use: You have to pay only for what you use. You are not required to pay a particular amount every month because the amount will vary as per the resources you use.
Easy to manage resources: You can view your site's performance and at the same time resources can be scaled up & down on your choice without taking any approval from the hosting service provider.
Minimal Downtime: Cloud Web Hosting stores your websites and applications on multiple servers which gives you the least downtime. As if a server goes offline or outage occurs, other servers will carry on the working of your website.
Great for Sites With Variable Traffic: If your site's traffic keeps on going up and down, Cloud Hosting will be the best option for you as it provides you the resources to maintain your site's performance.
All this makes Cloud Web Hosting a powerful solution for large & huge traffic sites and applications that require high-level performance.
After knowing about the various benefits of Cloud Hosting, let's talk about some of its limitations as well.
Disadvantages of Cloud Web Hosting
In the following section, we are going to share the limitations of the cloud hosting services on a website. Go through it once.
Require Strong Network Connectivity: It depends on the network connectivity. The whole concept holds zero relevance without a good and reliable network connection.
Not Feature-Rich: All providers do not provide equal resources to their clients. So, it is recommended to choose the one who offers unlimited Bandwidth and enough storage space. Also, you would like to work with a hosting provider that will be beneficial for you as your business grows. So, a provider with more and better resources will be good in the long run.
Lesser Control: You are actually trusting the provider's Data centre to take care of your data.
Security Issue: We have seen that cloud hosting is not as secure as it seems to be. It is more often with the Saas Providers as they can be easily targeted due to its popularity.
Lack of Knowledge: You may have already guessed that managing a Cloud Web hosting solution is not a simple process as it takes the skills of an experienced Linux Server Admin or IT Professional, or you can also hire professionals that will manage this whole thing for you.
After getting a big picture of cloud hosting, let's talk about its working procedure.
Also Read: How to Host a Website at Home?
How Does Cloud Hosting Work?
Cloud Hosting provides you a virtual space over the internet and with this, you can use resources according to your requirement that will help your website perform better at the time you need.
Understanding this whole process is important as this is required to get the best out of Cloud Hosting.
1. Choose your Cloud Space
First, you need to choose your Cloud Space according to your requirements. That could be either
Public, or
Private
Public Cloud
Computing Services offered by a third-party provider over the World Wide Web to anyone for free or providing them over their demand is Public Cloud.
They are available to anyone for free or paid that enabled customers to pay only for the resources used by them.
Private Cloud
Private Cloud are those that totally devised for sale purposes for a particular Business Entity. As other types of cloud do not offer that much Privacy and a dedicated environment that is suitable for a business.
To initiate the working of cloud hosting, you need to choose a cloud computing service you want,
2. Choose the Cloud Service You Want
SaaS (Software as a Service)
PaaS (Platform as a Service)
IaaS (Infrastructure as a Service)
SaaS (Software as a service)
Software as a service enables the user to access cloud-based apps or software/server over the internet.
Saas provides software solutions on the rent basis in which you need to pay only for the services you use.
PaaS (Platform as a service)
Paas is a type of platform-based service. It provides a platform that enables the user to run and manage applications without investing extra cost for developing or maintaining an app.
IaaS (Infrastructure as a service)
Iaas is a type of Cloud Computing that provides virtual resources over the internet. These are self-made systems that mean this will provide you the infrastructure of your desired specifications on your own system over the cloud.
NetForChoice is one of the best Managed Cloud Hosting Provider in India that provides cloud hosting at the best prices.
So if you are looking for best and cheap cloud Web hosting plans, Email Hosting Solution with Anti Spam Filter Service, do checkout with NFC team.
Summing up
Going through all this made us understand What is Cloud Hosting & How does it work. Also, we got to know about the advantages and disadvantages of Cloud Hosting that might help you in making your decision whether it is right for you or not.