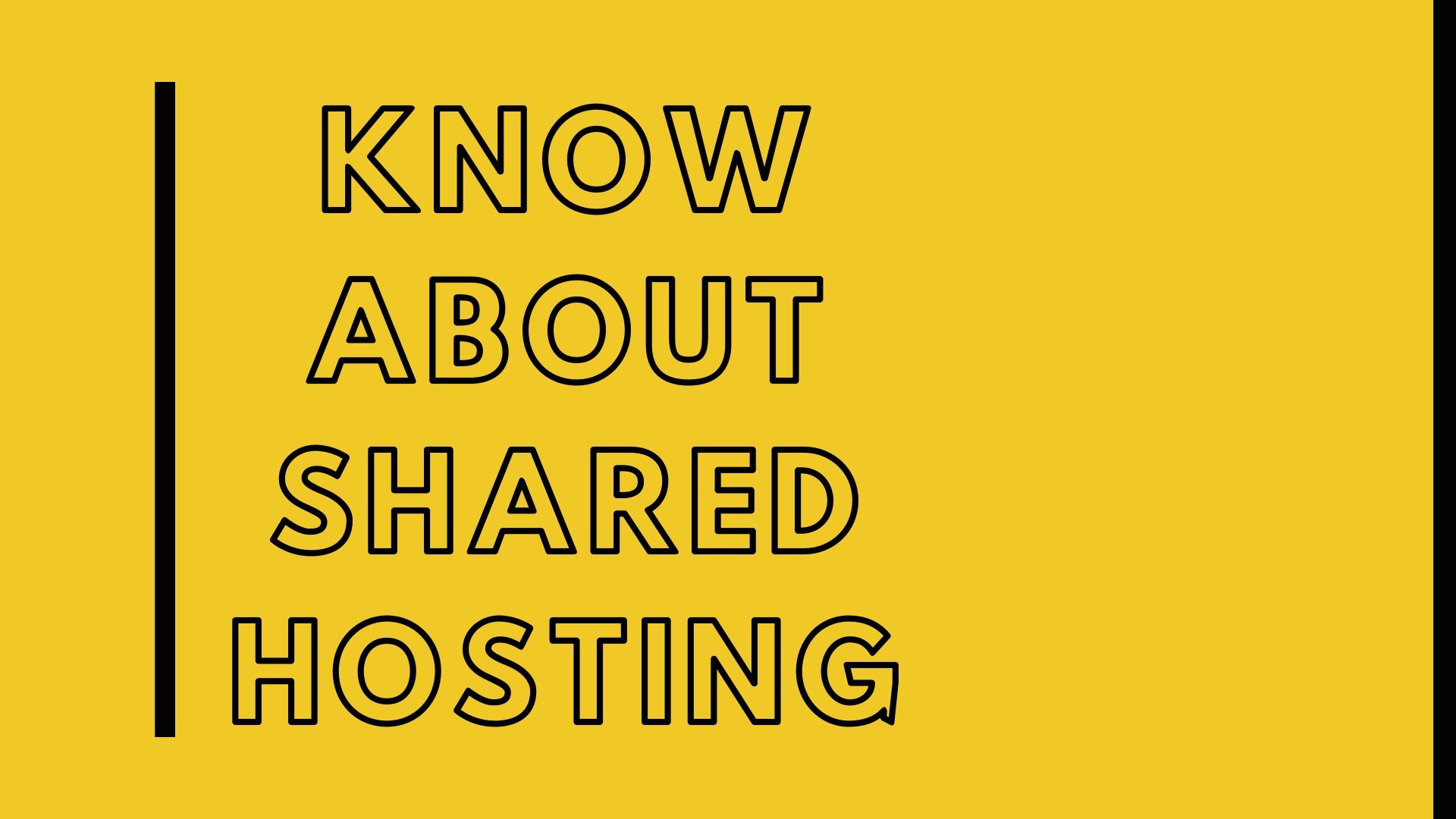 Oh! So you are planning to go online.
Well, That's Great…Have you got the domain name and web hosting for yourself?…No?
If you are planning to go online, then the first thing you must do is – Get yourself a domain of your choice before someone else takes it.
The second thing that comes to mind is – Web Hosting. For this, you are going to have a lot of options so instead of just thinking about the Hosting Provider, you also need to think about the hosting package that suits you best.
Amongst all, Shared Hosting is one of the most favorable and preferred options for those who are new to this online world.
So let's discuss – What is Shared Hosting Service properly…
Also Read: What is Cloud Hosting & How Does it Work?
What Do You Mean By Shared Web Hosting?
Shared Hosting is a cost-effective and economical option to host your website as it allows various websites to share a single server. At the same time, It allows many users to use the resources on the server that makes it efficient.
The user gets some share of RAM, CPU and other useful resources including different elements like MySQL, Apache and mail server.
Shared Web Hosting Services are basically engineered for blogs or small websites that do not require advanced configuration or bandwidth. Being the reason it is not sufficient for websites with high traffic.
So, websites with high volume or those who think that they might get high traffic on their websites should go for VPS or a Dedicated Hosting as Shared Hosting might lower their Site performance which is not good in the long run.
Shared Hosting comes with a number of benefits but, there are some limitations as well. So let's talk about some advantages and disadvantages of the Shared Web Hosting account.
Why Shared Hosting Is Good? Top Advantages
The following are the benefits of shared website hosting that makes it the most widely used hosting plan.
It is the cheapest hosting plan as it offers space to multiple websites on the same server that makes it pocket-friendly for everyone.
This hosting plan comes with a built-in cPanel that makes it easier for the user to customize the website.
Maintenance is usually provided by the shared hosting provider itself. So you do not need to worry about that as well.
Only shared web hosting is recommended to the people who are joining the online world as there is an added advantage, that you can upgrade your hosting plans anytime you need.


Shared Hosting Plans are quite economical, which is actually really great for users with a low budget, and whenever the user feels like that the website is getting enough traffic, then they can easily upgrade the existing Shared plan to Dedicated Hosting or VPS.
Shared Hosting Has Limitations Too!
The Shared Web Server Hosting has some security risks on the basis of server sharing which makes it not so an ideal plan. So, in this section, we are going to cover all the disadvantages associated with Shared Hosting in an efficacious manner.
A website on Shared hosting will always take more time in loading as compared to any website on Dedicated hosting.
If there are some websites on your server getting high traffic or much loaded with files and other information then there will be more burden on the server that may affect your website as well.
It has less customization options as compared to its other alternatives.
Shared Hosting Security has always been one of the major concerns as if any website on your server got hacked then your website would also be under some serious threat.
Shared Hosting VS Other Hosting Solutions – Comparison
Here are some alternatives as well they might not available at the prices as low as Shared Hosting, but has more features than that of Shared Web Hosting.
1. Shared Hosting vs Dedicated Hosting
In Dedicated Hosting, an entire server is dedicated to your website only. Dedicated Hosting provides you full space so that the performance of your website cannot be compromised. In contrast, Shared Hosting offers you to host your website at a very cheap price as compared to Dedicated Hosting. 
Shared Hosting does not provide you a lot a customization option but Dedicated Hosting does.
The most important difference to know is dedicated Hosting is only for websites with heavy traffic while Shared Hosting is for those who are just going to start their online career.
Also Read : How to Host a Website Yourself?
2. Shared Hosting vs VPS Hosting
In VPS Hosting, you will be in a shared server but a particular space has been dedicated to you which would act as a dedicated server for you. 
Shared Hosting and VPS Hosting are quite similar to both of these host multiple websites on a single server. 
Difference is Shared Hosting provides a personal space over a shared server just like a dedicated hosting server where you can do a lot of customization as per your need.
Basically, it is a mix up of both Shared Hosting and Dedicated Hosting.
As Shared Hosting is getting very popular its prices are going down day by day enabling more people to opt for the service.
There are a number of shared hosting providers in the market and each of them trying hard and hard to gather more people.
Here we are offering you Shared Hosting from NetForChoice Tier 3 Data Center company, which is providing the service at very low prices as compared to others with more security on Shared Hostings. Also, they have a Data center in India that assures improved loading speed of your website up to some extent.
Wrapping it up
After going through everything above, we got to know about – What is Shared Hosting & Its Advantages and Disadvantages? Along with this, we compared the Shared Hosting with Dedicated & VPS Hosting to provide a better picture of it. Also, how NFC can be a more economical and secure Hosting Provider for Shared Web Hosting Service.