How to Compress PST File Without Outlook? Fully Explained
Plot:- This article explains two best approaches to compress PST file without Outlook. Read this write carefully to know about these techniques in brief.
Microsoft Outlook save their data file into two forms one is ANSI and the second is Unicode.
ANSI format correlated with MS Outlook 1992-2003 and it can also save data up to 2 GB. Whereas the Unicode file format is correlated without Microsoft Outlook 2003 and its latest version. Along with that, it also provides storage of up to 20-50 GB.
Due to much storage of Unicode, it can hardly reach its maximum size while ANSI often reaches its limit.
As we already know that managing large PST files is a challenging task. Because of its high-level peculiarity, users like to utilize it in their work.
Therefore, in this blog, we will determine how users can Reduce the size of PST file without Outlook.
What are the Challenges that Users Face With Large Outlook Data Files (.pst)?
When the PST file exceeds its limit, users might face some challenges mentioned down below:-
Usually, when the size of the PST file becomes high then it can corrupt the data file.
The large size of the data file can cause corruption in the PST file. And a corrupt data file leads users to remote states. In this scenario, an error messages pop up and this means that your Outlook storage has reached its maximum limit.
So, What are the Methods to Compress PST file Without Outlook?
Dealing with large data file is a difficult task as we all know. That is why in this upcoming section we are going to talk about two different methods by which users can compress PST file without Outlook. Here follow these below-mentioned methods:-
Method 1. Manually Method to Reduce the Size of PST File

Open and Run Microsoft Outlook on your operating system.
Now, select the item that you want to delete and then delete it.
Go to the information tab and then click on the Account Settings tab.
Select the Data files option and afterward press on the Settings option.
A personal folder will now appear on your screen. Hit on the Compact now option.
Close the current window and then tap on the OK button.
The compaction process of your PST files will now begin.
Limitations:- It is required to have Microsoft Outlook installed on your system for this procedure. There are high chances of failure not only that this technique alone cannot break up PST file alone. Along with that there is no free method available to compact the data file without using MS Outlook. That is why we strongly suggest utilizing an Automated tool to compress PST file without Outlook.
Method 2:- Utilizing a Smart Solution to Compress PST file Without Using Outlook
The aforementioned Manual method cannot reduce the size of the data file properly. Apart from this, there are certain limitations to the method. So, we recommend you use the Outlook PST Compact Tool to compress your data file without using Microsoft Outlook.


This utility allows you to compact large data files by removing, extracting, and saving attachments. Not only that it works with all the versions of Windows OS and MS Outlook.
Make Sure to Read:- How to Split PST File into Two Parts?
Step by Step Guide to Use this Application:-
Follow these below-listed steps to compress PST file without Outlook:-
1. Install and Launch this application on your operating system.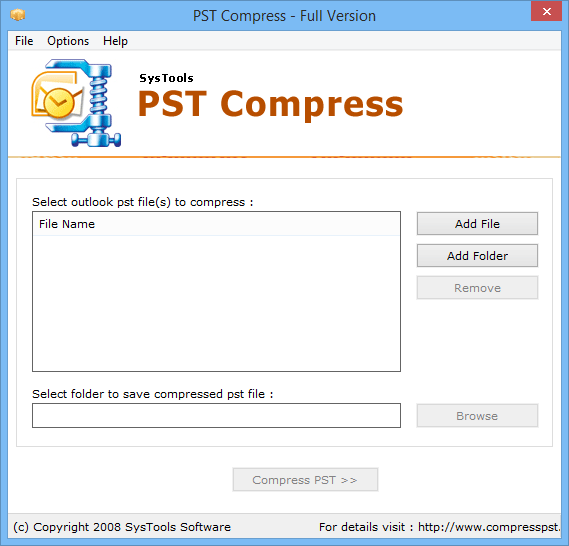 2. Now, select Add File option and then click on the Select & Open button.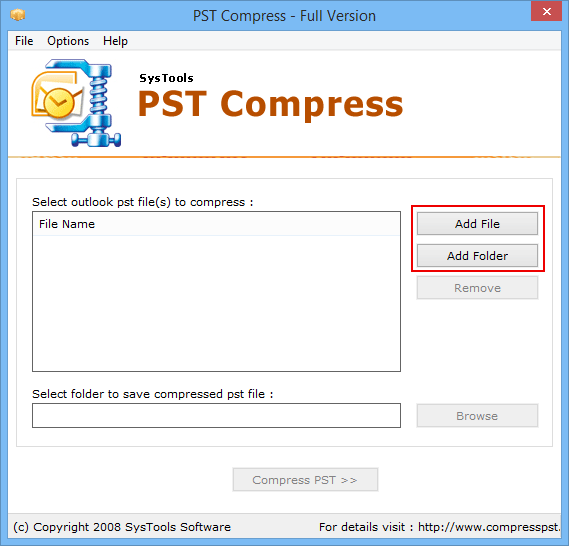 3. After that, choose the folder to compact your PST files and then hit on the compress PST >> Browse Files >> OK >> Compress PST.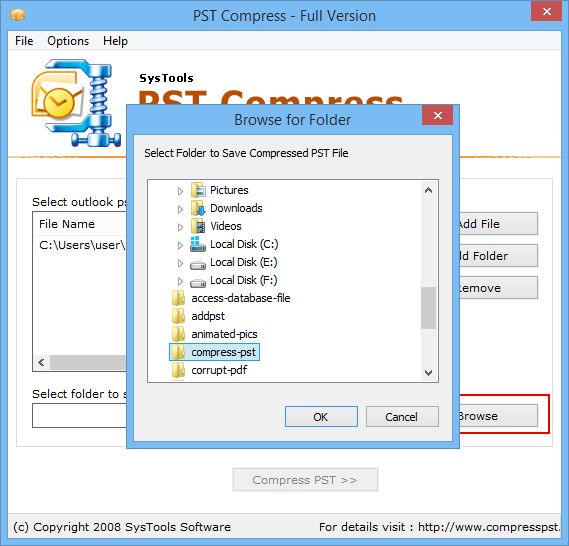 4. Choose an option to compress your data file among Remove Attachments, Extract and Save Attachments and Extract Save & Compress Attachments.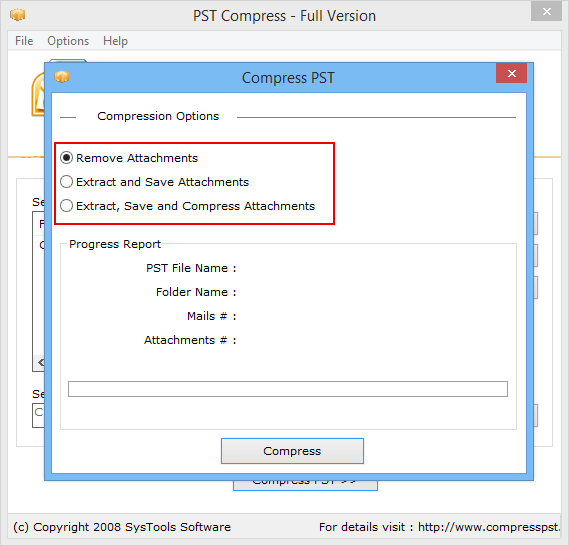 5. Finally, press on the Compress button to start the process of compressing files.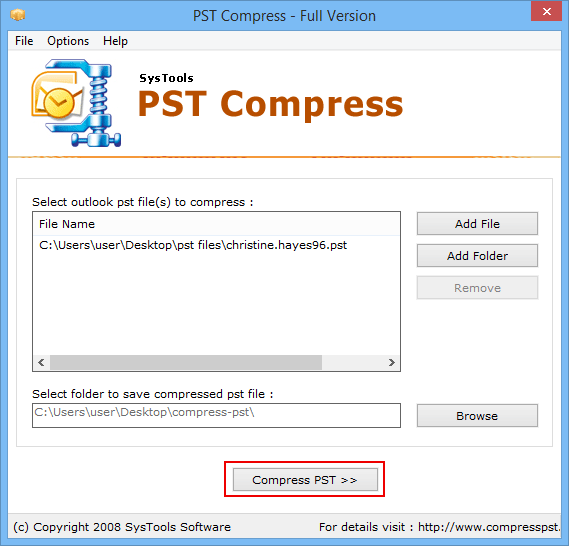 Why Should I Choose this Utility Over Other Third Party Applications?
With the help of this tool, users can compact large data file without deleting their attachments. This utility extracts all attachments found in a PST file and saves them into a separate folder.
Furthermore, it works even with all versions of Windows OS. Regardless of what version the user is using for this procedure. This utility will work on all. Hence, it supports Windows 7,8,10.
This application produces a log report to show complete PST compression details.
Users can compact their data files in three different ways as per their requirements.
It is compatible with all the versions of Microsoft Outlook such as Outlook 2019, 2016, 2013, 2010, 2007, and all the below versions.
Read More:- How to Reduce Outlook Attachment Size While Sending Emails?
Observational Verdict:-
This blog explains how users can compress PST file without Outlook. Apart from this, we have mentioned two different techniques by which users can easily resolve this query. Users can however choose any method as per their needs.
But as know, there are some limitations with the Manual Methods. That is why recommend using the Professional solution that we have stated right above in this article.