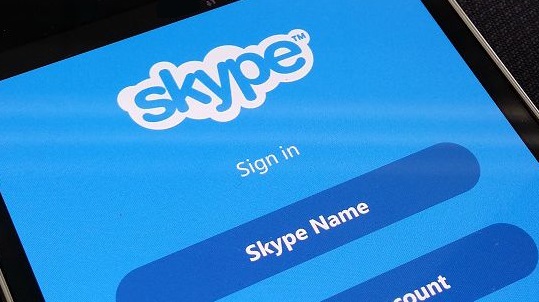 Skype is the best application for business and individual communications. The programs saves contacts information within it, which can be useful at instance of time. Due to highly developing technology, spammer's attacks are also increasing. Alternatively, sometimes users desire solution to export their contact list and move it to another account. So, here we came with solutions to convert Skype VCF to CSV file format. Before conversion, users must have an idea about what these file formats are. So, let's take a general idea about these files.
Overview On VCF and CSV
VCF stands for Virtual Contact File and it is a Virtual Business Card, which is just like a traditional business card. This file is used for electronic exchange of personal information like- username, title, email, contact number, faxes, websites etc. This file format also provides support for contact images and other media contact. vCard is the one of the most widely used contact file to save an individual information.
CSV is an acronym of Comma Separated Values, which is used to save tabular data. This file contains numbers and letters only having the structure of data in table form. CSV files are generally used to exchange a large amount of data between different applications. This file gives support for database programs, analytical software, and stores massive amounts of information like contacts and customer data.
Read More: Import VCF to PST
Why Need to Convert Skype VCF to CSV
CSV files are flexible to transfer and are supported on most of the applications. Therefore, users put forward a demand to convert Skype VCF files into CSV file format. Here, are some best things about CSV file format, which VCF does not have.
Comma Separated Fields
One line for each record
Normal Functionality
Support for software interfaces
Data Documentation
Same sequence of fields
User Query
Daily many users search for techniques to export Skype contacts to CSV file format. Let's understand this issue with a user query posted on a website.
"I want to convert Skype contacts VCF file to CSV file format. So that I can export all my contacts in other application, which only supports CSV file format. I tried some tricks but as a result, I lost some important contacts from that file.
Now I want to know an accurate solution through which I can export my VCF file into CSV without losing any contact information. Please somebody instruct me for resolving this issue and I'll be very thankful of yours for advising me."
Solutions To Convert Skype VCF To CSV
Now, we are going to solve this issue via some trusted techniques. In this section, we will tell you that how to convert Skype contacts file into CSV format, via manual and automatic techniques.
1: Manual Trick Export Skype vCard Contacts to CSV Format
Here is a manual method to export Skype VCF to CSV file.
1- Launch Skype application on your system.
2- Click on Contacts menu situated in tool bar.
3- Select Advanced button and a list with different options will appear now in front of you
4- Select Backup Contacts to File.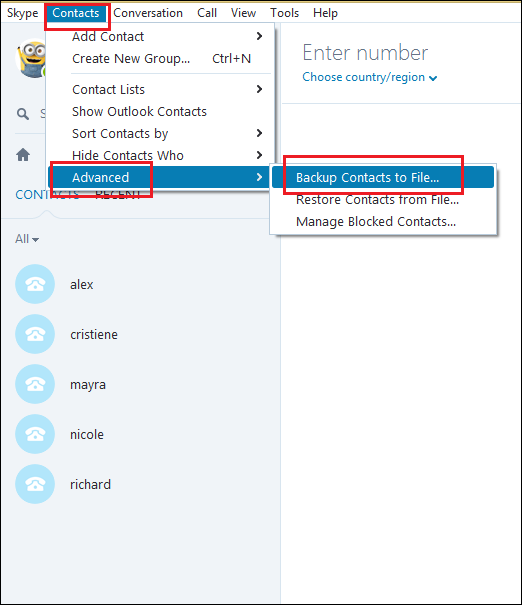 5- Now a Save as wizard is opened. Choose a location to save file and check that contact file is saving in VCF file format. Click on Save button.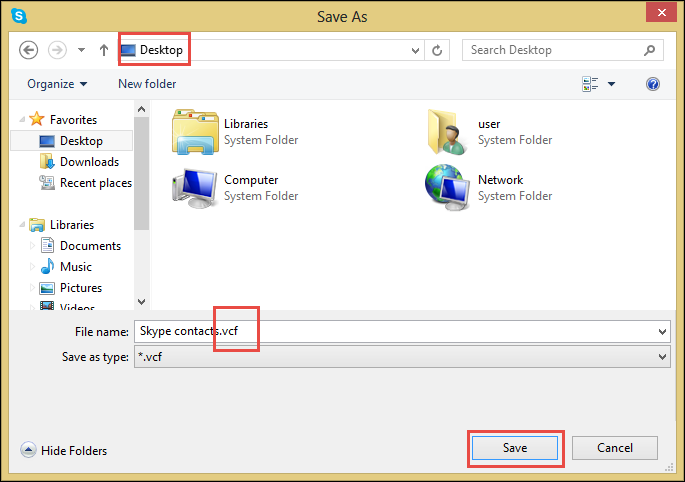 6- Go to that location where you saved that VCF file and right click on file icon. Then, click on Open with >> Notepad.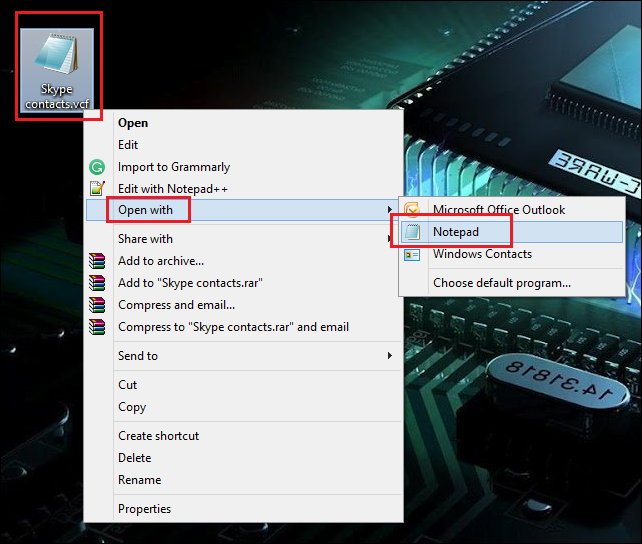 7- File is opened now in notepad where you have to click on File from the tool bar. Click on Save as and here, change file extension from .vcf to .csv. Click on Save button.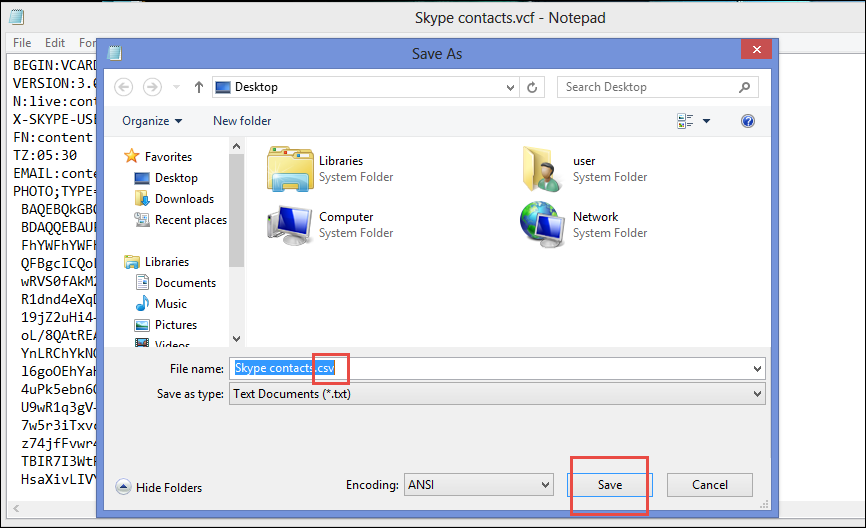 8- Go to same location, here you'll find another file, with previously saved VCF file. The new saved file is now in CSV file format. Here, all your contact data is in plain text format.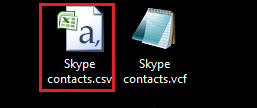 9- If you will open this CSV file, then you will see that all your contact information is in plain text format. However, it is somehow critical to understand that plain texted data.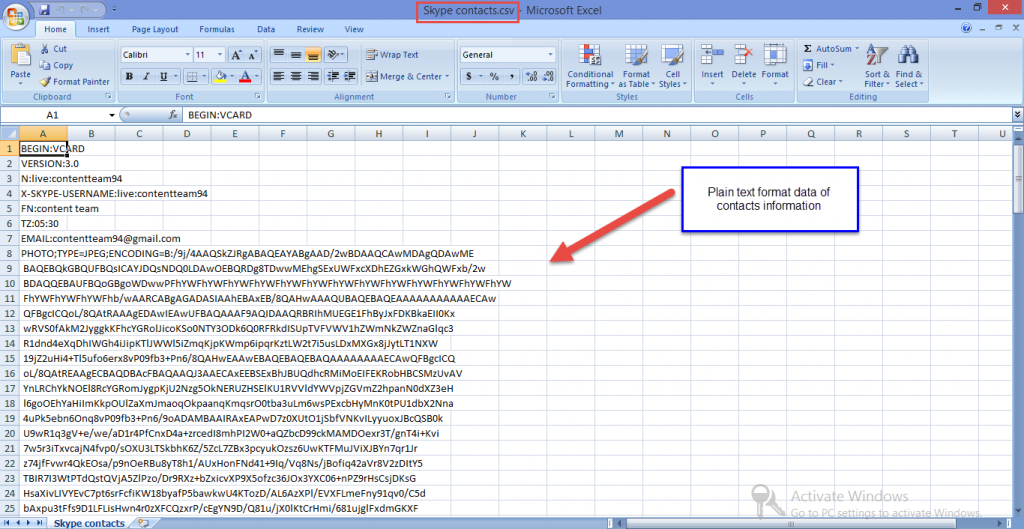 Consequences OF Manual Technique
Critical to understand plain texted information of resultant CSV file.
Time taking procedure.
Not suitable for non-technical users.
2: Automatic Solution Convert Skype VCF To CSV Format
If users do not want to devote their precious time over manual method and want a quick solution of this issue then, here is a automatic software SysTools VCF to CSV Converter Tool is the one of the best application to convert Skype VCF contacts to CSV. This application export vCard file into CSV in just one attempt.
Quick Steps to export VCF or vCard to CSV Format:
1: Download and Launch this Tool
2:
Choose
Add VCF File
or
Folder Option
3: Choose the CSV file and click on the "Browse"
4: Select CSV Format from Export Options
Here are some best features of this application :
Supports VCF files from Skype and other applications
Intelligently converts vCard contacts to CSV file format
At the time of previewing, tool equips option to sort items
Smart enough to convert modified or altered vCard files
Allows preview of all contacts before conversion process
Shows total number of contacts within in the VCF folder
Convert both single contact and multiple VCF contact files
Because of some incomparable features of this software, we recommend users to use this application to convert contacts from Skype VCF to CSV file format.
Sum It Up
Contact data security is very important for a business to flourish. Skype VCF files are also used for the same purpose i.e., to store the information about peoples. Now, sometimes users wish to convert Skype VCF to CSV file format to avoid any ransom attack and for any other purpose. Therefore, it is important to choose a trustworthy solution. For ease and comfort of users, we also have discussed a unique tool to accomplish this task with no trouble. Users can opt any mentioned method as per their suitability.