Import VCF to PST to Read VCF Contacts in Outlook
Summary: If you are looking for the way to import VCF to PST? You must follow this article. Here, we explain manual as well as an automatic method to deal with the query.
The VCF file is a contact saving file used by majority of applications including MS Outlook email client. The latter platform uses a PST format which is an Outlook data file. Unfortunately, you cannot import more than one VCF file into PST manually. 
Outlook only accepts a single VCF contact file at a time and if you wish to move multiple files at once, you have to opt for a professional software.
Automatically Import VCF Files to PST Format 
vCard Importer Tool is a renowned software that can smartly import VCF contacts to PST. It can be used for various purposes such as the need to import Android contacts to Outlook.
You can quickly import VCF to PST file format  using this tool and export them to Outlook version. Below given are some of the advanced features that this tool offers.
Import multiple VCF contacts into PST format
Works on all fields & attributes of VCF files
Supports all latest MS Outlook versions
Import VCF to an existing or new PST file
Can import VCF to default Outlook profile
Supports all VCF versions i.e., 2.1, 3.0, 4.0
Import unlimited VCF contacts to PST file
Also Read: Export Samsung Galaxy Contacts to Outlook
Guide for Automatically Importing VCF Files to Outlook
First, download the software on your computer and install. Click on Add File option to load VCF files
Browse the VCF files and load them in the software. It will now provide a complete preview of the VCF files.
In the Export screen, choose destination. You can import the contacts in an existing PST file or a new one. You can also choose to import them to a default profile.
Manually Import Multiple VCF Files to a PST in Outlook 2010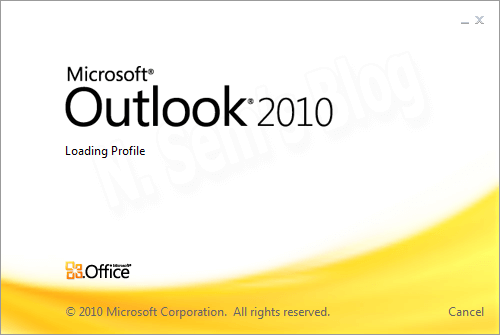 Step#1: Run Microsoft Outlook 2010 on your PC.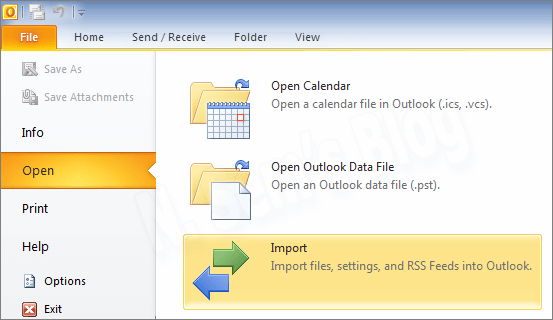 Step#2: Hit File tab, press Open > Import.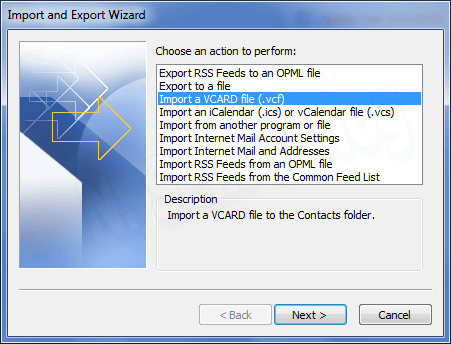 Step#3: The Import and Export Wizard will be displayed.
Choose "Import a vCard file (.vcf)" and the hit on Next.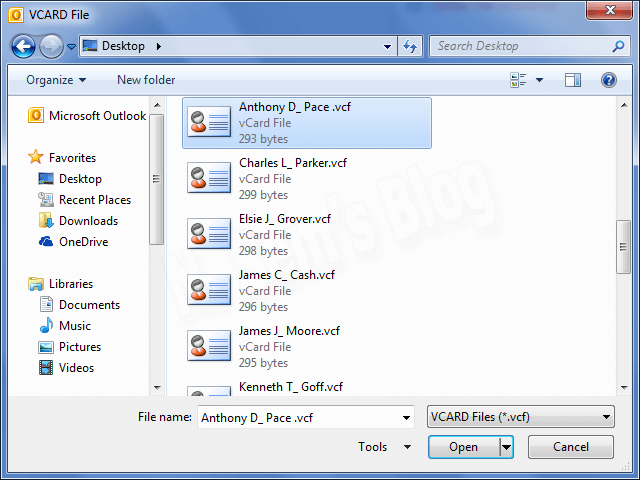 Step#4: Finally browse the path/location where your vCard files are placed.
Choose a single vCard file and hit Open to import VCF to PST file to MS Outlook.
Drawbacks of Manually Trasnfer VCF Files Into PST
The above discussed manual solution is really a lenghty process and time-taking because of the abseence of batch processing. If the user has a large number of files to import VCF files to PST as it uses a file approach. The other thing is that to perform the above-mentioned manual method user needs some technical skills. 
How to Import Multiple VCF to a PST Using Perfect Solution
Due to the above-discussed limitations of the manual method, the users move to a quick solution which gives a pretty simple and straightforward solution to import VCF to PST format. Therefore, the users opt for the professional tools that help them to batch import vCard files to MS Outlook PST. 
The tool imposes no limitations on the number of vCard files that you can import to PST. Therefore, one of the best solutions is to opt for the SysTools vCard Importer. It can also help you Import vCard Contacts to iPhone.
In order to save the data file, the tool provides three options: save in existing MS Outlook PST file, save directly into MS Outlook profile and finally create a new MS Outlook PST file.
Read More: Import vCard to Nokia Lumia
Conclusion
The entire process discusses the data held in the vCard file and how you can import VCF to PST file. To import the file to Outlook, the manual method is discussed with step by step process. But, it has some limitations due to which a professional tool is needed to import multiple VCF to a PST. The software, on the other hand, can help you Export Contacts from iCloud to Outlook and other such processes. It quickly converts the VCF files into PST format.