How to Migrate Exchange 2013 to Office 365? Multiple Ways Explained
Microsoft Office 365 is one of the most loved cloud-based productivity suites to date. This productivity suite is loaded with a lot of features and applications such as Outlook, SharePoint, Teams, Lync, etc.
Moreover, it helps organizations in cost saving to a certain extent if compared to Exchange 2013, due to which many organizations are moving their email services to Microsoft 365. Thus, after looking at the demand of the users, we are going to discuss "how to migrate Exchange 2013 to Office 365 in a step-by-step way?"
However, before directly going into the export process, let us first discuss the reasons, why many organizations/enterprises choose Office 365 over On-Premise Exchange Server:
Server maintenance & upgrade are not required
No lag while rolling out features
Cost-efficient as it reduces energy consumption and hardware upgrade
Increased efficiency of IT services

Methods to Migrate Exchange 2013 to Office 365 Mailboxes
There are multiple approaches using which the users can perform the transfer process. Every method has its own advantages and disadvantages. Users can select any of the following methods depending on their requirements. Please go through the following section and find the best suitable approach for you.
Quick & Efficient Way to Migrate Exchange 2013 Mailbox to Office 365 Using Software Solution 
Although, there are several methods available for the users, when it comes to choosing the trusted and reliable solution, it is suggested to use Most Trusted & Reliable Exchange Migration tool. This software works amazingly well and does not impose any limitations on mailbox size and the number of mailboxes.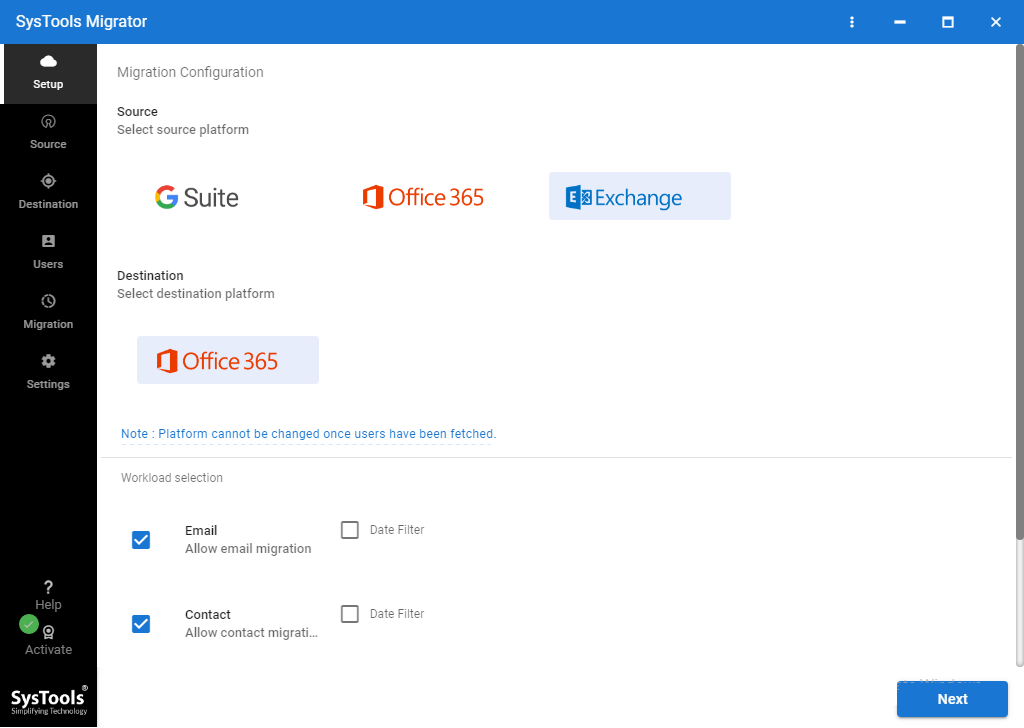 The unique set of features makes sure that the users get their source data migrated to the destination account without any hassle. Additionally, the tool makes sure that all the emails, calendars, and contacts are exported without losing any data. There are plenty of features available in the tool and we have mentioned some of the top features below:
Allows to Migrate Exchange 2013 to Office 365
No Limitation on Exchange Mailbox Size
Maintains Original Folder Structure and Hierarchy
Option to Prioritize User Accounts while Migrating Exchange 2013 to O365
Provide Pause & Resume Button for Migration
Steps to Migrate Exchange 2013 to Office 365 Mailbox
Step 1. Download, install & launch the Tool on your computer. Then run it as Administrator.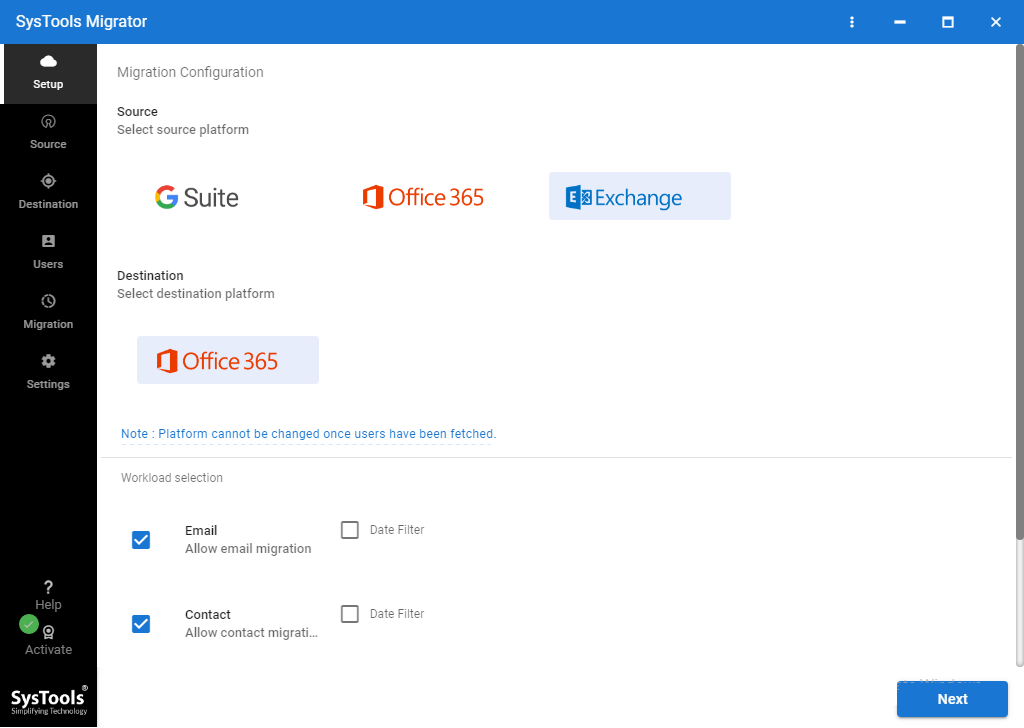 Step 2. Select Exchange & Office 365 as Source & Destination Account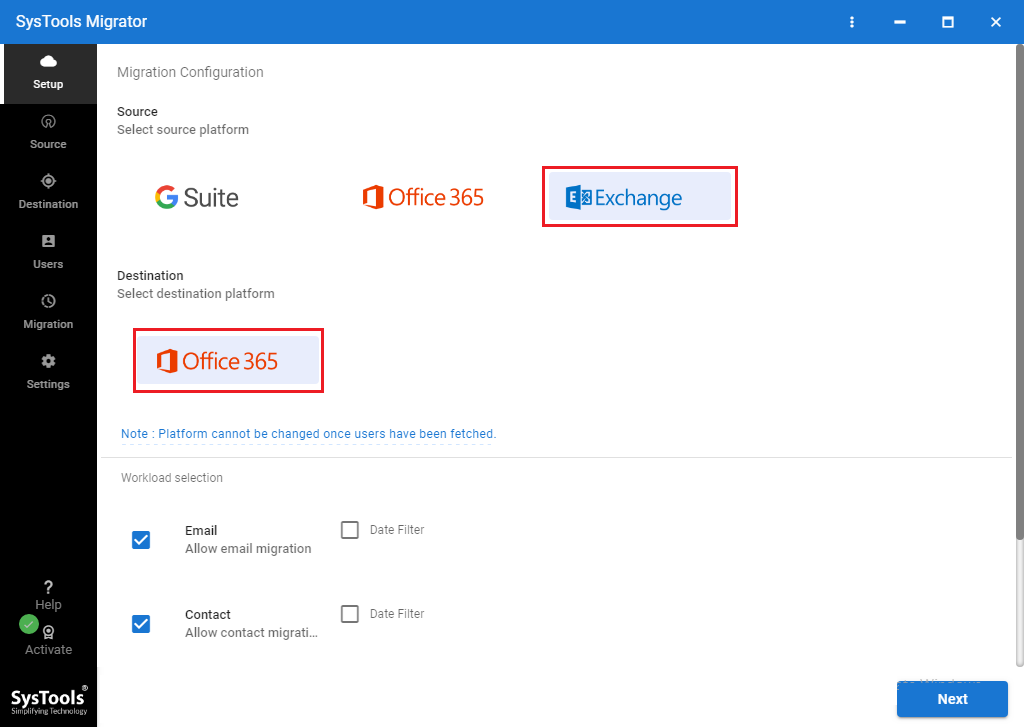 Step 3. Enter Admin Credentials of both Exchange and Office 365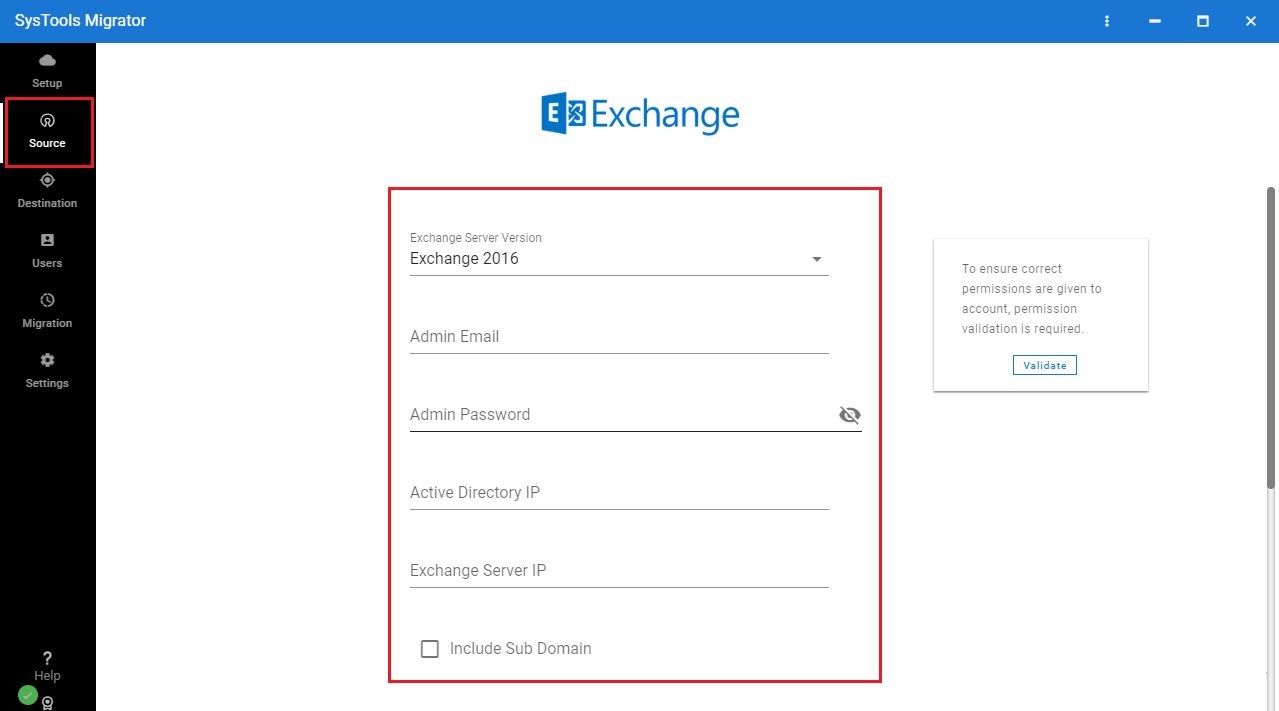 Step 4. Map Source & Destination Users & Validate the required permissions.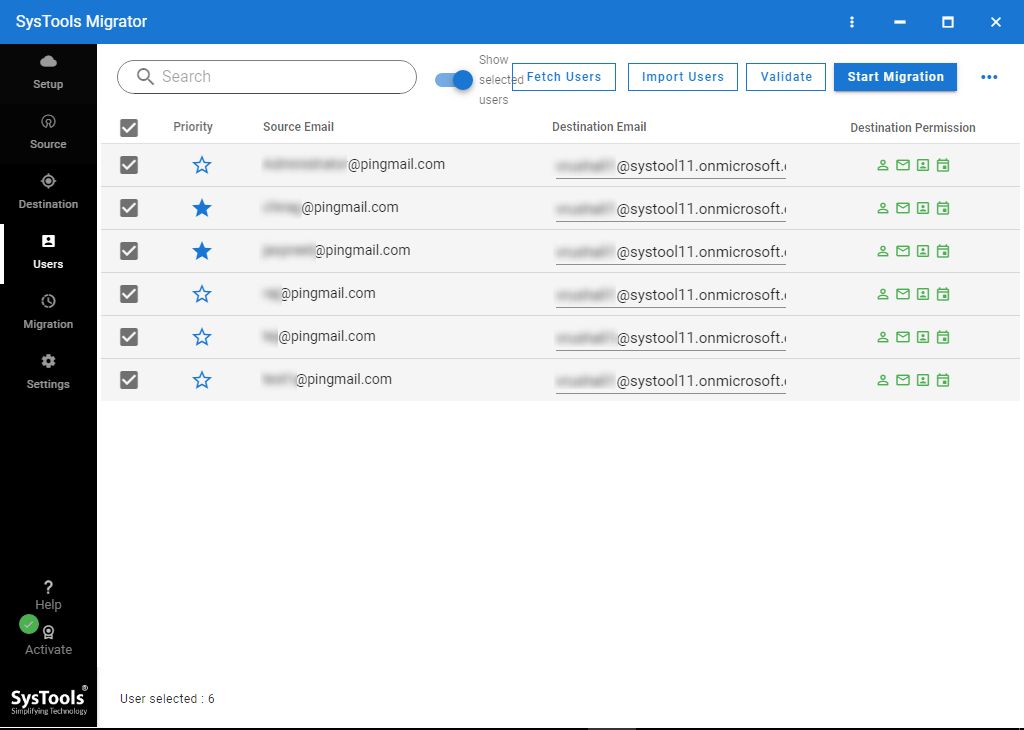 Step 5. After successful validation click on the Start Migration button.
Manual Methods to Migrate Exchange 2013 to Microsoft Office 365
This method carries out the migration of all mailboxes in one go. As all the On-Premise mailboxes are transferred simultaneously, it makes it difficult for the users to process a large number of mailboxes. This approach supports up to 2000 mailboxes but is best suited for 150 or fewer mailboxes and can be used for Exchange 2016, 2013, 2010, and 2007.
Exchange Staged Migration –
This approach is useful when the organization wants to transfer many Exchange mailboxes. But it has a limitation associated with it i.e. it only supports Exchange 2003 and 2007. Therefore, if an organization is using any of these versions, then it can choose staged migration.
Hybrid Exchange Migration –
The hybrid migration process is best-suitable if there are many Exchange mailboxes to be migrated. This method helps an organization maintain online and On-Premise mailboxes and progressively migrate data into Microsoft Office 365 cloud. Although this process is smooth, it is complex and time taking as it is carried out in small batches.
If a user skips a step during the migration, the process remains incomplete. You can use this approach to migrate Exchange 2013 to Office 365 as well as Exchange 2010 mailboxes.
IMAP-Based Migration –
This is a slow and long process. In the IMAP email migration process, you first have to create user accounts on Office 365 cloud and then start migrating email messages. This takes a lot of time and effort and only exports emails to the destination account.
Shortcomings of Manual Methods In Migrating Exchange 2010 to Office 365
In order to hands-on manual techniques, you must have the technical knowledge and working experience with Exchange and Office 365 environments. 
The manual procedures are time taking and can be complex for users who are new to either Microsoft Exchange or Office 365.
Moreover, these methods do not guarantee that users will get 100% data after the conversion process.
Using Exchange Staged migration method, you can only migrate Exchange Server 2007 and 2003.
with IMAP-based migration, you can only migrate emails to the destination, in order to migrate other mailbox items, you have to manually save each data to the destination. 
The manual methods do not allow you to migrate selective data from Exchange 2013 to Office 365. You have to migrate the complete data to the target and then you have to filter it. It could lead to data duplicacy and accidental data deletion.
Thus, users who don't want to lose their crucial data while migrating Exchange 2013 On-Premise into Office 365 cloud are recommended to use the professional application mentioned above.
It helps users to carry out the complete process in a hassle-free way without any data loss.
Also Read: Migrate Exchange Server 2010 to 2013 Using PowerShell Commands
Conclusion
Enterprise asset management is complex and time-consuming. Both under and over-maintenance create complexity, for the IT staff to the end-users. Failure to maintain leads to a loss of productivity, which creates avoidable security gaps and usually leads to higher costs.
Excessive maintenance leads to avoidable downtime and higher costs. It's always better to switch your paradigm to a more useful, less distracting, and cost-effective Microsoft Office 365 and to migrate Exchange 2013 to Office 365.
People Also Ask
Q. How can I migrate Exchange 2013 to Office 365?
A. There are 5 simple steps to perform the migration:
Step 1. Install above-mentioned Tool on PC.
Step 2. Opt Exchange & Office 365 as Platforms.
Step 3. Provide Exchange Credentials & Validate.
Step 4. Enter Office 365 Admin and Application ID.
Step 5. Map Mailboxes, Validate & Start Migration.
Q. How long does it take to migrate Exchange 2013 to Microsoft Office 365?
A. Migrating all mailboxes from Exchange to Microsoft 365 can vary between a few weeks to a few months. It entirely depends on the number and size of the mailboxes. As per past experiences, you can migrate around 1000 mailboxes within a month or so.
Q. Which migration option is best to opt for when you have a lot of mailboxes to migrate from Exchange 2013 to Office 365?
A. The best option is to go for the above-mentioned utility if you have a large number of mailboxes to export. The software has successfully migrated hundreds and thousands of mailboxes over the past year.