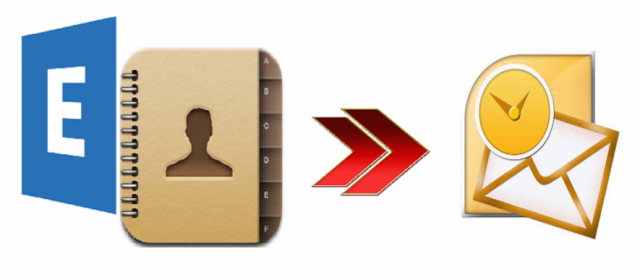 Database Files in Exchange stores different form such information such as document, email, image, video, etc. But the most used and important data in Exchange Server is contact. With the help of this, the organization connects with its clients and other employees. So, contacts files play a vital role in any business to save user and client details. Always try to save a backup of Exchange user details so that it can be useful during any data-loss or server crash etc. That's why it is necessary to export contacts to PST file to keep secure for fututre purpose.
In Exchange, use Powershell to export Exchange database mailbox contacts to PST Format and Save as backup to use again. Since contacts file mostly user in either as CSV File format or vCard, So we discuss the complete process in this section. Also, we use an automated solution i.e. Exchange Export Tool provided by SysTools, an alternative of the manual approach. That not only export Exchange contact to PST but also offers an option to move other mailbox items.
Powershell Commands to Export Contacts to PST File In Exchange 2016 / 2013 / 2010 Environment.
According to the version of Exchange, users will get different instructions for the same task. One can only require to verify the edition of Exchange Server and then go through the following procedure carefully.
Important Note: Before exporting the Exchange address book to PST/ CSV/ Excel, user should have the appropriate Import/Export role permissions.
Steps to Migrate Exchange 2007 Contacts to PST Using PowerShell Command
To begin the process, run the following Powershell cmdlet to provide the export permission to Desired Exchange account:
Add-MailboxPermission -Identity -User -AccessRights Full Access
After that, execute the below-mentioned PowerShell command to export Exchange 2007, 2010, 2013 contacts to PST format:
Export-Mailbox -Identity -IncludeFolders '\contacts' -PSTFolder_Path [Path\filename.pst]
where Mailbox is equivalent to Exchange database where you want to move contacts, Folder_Path is the exact destination of contacts files, and filename.pst is the final path where you wish to save the Exchange address book.
Steps to Export Contacts Folder to PST in Exchange 2010
First of all, execute the PowerShell command to assign the suitable export permissions to a user:
New-ManagementRoleAssignment -Role "Mailbox Import Export" -User
Next step is to run the following cmdlet to convert Exchange contacts in Outlook .pst.
New-MailboxExportRequest -FilePath MustBeUN&IncludeTheabc.pst -IncludeFolders "contacts"
Steps For Exchange 2013 PowerShell to Export Contacts to PST File
Initially, the migrated contacts file should be available in Microsoft Exchange server 2013 mailbox.
After that, admin should know the UNC (Universal naming convention) path of the targeted .pst folder.
Next, execute the following PowerShell cmdlet:
New-MailboxExportRequest -Mailbox xyz_name -IncludeFolders "#Contacts#" –excludedumpster -file_path\\server_name\pqr\jkl.pst
Steps to Export Exchange Global Address Book to CSV
Once the user converts the Exchange mailbox contacts in PST format, follow the below stepwise method to move them into CSV format.
Step 1: To start the process, open Microsoft Outlook.
Step 2: Navigate to File tab and select Open.
Step 3: Next, click on Outlook Data File and load the data on Outlook interface.
Step 4: Now, click on File >> Import & Export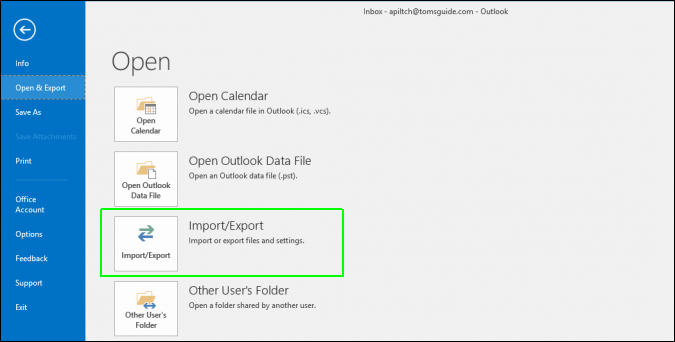 Step 5: Choose Export to a file option from the wizard and click on Next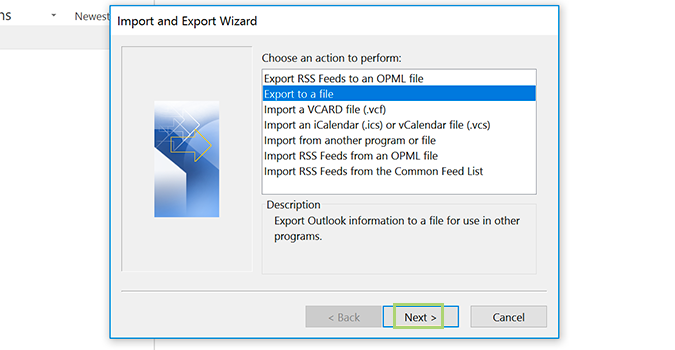 Step 6: From the new window, select Comma Separated Values (Windows) and hit on Next button.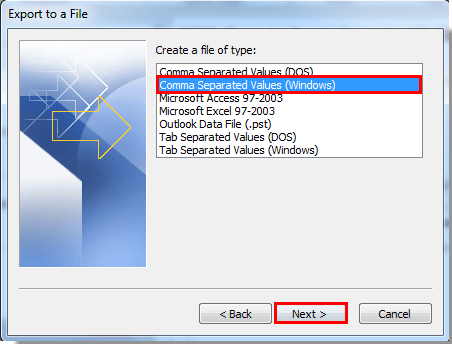 Step 7: Provide the folder that comprises data that you want to convert in CSV and click on Next.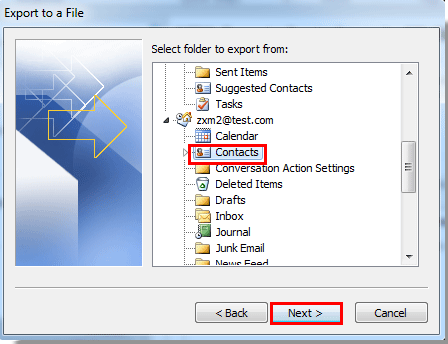 Step 8: Browse the location and provide an appropriate name to the resultant file and click on OK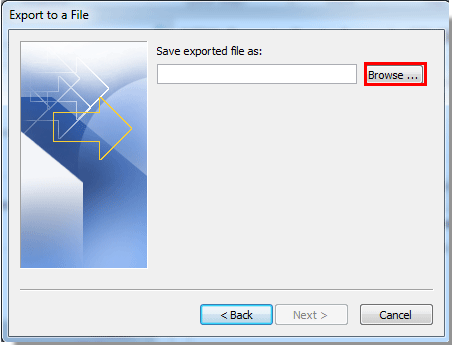 Step 9: Finally, click on Finish button
Automated Solution to Export Exchange 2010 Contacts in PST – Without Powershell
In case if the user finds the manual procedure too complex or unable to understand the export contacts due to unknown error then, go for Exchange Export Tool. With the help of this software, users can easily convert the Exchange contacts into equivalent PST file.
Apart from this, the tool is enough capable to export other Exchange mailbox items such as emails, calendars, Tasks, journal and save them into Outlook local data file.It is a fast, reliable, secure, compatible with all Exchange versions, and simple way to export contacts folder to a PST in Exchange 2010.
Steps to Perform Exchange 2010 Export Contacts to PST File 
Step 1: Open the software on the Windows system.
Step 2: On the home page of tool, provide the details like SMTP Address, Exchange Server IP, Active Directory IP in the corresponding boxes.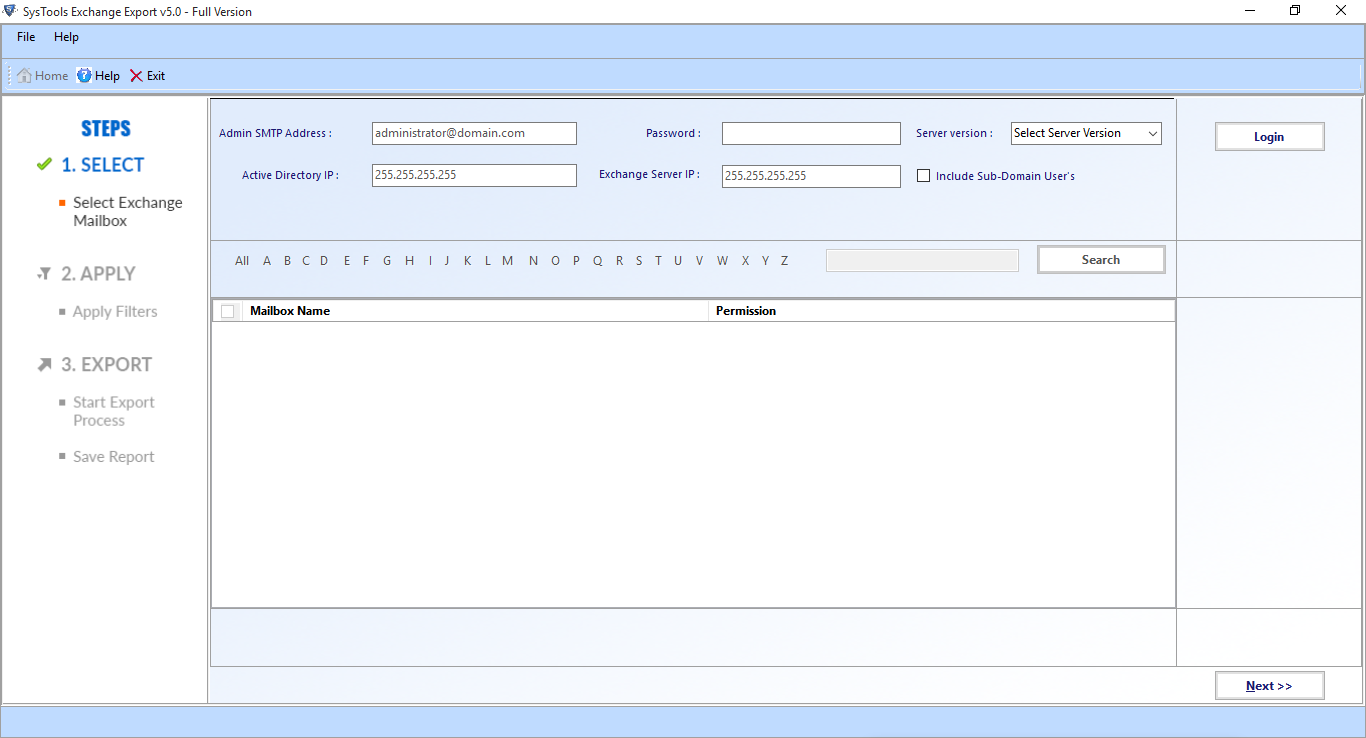 Step 3: Once the software authenticates the Exchange account, all the mailboxes will upload on the interface.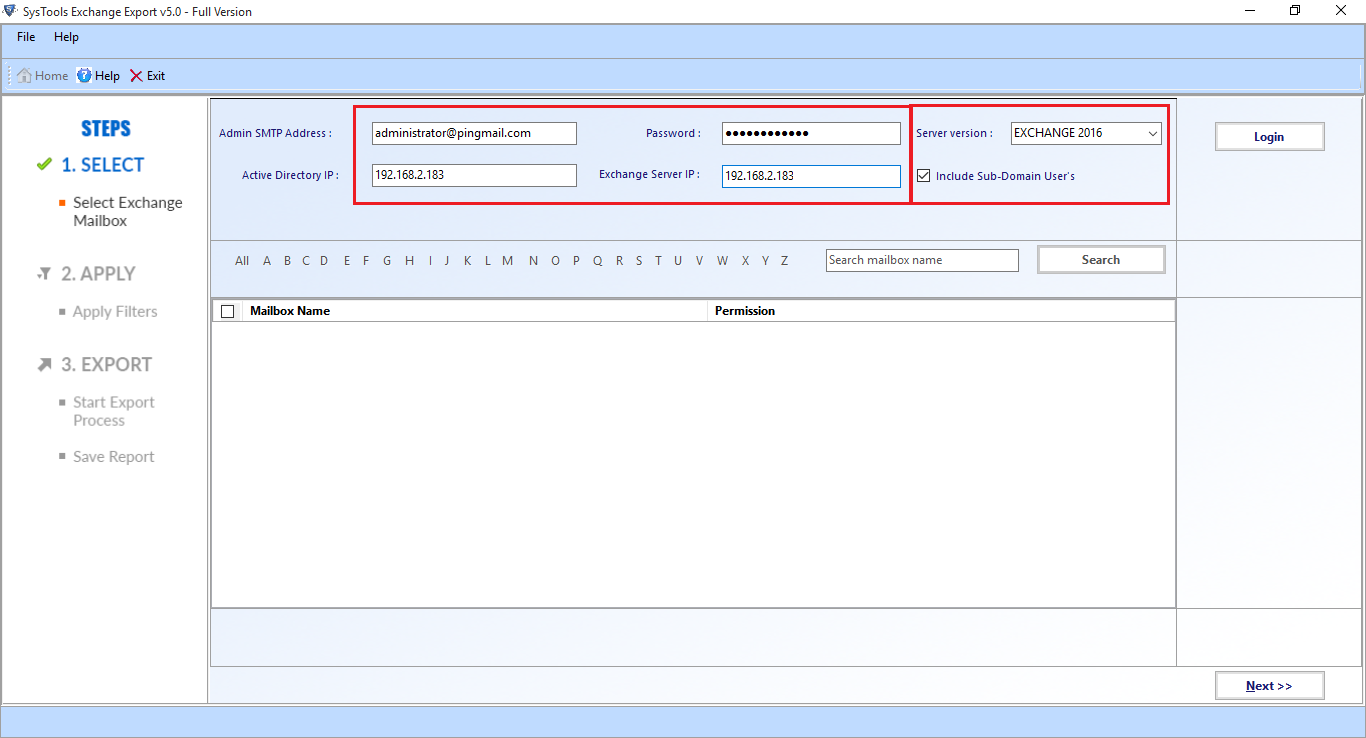 Step 4: Next step is to select Contacts box folder under the Select Categories heading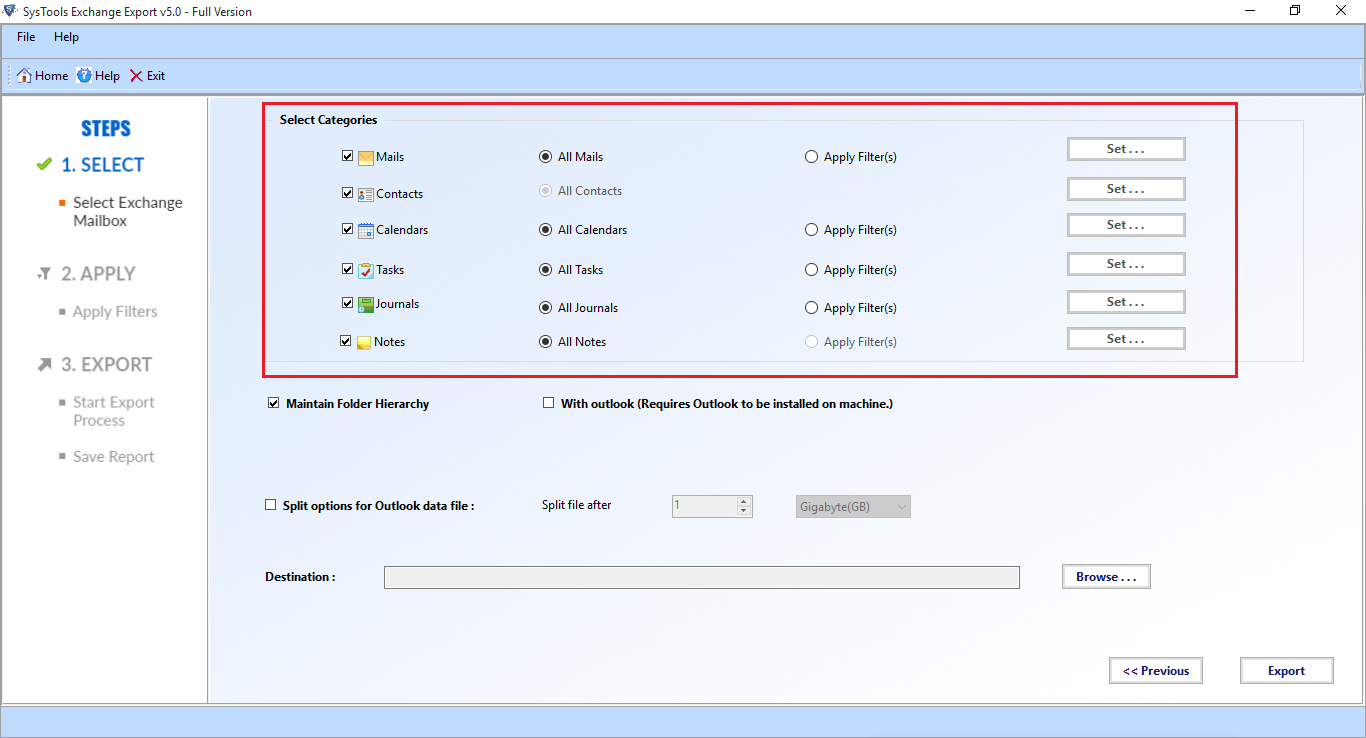 Step 5: Now, Browse the path where the resultant PST file will be stored and click on Export to start the process
Bringing It All Together
In Exchange, necessary to keep backup Exchange Database to use again during accidental deletion or unexpected situation. Powershell commands helps user to export contacts to PST file format (supported by Exchange during Import / Export Process). Export Contacts from Exchange 2007,2010,2013,2016 via Powershell Command New-MailboxExportRequest. Also SysTools Exchange Exporter also available, an automated solution to move Live Exchange mailbox items such as emails files, user contacts details, Notes, Calendar and Journal file into PST File format.