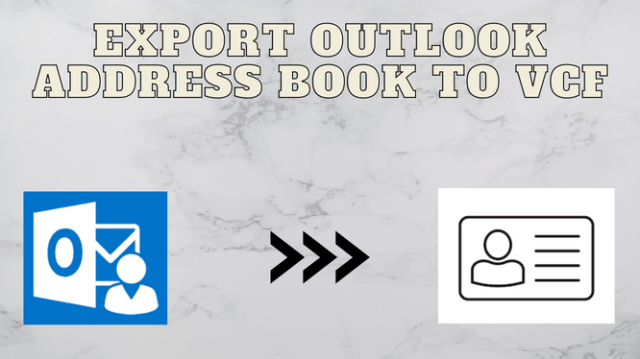 "Summary: Outlook address book store contacts used to communicate with people. In this article, you will learn Outlook 2010 export address book to vCard. We discuss the solution related to this query to export Outlook address book to VCF/vCard to provide you with an easy procedure. Read the complete article. "
Microsoft Outlook stores information about contacts, email, phone numbers, etc. Each and every contact acts as a business card which stores in the file. If the contact information is saved frequently for business and personal contacts in Outlook, then you will generate a vast collection of contacts records.
For efficient communication, it is essential to quickly manage and access specific contact information. It is important for users to maintain their contact list on the regular basis. The users can perform Outlook 2010 export address book to vCard or any other file format.
On the other hand, users can import the data in Outlook from Outlook data files or from CSV files and from vCard files as well. The default address book on Outlook is displayed when users click on the people link in the navigation pane. This blog will discuss simple techniques to export Outlook address book to VCF.
Techniques to Export Outlook Address Book as vCard File
Here, we will discuss two approaches to export Outlook address book to VCF file. The first one will be the manual approach and the second one will be done using an automated alternative solution.
Manual Approach to Perform Outlook 2010 Export Address Book to vCard
In the Navigation Pane, click on the People button to access the contacts.
Select the contact that you want to export as a vCard VCF file.
Now, click on the Microsoft Office button and then choose Save As.
Navigate to the folder, where you want to save the VCF file → Enter File Name → Choose (*.VCF) file in Save as Column.
Click on Save to VCF file.
Click on the folder in which the vCard file is saved to view the saved file.
Must Read: Import Outlook Contacts to Kindle Fire HD
Limitations of the Manual Approach
The manual method for Outlook 2010 to export address books to vCard does not support exporting multiple contacts as VCF files at a time.
The Manual Method requires more time and effort.
Manual techniques are not 100% reliable as they may generate false information about the contacts.
Automated Alternative Approach to Export Outlook Address Book to VCF/vCard
The above method to export Outlook address book to VCF file is much more precise using this approach users have to save the contacts one by one manually which is not suitable for big organizations.
That is why there is a need for a third-party automated solution. One such tool SysTools vCard Export Tool can export multiple Outlook contacts to vCard in an effective manner.
Features of the Tool
Move contacts from the default Outlook profile address book.
Transfer Contacts from Outlook to VCF, vCard, WAB, Google, and Yahoo Contacts.
Provides options to export selective or multiple contacts folders.
Preview all the contacts vCard style with all the attributes.
Capable to combine all the contacts under a single VCF file.
Conclusion
This article states performing the process to export Outlook address book to VCF file. Outlook exporting address book to vCard is not a challenging task anymore. We have discussed the simple approaches to export Outlook address book to vCard files in a reliable and safe manner. Both the above-discussed methods have their own merits and demerits. The third-party automated solution can perform the same in a hassle-free way.