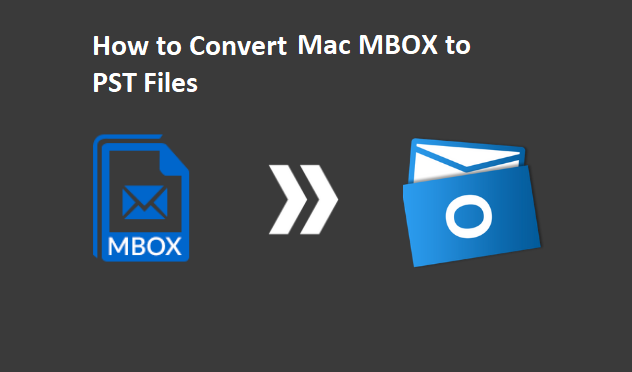 "Hi, I am trying to move many mac mbox files to Windows platform with Outlook installed in it. And I am unable to figure out the native way to do it. The import/export feature does not have an option to import these MBOX mailbox files. Hopefully, I am not the only one with this kind of issue. So, is there a way to get around it and export Mac mailbox to Outlook application? Thanks in advance."
If you are also struggling with a similar issue, then this blog is for you. Here, we will explain the step by step method to export Mac mailbox to PST. Since PST is the file format of Outlook, it is importable in all Outlook versions i.e., Outlook 2019, 2016, 2013, 2010, 2007 & 2003. You can even import them in Outlook for Mac.
Now, we understand that there are two kinds of problems that Mac users come across while exporting Mac mailbox to Outlook. One situation is where the OS remains the same and hence Outlook for Mac comes into play. While in another situation, the user wishes to open and view Mac mailbox files on Windows Outlook. But, whatever the situation, it is a well-known fact that Outlook does not support MBOX files. Hence, specialized tools are required to help resolve these situations instantly.
A Step-By-Step Process to Export Mac Mailbox to PST (Outlook)
There are no native options to directly import Mac mailboxes into Outlook. That's why we go through different phases:
Move Mac mailbox files to Windows (optional step – export mbox from mac mail)
First convert mailbox files into PST files
Import PST files into Outlook.
Going through the phases provides you with the required PST files. If you do use the email app in Mac, but do not know the mailbox file location, you can also know it through the first phase. Also, once you convert the Mac mailbox file to PST, you can also import them into Outlook.
Step 1: Export Mailbox from Mac Mail (Optional Step)
This is an optional step for those users who are using Mac Mail and do not know the location of MBOX files on their Mac system. If you already have the MBOX mailbox files, skip this and move to the next step.
Open Mail application, select the mailbox you want to export.
Click Mailbox menu and select Export Mailbox option.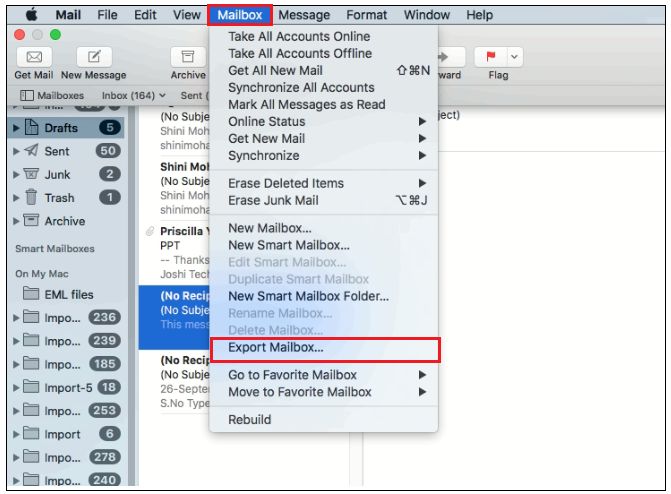 Choose the location to save the mailbox file and click Choose button.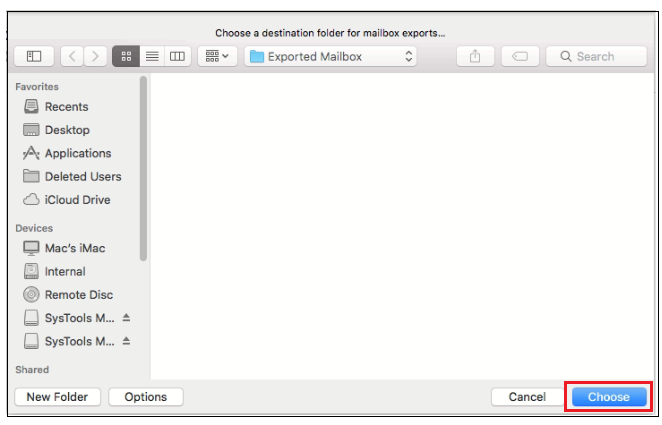 Now, move onto the next step.
Step 2: Convert Mac Mailbox to PST on Windows
Alert: The tool specified here is for Windows only. If you wish to opt for a solution that specializes in converting Mac mailboxes to PST on the Mac OS, kindly go for Mac MBOX to Outlook Converter.
 Once, you have the Mac MBOX files on your Windows system, it is time to convert them into Outlook PST files. We are recommending DataHelp MBOX to PST Converter to convert multiple MBOX (Mac mailbox files) into Outlook PST file format. The software is associated with a plethora of features such as multiple file formats (PST, EML, MSG, NSF, HTML, PDF), convert into separate/single PST file, selective conversion, extract attachments, and all that without any hassle.
Simple Steps to Convert Mac Mailbox to PST
To export Mac mailbox files to PST format, users can follow the detailed instructions given below:
First, run the software on your Windows system and click Select Files button.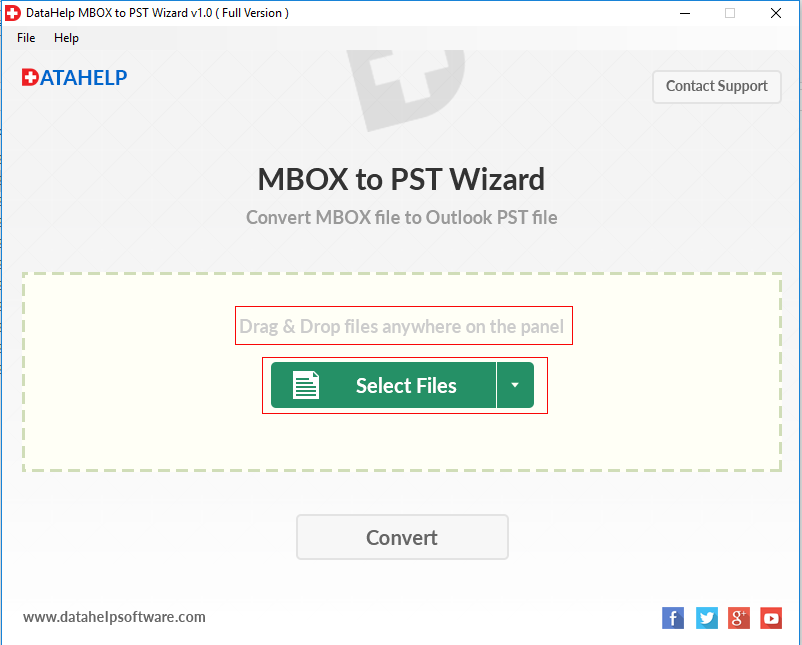 Click Select Folder option and select the folder that contains all the MBOX files.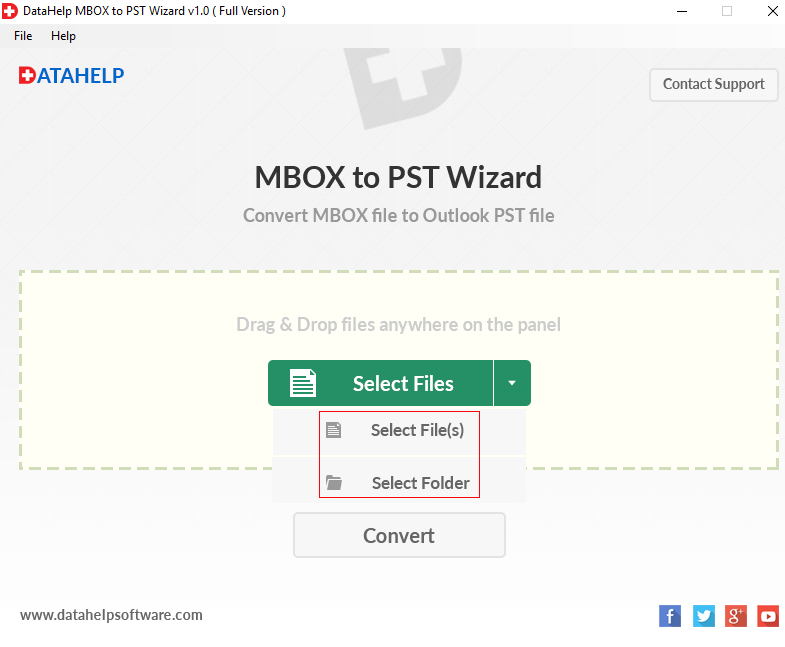 Once the mailbox files are imported in the tool, click the Convert button to proceed.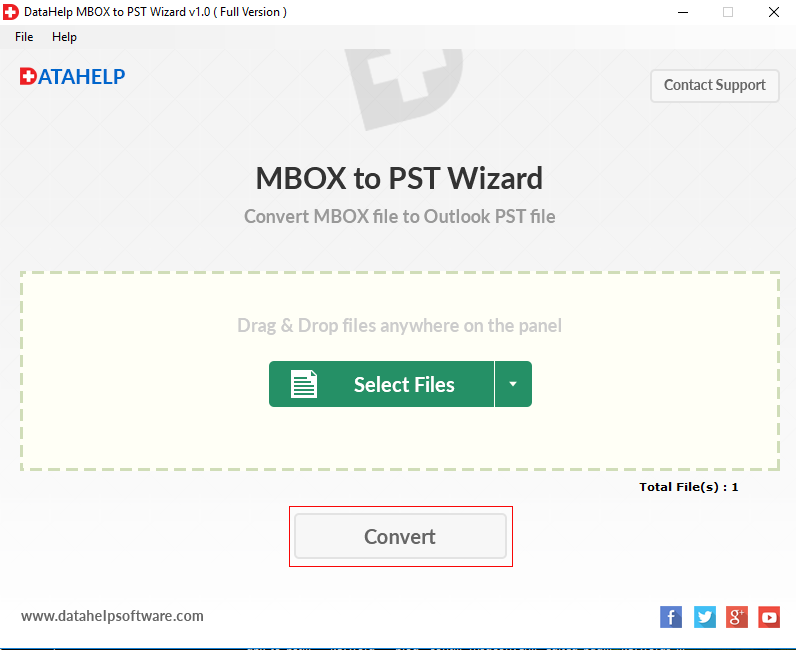 Browse the location to save the converted files and click OK button.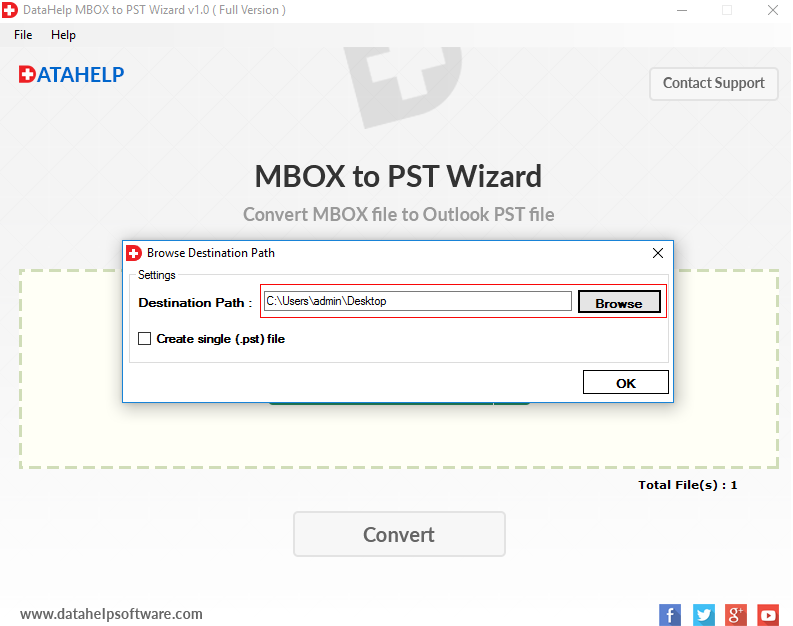 The software starts exporting Mac mailboxes to PST file.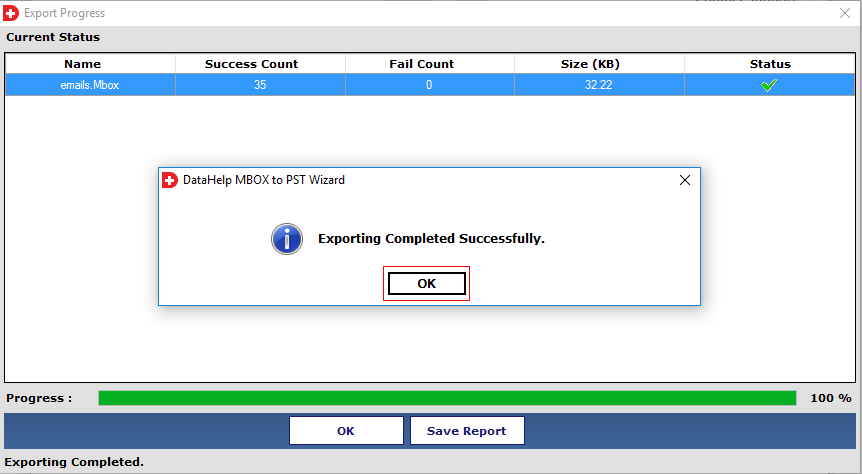 Step 3: Import PST to Windows Outlook
The instructions are for Windows:
Run Outlook & click Open & Export > Import/Export option.
Select Import from another program or file > Next.
Click Outlook data file(.pst) > Next.
Browse the converted PST file.
Select the Finish button.
Conclusion
There aren't many trustworthy methods to export Mac mailbox to Outlook. The ones found on the internet are not worth the risk they pose to the important data. Therefore, we provided a simple method to export MBOX to PST and import them in Outlook 2019, 2016, 2013, 2010, 2007 & 2003.