Convert MBOX to PST – Two Easy Ways
MBOX file format is a generic mailbox file that stores emails and attachments of multiple email applications. There are over 25 email clients scattered through the various operating system that uses MBOX file to save their mailbox data.
Even webmail services like Gmail provide users with MBOX files containing all their data. Now, due to reasons both personal and professional, users often wish to retrieve MBOX emails in Microsoft Outlook.
MS Outlook is considered to be better than most MBOX-based email applications with its powerful set of features. However, to readily access MBOX mailbox in Outlook, users require to convert MBOX to PST.
A Free Way to Convert MBOX to PST File
Here are the steps that make MBOX to PST conversion easy for free:
Transfer MBOX data into EML format
Import the EML files in Outlook
Save MBOX emails in PST file
Do take a look at MBOX TO PST CONVERTER to convert MBOX file to PST, EML, MSG, NSF & HTML. Supports Thunderbird, Eudora, Apple Mail, Entourage and 20+ email clients.
Transfer MBOX data into EML format
Access the MBOX mailbox in a popular email application. And follow the simple procedure to export the MBOX mailboxes to PST:
Open the mailbox folder. Select all the emails that you want to migrate.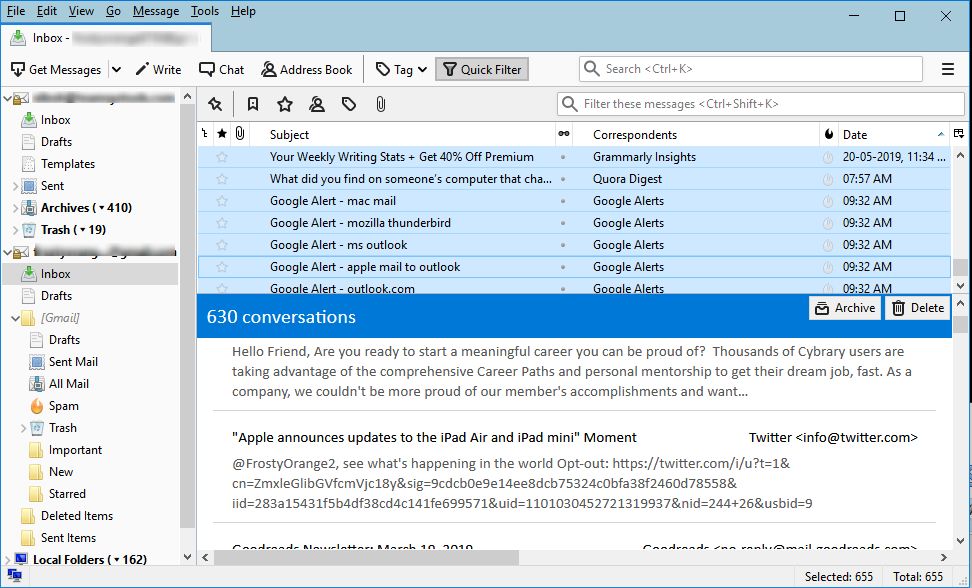 Right-click on a selected message and click on "Save As" option.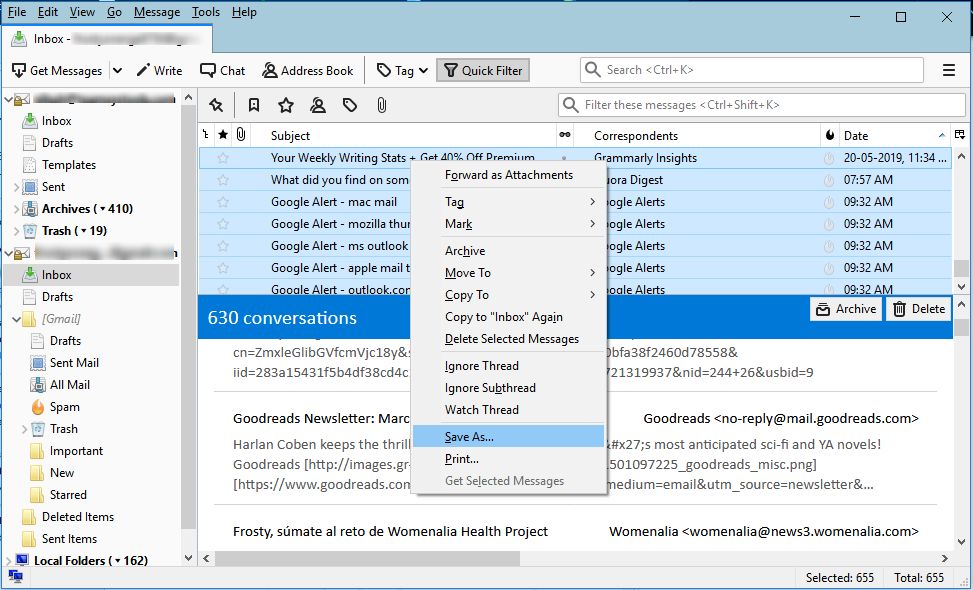 Select the desired folder to save all EML messages and click on "Select Folder".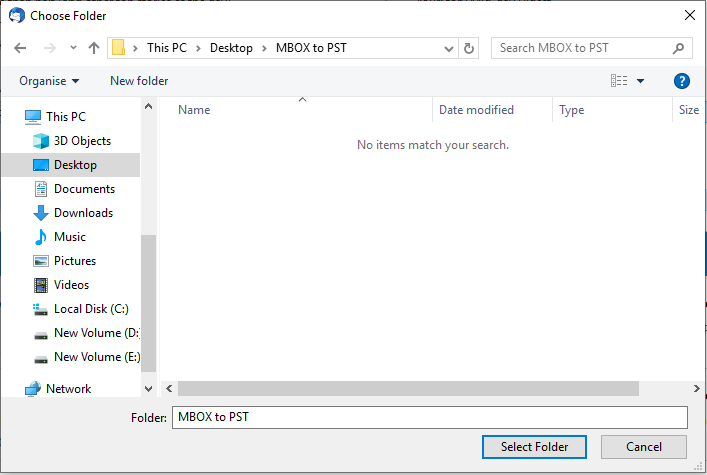 Perform the same steps for each mailbox folder until all the MBOX emails are saved as EML files.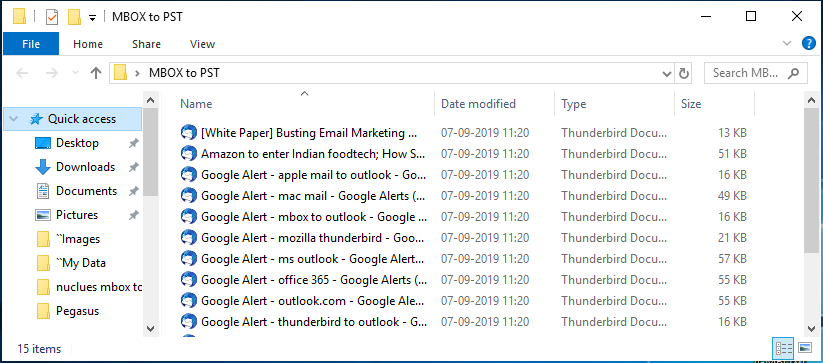 Note: You can also create a new folder and move all your emails in it. Then, follow the above-defined steps to save the messages in EML format.
Import the EML files in Outlook
Open the Outlook email client. Right-click on left pane of Outlook and select "New folder".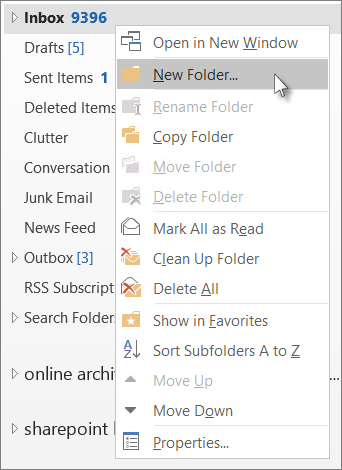 Enter the name of the folder and press "Enter".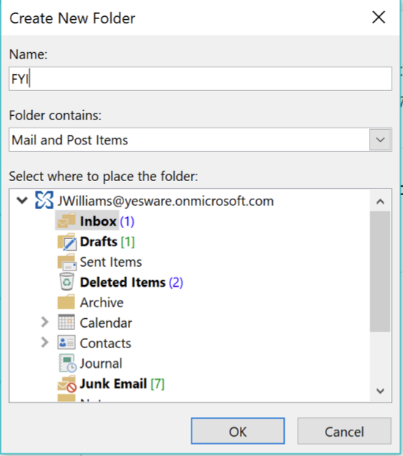 Open the folder where all EML files are saved. Drag and drop the selected files into the new folder in Outlook.

Note: There may be a delay in the visibility of emails. It depends on the number of files that you saved.
Save MBOX emails in PST file
In Outlook email client, select "File" and click on "Open & Export" and "Import/Export".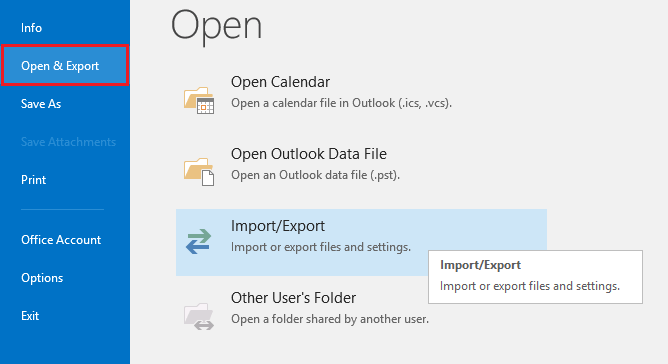 Select the second option i.e., "Export to a file" and click the Next button.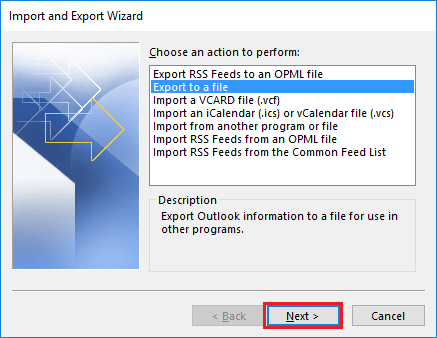 Select "Outlook Data File (.pst)" and click on "Next".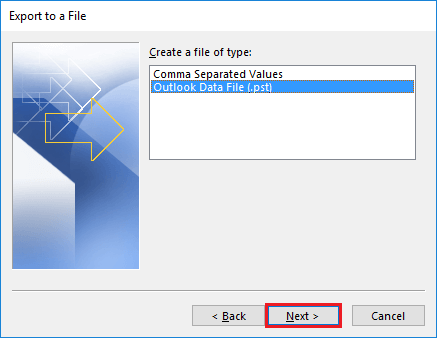 Choose the mailbox folder where EML files are saved and click "Next".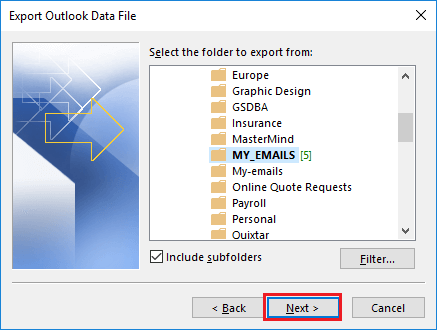 Select the storage path to save the PST file. And choose the desired radio button under "Options". Click on "Finish".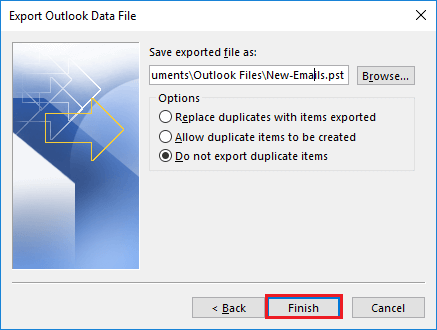 Note: There is an optional choice to set a password for the PST file. You can choose to provide a password or skip ahead as per your requirements.
A Simple Way to Convert MBOX to PST Without Outlook
MBOX to Outlook Converter is a professional tool that can freely convert 25 items from each MBOX folder to PST. It has the added advantage to convert orphan MBOX file to PST without Outlook installation.
Since the manual method is time-consuming and requires a certain bit of technical expertise, this automated tool is the preferred choice among users.
It has a user-friendly interface that allows to add multiple MBOX files, preview the emails and convert them to PST format. Also, it can convert selective items from MBOX to PST easily. Let us understand the working of the tool:
Open the MBOX to PST tool.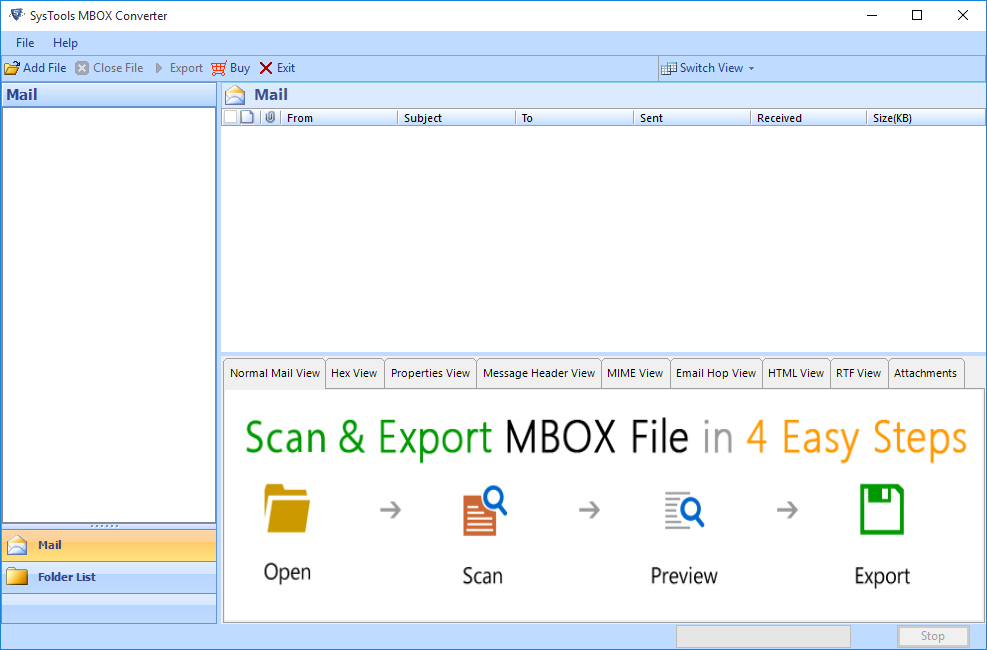 Click "Add File" to select the MBOX file. Click "Next".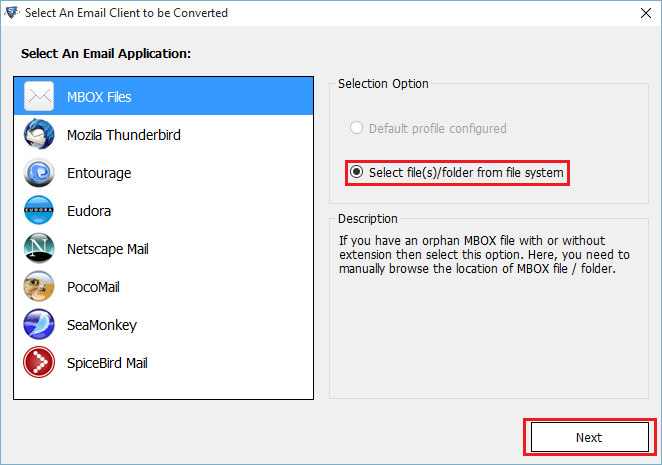 Note: You can use "Add Folder" to select multiple MBOX files for conversion to PST.
The software will scan all the MBOX file data and load it on the interface.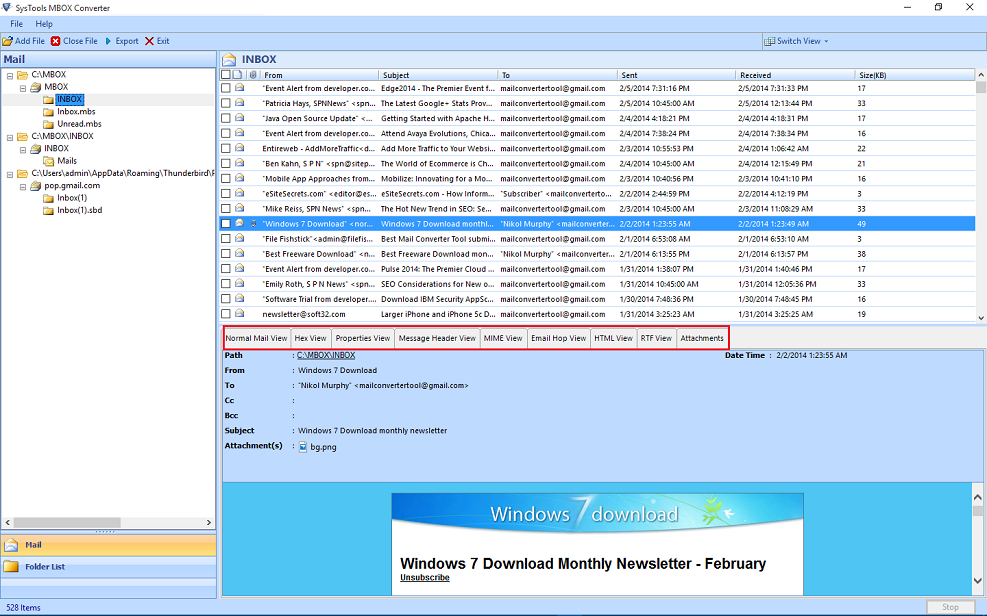 Select the emails to preview each message in eight different preview modes. Now click on "Export" to proceed.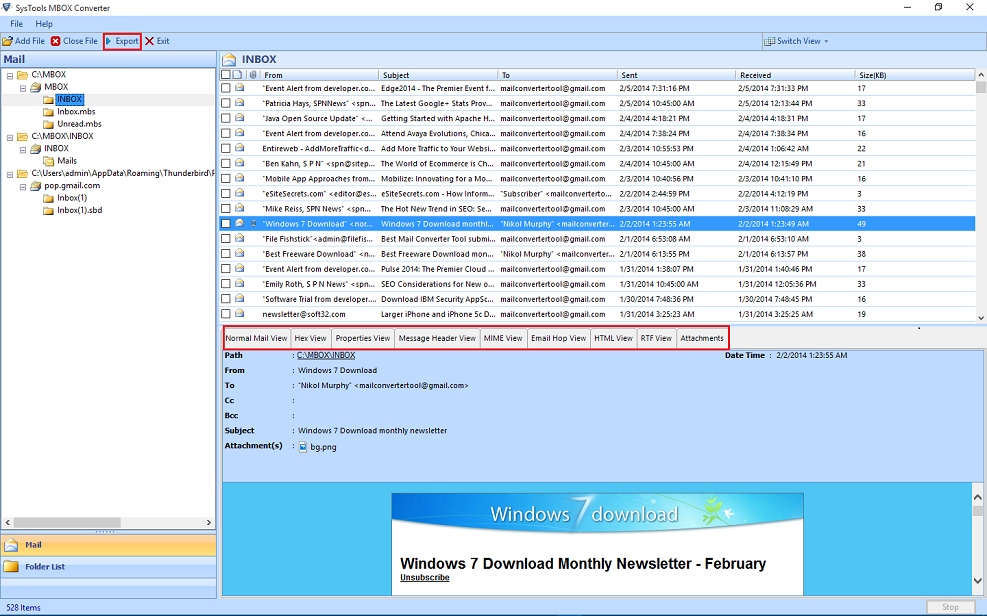 Choose "PST" from the given list of file formats.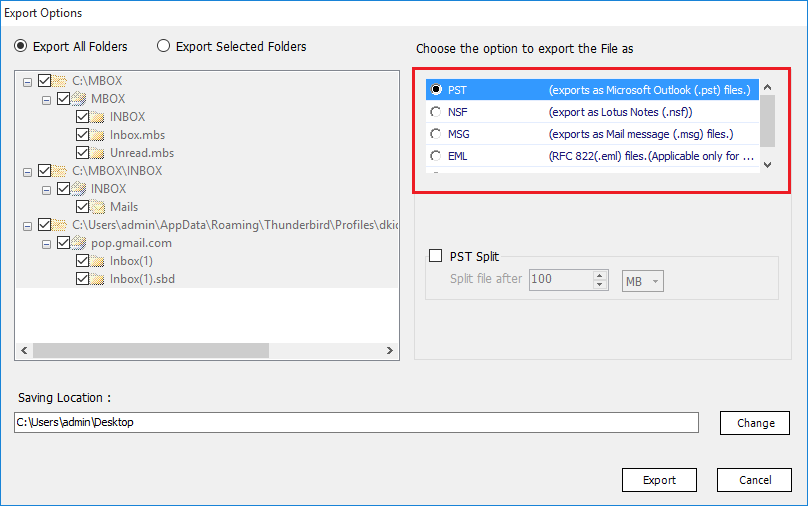 Select either "Export All folders" or "Export selected Folders" and checkmark the mailbox folders you want to export.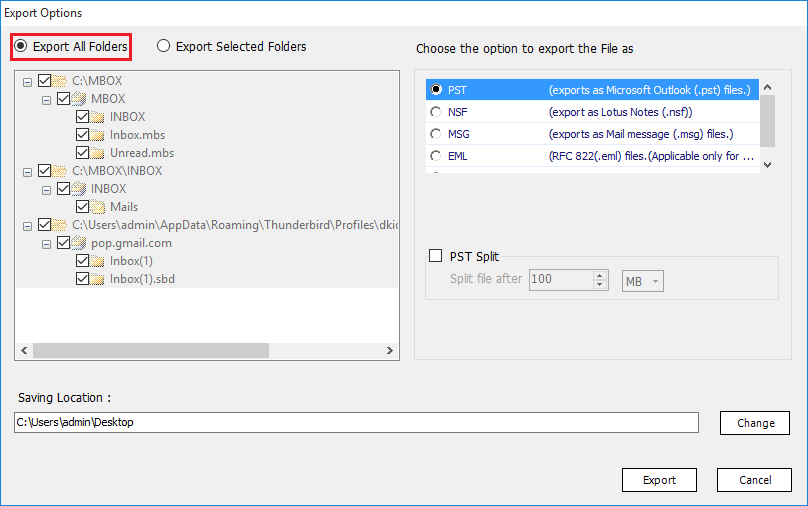 Optionally, you can check the "Split PST file" checkbox to break the MBOX files into multiple PST file on the basis of set size (in MB/GB).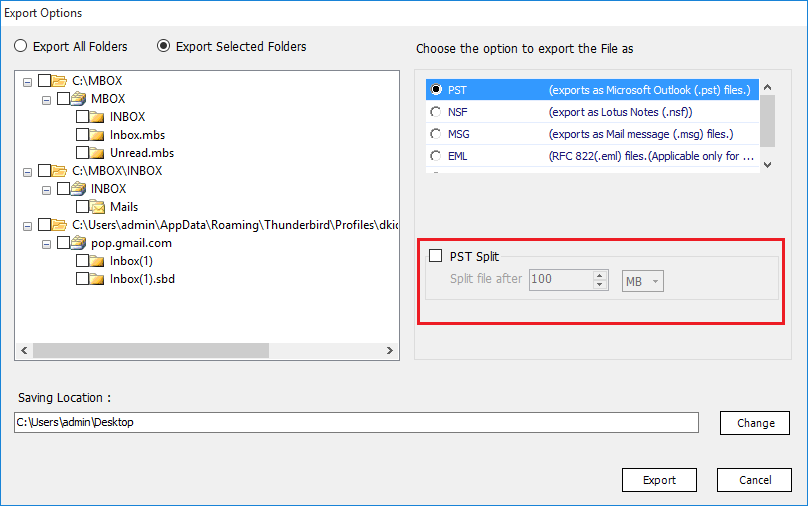 Click on "Change" to set the destination path. Provide the preferred location and click on "Export".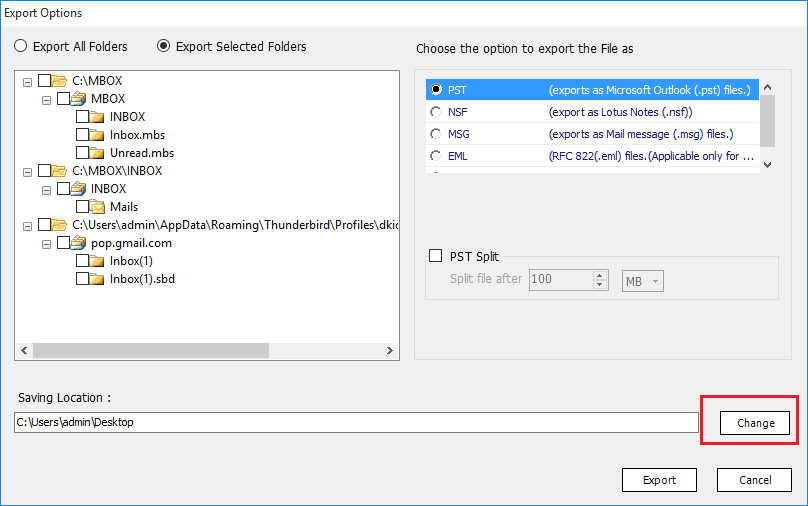 Once the conversion process is complete, the software will display a confirmation message. Click on "Ok".

A report file is generated. Click on "Show Report" to view the complete conversion process details. Lastly, click on "Open Location".
The new PST files will be present at the specified location.
You can manually convert MBOX to PST only when you have both the MBOX email client and Outlook installed on your system. But the tool converts the MBOX file into PST format without Outlook or any other external application.
This program can help you in opening MBOX files in Outlook. It also provides batch and selective conversion options. Also, you can convert 25 items per folder for free to PST.
Watch Video to Know the Easy Steps to Convert MBOX to PST
User Reviews & Ratings for MBOX to PST Converter tool
G2Crowd Review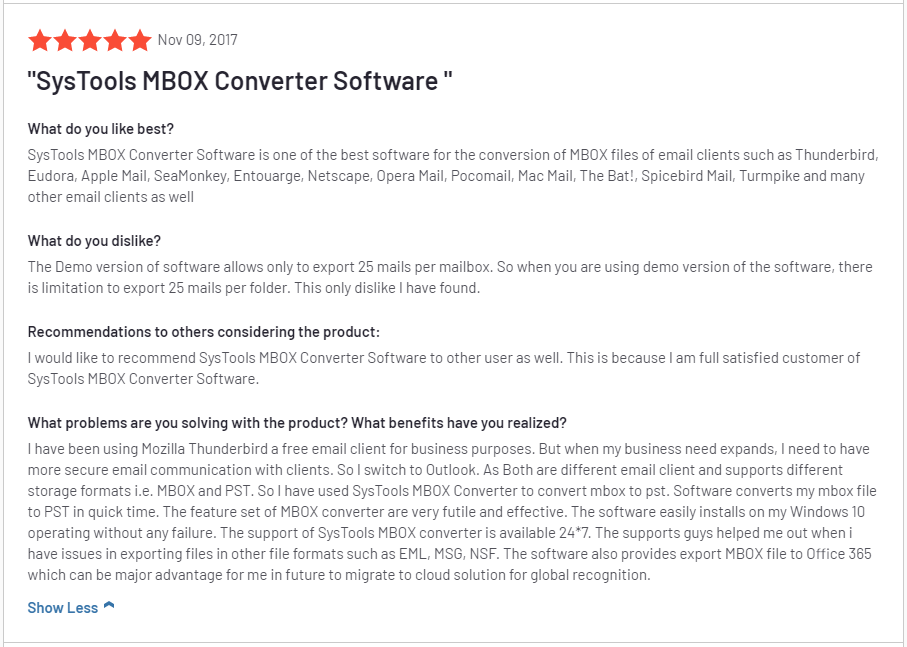 Best Answer

The tool is feasible for migration to Outlook from other email clients, such as: