How to Recover Formatted Data from Hard Disk – Best Solution
Sometimes you mistakenly format your hard drive after that you think that you have lost your data and you can not recover your data. But No, it is just an assumption. It is possible to recover formatted data from hard disk by using professional software.
Everyone will give you different solutions so that you can recover your data but I will suggest you that you should not trust any random person for data recovery because with one wrong step you can lose your data permanently. So you should download a reliable software and recover formatted data from hard disk in Windows 10.
Why You Should Format Hard Drive?
There are many reasons that why formatting data is important. Some of them are:-
Firmware Faults – Sometimes our system hangs and at that moment we think its impossible to access our data. So to avoid this kind of issue you should format your hard drive.
Low/High Power Supply– Voltage fluctuation can cause damage to hard drive. You should have a stable power supply, nor too high neither too low.
Crashed Hard Disk-

Due to improper ventilation in CPU it can result in

crashing of hard disk.

Corrupt Files

– Due to virus attack some files get corrupted and due to sudden shutdown of your system can also cause some files to become corrupt.

Human Errors

– There are times when we are in hurry, and due to a lot of stress we make mistakes. Sometimes it happens that we want to delete a file but we mistakenly deleted the main file. To overcome these errors you can format your hard drives.
What Type of Data Can be Recovered from Formatted Hard Drive?
If user want to recover formatted data from their hard drive then they can use the automated software and can easily recover their data safely. This software will help you in recovering data from hard drive of any type / brand, with any file system and of any size. But, this software will not recover data from physically damaged hard disk. For the recovery of the formatted data from your Hard drive it should be in working condition.
What Can Not be Recovered?
Data from p

hysically damaged

hard disk.

B

urned

hard drive

N

ot accessible or non- readable hard disk

Firmware and manufacture faults

Electronic failure
User Query

"Last night I completed my project work and turned off my PC and then I slept. But when I turned on my PC, a pop-up message appeared on my screen "you need to format your drive" and I clicked on the "OK" button and I lost my data and I did not take backup of my project". How can I recover lost data from formatted hard drive?"

"A day before yesterday I have formatted my PC. But now, I need some files which are important for me. I did not have any back up of my files". How can I restore them?"
Most of the users face this kind of problems. So, don't worry now you have a better solution for these kind of problems. You can retrieve deleted files from desktop computer very easily by using SysTools Hard Drive Recovery Software.
Recover Data from Formatted Hard Disk in Windows 10 in 5 Simple Steps
Step 1– Download and install the software. After this, click on "start" button, then click on the "all programs" and then select "Systools Hard Drive Data Recovery".

Step 2– Now software will ask you to select the scanning process. Two types of scanning process are there
Scan– The user should select "scan" option, when he/she wants to recover virus infected files from PC.
Formatted Scan– The user should select "formatted scan" option when he/she wants to recover data from formatted hard disk.
After selecting the scanning process. You should click on "scan" button.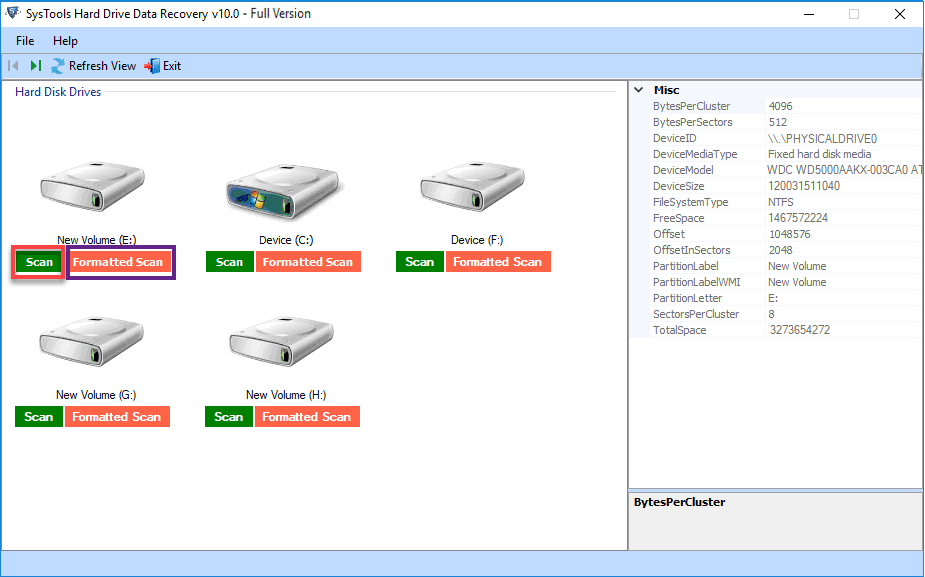 Step 3– When you click on the "scan" button. The software will show you the progress report in the form of reading percentage. You have to wait till the time it gets 100% completed. After the scanning process is completed, the software will display all your data on the left panel.
Step 4– Now, you need to select the data which you want to recover data from formatted hard disk in windows 7. All the items will be shown in the right panel. The permanently deleted data will be shown in red color so that user does not face any kind of problem.
Step 5– Select those files which you want to recover and click on "save" option. And select a destination where you want to store all the recovered data.
Benefits of

Hard Drive Data Recovery Software
R

ecover formatted data from hard disk

safely.

Supports multiple file formats like FAT, exFAT and NTFS.

Supports all window versions. And can be used in system and laptop, both the devices.

It can get data from DVR Hard Drive.

Recovers photos, videos, documents etc. properly and securely.

This software can recover deleted CCTV recording in CP plus also internal and external hard drive.

Provides you with "refresh" option. So that, you can check if there is any attached storage device with your PC.

Recover deleted files from NTFS partition like GPT, MBR etc.
It can recover formatted data, corrupted data and deleted data from the hard disk.

Fast data recovery from IDE, EIDE and SATA devices.

You can recover WAV files or you can just recover some selected files by using SysTools Software.
Final Words
In this post, I have discussed many useful things with you to recover formatted data from hard disk. There are no manual methods to recover formatted data, so I found a software to recover formatted data from hard disk drive named as SoftwarePro Hard Drive Recovery Software. You can try a demo version of this software to check the efficiency of the tool.