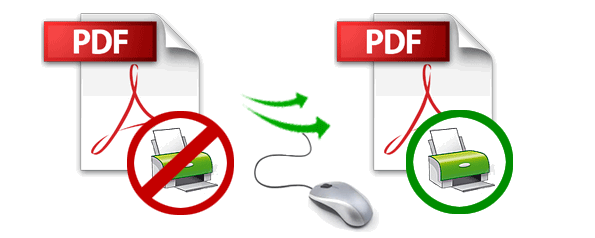 Summary: In this blog, you will learn about how to unlock PDF print lock by using both the manual and professional methods. We will take you through step by step procedure that you can adopt to unlock secured PDF with perfect results.
PDF file format is extensively used for sharing confidential data as it keeps your file secure. Users can protect their PDF files by locking it with a password. Generally, there are two types of secure PDFs: user-locked, which means you need a password to view the contents. On the other hand, there is an owner-locked PDF, which means you need a password to copy, print, or modify the PDF's contents.
If you want to print a password-protected PDF file, first you need to unlock the password that is having an owner level security. At the beginning of the article, we are going to discuss the manual techniques that allow you to unlock PDF print lock.
Let's get started on!
How to Print a Secured PDF Document Manually?
1. Unlock PDF using Adobe Acrobat
2. Print PDF Restricted file using Google Chrome
Method 1: Remove PDF Print Protection Using Adobe Acrobat
To remove PDF print lock, you can use the Adobe Acrobat Pro application. Adobe Acrobat Pro is a software program that is used to manage PDF documents. It comes with many features like securing or unlocking the PDF, splitting, merging, or editing.
Follow the steps to unlock PDF for print:
Open the File in Adobe Acrobat Pro DC application.
Select Tools>Protect>Encrypt>Remove Security.
As the file has a permissions password, type it in the Enter Password box.
Finally, click OK to confirm the action.
Method 2: Remove PDF Print Lock Using Google Chrome
Google Chrome is the only browser in which you can use the "Print" feature to remove the owner password from your PDF document.
Look at the steps to unlock PDF and print.
Open Google Chrome.
Now, go to https://drive.google.com/drive/
Click New in the top right corner of the Google Drive Window. Click on the File Upload option to select your PDF, and click OK to upload it.
If your PDF is user-locked, you'll need to enter a password and click Submit to view its contents.
Once the PDF opens, press Ctrl+P (Windows) to print the PDF document.
The Downside of Manual Methods
1. For using the Adobe Acrobat Pro DC, you have to purchase its subscription and that will cost you very high.
2. Google chrome process is very time-consuming if you have tons of PDF documents.
How to Print a Password Protected PDF Files: Expert Solution
PDF File Unlocker utility provided by SysTools is professional software that allows users to remove security restrictions from PDF documents. The tool can unlock PDF files for printing, editing, copying, and extracting pages. In addition, it allows users to remove restrictions for comment, sign, document assembly, and form filling in PDF files.

Moreover, the software supports Windows 10 & all below versions.
Significance Of Using Automated Tool
The utility can remove owner level security and unlock PDF restrictions.
The software can restrict multiple PDF files in batch
Easily remove PDF Signing, Document Assembly and Comment Restrictions
Shows PDF file details like file size and permissions
Maintain the data file integrity and originality of the PDF files.
Does not require Adobe Acrobat to remove PDF document restrictions
How to Unlock PDF Print Lock Instantly?
Follow the simple steps to remove PDF print protection.
1. Install & Run the software in your system.
2. Then, click on "Add Files / Add Folder" button to add PDF files for removing PDF print protection
3. Now, click on the Change button and select the destination location
4. Finally, click on the "Unlock" button to unlock PDF print lock.
5. Finally, the process completion message has been displayed by the user
Final Verdict
In this article, you have learned how to unlock PDF print lock by using different techniques. We have introduced both the manual & automated methods to remove PDF print lock. However, the manual method has certain limitations, so in order to overcome those limitations, we have provided a professional solution. With this utility, you can easily enable the print option in my PDF document. Additionally, the functionality of the software is so easy that even the non-technical users can remove PDF print restrictions in a few simple clicks.