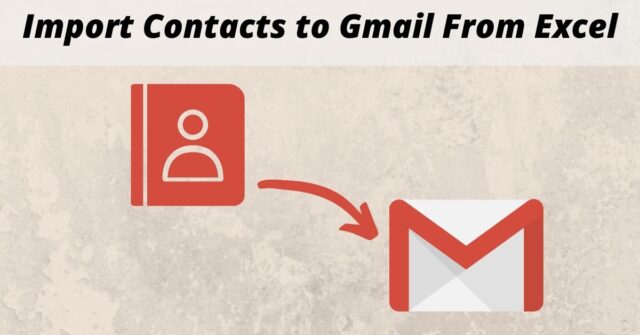 Are you searching for the solution to Import Contacts to Gmail? Then let me tell you, this is the place where you will get the medicine for your headache/pain.
Well, Microsoft Excel is a well-known application to store a large amount of data. The problem arises when a user needs to convert an excel sheet to google contacts.
In the upcoming section, we are going to discuss how a user can easily import excel contacts to Gmail from excel. So, without much a hassle here live dive right in…
Table of Contents
1. Manual Method To Save Contacts To Gmail
2. Automated Solution to Save Contacts To Gmail
3. Automated Solution Working Explained
4. Conclusion
How To Save Excel Contacts To Gmail | Without Installing Any Software
As Gmail does not support Excel XLS / XLSX files. So the user needs to convert Excel contacts in CSV file format and then import the CSV file to the google account. Let's check out the methods to do this conversion.
Step 1 Save Excel File to CSV Format
First, Open your Excel file which you want to convert.
Arrange your data in proper cell groups.
Use Ctrl + Shift + S key to open the "Save As" menu.
Select Text CSV file format from the Drop-down menu.
Browse the designation and save the Excel file in CSV file format.
You have completed the first step successfully to import contacts to Gmail from excel. Now user can move towards the second step to bring in the CSV file to Gmail.
Step 2 Import CSV File into Gmail
Open your default browser.
Make sure that you have logged in with the required account.
Click on the 9 dots displayed above and select the Contact field.
Now click on the import button placed on the left-hand side menu.
Simply, browse and add the file to Gmail and click "OK".
That's how you can save excel contacts to Gmail. But if you have multiple contact files, then it's a headache process to convert files in CSV format and then import them. In this case, the user can go with an alternative approach. Let's explore more about it in the next section.
Expert Suggested Way to Convert Excel Sheet to Google Contacts 
SysTools Excel Contacts Converter an excellent solution to perform bulk conversion of Excel files to CSV file format. It allows importing multiple Excel contacts to CSV file format.
Also, this utility offers you to map the excel column of the selected Excel file. Moreover, this tool come-up with a dedicated Google CSV settings. By enabling, this option will create the google CSV file.
For Mac Users 
Apart from it, you can download and run this for free and access demo edition features. Let's check out the working of this software.
Excel Sheet To Google Contacts | Procedure Explained
Here we are going to take a look at the working of this software. Just follow the steps listed below for good.
Initial step is to download and launch the software.
After, successful installation of software click on the browse button to add an excel file from the stored location.
The scanning process will begin. Once it gets done you can preview the added files.
Select the CSV radio button from the Export option tab.
This software comes out with two standard options CSV and Google CSV.
Standard CSV – By selecting this option it will create a standard CSV file that can be accessed through any CSV-supported software.
Google CSV – If your goal is to import contacts to Gmail from excel then you can go with this option. It will create a Google CSV file for good.
Afterward, select the location to save and click on the Export button.
Now you can preview the exported CSV files to the designation location.
Author Suggestion 
I hope you all will understand how to import contacts to Gmail from an excel sheet. Most of the user prefer to use an automated tool to prevent data loss and time. One can use any of the methods as per his/her requirement.