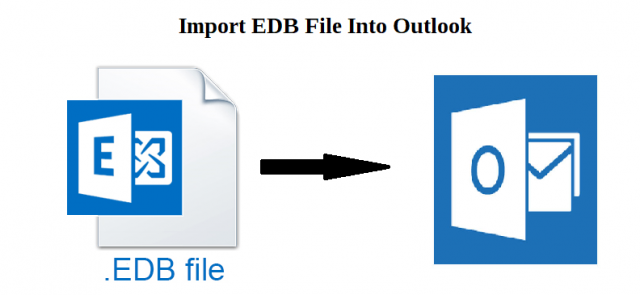 Summary: User can import EDB file into Outlook, first by converting the entire Exchange database file to Outlook supported file. Then access the .edb file in MS Outlook by importing the PST file. This write-up will guide users by providing the professional solution which helps users to convert public and private EDB file in batch and method to import Exchange database file to Outlook.
Microsoft Outlook is widely used by millions of users around the world. It helps them to organize emails in their own way and many users find this useful because not everyone works the same way. Other than this, there are other benefits to use MS Outlook i.e. Users can access offline email, schedule meeting rooms, mail tips, sharing and delegating calendars, etc. That's why they want to import EDB file to Outlook.
It's quite easy to carry forward the solution in two phases which are described below:
Phases to Import EDB File Into Outlook
Phase #1: Conversion of Exchange data files in a different file format which is PST.
In this phase, the users need to change the file format of their EDB files. Here, the personal storage file format is going to be relevant as Outlook uses the this file format.
Phase #2: Import PST file to Microsoft Outlook is the second phase to execute.
In this phase, users need to import these freshly created files. All of these files are required to export in the Outlook application to get the final results there.
When the process is complete users can access the Exchange database file. To convert the .edb file to Outlook user can use the professional tool. Before heading towards an automated approach let's discuss why the manual method is not used here, which also converts Exchange mailbox to Outlook data file.
Why Manual Approach Are Not Required?
The EAC and Exchange Management Shell is used as the manual method.
In PowerShell:
Users should have proper technical skills and knowledge to work on the Exchange PowerShell cmdlet.

This solution does not work properly with unhealthy/corrupted/damaged Exchange mailboxes

There is a risk of loss of data while exporting EDB mailbox to Outlook data file which is a serious concern for users.

The

New-MailboxExportRequest

cmdlet only exports one mailbox at a time which is quite slow.
In EAC:
Exchange Admin Center convert only individual mailbox and one has to perform the process multiple time until all mailboxes are converted. So, this is also a very prolonged process to do it.
Automated Method to Import Microsoft Exchange Database File to Outlook
Exchange EDB File Converter Tool is designed and developed with an advanced level algorithm that helps users to convert multiple public and private EDB files of any size to PST. Then users can import EDB file into Outlook. Also, this utility creates by default UNICODE PST file.
The software load Offline/Dismounted Exchange database files and converts mailboxes such as: archive, legacy, disconnected, shared, users, and data items like – notes, emails, journals, contacts, calendars, task to PST, and various file formats: HTML, EML, PDF, MBOX, MSG.
This tool provides scan mode options such as Quick and Advance scan which removes corruption from the EDB file. Depending on the level of corruption user can select the option. It easily performs Exchange Mailbox Recovery of all versions without data loss. Also, the Advance scan recovers purged data items and mailboxes from a loaded Exchange database files.
After conversion, the tool auto-creates the Export Report in CSV file format. Moreover, it helps users to check the status of success and fail count of convert Exchange mailbox into the selected file formats.
Key Features Of Professional Software
Supports the EDB and STM file

Preview MS Exchange mailbox data items

Maintain actual folder hierarchy and keep metadata intact

Extract Exchange EDB to PST

Outlook and multiple file format

Split Outlook data file by size (MB or GB) using PST split option

Convert EDB mailbox of a certain period using the Date filter option

Provide remove encryption option (SMIME/OpenPGP) in bulk from Exchange Mailboxes

Compatible with all versions of Microsoft Exchange Server, Outlook and Windows OS
Step by Step Solution to Import EDB File to Outlook
Step-1. Download the Tool >> Install > Run the automated software.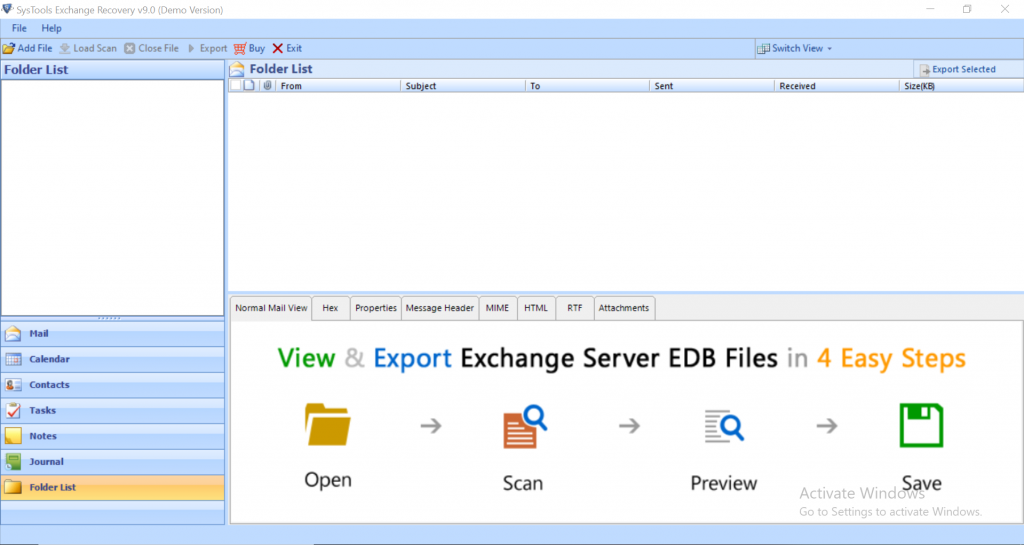 Step-2. Click Add File >> Load Offline/Dismounted Public and Private EDB file >> Click on the Add button.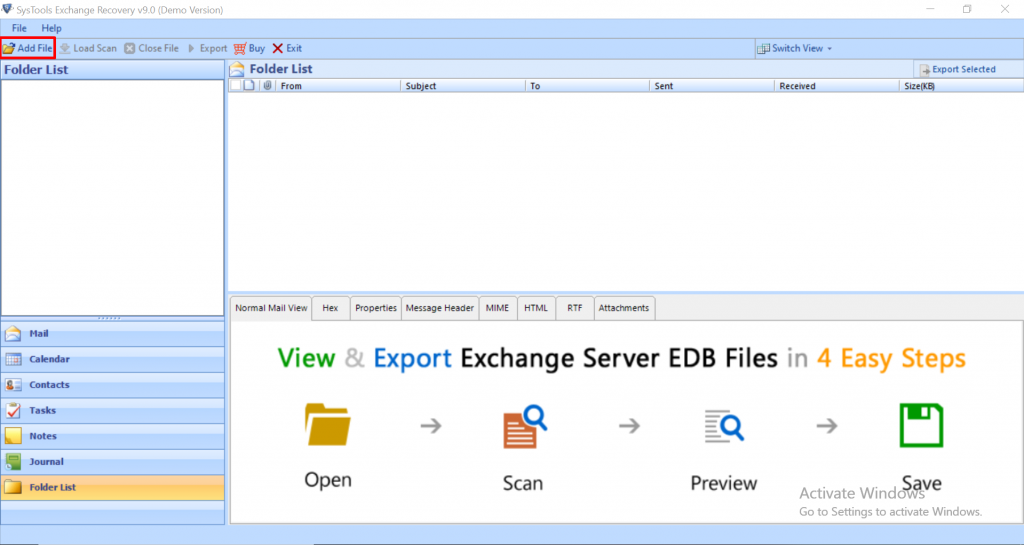 Step-3. Preview Private and Public Exchange database file, mailbox or data items >> Click on the Export button.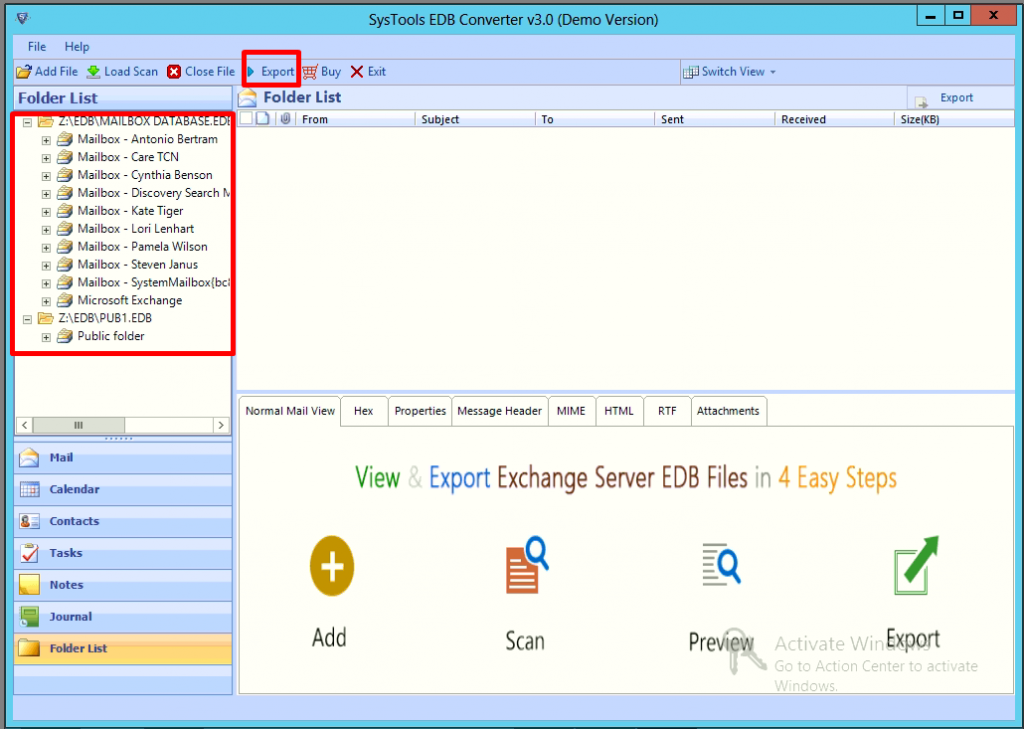 Step-4. Select Private & Public EDB file >> Click PST >> Click Browse to set target location >> Click Export button.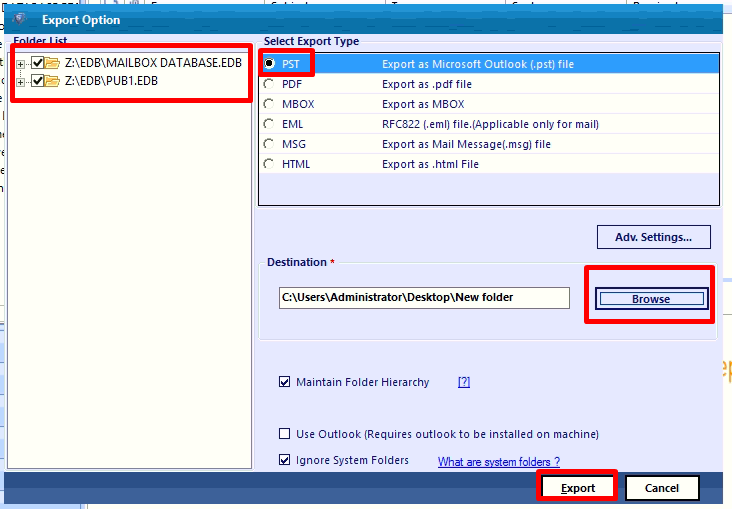 Step-5. Finally, here we can see that the first phase of this operation is successful. 
How to Import EDB File Into Outlook?
Step-1. Open Microsoft Outlook, Select File >> Click on Import/Export option.
Step-2. Click on Selected option >> Click Next.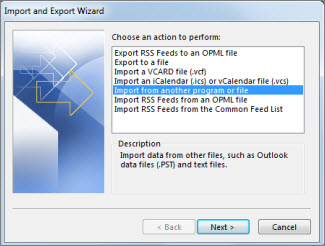 Step-3. Select Outlook Data File >> Click on the Next button.
Step-4. Browse files >> Click Next.
Step-5. Select "Include Subfolders checkbox" >> Select the "import item into the current folder" radio button >> Click on the Finish button.
Step-6. Finally, the Exchange database file is imported into MS Outlook.
Bringing It All Together
In this write-up, we have provided the completed information to import EDB file into Outlook. Now users can recovers the corrupted EDB file and convert multiple private and public Exchange database files to Outlook supported and different file formats without losing single bit of data. After that users can easily import the EDB file into Microsoft Outlook without any hassle.