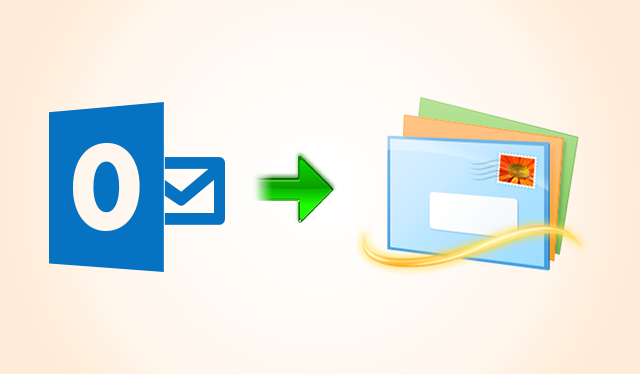 Outlook and Windows Live Mail are the most widely used email applications around the globe provided by Microsoft. In today's era of technology, MS Outlook and WLM have developed a lot and reached the peak. But, the most basic difference between both the desktop based applications is that Outlook is provided as a bundle with Office Suite and costs a lot. On the other hand, WLM is less expensive and completely pocket-friendly that makes it more convenient for the users to use WLM. One more added advantage of this application is that it is provided with the Windows and also comes free with Windows 8 and it's below editions. The main point that you need to keep in mind is that Outlook uses PST as its default file format whereas WLM uses EML files for the email messages. If you want to export Outlook mail to EML format, then the first thing that you need to implement is to import emails to Windows Live Mail from Outlook. The major concern regarding the entire matter of this conversion process is that the PST files cannot be accessed in WLM. In this blog, the users will be provided with the proper solutions to use WLM instead of Microsoft Outlook.
User-Query
"I have been using Microsoft Outlook for few years but, it was getting over budget for a couple of months. After researching it on Google, I came across WLM. It suited my work. Then, I tried to manage all the things and everything was running smooth. But, then one day I required an old mail. Now, for this, I need to access my PST file in WLM. But for doing so, firstly I need to import emails to Windows Live Mail from Outlook. Can anyone suggest me any technique to perform this task? Any help would be appreciated. Thanks!"
Need to Import Emails to Windows Live Mail from Outlook
There are number of reasons to perform this migration task. Few of these reasons are described below:
EML files can be stored and located at any location of your choice.
Changing the name of the EML files does not allow any changes in the file.
All EML files will be accessed anytime but any other file if accessed on the different systems can create multiple issues for the users.
Move Emails from Outlook to Windows Live Mail
When Outlook emails are required to be converted to WLM, users need to use Mozilla Thunderbird. Firstly, Users have to install Thunderbird on the system and then export the Outlook mailbox data to Mozilla Thunderbird and then finally import these to EML. After some time, you can import emails to Windows Live Mail from Outlook. Now, read the below section to perform the migration task efficiently.
Manual Approach to Transfer Emails from Outlook to WLM
Launch Mozilla Thunderbird → Tools → Import.
It enables a pop-up window will appear on the screen showing the two options i.e., Import Everything or Select type of material to be imported.
Select the preferred option → Click Next.
Import process will begin.
Once the process is completed, the mailbox data can be easily exported.
Now, Open Inbox Folder and choose the emails to be converted.
Finally, right-click on it and then select the Save option.
It opens a window from which the storage location can be selected. Store file to the desired location.
Now, the below section will help you to import emails to Windows Live Mail from Outlook. Go, through the below section and complete entire migration process:
Run WLM email client → Select File Option.
Now, Click on Import option and select Messages.
Select the WLM.
In the end, mention the root directory where folder and the message structures are to be located and then initiate the process.
Tip: You have to Run WLM as an Administrator.
Automated Solution to Import Emails to Windows Live Mail from Outlook
Since, the Manual technique is free of cost, but it has many limitations associated with the conversion process. The users are required to configure the mail id into it and consumes a lot of time and efforts. To overcome these problems, the best utility is SysTools PST Converter. Using this application, users can easily move emails from Outlook to Windows Live Mail. This software is one of the best possible reliable solutions which helps in transferring emails to WLM without any data loss.
Conclusion
The users have to face multiple problems when they import emails to Windows Live Mail from Outlook. While importing Outlook mails manually users stuck in multiple problems if they do not possess proper skills. After reading the above blog, users have come across both the Manual and professional utilities to resolve the issues easily. Hence, users can choose the appropriate techniques as per their needs and requirements.