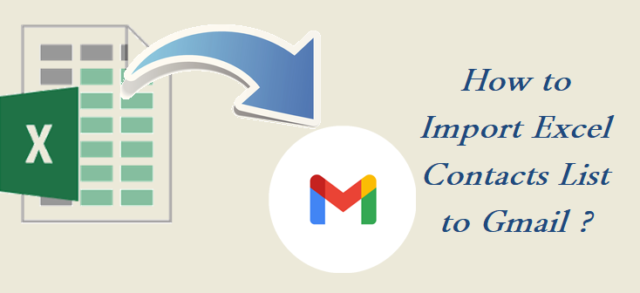 If you are looking for a way to import Excel contacts list to Gmail or you are trying to open Excel contacts in Gmail, then you are on the right path. Here in this blog, we are going to discuss the top two methods to open an Excel contacts list to Gmail.
Well, there are lots of users use Excel sheet for contacts management because it offers a tabular form. Yes, users can arrange contacts and related data to its related fields. On the other hand, Gmail most popular email client that offers free as well as paid Webmail services hence, there many small and large scale organizations used this webmail service to full fill their email needs

Moreover, regularly updating the contact list is an important part of staying on top of your communications with colleagues. And manually adding hundreds of contacts in your Gmail contact list can be time-consuming. So if you have hundreds of contacts to update in Gmail then keep reading this blog because you are very close to know the best techniques to transfer the Excel contacts list to Gmail.
Free Manual Techniques to Import Excel Contacts List to Gmail
In order to open Excel contacts into Gmail manually, first you have to save all Excel contacts file to CSV. Because Gmail supports CSV and it gives you an option to import CSV file directly to Gmail contacts. To do this follow the below steps:
1. First, open your Excel Contacts list in MS Excel
2. After that click on the File option and choose Save As option
3. Now, from Save As window choose the CSV format to save the Excel contacts list
4. Once the contact saved in CSV format open any browser
5. Login to your Gmail account with valid login credentials i.e., Username and Password
6. Now, choose the Google apps icon and select the Contacts icon
7. Choose the Import option from the left menu bar
8. After that click on the Select file option to add CSV file
9. Browse CSV file that contains contacts list and then click on the open button
10. Once the Excel contacts list uploaded click on the Import button to import Excel contacts list to Gmail
11. It will task some time which is totally dependent on the size of the file.
Drawbacks of the Manual Method
There is no doubt that the above manual method definitely works for you. But the one limitation with this method and which is data integrity and loss of contact field. It means while importing Excel contacts list to Gmail you may lose your contacts fields like in the name field you will see contacts number, in the contact field, you will find the address and many others.
Best Way to Import Excel Contacts List to Gmail
As we see above the manual method has some limitations. So in that situation, you can use the vCard option to complete this task Because Apart from CSV format Google contents also support vCard format. And the most interesting part about the vCard is that you don't need to worry about the Excel fields.
But the sad news is that Excel does not provide an option to save the Excel contrast list to vCard just like CSV. So, to do this you have to opt for an automated method, and the SysTools Excel Contact Converter tool is the best option for you.
This tool can easily convert Excel contacts file into six different file formats such as PST, PDF, HTML, vCard, TXT, and CSV. Also gives you a separate option to map Excel contacts fields. The tool is capable to preserve the data integrity along with folder structure.
Working Steps of the Tool
1. First Download the tool on your machine
2. Install and launch the software
3. Now, click on the Browse button to add the Excel Contacts file
4. Once the file is added you will able to see all your contacts in the preview window of the software
5. Now, choose the vCard option form Export Option
6. Select the vCard version such as vCard 2.1, vCard 3.0, and vCard 4.0
7. Choose the destination location to save the Excel contacts list to vCard
8. Now, form the Mapping window choose the Excel Fields and Export File Fields to map the Excel file
9. You can also click on the Auto Map option for automatic mapping
10. At last click on the Export button to Import Excel contacts list to Gmail
11. Once the task is completed you can easily import the resultant vCard to Gmail
Conclusion
There are many users asking for a way to import Excel contacts list to Gmail, Hence considering the requirement here in this blog we have discussed the two methods to complete this task. In the first method, you can directly import CSV files to Gmail, and in the second method, you can import VFC files to Gmail. So now, it up to you to choose the technique as per your requirement.