Overview: Looking for a solution to import Hotmail contacts to Android? If yes, then learn this blog for more details. Here we will explain the complete process to transfer contacts from Hotmail to Smartphone. So read it for better understanding.
As you know, Outlook.com is an updated version of Hotmail.com. Microsoft is phasing out Hotmail accounts and providing Outlook.com email and communication tools.
Android device is one of the most popular smartphones in the world. Ever since his first Android smartphone was launched, it has grown in popularity. There are serval reasons why Android smartphone is so popular. For example, it is easy to use, affordable, customizable, large amounts of memory and storage capacity, fast and efficient.
Contacts means the number of people you trust. When promoting yourself or your company, you need to meet as many people as possible. contact records are important because they store contact information and data about business contacts. That's why many people want to import contacts into their phones.
Why Import Hotmail Contacts to Android?
Now that we've covered the basics to consider before importing contacts to your Android phone, let's talk about the different ways to import Hotmail contacts to your phone.
Android is a mobile operating system that powers nearly 90% of all mobile devices today. Even though the two are different platforms, they support cooperation. So users want to know how to transfer Hotmail contacts file to mobile phones.
"Hi, I use my Hotmail profile to manage my work and sales. I keep in touch with many clients on this platform. But sometimes I need to contact these clients. I want to transfer all my Hotmail contacts to my phone. Does anyone know how to transfer these contacts to smartphone phones?"
How to Transfer Contacts from Hotmail to Android?
The entire process of transferring Hotmail contacts files to smartphone is divided into 4 easy steps. We recommend doing the steps in order.
Task 1: Export Hotmail Contacts File in CSV Format
First of All, Sign in to your Hotmail or Outlook.com Account.
After that, go to the menu in the top left corner and select the People icon option.
Now, select the Manage Button.
Next, hit the Export Contacts tab.
Finally, select all contacts and hit the Export option.
Save the Contacts.csv file which contains all your Hotmail contacts on your local computer system.
Automatic Solution to Import Hotmail Contacts to Android
Expert Suggested Solution is one of the best and most advanced solutions in the contacts conversion process. This solution allows you to easily export CSV contacts to Android format.
For Windows
For Mac OS
It has many sophisticated features and features such as allowing users to easily convert Excel file into vCard at once. Find the full details here and why professional tools are better than manual methods.
Read More: Import Excel Contact List to Yahoo Mail?
Task 2: Convert the Exported File to vCard Format
Firstly, Download and Run this Software on your System.
Select CSV file in the interface panel using the browse option.
Preview the contacts in your contacts file along with the entire contact field. If the Excel file is formatted correctly, click Next.
Just transfer all your CSV fields to the vCard fields and click the Next button once they are mapped.
Select vCard v2.0 / v3.0 / v4.0, Click Change button choose the desired destination path.
Select the Convert button to Start the process of exporting CSV contacts to vCard  file.
Task 4: Import vCard to Android Device
After getting the Android contacts vCard file, transfer the converted file to your phone's local storage.
Connect your device to the system and set up your phone. Select the contact as the VCF file and select the "Send to" option to move the address book to your device.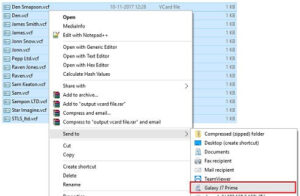 Note: We are using the Samsung J7 Prime model here.
Go to Settings and select the Manage Contacts option.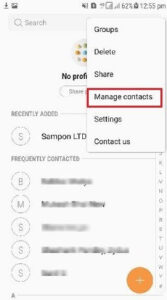 Select the Import/Export contacts options.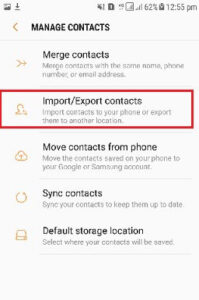 In the next step, select "Import vCard file from Mobile phone" and click the "Import" button.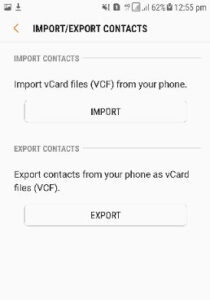 Select the location option to import from contacts to smartphone.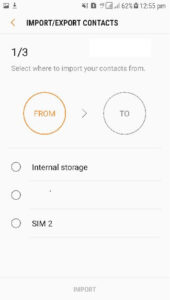 Choose the VCF Contacts and click Finish.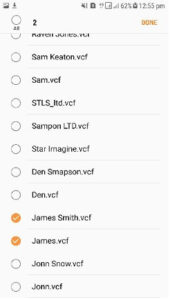 Select the location path where the VCF contacts file should be imported.
Click the Phone option.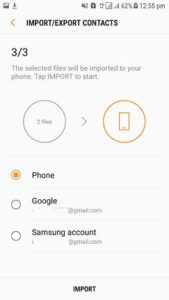 Now user can view imported contacts in his/her android device contact list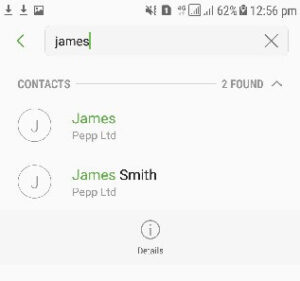 This will find the VCF and import it into your Android device's storage. In just a few seconds, the process of importing Excel contacts to Android will be completed.
Features of this Software
Simple UI [User Interface]: The application comes with a simple and easy-to-use platform. The single-pane user interface is the easiest way to create result files without fuss.
Save All Contacts in One File: This program provides users with an advanced solution to combine all contacts into one file. There are many applications on the Internet that can create multiple VCF files from a single CSV. So this app has dual options for creating single and multiple result files.
Contact Management Options: If you want to organize your contacts in different areas. So you can do this before your program. This solution offers multiple contact mapping options and makes it easy to organize your contact areas without hassle.
Windows and Mac Compatible Solution: The best thing about this application is that it is compatible with all versions of Mac and Windows operating systems. The app is easy to use on both old and new versions of Microsoft Windows and Mac OS, including Windows 11.
Conclusion
XLS to VCF Contacts Converter is the best way to import Hotmail contacts to Android supported file formats. The above article describes a complete solution without any technical knowledge. Apart from that, this tool offers another option to convert contacts into single or individual VCF files. The demo version of the software will give you a better understanding of how it works.