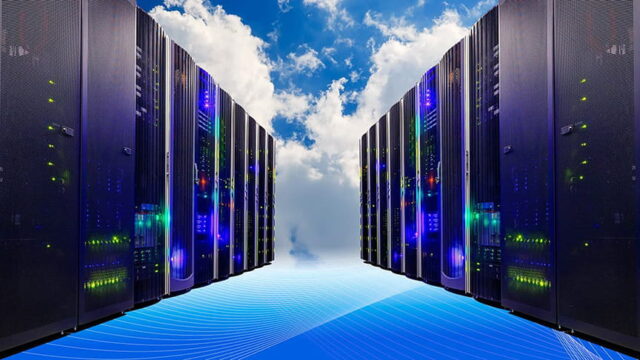 Data centers are physical places where companies used to store business-critical applications and data. As you evolve from centralized on-premises facilities to edge deployments and public cloud services, it is important to think long term about how to maintain reliability and safety.
Data centers vary in size from small server rooms to geographically dispersed building blocks. But they have one thing in common, it is an important business asset that companies always invest in data centers to build on the latest advancements: Networking, Computing, and Storage Technologies.
NetForChoice – India's Largest Data Center Company
NetForChoice offers the best, reliable, secure and affordable Tier 4 Data Center Services: Windows Dedicated Servers, Virtual Private Servers, Backup, Compliance, Linux Server Hosting, Managed Security, Disaster Recovery, Network Access, Colocation Hosting, and storage and variety by providing world-class services to customers all over the world.
NFC meets the mission-critical needs of brands and promotes a unique blend of sizes. Physical security, certification, large customer base service provider access, and 99.995% proven uptime. It is the only Tier 4 data center company in India.
Overview of NFC Leading Data Center Company
Data centers are often referred to as one thing, but in reality Data centers consist of several technical components. These can be divided into three types:
Computer: Memory and processing power to run applications. It is usually served by high-end servers.
Storage: Critical corporate data is typically stored in data centers and multiple backups are made on media ranging from tapes to solid-state drives.
Networking: External connections of data center components such as routers, switches, and application delivery controllers.
Industry standards come from organizations such as the Telecommunications Industry Association (TIA) and the Uptime Institute to help design, build, and maintain data centers. For example, the Uptime Institute defines four tiers:
Tier I: Tier 1 data centers have a single path for power and cooling with very few redundant components. The expected uptime is 99.671% (28.8 hours of downtime per year).
Tier II: Tier 2 data centers have a single path for power and cooling as well as several spare and backup components. Expected uptime is 99.741% (22 hours of downtime per year).
Tier III: Tier 3 data centers have multiple paths for power and cooling and install the system for updates and maintenance without being offline. Expected uptime is 99.982% (1.6 hours downtime per year).
Tier IV: Tier 4 data centers are built to be completely fault-tolerant with redundancy for all components. Expected uptime is 99.995% (26.3 minutes of downtime per year).
Note: NFC offers Tier 4 and Tier 3 data centers to all clients.
Different Types of NetForChoice Data Centers
Modern data centers have evolved from facilities with on-premises infrastructure to facilities that connect cloud infrastructure and on-premises systems where networks, applications, and workloads are replicated, virtual in multiple private and public clouds.
In general Enterprise Data Centers are created and used by a single organization for their own internal purposes. These are common among tech giants.
An Colocation Data Center acts as a type of rental property that makes the data center space and resources available to those who are willing to rent.
Managed Services Data Centers provide data storage, processing, and other services. as a third person which serves customers directly.
Cloud Data Centers are decentralized and offered to customers with all managed services with low cost.
Added Advantageous of NFC Data Centers
Also know some other benefits of NFC data centers:
Data Center Computing: Servers are data center main tools. On the server the processing and memory used to run applications can be physical, virtual, distributed between containers or distributed between remote nodes in the edge computing model. The data center should use the best processor for the job. General-purpose CPUs may not be the best choice for solving artificial intelligence (AI) and machine learning (ML) problems.
Data Center Storage: Data centers host a large number of critical data for both their own purposes and customer needs. Reducing storage costs increases the amount of storage space that can be used for local, remote, or both backups. Advances in non-volatile storage media have reduced data access times. Software-defined storage technologies also improve employee efficiency in managing storage systems.
Data Center Networks: Data center networking equipment consists of cables, switches, routers, and firewalls that connect servers to each other and to the outside world. Well configured and structured you can handle heavy traffic without compromising on performance. A typical three-level network topology consists of a master switch at the edge that connects the data center to the internet and an intermediate aggregation layer that connects the core to the access level where the server is located. Advances in hyperscale and software defined network security bring cloud-scale agility and scalability to on-premises networks.
Data Center Security: In addition to building a security system to support the above data center facilities, a DC network requires a complete zero reliability analysis that is included in the data center firewall DC design. Modern IPS WAF data access control and web application and equivalent protection API (WAAP) systems can be properly identified and scaled as needed to meet the needs of data center networks. It is important to understand the security measures they use for their DCs. Invest in the highest level of security to keep your data safe.
Closing Lines
Joining NetForChoice will benefit from a strong relationship with CtrlS, the largest Tier-IV data center provider in Asia. Access all premium services in your data center with NFC reliability and ease of use.