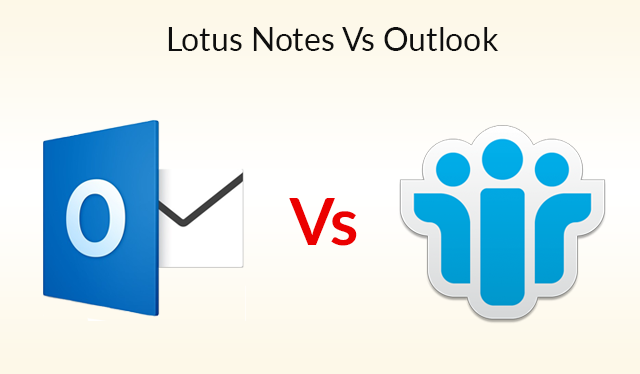 Choosing between Lotus Notes and Outlook is a very complex task, which is perhaps a complicated concern that is being encountered by many corporate users also. With this blog, you can explore the facts showing the difference between Lotus Notes and Microsoft Outlook. Both of these clients have a crucial role in e-communication sector. The data exchange with the right selection of the email application has become quick & smooth. Thus, this blog for Lotus Notes Vs Outlook will help you to work well with these email clients.
Instant Solution: If in case you want to Migrate Lotus Notes emails to Outlook then you can try a third party Lotus Notes Migration Tool.
An Overview to Lotus Notes and Outlook
Lotus Notes & Outlook are both enlisted under the highly used email applications. They are making a very large connection between corporate & non-corporate sectors. These technically enhanced applications offer both basic & advanced facilities which include email sharing & receiving managing records & calendars, creating events, saving contacts & much more.
So, it has become typical to choose the one from both these email applications.
The competitive analysis which is mentioned below will help you judge the better one for your business.
Lotus Notes Vs Outlook: Data Storage Capacity- IBM Notes has a lot of power to save the emails & other elements into NSF files. Contrary, Outlook has two file formats, one is PST which allow saving data when you are online & the other is OST file which allows saving data while working offline. The storage of PST file is 50 GB.
Cost of Lotus Notes or Outlook- The IBM Notes is very costly as compared to MS Outlook. The Notes application needs to buy separately. On the other hand, MS Outlook comes with MS Office suite. Therefore there is no need to buy separately.
The Maintenance of IBM Notes & MS Outlook- The efforts & the maintenance of MS Outlook is not that much high. While Lotus Notes application demands too much investment for the maintenance.
Multiple Account Creation- For Notes application, there is a restriction that you can work for one Lotus Notes account at a time only. On the other hand, MS Outlook allows working for multiple accounts for a single user at a time.
Usage of Different Servers- Both the email clients work with different servers. Thus, corporate & non-corporate users cannot access these email clients at the same server. The Lotus Notes works with IBM Domino Server & the Outlook works with Exchange Server.
User Interface & Customer Support- For using Notes from Domino Server, one should know the technical capabilities. While MS Outlook is easy to use. So the new users can easily work with Outlook because of its simple & self-narrative functions. The platform of Lotus Notes is very complex but a setback for MS Outlook is: it only supports 64 bits. Here, Lotus Notes takes the advantage to offer the facility to perform complicated tasks in various other programs.
Supported Operating System- Lotus Notes has the capability to work with various Operating System like Mac OS, Linux & Windows. While MS Outlook is compatible with Windows Operating system only. It can also work for MAC if you have MS Outlook for MAC.
Multi-tasking Facility- Due to the highly secured environment, the Lotus Domino does not allow the multitasking facility. But, Outlook adds various facilities by letting you exchange not emails but also connecting to the users in an automatic way. The Outlook connectivity is for the users that are available over One Drive, Twitter, Google, Skype, etc.
Outlook the Market Winner- Comparing Lotus Notes with Outlook, there is 80% of the corporate market that has been taken by MS Outlook. Also, Lotus Notes has its own client who loves to use it in the corporate sector due to its security reasons.
There are many custom features of Lotus Notes, but it becomes very tough to work with it without any proper training. Thus, above discussed comparative analysis helps to decide which one can be best suitable for Lotus Notes or Outlook. After this, Lotus Notes Vs Outlook will not be a complicated matter to understand.
During this situation, the better option is to switch from Lotus Notes to Outlook. If you are already a user of Lotus Notes and are looking for Lotus Notes emails to Outlook conversion then, the professional tool like Mail Migration Wizard is considered to be used. Before switching to it you can refer to more features of this tool:
Supports to convert Domino Server mailboxes to MS Outlook
Provides an option to Map CN values from Names.nsf file
The software supports many types of Calendar Recurrences
It translates Canonical Name into SMTP format
The tool supports to apply filters to export selective data
It provides Doc links & Internet Header feature
Even you can check out more features of Outlook, which are stated below:
You can easily search for items like "e-mails", "dates" & "contacts". All these searching techniques can be used with Calendar Contact Manager & the Task Manager.
Outlook provides add-ins & plug-ins feature to add more in the email client. There are 51 plug-ins for the MS Outlook.
The Outlook 2007 has a security feature to filter out the unwanted content from Web bugs, foreign sites & from the downloaded images.
You can organize the emails in MS Outlook with the facility to sort & manage emails with the organized sorting option.
All the feature of the MS Outlook client cannot be stated here, but due to its best facilities that are integrated has made it highly recommended for corporate users.
Mail Migration Wizard – A Tool for Easy & Quick Migration
The Mail Migration Wizard from SysTools plays a very important role to transfer Lotus Notes NSF files to Outlook. The NSF files can also be migrated to Office 365 & Exchange. The tool also provides an option to translate the canonical name into SMTP format. It supports all the editions of Lotus Notes to migrate Lotus Notes emails to Outlook. This tool also supports different types of Calendar recurrences.
Conclusion
The above article states Lotus Notes Vs Outlook differences. You can easily check which one to be used among the two for easy transfer of messages. One can also try a third party utility to transfer all data items or the NSF files to Outlook.