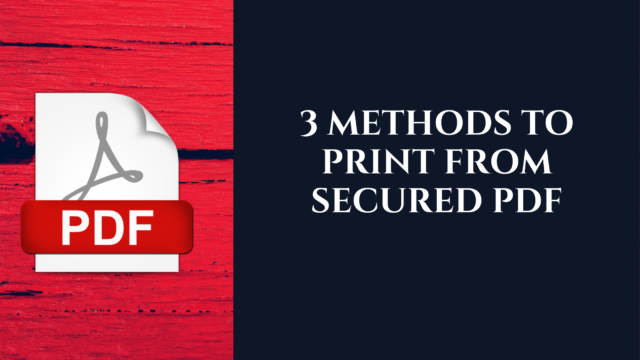 This is a very common query- How to print from secured PDF
I also get questions like how to unlock PDF for printing, how to unlock PDF for copying, and so on. So if you are having a PDF whose print option is disabled then, this article is for you. And not just only print option but any other modifications like editing, copying, extracting pages, and etcetera.

Here in this article, I will tell you how to unlock a secured PDF using Adobe Acrobat Pro and a password remover tool to remove encryption and restrictions in the PDF files. This tool is available for both Windows and Mac Operating System.
Before we had on to the solution, let us know about the different kinds of PDF security.
There are two kinds of PDF security settings:
User setting: in this user secure PDF with an opening password. those who know this password can see the content in it.
Owner setting: in this security setting owner sets some restrictions that will disable editing printing copying, putting signature, and other activities.
Now let's head onto the solutions.
How To Print From Secured PDF Using Acrobat Pro
A portable document format which is simply known as PDF is developed by Adobe. They also created Acrobat application to manage PDF effectively. There are various applications you will find under Acrobat like Acrobat DC and Acrobat Pro. If you are using a Windows operating system you can use Acrobat DC (standard). Adobe Acrobat Pro application is for both windows as well as Mac operating system.
After downloading acrobat, open your PDF document using this application and enter the password to view the file ( if your PDF is password protected).
On the left side, you can see the lock icon, click on it. Now select Permission Details. You can also go to the File menu, select Properties then click the Security tab.
In the dropdown menu of the Security Method, you will find No Security option click on it. Then click OK.
Now you will be asked to enter the permission password, after giving the password click on OK. To give the confirmation again click on OK.
As you can see this Adobe application asked for a permission password. But in most of the cases, people don't have this permission password or they have forgotten it.
In this scenario, you should go for automated software that can easily remove PDF restrictions WITHOUT PERMISSION PASSWORDS.
How to Unlock PDF file for Printing Using an Automated Password Remover
This tool comes for both Mac and Windows.
For Windows
For Mac
Step 1: After launching the tool in your Mac/ Windows system click on Add files or Add folders option to include all the PDF file.The tool will prompt you to enter the password if your file is encrypted with an opening password.
Step 2: You can click on the Change option can give the location for the resultant file.
Step 3: Kindly click on the unlock PDF button to remove PDF restrictions
A Trick To Print Secured PDF Files Without Any Application
Well if you have any one page PDF then you can just take a screenshot and printed out but if you are having a larger size PDF then here is what you can do:
Upload your PDF in Google Drive.
After when you will upload the PDF in Google Drive, Open your PDF in the drive. It will preview the PDF file. Now at the right-hand side on the top, you will notice a print icon. just click on that and you will be able to print your restricted PDF.
Also if you want to print the same PDF next time what you can do- just repeat the same steps I told you. Only this time don't print the PDF but download it using the down arrow icon. So in this way, you will get a PDF that is restriction-free.
See how easy is this!
Conclusion
So in this article, I told you all the three possible methods to print a restricted or password-protected PDF file. You can use Adobe acrobat application or go for an automated tool. Or you can simply use your Google Drive to print the secured file. However, you can also use other tools that are freely available. But the problem is that sometimes these tools give you margin problems or page breaks. That is why I did not mention any free tools or websites here for that matter.