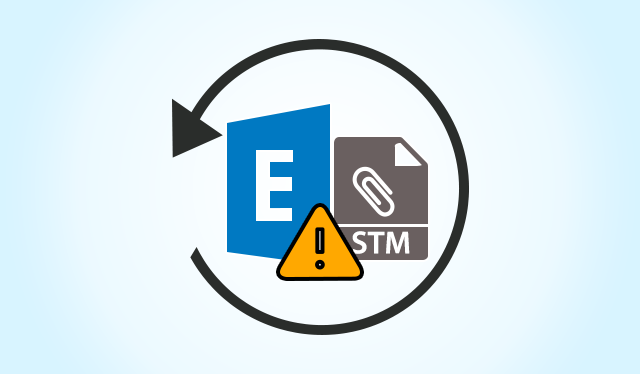 To start with the recovery mechanism let us first study in brief what are STM files in Exchange so that we can easily recover corrupt Exchange STM files.
Instant Solution: Use SysTools Exchange Recovery tool to repair corrupted Exchange Server Mailbox easily. The software is easy to use & can easily fix corrupt Exchange mailboxes.

What are STM Files in Exchange?
An Exchange streaming media (STM) file is created & is used by Microsoft Exchange Server, & these STM files are integrated with encoding specifications used for the STM file format. These STM file stores streamed native internet content. The new incoming messages are saved in these files on the mail server unless & until they are accessed by a user's email client. When these messages are accessed by MAPI client, they are transferred to EDB files & thus are converted to the native Exchange format.
User Queries!
"I had a corrupt database so I want to restore from the last backup. The restoring process ran well so did the hard recovery, which I did manually with the help of eseutil/cc. However, now my .stm file also gets corrupted. Please help me out to recover corrupt Exchange STM files".
"I don't know why I'm not able to access by STM files. The files are not opening, however, I have used many methods to resolve the issue. I have also tried Eseutil command but nothing happened. Can anybody help me out to repair STM files?"
Many users nowadays are finding an issue to resolve corruption in .stm files and want methods to recover corrupt Exchange STM files. Some of the user's query has been discussed above. Keeping in mind these queries we are going to discuss the causes of STM file corruption along with the recovery mechanism by using recovery tool.
What are the Causes of Corruption in STM Files?
The Exchange Server files are vulnerable to corruption & too many other issues also. Though the latest versions of Exchange Server are stable & mature, also one can not guarantee that this application is secure from other issues as well. Some of the reasons to repair STM file are discussed below.
1. Hardware Issues: The hard drive is the major reason in Exchange server issue. The bad sectors which arise in the hard drive where data is stored make the data inaccessible. The motherboard failure or overheating can also damage the hard drive. Not paying attentions to event logs can make this event even severe.
2. Server Failure: The Server can fail due to many reasons which include OS stop error, communication issues, processor chip/backplane failure, etc. The server may also experience downtime due to the network issue, system overload, misconfiguration, etc.
3. Boot Failure: This type of failure arises due to malware attack or reasons like no response of system service may lead to boot failure.
4. Anti-Virus Programs: It is not an Exchange Server-aware, this can cause failure if some directories, file names, etc. are not excluded from scanning. The issue is common with anti-virus scanners such as programs block Exchange databases or log files.
5. User Errors: These are mainly administrative errors like stopping MS Exchange Information Store Service, dismounting wrong databases, deleting the mailboxes, etc. Even some of the users delete their mailboxes unknowingly, all these problems can make mailbox data inaccessible.
Ways to Avoid STM File Corruption Issues
Use good quality hardware components
Refer Exchange Server experts for configuring Server settings
Be very careful while using Anti-virus programs
Perform Daily backups
Ensure free space is available in the DB
Use MS Exchange Server Best Practices Analyser daily
How to Recover Corrupt Exchange STM Files – Perfect Solution
The STM file corruption issue can be severe or minor. But most of the issues can be settled by using third-party Exchange Recovery tool by SysTools. The competent utility recovers Exchange private & public folders along with STM files. Along with the recovery mechanism, the tool ensures to export emails, contacts, tasks, journals etc. to the different file format.
Features of Exchange Recovery Tool:
Supports to recover deleted emails from Exchange mailboxes
Repair Exchange Private & public folder along with corrupt STM files
Supports Exchange Server 2016, 2013 & all below versions
Provide File naming options
Provide Date & time-based filtering
Export by category (emails, contacts, calendars, tasks etc.)
Guide to Repair STM files
You can follow the below-mentioned steps to recover corrupt STM files to avoid corruption in Exchange Server database. Download the link from below:
1. Run the Exchange Recovery software, click on Add File option to select single or multiple files.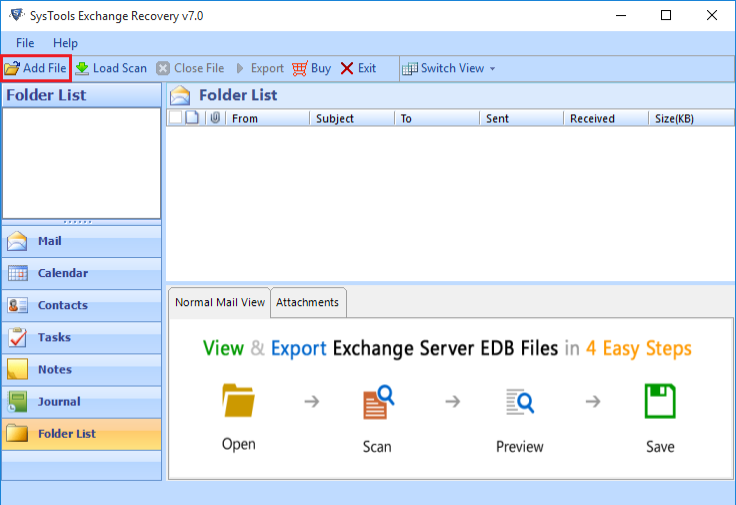 2. After clicking on Add File, a prompt will appear where you need to browse the EDB file containing corrupt STM file. You can also add the storage folder path. Then, click on Add.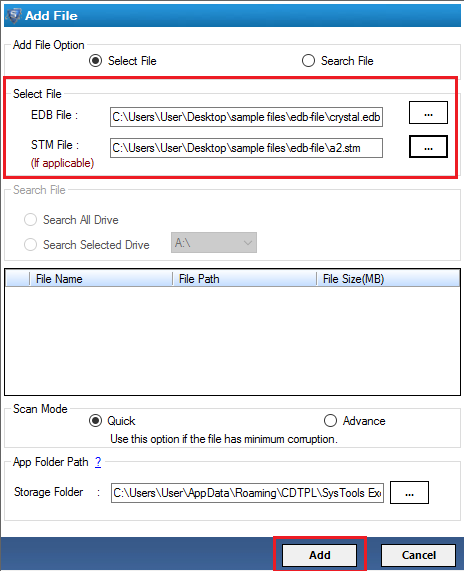 3. The software will show the complete scanning process of the files.

4. As the scanning process gets completed a prompt will appear displaying success of the scanning process. Click on Yes button if you want to save the scan results.

5. Click on the + option to expand mailbox items, now click on specific folders to view the list of the emails that it contains in the selected folder.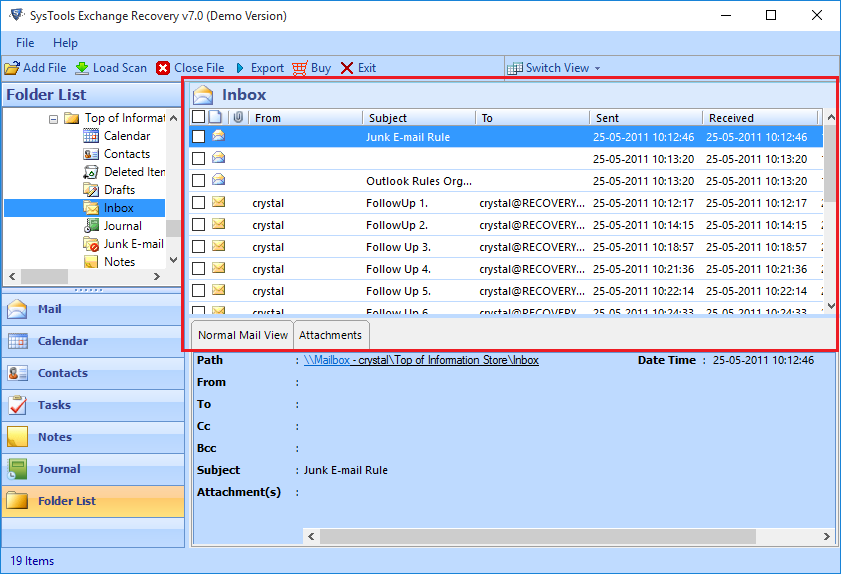 6. Now, select the Export option to migrate the mailboxes to the different file format like PST, PDF, MSG, EML & HTML.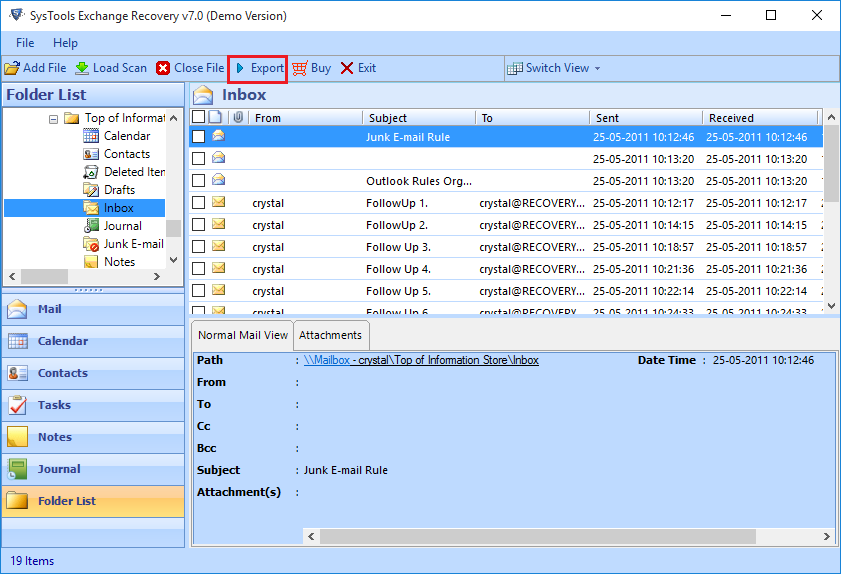 7. Now a screen will appear showing the export options, you can choose any of the file formats according to your requirement. You can also browse the location where you want to store the exported files. Then, click on Export.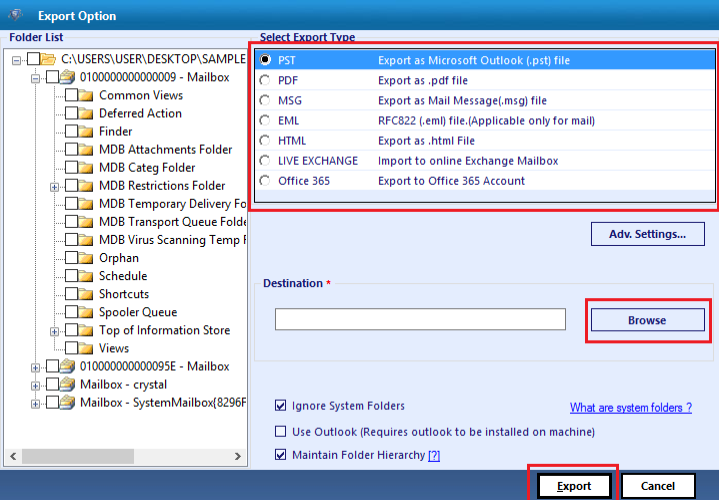 In this way, you can repair STM files using Exchange Recovery Utility.
Conclusion
To recover corrupt Exchange STM files you can try automated approach which we have discussed in the above section. The article will also help you to prevent from the causes of STM file corruption. If you have any other alternative approach to recover the Exchange STM files or if you want to give the feedback then you can give it in the below comment section.