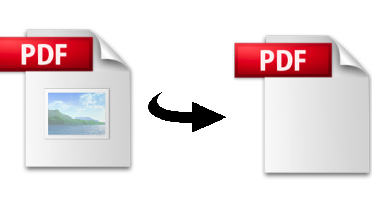 Sometimes, inserting a watermark of your own logo makes the document or image file one of the brilliant medium to leave an impact on the online era. The logo or any embedded image can be used a way to identify your belonging without any error and omissions. Image Watermark gives a drive of professionalism to the document. But many times, if you are waiting for the text for quite a long time and finally you get the file. And it becomes extremely obnoxious if the watermark is so big that you can't read the inside matter of the document or image.In such circumstances, the only option you are left out is to remove image watermark from PDF file. But, the worst case scenario is that how to do it? So, in this entire write-up, we will discuss ways to perform this entire task. Also come-up with the various problems or issues faced by the users and the reliable solution to delete watermark in PDF file.
User's Major Area of Concern- Watermark Removing
"I recently received a PDF file from one of my batch mates. It comprises of the annual project report and it is very crucial for academics purpose. After reading and analyzing the document completely I figured out that it has a Watermark imposed on it. The watermark is a logo and I seriously want to remove image watermark from PDF file. Is there any way out to overcome and remove it? All leads shall be appreciated. Thanks in Advance!"
"Hello, Folks! I want to print a file comprising of images. But, unfortunately, I am not able to erase watermark from PDF file. I am really absurd over it as I want my files to be carried out raw without any watermark on it. So, please suggest me anyway to do so. All solutions would be highly endorsed. Thanks!"
The above-mentioned scenarios seem like enough in stating the reasons why there is need of a prudent solution using which the users can remove picture watermark from PDF.
Manual Solution to Remove Image Watermark From PDF Files
To erase watermark from PDF file user have to follow steps:
Firstly, start Adobe Acrobat
Then, open PDF file from which you want to delete image watermark
Click on Document
Select Watermark
Then, hit on Remove
Click on Yes to confirm that you want to delete watermark
Save PDF file by clicking "Save" option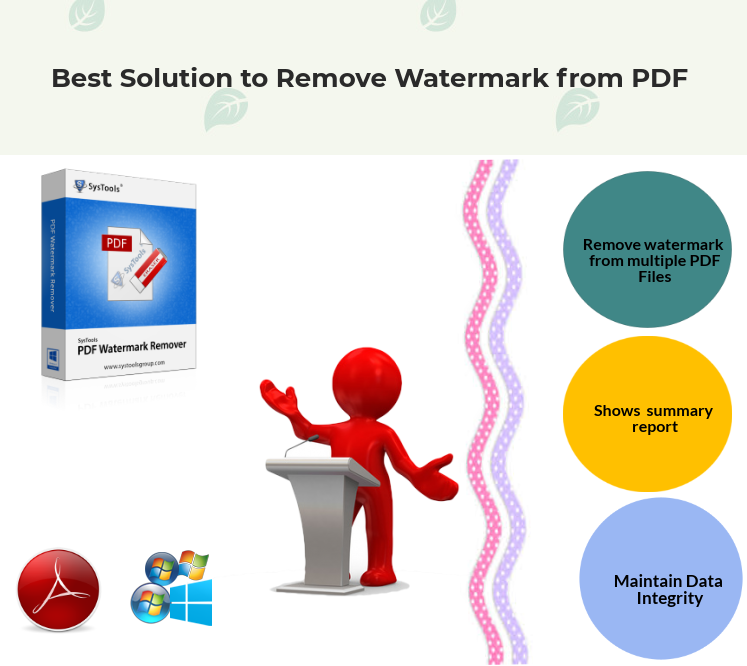 Automated Approach to Remove Image Watermark From PDF Files
In order to delete image watermark from PDF files by Adobe Acrobat, then the user should have its full version, which is difficult for normal adobe users. In such circumstances, the best way out is SysTools PDF Watermark Remover. It can be claimed as one of the reliable solutions. The tool is completely trust-worthy to remove picture watermark from PDF files in batch. The wizard serves users with multiple features without changing anything else in the document.
1. Erase Watermark From PDF in Bulk
It is completely possible to remove image watermark from PDF files in batch. With this alternative in software, users can easily add various PDF files all saved in common location. The users can even remove unwanted PDF Files using remove PDF file via options.
2. Show Detailed Progress Summary
Once you add PDF files on software, the tool shows the complete summary. It includes details like PDF file name, PDF file path, and the current status. In case you begin the watermark removal process, default status will appear like not starting.
3. Retains the Data Integrity
The wizard has many ultimate features that can help the users to remove image watermark from PDF files by maintaining the associated attributes of the files. Moreover, the tool even saves files in the new folders after the image watermarks have been removed from the files. The software runs on all the Windows Operating Systems.
The Final Opinion
As per the above discussion, it is quite clear that we have come across multiple scenarios where the users search for a reliable solution to remove image watermark from PDF files. The program has one of the best factor that it can be accessed by both technical and non-technical users. So, download the wizard and get all issues resolved in just a few clicks.