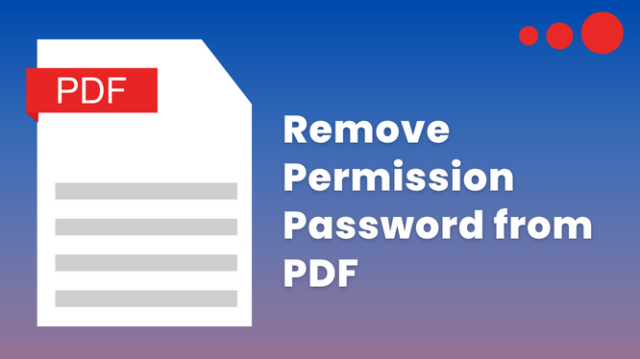 Are you looking for a solution to remove permission password from PDF file? Then, don't worry here in this blog you will find the perfect solution.
Now, as we know PDF are used by everyone to share confidential/ Crucial/ official documents or reports. Plus, it is considered the best format because it preserves all the content of a document without altering its layout due to its universal compatibility across all platforms. A PDF document can be secured with a permission password that prevents others to modify or print the PDF files.
But, sometimes this security becomes an issue in various situations like accessing Aadhar files, bank statements, income tax files, e-books, credit card statements, etc. Due to security, users can't print, edit or copy these encrypted PDF files. Thus, they search for a solution that easily removes the permission password from the PDF file.
Best Tools to Remove Permission Password from PDF
Unlock Secured PDF Files – For Windows & Mac
This software is tremendously used by many people around the globe. Its prime focus is to remove complex Owner Level and Known User Level password security from an Adobe PDF document with ease.
For Windows:
For Mac:
The good news is that the algorithm used by the software quickly remove permission password from PDF document. Hence it removes restrictions like printing, copying, comment restriction, signature restriction, page extraction, and document assembly restriction.
Plus, when a user uploads a password-protected PDF file, the software shows details like File size and permissions. In short, this utility is completely customer-centric to remove PDF security restrictions.
The best thing about this software is its availability for Mac as well as Windows Operating systems. Adding to it, the Windows version of the tool can decrypt Adobe Acrobat 128 or 256 encrypted PDF file.
Along with this, the Mac version of the software can unlock AES 128 or 256-bit encrypted documents without any trouble. Additionally, the assistance of Adobe Acrobat software is not needed to remove security permissions from PDF document.
Above all, the straightforward user interface makes PDF Software a joy to use. Along with this, this software holds many awards by Finances Online in the year 2017 for Rising Star & Great User Experience.

Plus, the tool is reviewed by many reputed software rating websites like SOFT32.COM LABS, and CNET. So, this generates a trust factor between the users that this software works accordingly to what they promise.
How to Remove Permission Password From PDF File
Follow these simple steps and remove the permissions password Adobe PDF documents:
1- Download and run the software on Windows OS.
2- Click on Add Files and Add Folder option to insert PDF files.
3- Choose either the Save or Print option as per the requirement.
4- Click on the Change button and initiate the process.
5- As the unlock process gets complete the successful completion message will display.
Remove PDF Permission Password With Adobe Reader Acrobat DC
Step-1: Open the Permission password-protected PDF file in Acrobat Reader.
Step-2: To select "Unlock" tool: Click on "Tools" > "Protect" > "Encrypt" > "Remove Security."
Step-3: To PDF Permissions: Type the permission password in the "Enter Password" textbox, then click "OK." Click "OK" once more to confirm.
Final Say!
Many times a user needs to remove permission password from PDF document in order to modify the document without any hassle. Hence, in this blog, we have presented the 2 best solutions on how to remove permissions from PDF file using SysTools utility and Adobe Acrobat Reader DC. Each software illustrated above varies in its functionalities and cost-effectiveness. So, choose wisely!