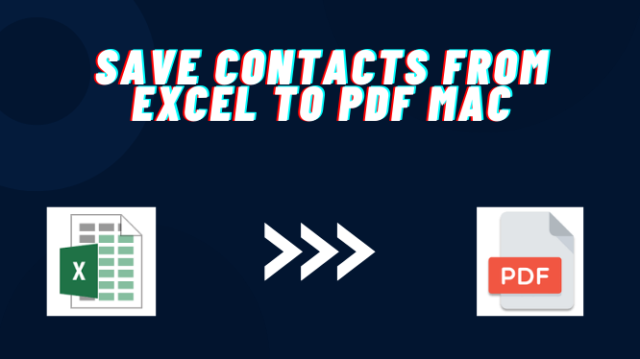 Most of the users are facing problem to save contacts from Excel to PDF Mac. Are you one of them who is facing the same issue while converting Excel data to PDF? If yes, then you have certainly landed on the right page as this article provides you the best solution to save Mac Excel to PDF.
"Hello everyone! I manage all my contact details into the Excel sheet. My work requires me to archive some of my XLSX/XLS file as PDF format and move them to my clients. So far, I used the manual procedure for this purpose, but unable to perform it. Being a Mac user I do not have any way to export contacts from the Excel sheet to PDF. If anyone has the ideas about how I can export Excel file as PDF with contacts details on Mac , then please suggest to me. Thank You."
After considering user query, we are here to discuss a reliable solution for converting Excel sheet into PDF format along with entire formatting.
A Professional Solution to Save Contacts From Excel to PDF Mac
Use Mac Excel Contacts Converter software to save Mac Excel to PDF format. It is an automated solution that allows users to print unlimited XLSX/XLS file into PDF at once with all its associated contact details. The software provides you guarantees that there will be no data loss. No matter how many contacts you want to transfer from XLSX to PDF, the tool will efficiently transfer all the files in a couple of clicks.
For Window Users
Moreover, the utility facilitates you with its demo edition that allows you to transfers 10 contacts per Excel sheet. So, download its free edition and understand the working of the software. To perform complete contacts migration then purchase its full edition.
Also Read:- Move Emails From iCloud to Outlook
Steps to Save Contacts From Excel to PDF Mac in Bulk
In the section below, we have discussed a step-by-step process to save Mac Excel to PDF. You just follow all the instructions and implement the task.
Step 1: Download and Install the software.
Step 2: Run the tool and click on the Add File(s) option. Select the Excel file and hit the Open button.
Step 3: To save the Excel file as PDF, click on the radio button next to the PDF.
Step 4: Now, you can check the two main options provided by the application:
• Create a single PDF file
• Enabling Mapping
Step 5: Then, hit the Change button and select the location where you want to save the resultant file and press OK.
Step 6: At the last, hit the Export button.
Advanced Features of the Mentioned Software
Save contacts from Excel to PDF Mac and other file formats like PST, HTML, vCard, etc.
Provides auto/manual mapping option to entirely map XLSX contacts with the PDF file column.
Generates individual PDF files for every added Excel file.
Include/Exclude desired Excel file columns.
It offers you to save Mac Excel to PDF With or Without Column Mapping.
Confers Add File(s) option to add one or more Excel contact files to PDF format along with entire attachments.
Supports Mac OS X 10.8 & all the above versions of Mac OS to move Excel sheets.
Limitations of Using Manual Method
While performing a manual trick, users face many problems like:
You have to perform the process again and again because it saves one XLSX file at once.
It does not support bulk conversion.
There is no guarantee of data security while converting Excel to PDF manually.
The native approach doesn't convert Excel file along with its attachments. Using the manual way, you may lose your attached data.
Conclusion
Converting Excel to PDF on Mac is a very tiring task by using the manual method. So, users need some expert utility to save contacts from Excel to PDF Mac in batch at once. Therefore, we have mentioned a professional approach to move multiple XLSX file as PDF in a single go. The software has a self-explanatory interface by which a novice user can also easily operate it.