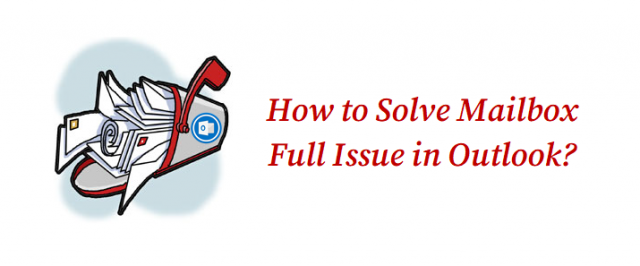 Are you getting a warning message in outlook related to the Outlook mailbox and in the message there is a warning message that you run out of mailbox space? If your answer is yes then you are landed on the right page. Here we are going to discuss the best techniques on how to solve mailbox full issue in Outlook. So, stick to this blog if you want an effective solution to clean up Outlook Mailbox.
Well if you are a regular user of Outlook then you will definitely face this issue once. Or if you already facing this issue then don't be panic because you are not alone who getting this issue. Mailbox full is a very common issue that is faced by almost every Outlook user after a certain period of time.

To understand why this issue occurs first we have to understand the reason behind it. So let's see the reasons
What are the Reasons For Mailbox Full Issue?
Generally Outlook stores it files in PST file but when the PST file becomes oversized then you will see this error message.
Deleted and Junk folder can be the reason for oversized Outlook mailbox
Duplicate email, calendar events, task, journals can also increase the size of the Outlook mailbox
Huge attachments or unnecessary attachments can be the reasons for Outlook full mailbox warning message
How to Solve Mailbox Full Issue in Outlook?
Well, now we know the reason for the Outlook mailbox full issue and it very important to remove this error message. Because if Outlook once reached it storage limits then, you will not able to send and receive the email messages from Outlook. Also, in the worst scenario, you face the performance and data corruption issue in Outlook.
So in this section, we are going to discuss some techniques that can help you to solve the mailbox full issue in Outlook. So follow the solution mentioned below:
Solution 1: Archive Outlook Older Files
There are lots of Outlook files saved in our mailbox which is not in use. So to reduce the size of Outlook and solve mailbox full issue in Outlook, you can archive your Outlook older items. And to do this you can simply follow the steps below steps to learn how to do so:
Open Outlook and go to the File menu from the top menu bar
Now, choose Info then click on the Cleanup Tools
From the Cleanup Tools drop-down menu choose the Archive option
Now, from the Archive window select the Archive this folder and subfolder that you would like to archive
Under the "Archive item older than" option enter the date
Also, check the Include items with "Do not AutoArchive" box to archive
And in the last click on the Ok Button to ar archive all the files
Solution 2: Clean the Deleted Item Folder and Junk Item Folder
There is also another way to reduce mailbox size. To do this you have to clean your deleted item folder and junk item folder. So in order to clean the deleted item folder and junk item folder follow the below steps:
Open Outlook and go to the File menu
Now click on the Option and the Advanced tab
Under Outlook start and exit option choose Empty Deleted Items folder when exiting Outlook option
After that click on the OK button to apply the settings and cleanup the Delete Item Folder
Solution 3: Delete Duplicate Emails and Other Mailbox Item
As we said above duplicate items like emails contact calendar entries generals also reason for increasing the mailbox size. Along with that duplicate 2 ticket items is also responsible for bad performance of Outlook. Hence it is very important to deal with duplicate items in Outlook.
In order to delete duplicate items from Outlook, you can choose the outlook inbuilt utility that is cleanup utility. the cleanup utility also deletes the unnecessary files from your Outlook. Now in order to use this utility follow the below steps
Open your Outlook and go to the file option
Now as default your cursor is on the Info option so click on it and then choose Cleanup Tools
After that select Mailbox Cleanup
Now, choose the View Mailbox Size option
Pro Solution to Delete Duplicate from Outlook
The above manual utility is good but not the best one. Because sometimes it will not delete the duplicate items from Outlook also sometimes this utility is not able to detect the duplicate items from Outlook.

So in this situation, you can try Outlook Duplicate Remover Tool that can easily remove duplicate emails from PST and release some space that helps in order to solve mailbox full issue in Outlook.
Solution 4: Save the Attachments Out from Mailbox
Heavy email attachment files are the most vital items in Outlook that make mailbox size large. Hence, users encounter mailbox oversized issues in Outlook. So in order to fix it, you can save the attachment to your desktop so, that you can assess them whenever you required. And once the attachment file is deleted you can remove all the attachments from Outlook Mailbox.

Now to save the attachments you can go with a manual method where you have to download all the attachments one by one from each message.
So wasting your time on choosing and saving the attachment it is better to switch towards an automated way for the same
SysTools Outlook Attachment Extractor is the most advanced tool kit that can easily extract attachments from Outlook emails, contacts, calendars, tasks, and journals in just a few clicks. And gives yoiu the ability to save Outlook into certain folder in few minutes
The software also supports the various Outlook files such as OST, PST, BAK, and MSG files. Along with that, it comes with various advanced options that totally made for users' convenience and requirements.
The Bottom Line
How to solve mailbox full issue in Outlook is a very common query asked by many Outlook users. So, here in this write-up, we have discussed the most effective techniques that surely resolve the oversized mailbox issue of Outlook. So check out the blog and resolve your Outlook mailbox full issue.