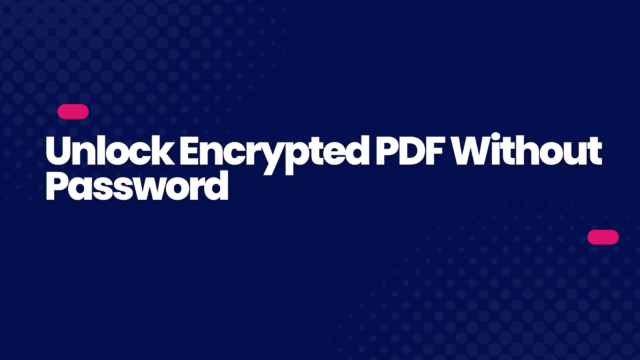 Learn-how to unlock encrypted PDF without password using Google Chrome or Safari web browsers and using a professional software.
PDF format is the de facto file format for sharing digital data across all platforms. Sometimes, you come across a PDF file which is encrypted.
PDF Encryption can be done in two ways using a user password or a permission password.
What's the difference between these two encryption techniques?
A User password in PDF is used to open the document to be able to see the content inside. This is also called Document Open Password.
A Permission password in PDF is used to restrict activities like editing, printing, commenting, copying, signing, extracting pages, form filling etc. It is also called Master password.
Note to the Readers: There are many softwares or online services available in the market that can help you to remove restrictions from PDF without password but none can remove Document Open Password without knowing the password. So beware of the brands that claim their tool or online service can remove user-level security without password.
Manual Method to Unlock Encrypted PDF Without Password
In this section, I will tell you how you can remove PDF encryption manually using:
Google Chrome / Safari
Adobe Acrobat DC
Method #1: Saving PDF File Through Print Option in Google Chrome
Step-1: Open the encrypted PDF Document through Google Chrome, if it is user-password protected it will ask you the password.
Step-2: Click on the "Print" option in the top right corner of the Chrome browser.
Step-3: By clicking on the Save button, save the PDF file, also give the title.
For Safari Web Browser Users
If you are using Safari on Mac then, the process is the same, you have to open a PDF file through the Safari application and press command+P and save the PDF with a title.
Now you have a PDF file on which you can edit, comment, etc.
Kindly note:
If your document has printing restrictions then, the print option will be disabled.
Method #2: Using Adobe Acrobat to Remove PDF Encryption (Need Password)
Step-1. Open the encrypted PDF file with Adobe Acrobat.
Step-2. Choose "Tools" > "Protect" > "Encrypt" > "Remove Security".
Step-3. If you want to remove the user-password, simply click OK. If you want to remove restrictions from PDF then, enter the permission password and click OK. Again click on OK.
Overcome All the Shortcomings of Above Methods Using This One-Stop Solution
PDF Restriction Remover is an offline tool for unlocking PDF file encryption. When the heading says it's a one-stop solution, it really is. It will NOT ask for a permission password.
For Windows
For Mac OS
Moreover, it unlocks PDF in batch hence, a right tool for unlocking large number PDF files at once. It also comes with the Print option to directly get hard copies of your PDF files after unlocking.
How to Unlock Encrypted PDF Without Password
Step-1: Download the SysTools PDF unlocking tool on your Windows or Mac system.
Step-2: Click on Add File(s)/ Add Folder to browse and get PDF files from your system.
Step-3: Provide user-password incase PDF file has a Document Open password. NO Need to provide permission password.
Step-4: Click on the Unlock button to start the process.
Try Other SysTools PDF File Management Softwares