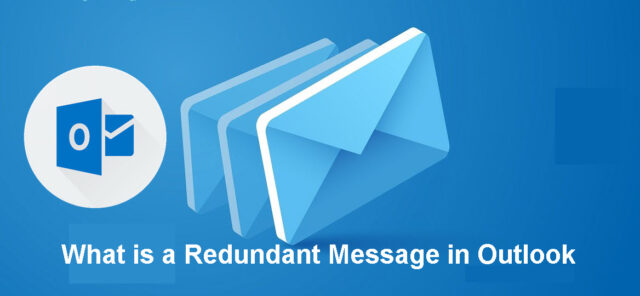 Is your inbox full of redundant Messages, and do you want to know what is a redundant message in Outlook, how it appears, and how to delete redundant Messages from Outlook? Then this is the perfect palace for you. Because here in this blog we are going to answer all of your questions.
We all know that Microsoft Outlook is a popular desktop email application. As a result, countless people use email clients to manage their daily emails needs. Also, due to this many users constantly asking about this issue and trying to find a solution to this problem. Now, before we address this topic, let's first talk about duplicate messages and the causes for their development.
What is a Redundant Message in Outlook
In simpler terms, email redundancy occurs when more than one copy of your mailbox data, especially messages, gathers in your inbox. The worst part about the cloned message is that it consumes the same amount of mailbox space as the original Message and has an effect on the application's overall efficiency and productivity.
Reasons for Redundant Message in Outlook
Now, after understanding what is a redundant message in Outlook, it is essential to understand why emails are duplicating in Outlook so that you do not have the same problem in the future. And in this part, we'll go through some of the key causes of redundant Messages in Outlook.
If you have an IMAP account configured in Microsoft Outlook and Outlook is set to retry new messages immediately, then upon restart and opening the inbox automatically, you may notice that each message is duplicated in your mailbox.
If a user faces a network or server problem, there is a chance that a corrupt message will be created on the server, resulting in a duplicate when Outlook starts.
When you activate the Leave a copy of the message on the server option in your account settings, Outlook generates a redundant message each time you send or receive a message.
If the mail server or Outlook fails to respond while the message is being sent and received, then the previous mail will be downloaded on the next sync of your Outlook account.
If you have more than one alias created on your Outlook profile for the same email account, you will almost probably get the same email on the east allies, leading in as many duplicates.
Well, now understand what redundant messages are in Outlook, and why it exists?. So, let's begin the process of removing unnecessary messages from Outlook.
How to Draw-Out Redundant Messages from Outlook
After knowing what is a redundant message in Outlook. This section will go through the free techniques for removing redundant messages from Outlook. So keep going till you discover the finest answer for you.
#Method 1: Use the Import/Export Wizard to Delete Redundant Message
1. First, open Outlook and go to the File menu >> Import/Export Import/Export Option
2. Select "Import from another application or file" from the Import/Export Wizard. Next
3. Select Outlook Data File PST and then click the Next button.
4. Now, using the browse button, navigate to the PST file and choose the "Do not import duplicate" option >> Next
5. After you have gone through all of the options, select the Outlook Data File you want to export and click the Finish button.
#Method 2: Use a Cleanup Tool to Remove Duplicate Messages
This built-in program extracts duplicate or redundant messages from a Microsoft Outlook PST file. The following are the steps to take to eliminate email duplication in PST.
1. First, open Microsoft Outlook on your Windows machine.
2. Select the Clean Up tool from the ribbon bar.
3. Select the Clean Up Folder and Subfolder option.
4. When you click on the Clean Up folder and subfolders, a dialogue box will open asking you if you want to Clean Up or Cancel. Simply click the Clean Up button.
5. Click the Setting button to designate where the deleted items folder should be saved.
When you click the Setting button, the Outlook settings window will open. Simply click the Browse button to upload the PST file.
7. Select Deleted Items and click the OK button.
Finally, under the settings, choose the Clean Up Folder option to remove duplicate messages from Outlook's inbox.
How to Withdraw Redundant Messages in Outlook Automatically
After learning what is a redundant message in Outlook is, most users seek a method to eliminate it. In addition, in the preceding part, we described some of the most efficient free techniques for removing superfluous Messages from Outlook.
However, some customers are searching for a simple and safe solution to complete this operation, which we will describe in this part. SysTools Outlook Duplicate Remover is a utility that allows you to delete many redundant messages from Outlook.
Only Message can now simply delete duplicate contacts, tasks, notes, and calendar items by utilizing this tool.

Duplicate entries in Outlook PST, OST, and BAK files may also be removed using this software. It also eliminates duplicates from password-protected and corrupted PST files without exposing data integrity.
Conclusion
Redundant messages are problematic for your Outlook PST file since they cause several problems while using Microsoft Outlook. As a result, we detailed what is a redundant Message in Outlook, as well as the top four ways that users may use to effortlessly erase redundant Messages from PST files without putting in extra work in this post.