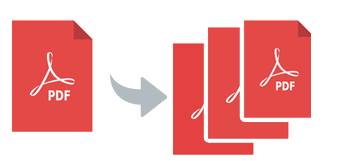 PDF files can be exchanged reliably, independent of any hardware, software, or operating system. It not only contains images and text, but also interactive buttons, hyperlinks, embedded fonts, video, and more. But, having large PDF document are hard to read and causes various issues while opening it in Adobe Reader. Moreover, it may take a lot of time to sort information out of these large PDFs. Therefore, there is a need to break PDF file into smaller parts or several.
Instant Solution To Break PDF Into Pages: For the fast results users can try SysTools PDF Splitter software to split large PDF files into different pages. This tool carries out the splitting process in a simple and easy manner.
What is the Need to Split PDF Into Smaller Files ?
There are situations where we need some pages of PDF files. For example, we have PDF file containing 100 pages and we want only last 30 pages. So, the only solution is to divide a PDF document into parts . Apart from this other reasons are given below:
Many web clients impose restrictions on the size of PDF file to be sent over the network. In such cases, you need to break PDF file into smaller parts.
Large PDF consume more time while downloading and uploading. Also, there may be a chance that these files are not completely uploaded or downloaded.
Also, handling large PDF files may cause file management issues as a result system starts working improperly.
Method#1 Use Google Chrome Break PDF File Into Smaller Parts
Google Chrome provides the facility to divide a PDF document into parts. Use below describes steps to begin the process:
First of all, open the PDF file in Google Chrome.
Then, click on "Print" button.
Click on Change Button.
Choose "Save as PDF" in the "Local Destinations" section.
Enter the range of pages that you want in new PDF.
Then, click "Save" and name the resultant PDF file and select the location where you want to save the PDF.
Method#2 Use Adobe Acrobat Pro DC to Split a PDF Into Smaller Files
In order to break PDF file into smaller parts with the help of Adobe Acrobat Pro DC, a user needs to follow the steps mentioned below:
Start Adobe Acrobat Pro DC and click on the File menu.
Choose open option to select the PDF document that has to split.
Then, go to Document menu & click on Split Document.
You will notice the split document screen.
Choose the options and then Click OK button.
Different options are:
A number of pages: Choose the maximum number of pages per split.
File size: Divide PDF file by maximum size.
Top level bookmarks: Set up bookmarks before using the option.
Note 1: Click on 'Apply to Multiple' options to split PDF file.
Note 2: Click Add Files option to choose PDF you want to split & click OK.
  Save output PDF files at any desired location & click OK.
Circumspection of Manual Solution to Break PDF File Into Smaller Parts
Google Chrome does not provide the option to split files by even pages, odd pages. Suppose if the user has PDF file containing 10 pages and he wants to all even pages in such cases, the user is unable to perform this operation by chrome.
By using Adobe Acrobat Pro DC users can divide a PDF document into parts but, they should have the full version of Adobe Acrobat Pro DC. It would be difficult for normal Adobe users to have the full version of the application. Also, it is a very tedious task to perform for a non-technical user.
Automated Approach to Break PDF File Into Smaller Parts
We have seen that by manual solution users can split a PDF into smaller files. But, they don't get desired results while splitting PDF by Google Chrome. Therefore, the only solution left is to use a third-party tool. By PDF Splitter software users can easily separate PDF into smaller files. The tool does not require Adobe Acrobat to divide PDF into two files and can also split PDF files on Mac and Windows OS.
. Moreover, it provides various advantageous features, some of them are given below:
Split By Page, Range, Each Page, Size, Even Pages and Odd Pages.
For Windows OS:
For Mac OS:
Download Now Purchase Now
Split a PDF Into Smaller Files Using The Software
1: Initially launch the tool by downloading it on the system.
2: Now, insert the PDF files by using the Add File/Add Button.
3: After inserting PDF files, under Split/Merge tab apply split options.
4:Then, fix the destination path to save the resultant PDF files.
5: Finally, applying all the settings, hit the button Split to break PDF file into smaller parts.
Users may also read –
Small PDF files are easy to share let's suppose we need to send an email with an attachment as a PDF. But, we want to send a few PDF pages instead of sending a complete PDF. Therefore, in such situations, dividing PDF into two files is the best option. For this, we have provided both manuals as well as professional software. But, for complete accuracy and efficiency use a third-party solution to break pdf file into smaller parts.