How to Migrate Emails from Thunderbird to Outlook
Email clients such as Mozilla Thunderbird and MS Outlook takes care of users' mailing needs as well as work as personal information manager. Hence these two email clients have become two of the most popular email clients globally. Thunderbird is open source, free, and a cross-platform email client. Outlook comes as a part of MS Office suite which needs to be paid for. But still, MS Outlook is preferred over Thunderbird because of its superior advanced features and data security. Every day, individuals and organizations wonder how to migrate Thunderbird emails to Outlook in an efficient way.
In this article, we are going to discuss the techniques that can be used to transfer emails from Thunderbird MBOX to PST. The application of these methods depends entirely on the requirements of the users. For some users, the manual method will be more than enough to give the desired results. But for others, especially organizations and enterprises will opt a more secure and fast automated solution.
Solutions Regarding – How to Migrate Thunderbird Emails to Outlook?
Both manual and automated ways can be used to perform this migration task. However, which method to follow actually varies from user to user. So we are going to discuss both of them separately:
Manual Solutions:
I. Using IMAP feature
IMAP (Internet Message Access Protocol) synchronizes the email account with the email client. Thus using this feature with both Thunderbird and Outlook can yield the desired results. Follow the given procedure to use IMAP feature:
Launch Thunderbird and configure a Gmail account using IMAP server.
Next, create a new folder in that Gmail account.
Select all the emails that need to be migrated and move them to the new folder.
Launch MS Outlook and configure the same Gmail account here.
Now, download all the emails in Outlook.
The data has been migrated successfully from Thunderbird to Outlook.
II. Using EML feature
EML is nothing but email message saved to a file format. It is a standard format for both Outlook and Thunderbird. User can take advantage of this fact by exporting emails from Thunderbird as EML files. Then, these emails can be imported into Outlook. Follow the given steps to do so:
Create a new folder on the desktop with a suitable name.
Launch Mozilla Thunderbird email application.
Open the email folder which you want to migrate from Thunderbird to Outlook.
Select the desired email(s), right-click, and choose Save As option.
Browse to the desktop folder created above and export the message(s).
Next, launch the MS Outlook application.
Create a new folder in MS Outlook with a suitable name.
Drag all exported EML files from the desktop folder and drop them to the new folder in Outlook.
Finally, all the Thunderbird emails have been successfully migrated to MS Outlook.
Limitations of manual methods
Users need to have the technical knowledge to be able to configure the email clients and perform the given procedure.
These methods demand a significant amount of time and concentration.
The manual ways are prone to data loss and data corruption.
They are only feasible for the transfer of a small amount of data and hence is not suitable for most organizations.
Automated Method to Migrate Thunderbird Emails to Outlook
There are a lot of risks and shortcomings involved with manual methods. These limitations led to the development of various third-party tools that could provide users with trustworthy results. One such extremely effective solution is MBOX to Outlook Converter. This user-friendly software can help users migrate Thunderbird emails to Outlook 2019, 2016. 2013, 2010, 2007 in a few clicks with safe and desired results.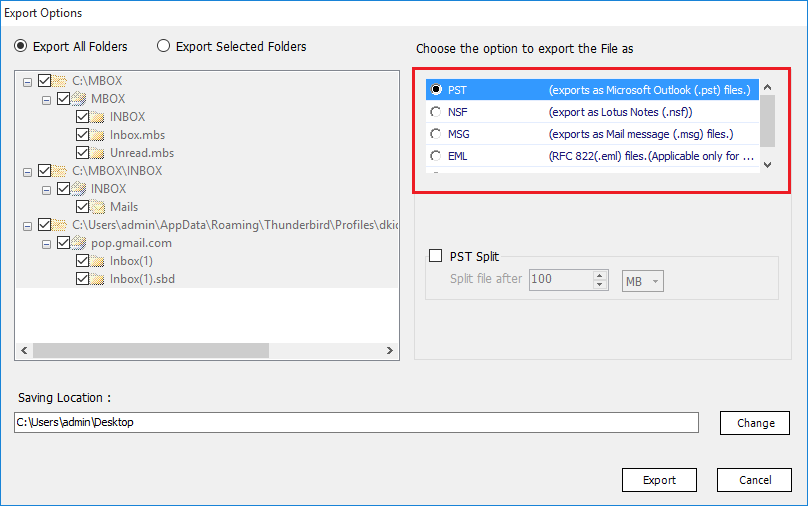 Some of its effective features which overshadow the manual methods are:
Converts Thunderbird files to PST in bulk.
Preview Thunderbird emails before conversion.
Provides the option to merge all Thunderbird files into a single Outlook PST
Auto-scan mode to detect Thunderbird client data automatically.
No risk of data loss or corruption whatsoever.
The easy-to-use mechanism does not require users to have technical knowledge.
Conclusion
Both Mozilla Thunderbird & MS Outlook has a large user base. But with advanced capabilities and better services, Outlook always attracts users of other email clients. So the query – how to migrate Thunderbird emails to Outlook 2019, 2016, 2013, 2010, 2007 is quite popular on the internet.
We have discussed both the manual as well as an automated solution regarding this query. The manual ways carry a lot of risks and may lead to essential data loss. The provided automated tool far outweighs the manual techniques in terms of both simplicity and security. It is easily the most relevant and reliable solution to transfer emails from Thunderbird to Outlook.