Resolve "Google Takeout Failed" Issue
Google Takeout is a project by the "Google Data Liberation Front", which is a free service. Google Takeout allows the user to download data from Google products like calendar, contacts, e-mails and other information in the ZIP file to a designated PC storage location. The user has the option to download much of the data with Google Takeout. However, many users have faced a fatal situation where Google takeout failed to download complete archived files. In this article, we will focus on Google Takeout feature and an alternate approach, which can be adopted instead of Google Takeout.
Steps To Download Data From Google Takeout
Sign into your Gmail account and Click on this given link, you will get the Google Takeout window.
Just check the upper right-hand corner of the screen and make sure that user e-mail address appears there.verify-email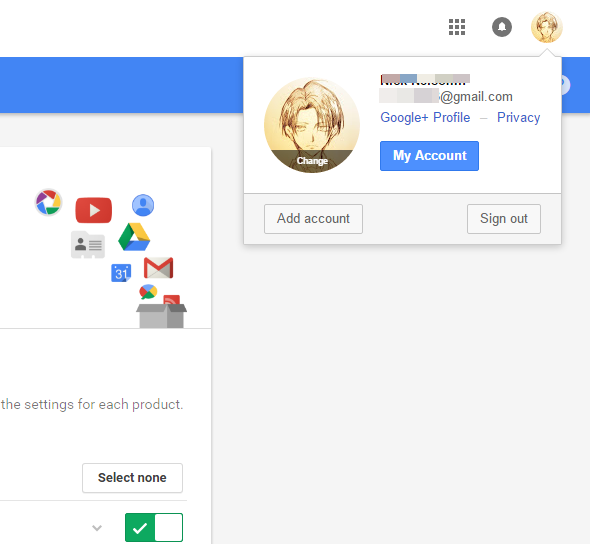 Select data to download and click Next button.select-data-and-next.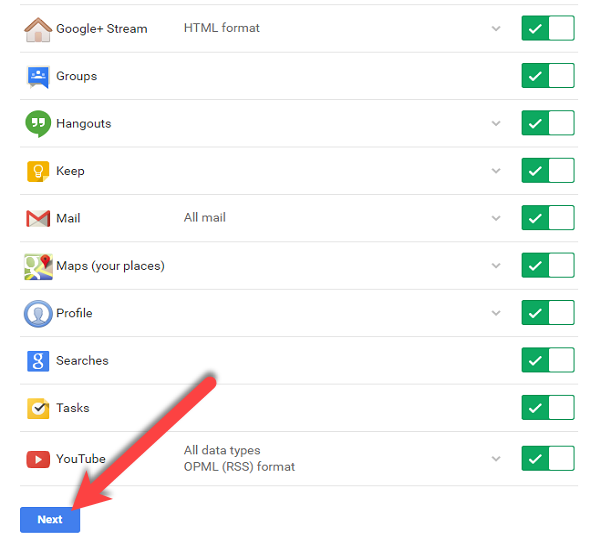 Select the File type and delivery method. This screen allows choosing, what file format user want the backup file to be in. Here, the selected file format is ZIP and send download link via email as the delivery method.select-file-type.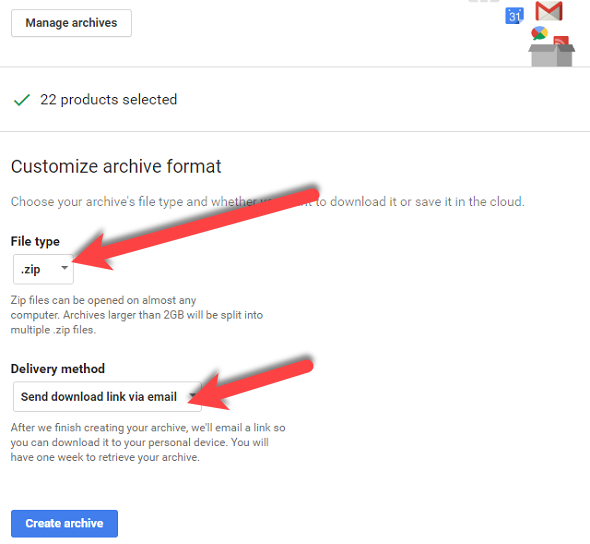 The user will get an email or a file on Google drive with the backed up data.
This process will take only a few minutes but the time may vary depending on the size of files to be extracted. For some users with lots of documents, pictures or videos, the process can take hours to complete. Once Google has finished prepare backup, the user will receive an email with a download link indicating that the user archive is ready to download. Now the user can download backup files into the computer.
Situations Where Google Takeout Failed
Network connection problem: This error occurs when the internet connectivity is lost or stopped.
Resume option is not available: If you lost the internet, there is no option to resume the process even the internet is connected.
Size limitation: Users face errors when the file size is exceeded. So, the feature generally fails out for larger storage data.
Queries Related to Google Takeout Failed Issue
1. "Each time I am trying to download, Google Takeout keeps failing to detect the backup file even after a successful backup. I only need emails and contacts. Though I was using Chrome version 34.0.1847.131 on Windows PC."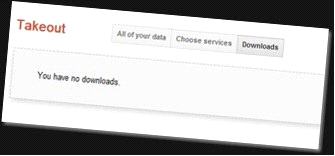 2. "I was able to download the smaller 2GB files using Google Takeout. But I created a ZIP folder that contains all my emails and contacts and I cannot complete a download of my 16 GB Gmail archive. I get the "Network Failed Message".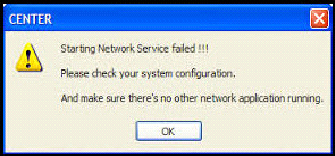 3. "I have recently tried several times to download my data containing hundreds of photos taken using my smartphone over the years. At every attempt, Google Takeout keeps failing and does not allow to download files. It shows "Web service failed to archive".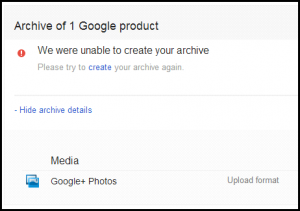 Users may use Gmail for their personal and official use. It contains a lot of important emails and contacts. Sometimes they need to backup it, so they try to create ZIP files. The situation may occur that the small file gets downloaded easily but the large file does not get downloaded. This will pretty annoying popping up their takeout download about to end. Users need an option for Resume interrupted backup to save time.
Use Google Takeout Alternative
Many users face trouble while using a downloading feature of Google Takeout. To avoid such annoying conditions, the user generally searches for an alternate reliable application that can efficiently download backup data. One such solution is using a third party software to export Gmail emails and contacts easily from Gmail account. It offers a special feature "Resume Interrupted Backup" to save time. If the internet connection failed while doing the backup, users can simply use the "resume" option to continue the process. There is no file size limitation and supports both single and multiple users Gmail accounts. It also allows the users to secure data at their local desktop without any data loss.

Conclusion
We have discussed the basic concepts of Google Takeout and some situations where Google Takeout failed and users faced problems while downloading data with it. It can be solved by using third party software as suggested above. This tool can be used to achieve all these functionalities without any interruption. It provides a special feature for resuming the interrupted backup. In case the download is interrupted due to any reason, the tool facilitates to resume the backup later on. Moreover, the user can also choose to specify the bandwidth to be consumed by the tool.