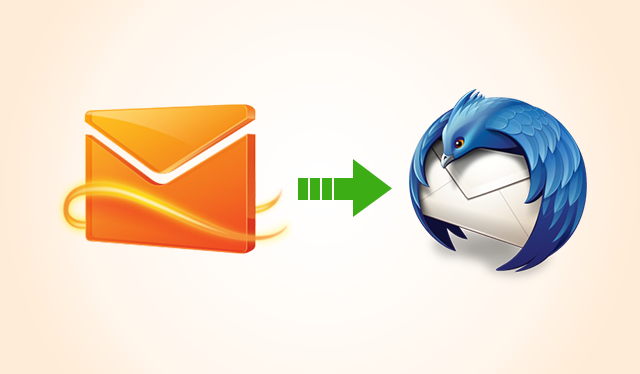 It's a common scenario of the mail users that they try to move to the desktop email clients rather than using the webmail (Hotmail). It is because this offers to access emails even without the internet. This article discusses how to import emails from Hotmail to Thunderbird.
We will also provide you an alternative that will help you perform the conversion process as quickly as possible. This alternative can backup Hotmail emails to hard drive in PST/EML/MSG/MBOX file formats.
Hotmail is the first web-based email service found by the Jack Smith along with Sabeer Bhatia in 1996. Hotmail is also known as the Outlook.com, Windows Live Mail. The Hotmail follows MS's Metro design- language which will closely mimick the interface of Outlook.com. The Hotmail feature includes free data storage space, calendar, contacts, management, Ajax and of close integration with OneDrive, Office Online and also Skype.
Mozilla Thunderbird is a free and open-source email client available on multiple platforms. The Mozilla Thunderbird application saves the data within a mailbox in MBOX format. While the Hotmail account is added to the Thunderbird application, it will sync with the Hotmail server in particular time intervals to save new messages locally.
Why We Move or Import Emails from Hotmail to Thunderbird
There could be a number of reasons that might take user to link Hotmail to Thunderbird. Some possible and majorly known reasons are shown below:
The user needs to access the emails in offline mode as the internet connection is not stable.
There will be technical errors and glitches which will stop you from accessing your email account. Server outage is the best example.
Organization switching Hotmail webmail service to Thunderbird.
Features of Thunderbird
There is multiple Email and newsgroups accounts.
POP and IMAP protocol.
It has HTML mail formatting.
Posses spell check as you type.
There are folder retention rules.
The Email is stored as plain text.
Attachment Reminder.
One-click Address Book.
Phishing protection.
Large File transfer management.
Tabbed Email messaging.
Intelligent Spam email filtering.
Method 1: Add Hotmail Account to Thunderbird
In the manual method, you need to add Hotmail on Thunderbird application to save the Hotmail emails within Thunderbird. The process for the same is shown below.
Configure Hotmail Account to Thunderbird
Install and Run Mozilla Thunderbird application.
Go to Tools menu and click on Account Settings option.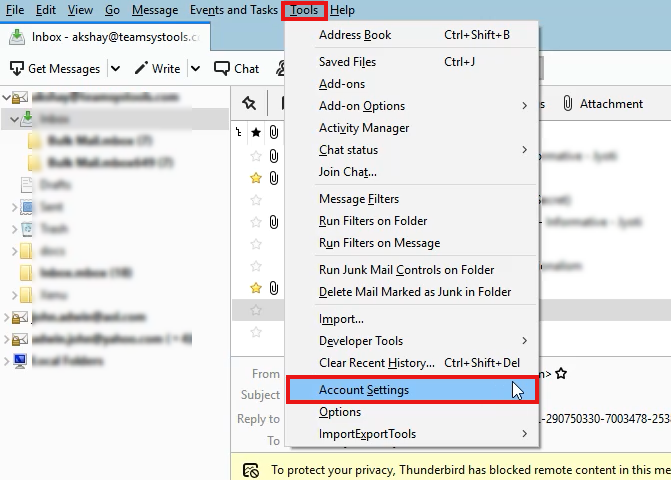 Account settings window opens. Click on Account Actions and then, click on Add Mail Account.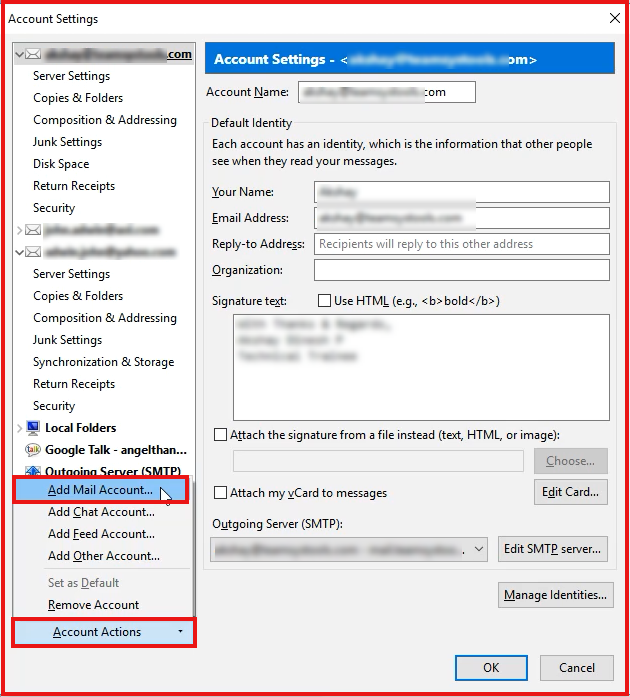 Enter your Name, Email address, and Password
Now click on Continue option.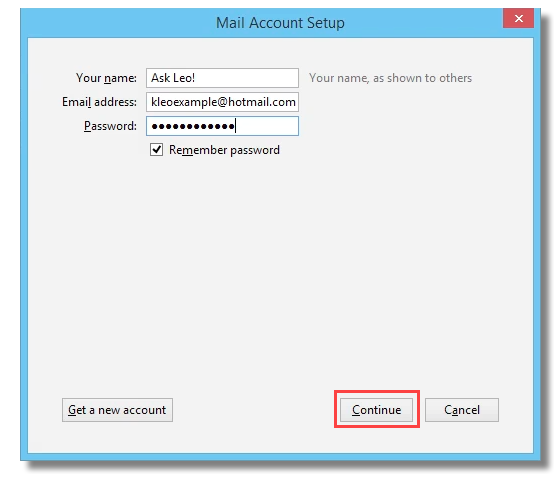 See the below window make sure IMAP is chosen. You can also choose POP3 option.
Click on Done option. This will add Hotmail to Thunderbird.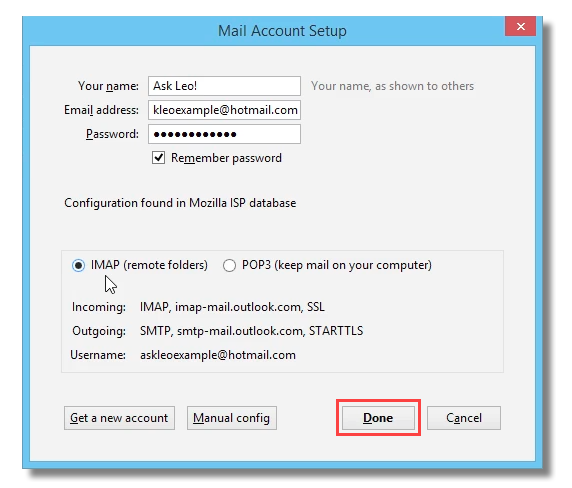 For inserting server configuration manually, select Manual Config option.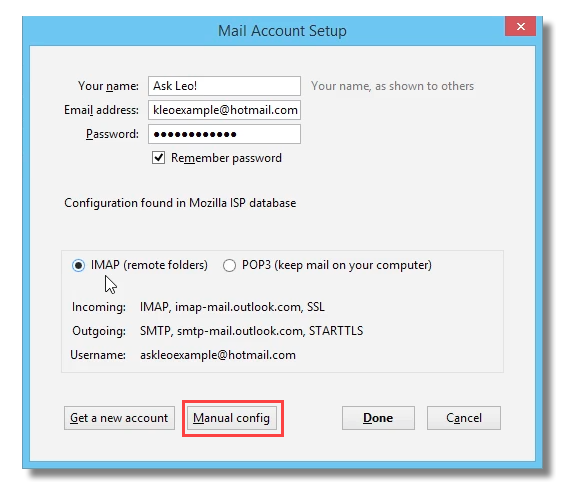 Enter Incoming Server: outlook.office365.com and Outgoing Server: stmp.office365.com.
Set the port number for Incoming server: 993 (SSL/TLS) and Outgoing server: 587 (STARTTLS)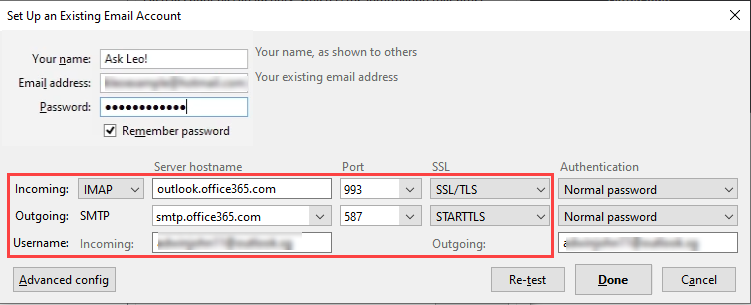 Click on Re-test option to test the configuration.
Select Done to link Hotmail to Thunderbird.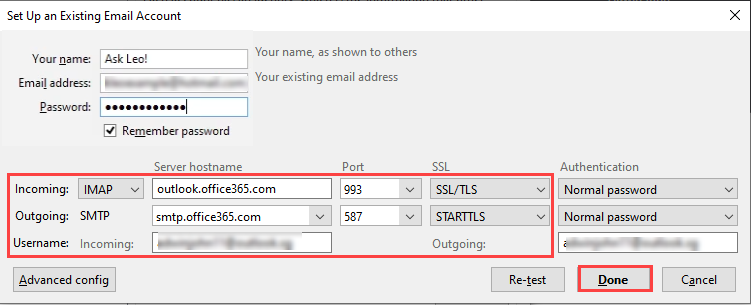 This will start downloading the emails from Hotmail account to Thunderbird.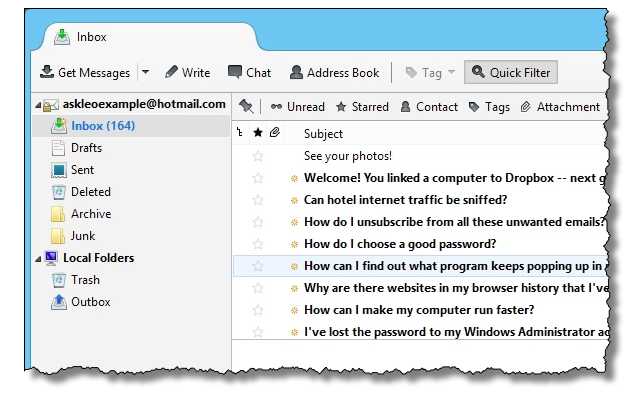 Once the setup is finished, the Thunderbird will add Hotmail account and import all the emails.
Limitations to Manual Method
Though the manual process seems to be simple, there are issues with the process. You may know some limitation of the above process downside.
The solution is simple but may lose data during the migration of emails from Hotmail to Mozilla Thunderbird.
The time consumption for the total migration of emails from Hotmail will be high according to the emails in number.
An alternative solution to deal with the data loss issue is shown in the upcoming section.
Alternative Solution
The above method shows the add mailbox feature of Thunderbird and teaches us how to export Hotmail emails to Thunderbird with a stepwise guide. As an alternative to it, the solution that could simplify your task and easily migrate Hotmail emails to Thunderbird is the Hotmail Backup Tool. The application is very simple to perform and save Outlook.com emails to computer for Thunderbird access.

Steps to Download Hotmail Emails to Thunderbird MBOX
Step 1: Run Hotmail Backup Tool and Login with Hotmail (Outlook.com account).
Step 2: Select MBOX format to save Hotmail emails in Thunderbird.
Step 3: Browse a Thunderbird location to save the emails from Hotmail.
Step 4: Start the process to import Hotmail to Thunderbird file.
This will save a copy of Hotmail emails on the system drive in .mbox format. Then, simply import the backup file into Thunderbird with the import function in Thunderbird.
Conclusion
This article talks about the importance of Thunderbird and methods to import emails from Hotmail to Thunderbird. Multiple solutions are given to succeed in your task that can easily export Hotmail emails to Thunderbird. Analyze and perform the method so that your data reports to Thunderbird without any loss of data.