How to Unlock VBA Password in Excel 2016?
Overview: Are you looking for a reliable solution regarding how to unlock VBA password in Excel 2016, 2019, 2013, 2010? Also, do you need to unlock an old VBA password-protected.doc file? In this blog, we will discuss a simple way to generate a VBA password in Excel.
If you have lost or forgotten the encrypted password from a Microsoft Word document and want to unprotect that file, then this is the right blog to get the solution.
Therefore, we are going to discuss a completely manual procedure you need to follow to resolve this error. Before this, consider the following scenario that is taken from the forum site:
How Does the Tool Unlock VBA Project Password?
1: Download the Automatic Tool
2: Load the VBA project file
3: choose the VBA project file, and hit the "Open" button.
4: Press the Reset button, and will display the password.
"I have forgotten my VBA password for a Microsoft Excel File. Although it contains all crucial files for my office, they were not accessing them as well. Even though I tried several times to unlock a VBA password-protected Excel file when opening it, I was not able to go through as it was displaying an error message like "VBA Project Password not working". Please suggest to me a suitable approach that will help to break the VBA password in Excel 2003, 2007, or all other versions."
How to Unlock VBA Password in Excel Manually
Go through the following methods that will help to understand how to unlock the protected Excel VBA project. Let us have a look:
1. Open a new Microsoft word document.
2. Now, press the Alt + F11 keys.
3. Click on Insert and select a Module.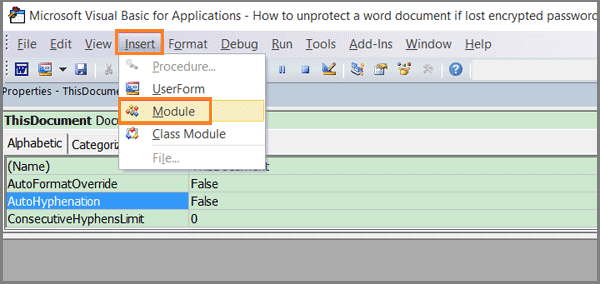 4. Then, Enter the following code in the general window > > press F5.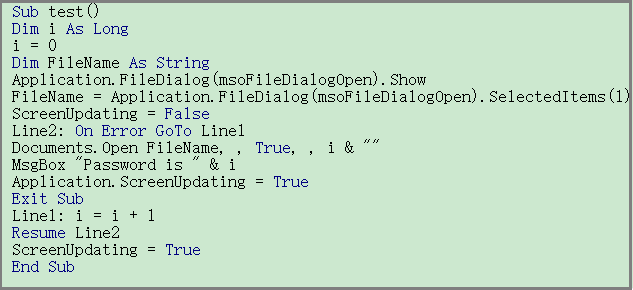 5. Now, select the word file to unlock >> click open.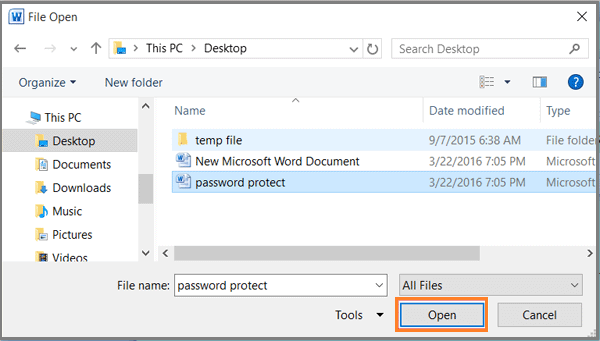 6. After a few minutes, a small pop-up box will get open. The password from the encrypted word file has been recovered successfully!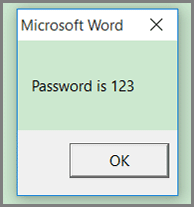 7. Now, hit on OK button and close the pop-up box.
8. The encrypting document will get opened.
9. Then, press on File tab >> and select the option of Protecting Document.
10. Choose Encrypt with Password option.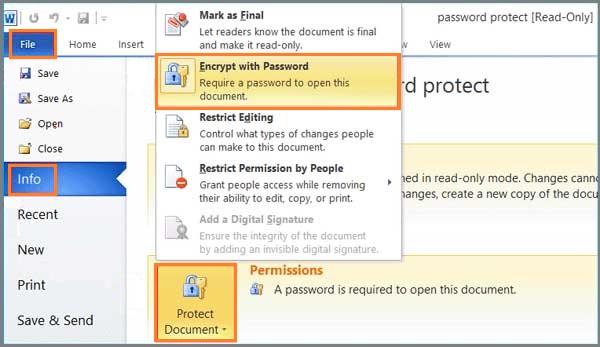 11. Just clear the password from the text box and press the OK button to unlock the VBA project password from the .doc file.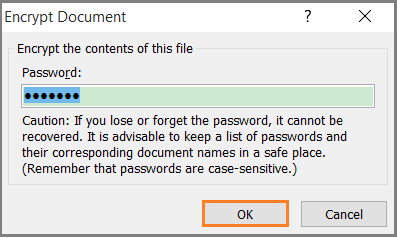 12. Next time you can open the document without any password.
Limitations of Manual Approach
1. Technical Expertise Required: To unlock/crack a VBA password, some technical knowledge of using VBA codes is required.
2. Limited Outreach: The manual technique can only open a database but can not set or change an existing password.
Important Note: The manual solution works when the password is within 7 characters only, if it exceeds 7 chars, then try the secure and error free solution.
How to Unlock VBA Password in Excel via Automated?
As the above manual solution has a limitation on the length of the password, it is suggested to go for third-party software to unlock the VBA password. We have come across the SysTools VBA Password Remover Tool to unlock password-protected Word.doc files. This is one of the best programs to open VBA passwords in Excel. It has advanced techniques to unlock VBA project passwords of any length in an easy manner.
Also, the software can reset the password using the source code of any file. Moreover, this utility eliminates the previous password from the file and generates a new VBA password from the document. The software has come up with unique features to remove VBA project password from Excel document.
Also Read: How to Bypass Access VBA Password?
Here are some of the advanced features of the tool:
Crack VBA Excel password from each individual VBA word document.
Supports all types of MS Office files, i.e.,.doc,.xls,.xla, etc.
Recover VBA passwords of any length or any type of VBA file.
Create a new VBA password after removing the old one.
This Advanced program Can be Used on a Machine Without administrator Privileges.
Allows Users to Unlock and Reset Multilingual VBA Project passwords.
>Offer to remove or reset passwords from MVBA, XLSM, XLSB, DOCM and DOTM Files.
Compatible with all Windows versions and Microsoft Office (32/64-bit)
Steps to Unlock VBA Password in Excel 2019, 2016, 2013
Download and install on your Window Machine.
Choose the Add Files or Folder button to add VBA project files from your system.
Browse to where you saved the VBA file and select it. Click the "Open" button.
After adding the file, the software loads it and displays the added VBA file in the software console. It also show the choose file path and file size (KB).
After completing all the process, select the Set tab to Reset and unlock the password protected VBA file.
Summing Up
"How to unlock VBA password in Excel 2016, 2019, 2013, 2010 is one of the major issues. After considering the above scenario, we have discussed a direct manual way to resolve such type of issue. Besides this, we have suggested a reliable solution i.e., expert suggested solution that will help to unlock lost or forgotten VBA project password in Excel 2016, 2019, 2013, and 2010. It is one of the perfect solutions through which users can easily access password-protected VBA files in a quick and efficient way.