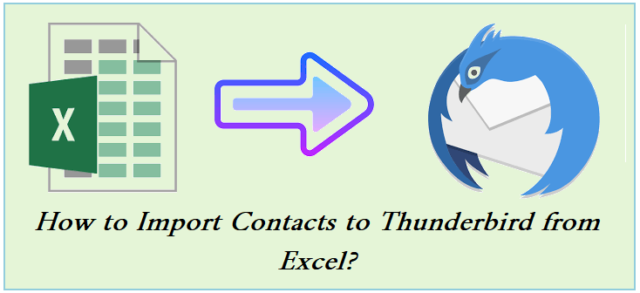 Storing contact information in an Excel worksheet keeps your contacts in a form where you can use it on other applications or share online without any hassle. It stores all the data in tabular format hence that you can easily separate the details of contacts. Now, if you are looking for you to import contacts to Thunderbird from Excel, then without any doubt you are on the right page. Here we will discuss the relevant way to complete this task.
Basically, Mozilla Thunderbird is a free, open-source application that allows users to store and access data locally on the system. It comes with lots of features and add-ons to full fill all the needs of the users.
However, the major problem that occurs while importing Contacts to Thunderbird from Excel in front of users is a file format. Excel saves its data in XLS or XLSX file format and Thunderbird does not support XLS or XLSX file format its contacts. Hence, there are lots of users not able to complete this task. So if you are among those users who not able to import contacts to Thunderbird from Excel, then keep reading the blog.
How to Import Excel Contacts Files to Mozilla Thunderbird?
As we said earlier that Excel by default saves its data in XLSX or XLS file format. But it also gives you an option to save your Excel file into CSV and you can easily import the CSV contacts file to Mozilla Thunderbird. So to do this follow the below steps:
First, open the Excel worksheet containing your contacts.
Now, click on the File tab, and then select Save As option.
Click on the Save as type drop-down list box, and then select the CSV (Comma delimited) from the list.
After that click on the Save button.
Click the OK button for the warning dialog box that the file will be saved under a new name.
Choose the destination location to save the CSV file.
Once the file is saved as CSV format launch your Mozilla Thunderbird.
Now, click on the Tools menu, and then select an Import option.
After that select the Address Books radio button, then click the Next button.
Select Text file (LDIF, .tab, .csv, .txt), option, and then click the Next button.
Browse the CSV file you created with Excel and click on the Open button.
At last click on the OK button when you are done, and then click on the Finished
Automated Way to Import Contacts to Thunderbird from Excel
An above manual method is a nice approach to export contacts from Excel contacts to Thunderbird. But sometimes there is a chance to lose contacts fields or integrity while saving XLS or XLSX files. So to avoid this situation, you can try the vCard option to transfer contacts from Excel to Thunderbird.
For Mac Users
And to import contacts to Thunderbird from Excel in vCard format you can use Excel Contacts Converter Tool. This tool gives you six different options to convert Excel contacts files such as PST, CSV, PDF, TXT, HTML, and vCard. Along with that, the software has features for manual and auto field mapping. The software is compatible with the Windows Operating system versions such as Windows 10, 8.1, 8, 7, and all others.
Step 1: Convert Excel Contact List to vCard
In order to export Excel contacts to the VCF file, follow the below step by step process
1. First, downloading and installing the software, click on the Browse button to select the Excel contacts file
2. Once all the contacts uploaded to the software, then you will be able to see all the contacts present in the software preview pane
3. Choose the vCard radio button under Export Option
4. Now choose the version of vCard as per your requirement
5. Select the destination path to save the file
6. Form next window map the fields of the Excel contacts
7. After all the settings, click on the Export button to start the process
Step 2: Import vCard Contacts File to Thunderbird
Once the Excel contacts file is converted in vCard file format, now you can easily convert all your Excel contacts to Mozilla Thunderbird. And to this follow the below steps
First, open the Thunderbird application on your system.
Now, go to the Tool option, and then Import option.
Select the vCard file (.vcf) option.
Now, browse the vCard file which you converted in Step 1.
At last click on the Open button and then click on the OK button to Import Contacts to Thunderbird from Excel
Conclusion
In the above write-up, we have discussed the two complete step by step methods to transfer Excel contacts to Mozilla Thunderbird. In the manual method, we have converted the Excel contacts to CSV format. But in an automated, way we have directly transfer Excel contacts into a portable file which makes the transfer more secure. Now, it is up to you to choose the method to import contacts to Thunderbird from Excel