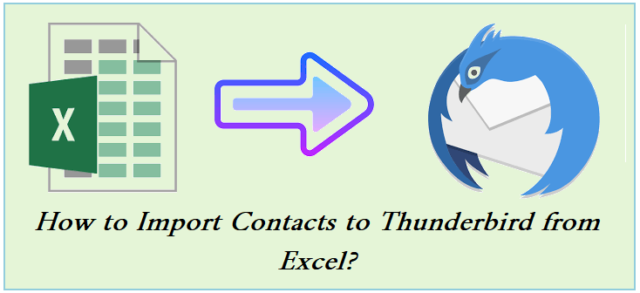 Storing contact information in an Excel worksheet keeps your contacts in a form where you can use it on other applications or share online without any hassle. It stores all the data in tabular format hence that you can easily separate the details of contacts. Now, if you are looking for you to import contacts to Thunderbird from Excel, then without any doubt you are on the right page. Here we will discuss the relevant way to complete this task.
Basically, Thunderbird is a free, open-source application that allows users to store and access data locally on the system. It comes with lots of features and add-ons to full fill all the needs of the users.
However, the major problem that occurs while importing Contacts to Thunderbird from Excel in front of users is a file format. Excel saves its data in XLS or XLSX file format and Thunderbird does not support XLS or XLSX file format its contacts. Hence, there are lots of users not able to complete this task. So if you are among those users who not able to move contacts to Thunderbird from Excel, then keep reading the blog.
Automated Way to Import Contacts to Thunderbird from Excel
An above manual method is a nice approach to export contacts from Excel contacts to Thunderbird. But sometimes there is a chance to lose contacts fields or integrity while saving XLS or XLSX files. So to avoid this situation, you can try the vCard option to transfer contacts from Excel to Thunderbird.
And to transfer contacts to Thunderbird from Excel in vCard format you can use Excel to vCard Converter Tool. This tool gives you six different options to convert Excel file into vCard format. Along with that, the software has features for manual and auto field mapping. The software is compatible with the Windows Operating system versions such as Windows 11, 10, 8.1, 8, 7, and all below version.
For Windows
For Mac OS
This software allows you to convert XLS to VCF android. You can also import empty email addresses by using this software, and it also supports Windows10 as well as all the below versions. With the help of this software, you can convert all the details from Excel sheets like name, email, and phone with maintaining the row-column sequins.
Download this amazing toolkit for free to convert the first 25 contacts from your Excel file. Purchase a license for the app to enable unlimited transfers. You can also contact us via email or chat process for more information.
Also Read: Import Contacts from Excel to iPhone
Step by Step Guide to Import Contacts to Thunderbird from Excel
There is no direct solution to import selected files into Thunderbird. It is divided into two parts.
Step 1: Convert Excel Contact List to vCard
In order to export Excel contacts to the VCF file, follow the below step by step process
First, downloading and installing the software, click on the Browse button to select the Excel contacts file
Once all the contacts uploaded to the software, then you will be able to see all the contacts present in the software preview pane
Choose the vCard radio button under Export Option, Now choose the version of vCard as per your requirement
Select the destination path to save the file
After all the settings, click on the Export button to start the process.
Step 2: Import vCard Contacts File to Thunderbird
So if you want to know the steps to transfer this file to Thunderbird, just follow these steps:
To start the process, open the Thunderbird program on your computer
Then, click on Address Book and click on Import Tools
Now the import wizard will appear in front of you. Here, select "Address Book" in the "Select type of content to import" option. Then click the "Next" button
Next, you need to select the vCard (.vcf) file option to import contacts from Excel to Thunderbird
Then, select the vCard file you created in step 1.
Finally, click the Open button to upload it. Click the OK button to complete the process
Here you can check Thunderbird contacts to see if the process of importing Excel contacts to Thunderbird has been completed.
Conclusion
In the above blog, we have provided the best solution for importing contacts from Excel to Thunderbird Address Book. There is no direct solution for this. So, first you need to convert your Excel contacts to vCard file format. We recommend using professional solutions. If you need to import contacts to Thunderbird from Excel.