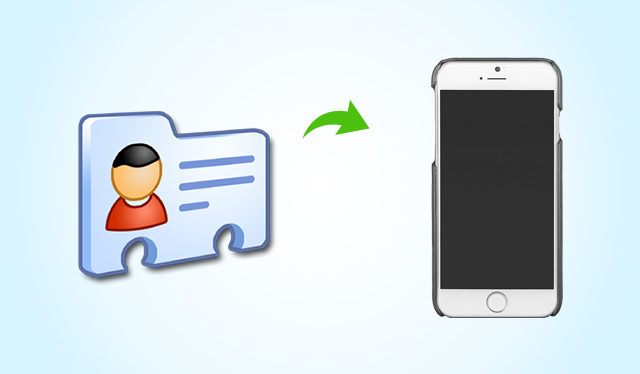 There are many email applications available nowadays such as Microsoft Outlook, Gmail, Mac Address Book, Windows Address Book which enables users to transfer vCard file to iPhone easily. To perform this import process, you don't have to convert VCF file, instead of it you can directly import vCard to iPhone 5, 5s, 6, 7 contacts application. As .vcf and vCard are not exactly the same. VCF is a file extension commonly used as vCard contacts. vCard is a file extension which is used for electronic business cards.
"Yesterday, I lost all my data from iPhone which includes all my photos, contacts other important data. From all the data, contacts are most important and I have created a backup of them a few days ago. Now, I have a vCard file and it contains all my important contacts in it but I don't know how to import vCard to iPhone 6? Can anyone please help me to do so?"
Instant Solution:
If you want to import vCard to iPhone in an efficient way, then you can first
transfer VCF file to Outlook
and then access them in iPhone.
Method 1 – Transfer vCard contacts to iPhone directly
There are so many methods available but importing contacts through email is the easiest option to perform the entire process if the size of the vCard file is not too big.
Add the vCard file as an attachment to the email and mail to your own email address.
Open the email application on your iPhone and open the attachment.
After opening the attachment, iPhone will show you a pop up asking to convert vCard file to iPhone. You just have to follow the steps and all the contacts will be added to your iPhone address book.
Method 2 – Import vCard to iPhone 5s, 6, 6s, 7 via Microsoft Outlook
Launch MS Outlook on your computer. Then go to File menu, select Open and then go to Import option. After that click on Import from another program and click Next.
There you will be navigated to an "Import a File" window. Choose Comma Separated Values (Windows) or vCard file. Now, click Next.
Click on Browse to transfer vCard contacts file from your system and click Next. Now, press Finish and all your contacts will be uploaded to Outlook contacts folder.
Now open iTunes on your computer system and connect your iPhone to iTunes via USB cable.
In the left panel, you will see your device under devices option. Click on it and you will see the summary page. Select Info tab and go to contacts.
Here, you will see Sync contacts with an option. Just select Outlook and choose all contacts option. After clicking on Apply button placed on the bottom right of the screen and then press Sync and the contacts will start importing to iPhone.
Method 3 – Import vCard to iPhone 6/6s/7/7 Plus Through Gmail
Open Gmail and login to the Gmail account. Now, click on the Gmail button displayed on the left side and navigate to Contacts category. Here, choose More and click on Import option from the drop-down list.
A pop up will be displayed. Here click on Choose File option to search for the contacts stored in your computer system. Now, click Import and all your contacts will be uploaded to Gmail.
Open iTunes on the computer and connect your iPhone to iTunes through a data cable.
Now, go to devices section and go to Contacts option.
Here, click on Sync Contacts option and select Google Contacts from the drop-down list.
Next click Apply and Sync button and all your contacts will be converted to iPhone.
Trouble Free Solution to Import vCard to iPhone 6, 6s, 7
Copying vCard contact files to iPhone is a bit easy task to perform but it takes so much time depending on the size of the file. Also, a user has to put a lot of efforts to perform the entire process properly. So, there is an alternative option to fulfill the task in countable minutes that too without losing any data. By using vCard Import Wizard, users can convert vCard contacts to iPhone easily and efficiently.
Conclusion
After exploring the issues faced by the users while copying vCard contacts to iPhone. Here, we have discussed multiple solutions to import vCard to iPhone 5, 5s, 6, 6s, 7 and 7 plus the manual and automated solution so, users can choose according to their requirement.