How to Increase Gmail Storage Space
Every Gmail user receives 15GB of storage space that covers their Emails, Drives, Photos, and other Google applications. But, 15GB space is not enough nowadays, so user needs to increase Gmail storage space to continue working of all Google application.
Reasons to Get More Storage Space In Gmail
The emails, attachments, image and video size are increasing rapidly. Due to this, user are reaching their storage limit faster than before. But, default storage limit is only 15GB, which is getting filled by very quickly. So to get some more room for new emails and data, user needs to increase the Gmail storage space.
Techniques to Increase Gmail Storage Space
There are two ways you can increase storage space in your Gmail account, either by purchasing more storage space for your Gmail account, or delete unwanted/unnecessary data to free up space in Gmail account.
How to Buy More Storage Space For Your Gmail Account
To check your current storage status or to get more storage space in Gmail, go to your Google account. Here's how:
1. Login into your Google your account (here: https://myaccount.google.com/)
2. From the Home tab, scroll-down to Account Storage and click on Manage Storage link.

3. Now, you will redirect to your one.google.com account. Here, you can check the space covered by each Google Apps.

4. To get more storage space in your Gmail account, you can scroll-down to purchase extra storage space of you. For this, scroll-down to below section to preview the plans. Then, select the plan that you want to purchase. Once the decision is made, follow the purchase instructions.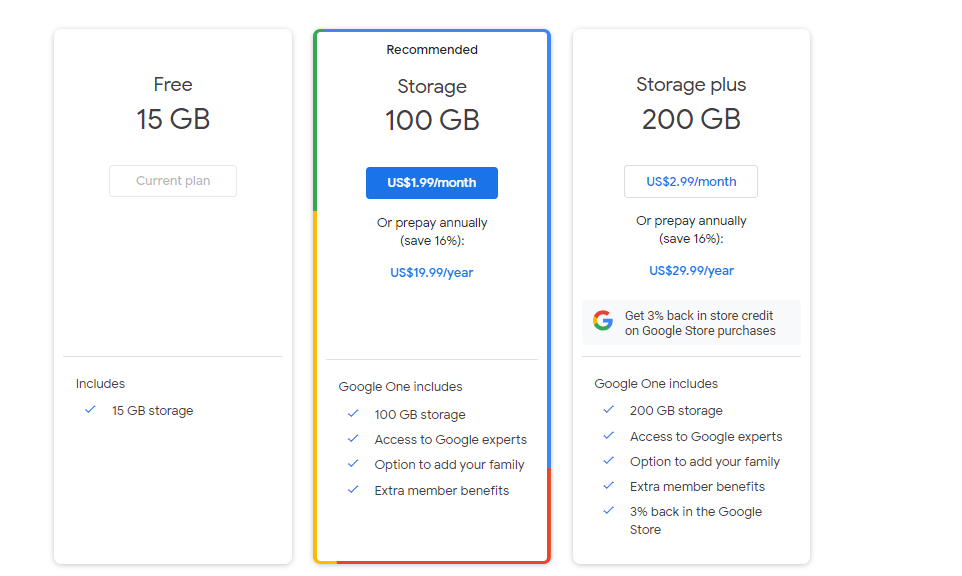 Note: If you are already a Google One subscriber, then you can increase Gmail storage space by puchasing higher plan than your current one.
For some users paying for extra storage is not a feasible solution, in that case you can make some room in your Google account by deleting unwanted data from your Google Applications.
Get More Space By Deleting Gmail Data
For increasing your Gmail storage space, you can delete heavy items from your Gmail account one by one. There are multiple ways for deleting data, such as:
Tips: Before deleting emails, its recommended to first archive Gmail emails then proceed with the deletion steps.
1. Delete Large Attachment Files
To cope up with Gmail low storage, users can delete the irrelevant files accordingly. There is a search box in Gmail that makes easy for them in finding the desired file, which is needed to be deleted. Gmail gives the attachment size limit of 25 MB by using this way users can use the free up Gmail storage space & increase Gmail storage size.
Now, it is not easy to search the file from thousands of mail so, they can use a command attachment size: 10000000. Then all the mails that have attachment size bigger than 10 MB will appear and they can delete the desired data accordingly.
Note: Once these files are deleted keep in mind to delete the same files from Trash folder as well to increase the storage space of Gmail.
2. Delete Old Emails
Gmail has a search feature, which makes easy for users in finding out the old or irrelevant email from the account & increase Gmail storage size. For more ease if the user enters older than: 2y then, all the emails, which are there in the mailbox than two years ago will be listed. Now, simply choose all and choose the trash option & free up Gmail storage space
3. Delete Emails by Size
Users can search their emails via size in Gmail by simply entering larger: 5m then, emails above 5 MB will be listed in a sequence. Moreover, if users are utilizing their Gmail account for handling the high-resolution images as well as PDFs then, they must come across more emails, which are matching.
4. Delete Other Google Application
Applications such as Google Drive, Google Photos covers more space than the Gmail application. So its better to delete the data from these applications to get more storage space in your Gmail account. But, before deleting drive data make sure to take backup of it.
Read: How to Backup Google Drive Drive Data
Why Do We Care?
At some point in time, every Gmail user face storage space issue, due to this they unable to send/receive new emails or add data in their Gmail account. To overcome this issue, user needs to increase Gmail storage space. This can be done either by buying more storage space or delete data from Google account to get more storage space in Gmail.
In the above sections, we have covered step-by-step solution of both solution. If in case you don't want to go through the trouble of backup & deletion emails one by one, you can take help of automated Gmail Backup Tool offered by SysTools to do the task quite effortlessly.