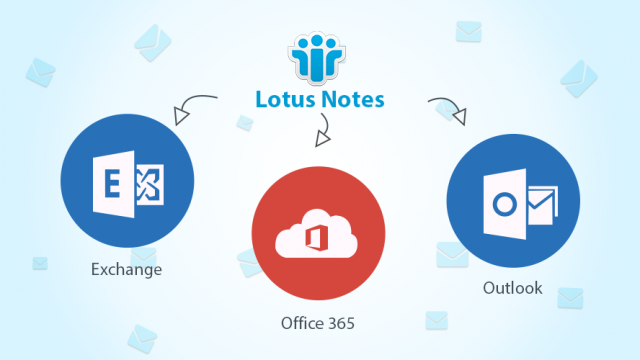 HCL Notes, which was formerly known as IBM Notes and Lotus Notes is an exclusively used email application to boost up the productivity of the organization. Generally, it is used by business organizations wherein it helps to thoroughly manage the data. Additionally, it renders high data security options in comparison to other email programs. The HCL Notes and HCL Domino provides a collaborative client-server platform.
Concerning the challenging corporate demands, HCL Notes is built with enhanced functionalities. Moreover, due to the increase in features has also lead to complexity in terms of managing and using the features. Unlike other email applications, the features in Lotus Notes are integrated in a complicated interface. As a result, it has led most of the users to migrate from HCL Notes to some other simple and efficient emailing service.
If you are also undergoing the same instance i.e., looking for a seamless solution to migrate from Lotus Notes to Exchange server, Office 356, etc. Then, read out the blog till the end and know the appropriate technique to do the same.
Attention Note: Avail SysTools Lotus Notes to Exchange Migration Tool to perform an effortless migration from Lotus Notes to Exchange Server, Office 365 and Microsoft Outlook. So why wait! Download the free demo version from the button given below!


A Quick Glance of Lotus Notes/Domino Mailbox Conversion Utility
It is a specialized software that facilitates users to switch from Lotus Notes to some other emailing service like Live Exchange Server, Outlook, and Office 365. Using this application, a user can migrate all data items such as email, calendars, tasks, etc., of Lotus Notes to Exchange Server. It is also capable to remove encryption from NSF email messages during the migration process.
The Lotus Notes migration software allows to migrate bulk NSF/Domino files to the destination platform i.e., Exchange Online, Outlook and Office 365 via Add Folder option. Altogether the utility provides a simplified interface, which makes the tool unique among other Lotus Notes migration software. Apart from that, the software can be easily downloaded on all versions of Microsoft Windows OS.
Here Comes the Advanced Features of Lotus Notes Migration Tool
Well, before buying the tool, your mind must be loaded with so many thoughts and questions. This is pretty obvious! The ultimate intention is to meet the migration process easy without facing any technical disputes. Understanding your concerns, here we have elaborated a detailed understanding of the various features, specially designed to meet the challenging queries.
So, let's have a look at each of the features of Lotus Notes migration tool!
The Lotus Notes Migration tool is designed in such a manner that it permits users to export NSF files to various application i.e., Exchange Server, Outlook, and Office 365. A user needs to have Lotus Notes and other respective application installed on the machine to perform a migration. The software supports all versions of Exchange Server and Outlook. In the case of Notes to Office 365 migration, credentials of O365 account are mandatory.
Besides migrating NSF files, the HCL Notes migration tool is also capable to migrate Domino Server mailbox to Exchange, Office 365 and Outlook application. To do the same, the Domino Server environment, Exchange Server platform and Outlook installation is required in the case of respective migration. Additionally, it allows mailbox mapping in the case of Domino conversion. In the case of Outlook, the tool will create separate PST file for each Domino mailbox.
Option to Export Multiple NSF Files in Batch
Using this Domino mailbox conversion utility, a user can migrate both client or server mailboxes in a hassle-free way. It is designed in such a manner to export multiple NSF files to various applications in batch. The utility has a step by step procedure to migrate NSF files or Lotus Domino Server mailboxes in bulk. The simple and easy use interface makes the tool easy to convert NSF File to Outlook in bulk.
Migrate Selective Data Using Different Filters
Another highlighted feature of Lotus Notes Migration tool is that it allows users to migrate selective data from NSF files using various filters. This will save a lot of time and prevent unnecessary data conversion. A user can select the data item from the category list and apply the date-based filter option. With this, it will only migrate the data from the specified date range. For example, choose the calendar and define the date range, the software will export calendars within that range only.
Option to Eliminate Duplicate Contacts
It is quite possible that one contact is stored multiple times in the NSF file. Now, the user does not want to migrate the duplicate contacts. Thus, to overcome this situation, one can use this Lotus Notes Migration tool. It provides an option to delete duplicate contacts while migrating NSF file to other application. A user just needs to check this option before starting the Lotus Notes export process. The tool will delete all copies of multiple contacts and migrate them once only.
Export All Data Items from NSF File
This HCL Notes/Domino Mail Migration Wizard is programmed in a way that one can migrate Lotus Notes NSF file or Domino mailboxes to three major email platforms. During the export process, it migrates all data items available in the Lotus Notes mailboxes. This includes emails, calendars, tasks, journals, contacts, notes etc. One can even check or uncheck the data items in order to perform selective Lotus Notes data migration.
Pros & Cons of Using Lotus Notes Migration Tool
The software provides an option to apply filters on mailbox items based on date and selective data items export
MS Outlook installation and Exchange Server environment is necessary to transfer Notes mailboxes to Exchange/ Outlook application.
Renders customized options such as removal of encryption, maintain data integrity of the exported NSF/Domino mailboxes, etc.
The Final Verdict
It is the matter of fact that Lotus Notes facilitates a complicated interface despite rendering amazing features. As a result, most of the users start switching from IBM Notes to some simplified email platform.
This is why we have come up with this blog stating the remarkable solution using Lotus Notes migration tool. The software is induced with best-in-class features thereby enabling to migrate NSF/Domino mailboxes to the desired platform at ease.