Top 2 Best Methods to Merge PDF Files Without Watermark
Do you want to merge PDF files without watermark? If so, then this blog introduces you to an automated tool designed to carefully split and merge PDF without watermark.
PDF is a widely used file format among people. It was created to be a universally compatible standard for exchanging documents across all platforms. Sometimes, you need to combine these files in order to keep them in one place. So that it becomes easy to handle and shareable.
In this blog, I will mention two methods to combine PDF files without watermark. First, you will get to know how to combine PDF files using Acrobat DC and then an automated software to PDF merge no watermark.
Let's begin!
How to Merge PDF Files Without Watermark Using Acrobat DC Pro?
Adobe Acrobat DC Pro is an all-in-one application designed for PDF. A subscription based application is used to view, create, manage, edit, or print PDF document.
After downloading and installing Adobe Acrobat DC in your system, follow these steps:
In the Tool option, click on Combine Files.
Click on the Add Files option and select all the PDF documents that you want to merge.
Click on the Combine button to PDF merge no watermark.
Finally, save the resultant PDF document by clicking on File option followed by Save As, and provide a name and location to save your document.
Well, there is hardly any downside to this application. But, the users who are only looking to merge their PDF would find this application's cost on the higher side ($12.99 per month).
Also, it is compulsory to take an annual subscription to this application as stated on their website. Basically, users will have to pay top dollar if they are going to use this tool just one or two times.
But don't worry! we have the best alternative to Adobe application that meets its standards in a cost-effective way and can easily divide PDF files.
Merge PDF Files Without Watermark Using the Incredible Tool
This is one of the best software to split & merge PDF. You can instantly merge multiple PDF files into one PDF without formatting & attachments. This utility helps in to PDF merge no watermark in a smooth manner with zero error occurrence.
For Windows OS Users:
For Mac OS Users:
To merge PDFs without watermark install the premium version of the tool. You can try its demo.
Step 1: Click on Add File(s) or Add Folder to batch select files to combine PDF files without watermark.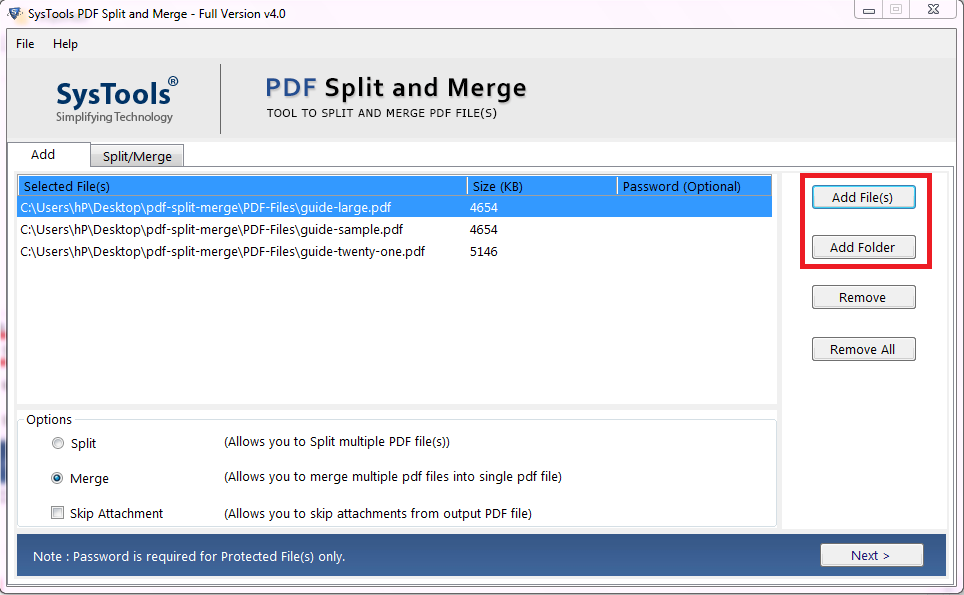 Step 2: Select the Merge radio button and click on 'Next'.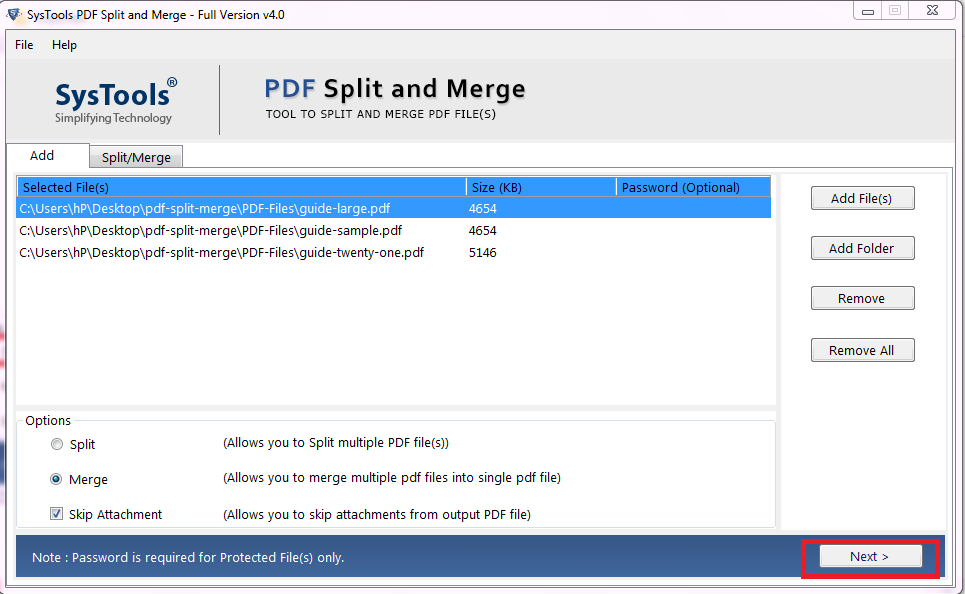 Note:
You can tick on the 'Skip Attachment' box if you don't want to include attachments.
If your file is password-protected, it will ask you to enter its password. The password won't be saved.
Step 3: Select the desired merge option & select whether you want to create a new PDF after merging or merge in the existing one.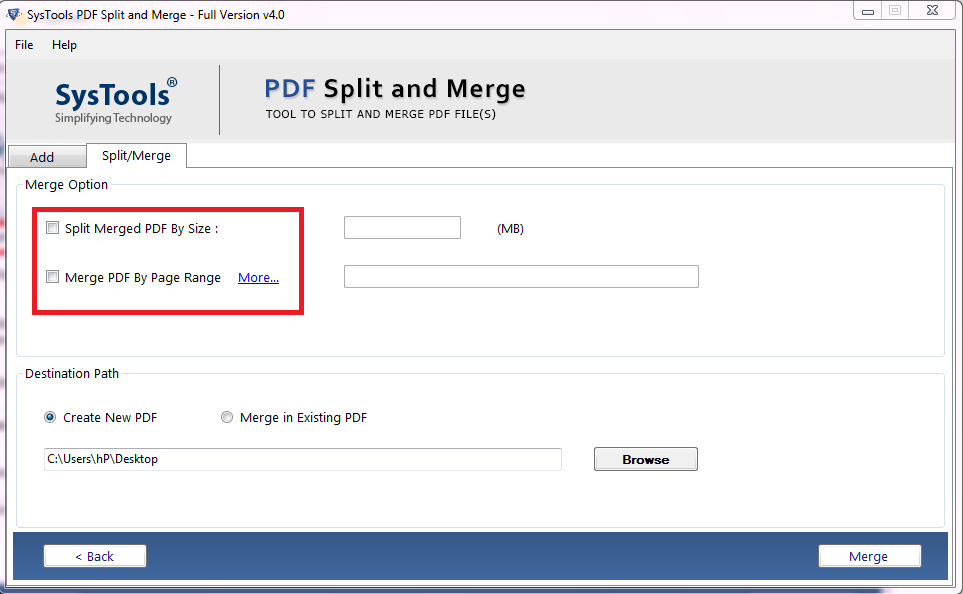 Step4: After providing all the details click on the 'Merge' button to start the process to combine PDF files without watermark.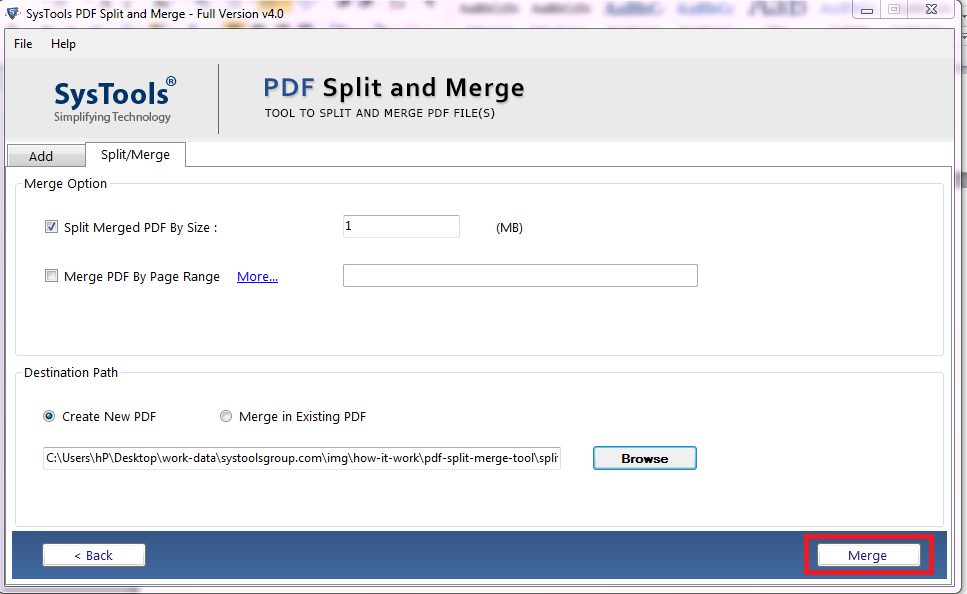 Step 5: Finally, a pop-up window will show the completion of the process to merge PDF files without watermark.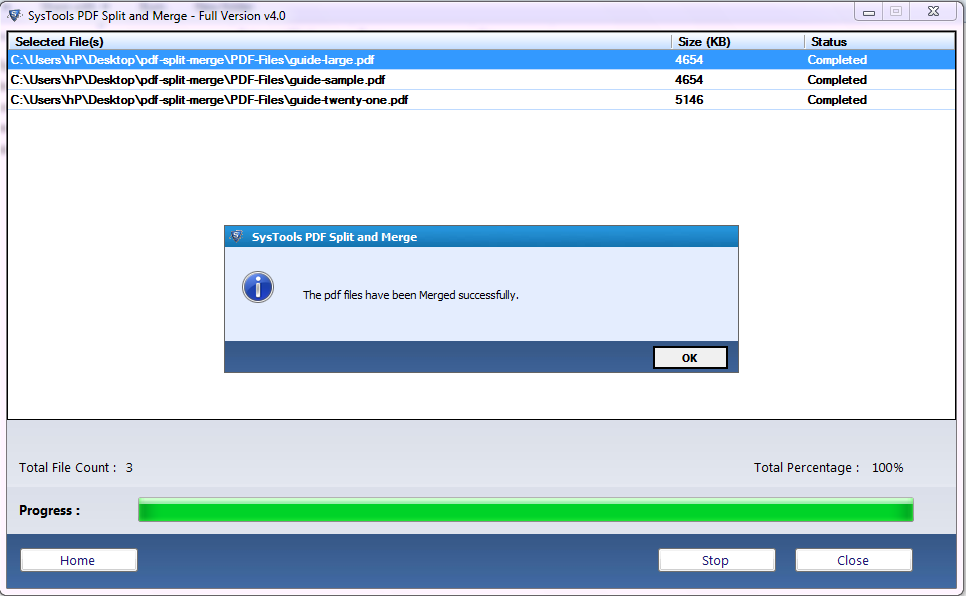 More Reasons to Choose This Cost-Effective Automated Tool
Here are a few more features that will want you to choose this software over any other utility:
Batch processing for faster splitting and merging of PDF files to save your time.
Full freedom to merge only desired pages of PDF documents.
Inbuilt function that lets you use password-protected PDF files to save additional efforts.
Note: Password must be provided by the user.
• Engineered with a powerful program to handle a large number of files at once.
• Compatible with all the versions of Adobe PDF documents.
Also Read: How to Remove Draft Watermark from PDF Document?
Conclusion
This blog educated you on how to merge PDF files without watermark using two methods. You can either go for Adobe Acrobat DC or use a cost-effective & smart automated tool to combine PDF files without watermark. The tool also provides 6 types of split PDF functionalities to make the task easier