Do you need a dependable way to divide PDF files into multiple pages? You are unable to find a reliable solution for this? Don't worry about it! We're here to help you get simple and effective ways to divide your PDF file. So, without any doubt, read the complete post and know the solution quickly. First, let us understand a user's query for the same.
Help, I'd like to know how to divide PDF files into multiple pages. I want to share some pages of my PDF with my friend as an attachment in an email. So, I'm looking for a reliable solution to DiVIDE a pdf document without losing any bit of data. Can anyone share actual and simple working steps? Any help is very much appreciated!
If you are also finding solutions for the same problem, then keep reading. Here, you will learn about the best methods for this process in the upcoming segment.
Method 1# Divide PDF Into Individual Pages With Adobe Acrobat Pro Dc

The Adobe Acrobat Pro DC is an application used to view, create, and manage PDF files. But, if you want to divide PDF documents then you have to purchase its paid version. Because the free version of Adobe Acrobat does not provide the option to perform the same. If you have the full version of Adobe Acrobat Pro DC, follow the steps to divide PDF into individual pages:
Open the document that you want to break with Adobe Acrobat Pro DC.
After this, click the Tools option and choose the Organize Page option and click on Split.
In the Split Document by Window, select the required option, Number of Pages, File Size, and Top-Level Bookmarks, to break the PDF file.
Click the Output Options button to select the location where you want to save the new files.
Finally, hit the OK button to split the file.
Method 2# Divide PDF into Individual Pages With Automated Tool
If you do not have Adobe Acrobat Pro DC, then we suggest you use SysTools PDF splitter tool. It can easily divide a large size PDF into individual files within few simple clicks. Also, the tool offers you different options such as-
Split PDF by page number
Split PDF by each page
Split PDF by Page Range
Split PDF by Odd pages
Split PDF by Even pages
Split PDF by size
In addition to this, it is capable to divide the password-protected PDF files but the password must be known to users. Along with this, users can also combine PDFs into one file using the tool. Due to its simple and easy-to-use graphical interface, non-technical users can easily use it without any issue. Moreover, the tool is compatible with all types of Adobe PDF files.
Let's proceed with the following steps to divide PDF into individual pages:
1. In the first step, download and run the tool (available for both Windows & Mac).
For Windows
For Mac
2. Next, click on the Split option to break the large size PDF file.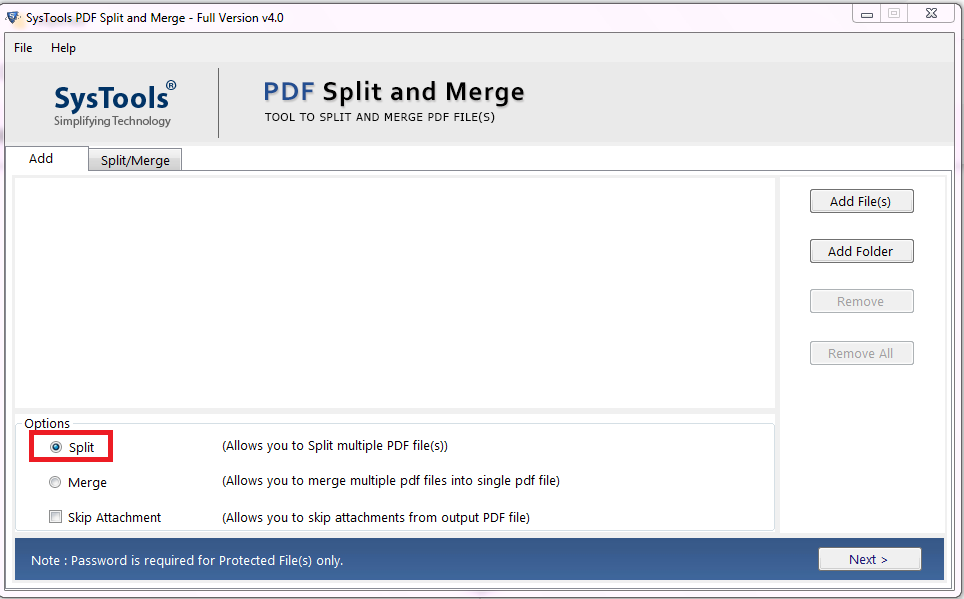 3. Choose the Add Files and Add Folder option to load the PDF files.

4. Now mark the button related to the Split file by each page.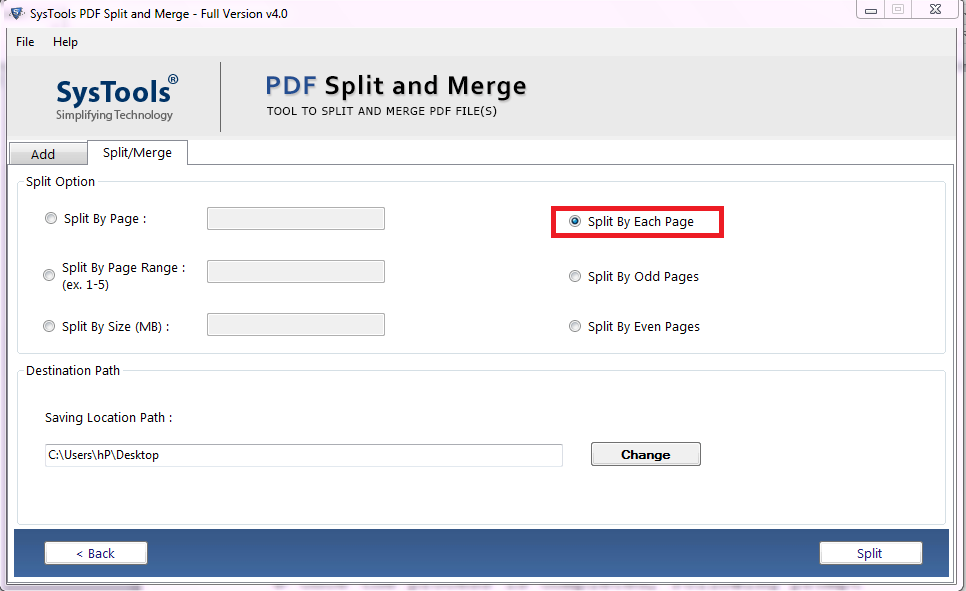 5. Click on Change and provide the desired destination location to save the resultant files.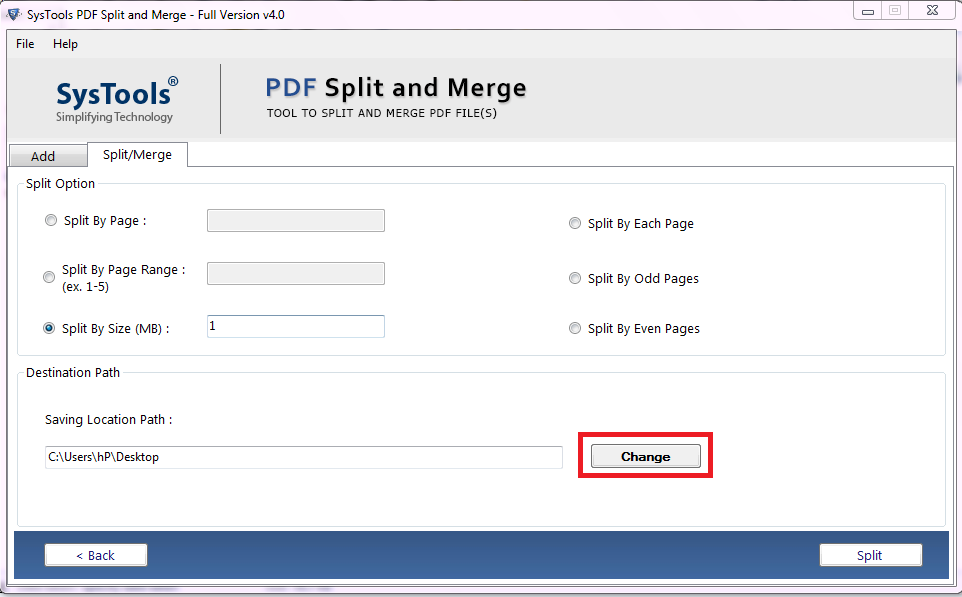 6. Once done, hit the Split button to start the process.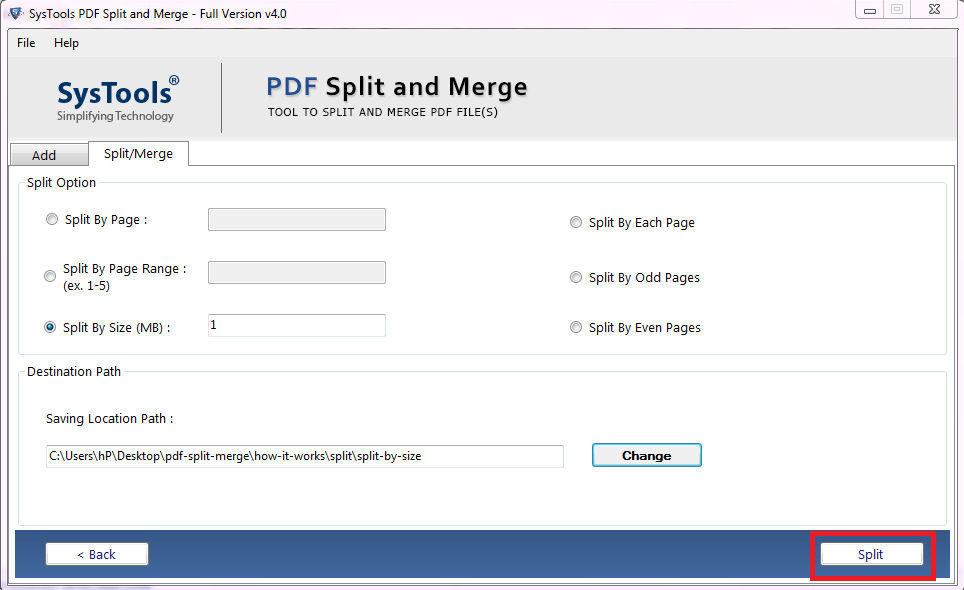 Read More: How to Merge PDF Files into One?
Conclusion
In this article, we have briefly discussed ways to divide PDF files into multiple pages. We have talked about both manual as well as automatic methods to perform the same. As already discussed, there are many limitations associated with the manual procedure. So we have introduced the software that helps you in every possible way and makes your task easier.