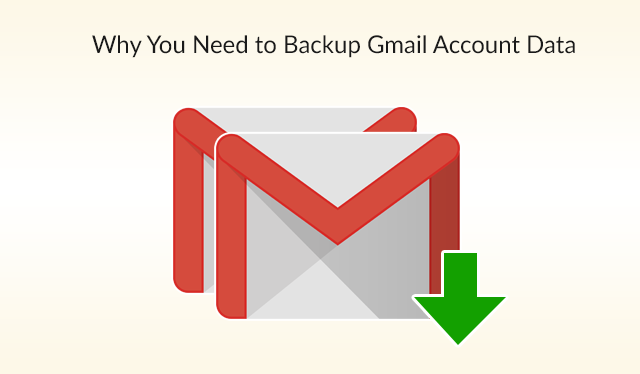 More and more computer users and enterprises are switching their work from on-premises to the off-premises environment. The primary reason for the same is that the cloud storage is an easy and simple way to access photos, emails, and other sorts of documents. Another reason behind using cloud technology is its storage space. One such cloud storage facility is provided by Google, named as Gmail. In today's date, it is one of the best storage option considered for home as well as enterprise purpose. But, due to its immense popularity, there are chances of data loss as well. So, in this article, we are going to discuss the need to backup Gmail account data
Being considered as the best cloud storage means, many computer users are having a nagging doubt. All these collections of doubts ask for only one question i.e. are the documents safe on the cloud or is there need of taking their backup locally? Therefore, here we came to this post to help Gmail users in learning the importance of backup Gmail data on PC.
Need to Backup Gmail Account Data
We live in a world where things are changing in digital form. These digital items saved on the internet are more prone to theft and loss. It becomes easy for hackers and attackers to harm the organization from internet storage. It is so because the files on Gmail are saved in public network where things can be leaked easily if proper security measures are unfilled. Many enterprises who suffered important data loss ends up realizing the need to backup Gmail data. This is the reason why many organizations realize that it is crucial to keep backup and update it timely. When it is about enterprises growth continuity and disaster recovery planning, backup of Gmail is considered as an effective and cost-efficient approach.
Following points will help one in learning reasons for backing up Gmail account:
Protection of Confidential Files: Enterprises store files in the Google drive, which is not saved on the local machine. Keeping no copy of such vital documents and relying only on cloud service providers to safeguard your data is not a good thing. In these kinds of cases, organizations are advised to keep a copy of cloud data so that they are having the option even in a loss.
Complete Gmail Account Data Security: It is important to have concerns with safety and privacy factors of data that are saved on the cloud. Wide sharing of organization private files should be decreased because if the things go in wrong hand then, nothing can stop disaster from occurring. So, it is an advice to the administrator that he/she should share files in Google drive with trusted people only.
Requires 24*7 Internet Connectivity: The Gmail account users need to have internet connectivity whenever they want to access their profile. Not only for accessing but, the account needs to log in again and again when they close the browser after working and want to use it again.
Proper Range for Bandwidth Allowance: Another requirement of backing up Google mailbox data is that there are several services of cloud storage like Gmail, which requires bandwidth allowance. If the firm goes with the required allowance then, they might have to pay the extra cost for it.
Make Data Accessible in Offline Mode: When users will be done with complete data backup, now they will be able to open and read those emails without an internet connection. This will be possible by opening the backed up file with its supportive application.
Additional Information
Since the overall volume of digital data increases rapidly with business growth, it becomes more challenging to protect the data. Onsite backing up of data is becoming outdated in today's arena because things go very slow in this. Therefore, to experience a quick and easy way of archiving Gmail data, users can use Gmail backup program, which is highly reliable as well as cost-effective.
Conclusion
Because of the tremendous benefits provided by Gmail account, enterprises are shifting their work on it. An uncountable amount of benefits are rendered due to which users prefer using Google platform and it increases the need to backup Gmail account data. Every coin has its two sides and the same thing works here. So, to be safe from damage that is caused on cloud storage, it is highly recommended to computer users that they must have a habit of taking Gmail backup regularly.