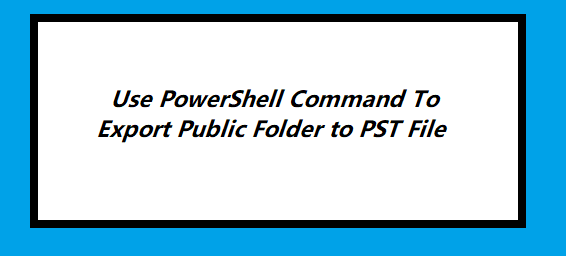 Summary: This write-up will provide information about weather users can use Exchange PowerShell command to export public folder to PST file format. If not, then users can use the best advanced solution which help users to export Exchange 2016 / 2013 / 2010 public folders to Outlook PST file.
Nowadays Microsoft Exchange Server is used around the world by various IT organization and other industry verticals. All the Exchange data is saved in Exchange Database File which contains Public folders and Private mailboxes.
The Exchange public folder plays an essential role in the company. As it store, structure, organize and share multiple data to the users or clients within or across the organization. It is also used to send as well as receive the mails when Exchange admin assigned it and all this data is saved in the pub.edb file.
To prevent the Exchange public folder data it is required to backup into Outlook PST file format in order to keep it safe & secure from various threats, corruption and many other issue. If anything happen with the original Public folder database then user have a backup file to retrieve and access the data back into the Exchange Server or Microsoft Outlook by importing the PST file into it.
Use PowerShell Command to Export Public Folder to PST Exchange 2010 / 2013 / 2016
The Microsoft Exchange PowerShell New-MailboxExportRequest cmdlet to export the Exchange database mailboxes and data items to the Outlook data file. With this command users can selective export EDB mailbox items to the PST file.
But the Exchange New-MailboxExportRequest command cannot export public folder database to PST file because they aren't part of Exchange user mailbox and most importantly there is no PowerShell cmdlet to export public folder data to PST file format.
Apart from this users can the Microsoft Outlook to export the pub.edb file to the PST file. In only one condition users can export Exchange Public folder database i.e. that it should be in healthy state. Before using this solution there are few drawback given below that user will be when they used this method.
Limitation Of Manual Solution
It is a time taking process
This method can't unhealthy public folder
The method export one public folder at a time
Create issue such as: Data Integrity & Consistency after export
Cannot export large pub.edb file via this method
Note: Users can use the advanced solution described in the below section which easily export any size of Exchange 2016 / 2013 / 2010 offline/dismounted public folder to the PST file in a simplified manner.
Use Automated Wizard to Export Public Folder to PST Exchange 2010 / 2013 / 2016
SysTools EDB Converter Tool is the advanced software used by various Exchange users, IT professionals and Novice users to export Exchange public folder database to the Outlook PST file. This utility support both offline/dismounted pub.edb & priv.edb file and STM file. It doesn't impose any file size limitation. So, users can export any size of public folder and its data items to the Outlook data file.
The software provides scan mode option i.e. Quick and Advance scan which recovers Exchange database file from minimal & major corruption. If users want to remove minor corruption they can select the Quick scan and to recover highly corrupted EDB file choose advance scan.
Also Read: Efficient way to recover corrupt Exchange STM files
This tool support different Exchange mailboxes such as: archive, shared, user, disconnected, legacy and data items like – mails, notes, tasks, calendars, journals, contacts. Users can export multiple or selective these Exchange data without any hassle. As it provides graphical user interface which makes the user works a lot easier and save their time as well as effort.
It offers categories filter option which allows users to selectively export the select mailbox data items to the selected file formats: PST, EML, HTML, MBOX, PDF, MSG. You can easily export Exchange contacts to PST or user can select any other mailbox item like – mails, so they can also export email from Microsoft Exchange to the particular file format.
When the software successfully export the Exchange mailboxes or public folder, it automatically generates an export report which contains the success and fail count of exported Exchange data.
Key Features Of Automated Software
Preview Exchange EDB mailbox items before conversion
Keep metadata intact and maintain the original folder structure
Extract Exchange EDB to PST, MSG, MBOX, EML, PDF, HTML file format
Remove email encryption (SMIME/OpenPGP) from Exchange mailboxes
Export EDB mailbox data in a specified period of time via date filter option
Compatible with all version of Windows OS, Outlook and Exchange Server
Stepwise Method to Export Exchange 2016/2013/2010 Public Folder to PST File
Step 1: Download >> Install >> Launch the software in your system
Step 2: Select Add file >> Load offline Exchange pub.edb file >> Click on the Add button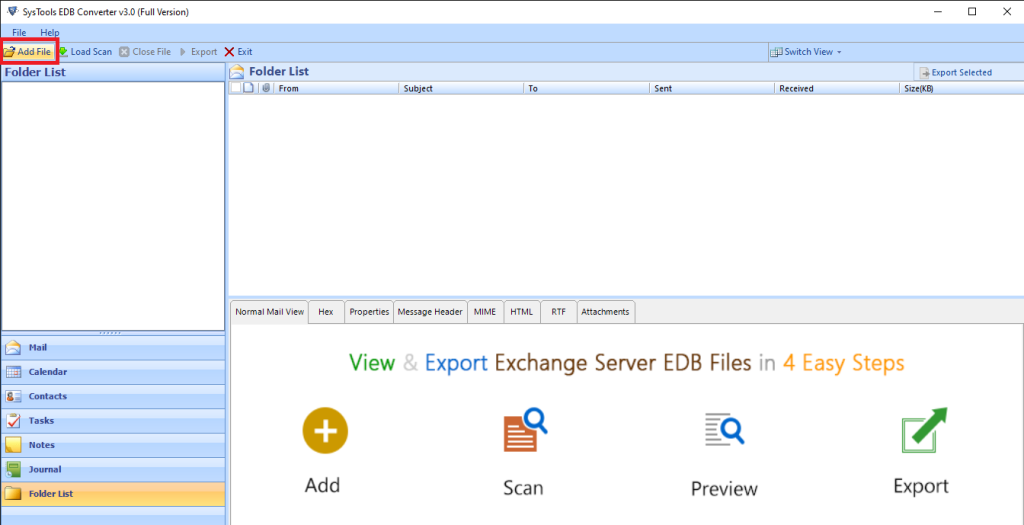 Step 3: Preview Exchange public folder data >> Click on the Export button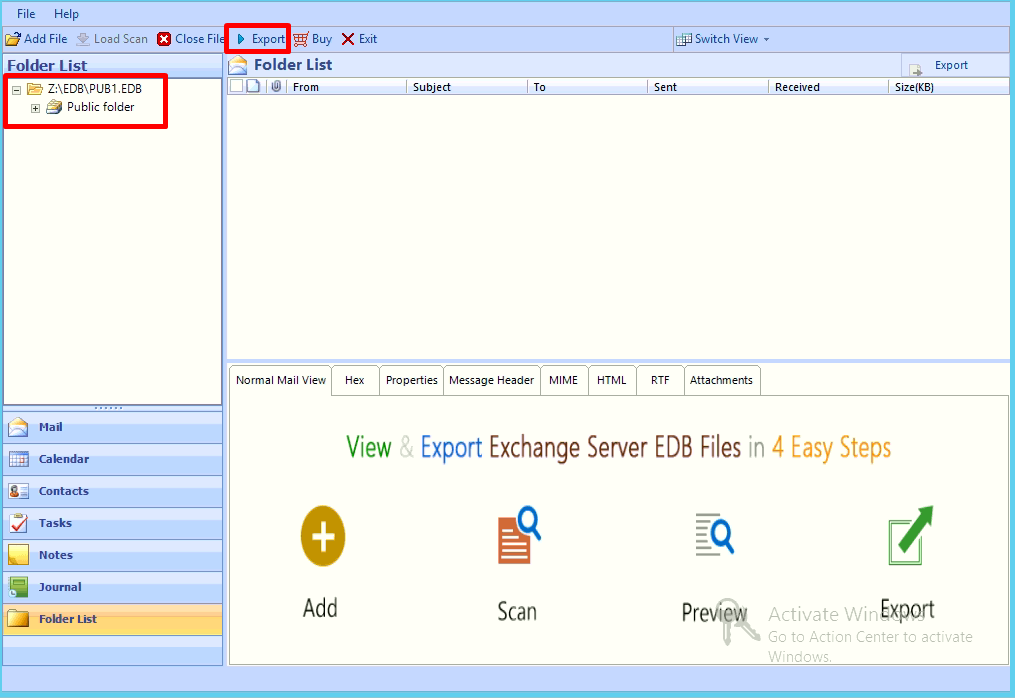 Step 4: Select public folder EDB file >> Click on PST >> Select browse button to set target file location >> Click export button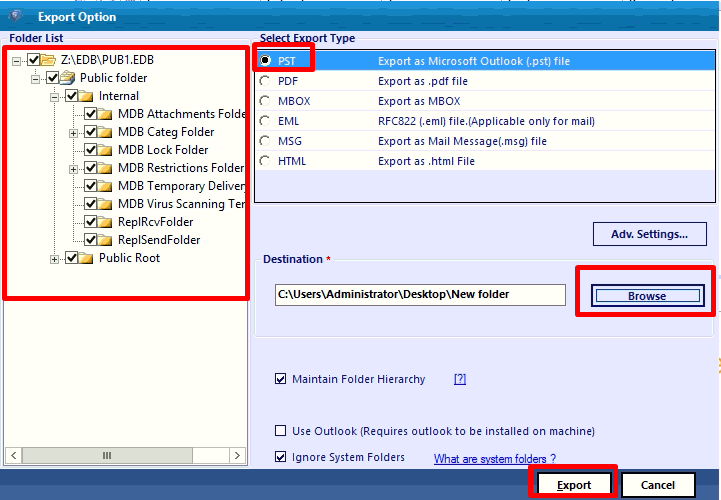 Finally, the selected public folder database is successfully exported to the Outlook data file
Bringing It All Together
Now users know that they cannot use powershell command to export public folder to PST file. Either they can use the Microsoft Outlook to export the Exchange public.edb file or the automated wizard mentioned here. But it is recommended to use the advanced solution because there are certain drawback that users will face in manual method and waste the precious time of users. So, to save the public folder data, effort & time of user, use the solution described which easily recover the public folder from corruption and export to the PST file format in a simplified way without any hindrance.